There are several nice beaches in Martinique.
Located in the south of the Caribbean, the gorgeous island of Martinique is also known as the Lesser Antilles.
A lovely place to visit any time of the year, this French territory boasts of a coastline of fine white sand, crystalline waters, and diverse marine life.
The beaches are definitely the island's top attractions, and those in Martinique are the kind that you'd enjoy exploring.
Each with a unique character, here are the best beaches in Martinique to visit in your upcoming holiday.
13 Best Beaches in Martinique That You Must Visit
1. Anse Noire (Black Sand Bay)
You wouldn't want to miss the opportunity to see this one-of-a-kind beach in Martinique.
A stark contrast to the pristine waters, this stunning beach is ideal for snorkeling. You might even spot the turtles that call this area their home if you're lucky.
Accessed through a flight of stairs that leads down to the black sand shore, Anse Noire isn't popular with tourists so you'll enjoy it with fewer people around.
Be warned though that the stairs to the beach are quite steep so be very careful.
There are picnic sets above the beach that overlooks the water that offers great views of the coast. This area is best for those who are simply there for the sights and not really up for a swim or snorkel.
2. Les Salines beach, Martinique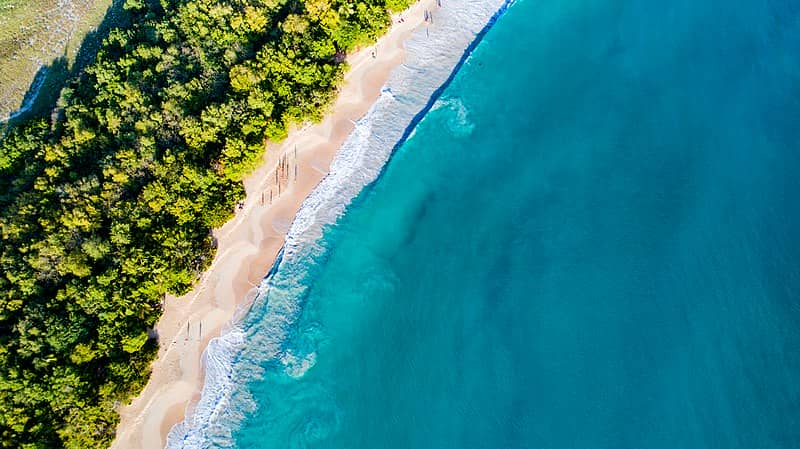 Ask anyone from Martinique about their favorite beach and they will most likely say Les Salines. This local favorite is also the most visited beach in Martinique, attracting at least a million visitors every year.
It's glistening white sand, swaying palm trees and turquoise waters are just among the reasons why people keep coming back.
The area also has a variety of restaurants close by, where you can enjoy a meal after having fun in the sun.
The best time to visit is from early morning until before noon, where the water is at its calmest and you can enjoy a relaxing swim or stroll along the shore.
Les Salines beach is also known as one of the loveliest spots for viewing the sunset so be there in the late afternoon.
3. Basse Pointe
View this post on Instagram
Located on the northeastern side of the island, Basse Pointe is the best Martinique beach for surfers.
The area is known for its rough waters, powerful waves, and dark sand. This is definitely not the place for sunbathing or swimming.
If you're a surfer though, this is the place for you. It is nice for a relaxing walk along the shore as well, just do not attempt to swim. The place is quite beautiful so you'll enjoy the views here as well.
4. Cap Chevalier
View this post on Instagram
Among the beaches in Martinique, Cap Chevalier in the town of Sainte-Anne is said to be the one with the clearest waters.
Situated on the island's east coast, this area also takes pride in its powdery sands and diverse marine life. The real-life aquarium in Cap Chevalier is a must for those into snorkeling and scuba diving.
If you're up for some local cuisine after your time on the beach, the area has some great restaurants and food vendors.
Cap Chevalier is one of those places on the island that never gets too crowded, which means that you really get yo relax and enjoy.
5. Anse Couleuvre
The way to the wild and remote Anse Couleuvre is what makes it even more special. You need to walk through a jungle and a river on foot for about ten or fifteen minutes to reach this area.
This idyllic paradise is said to be one of the most beautiful beaches in Martinique, and one that attracts the more adventurous types, as it offers hiking opportunities to a nearby waterfall or the cliffs.
Located in the very north of Martinique, Anse Couleuvre is the perfect escape as it is quite secluded and not crowded.
6. Diamond Beach, Martinique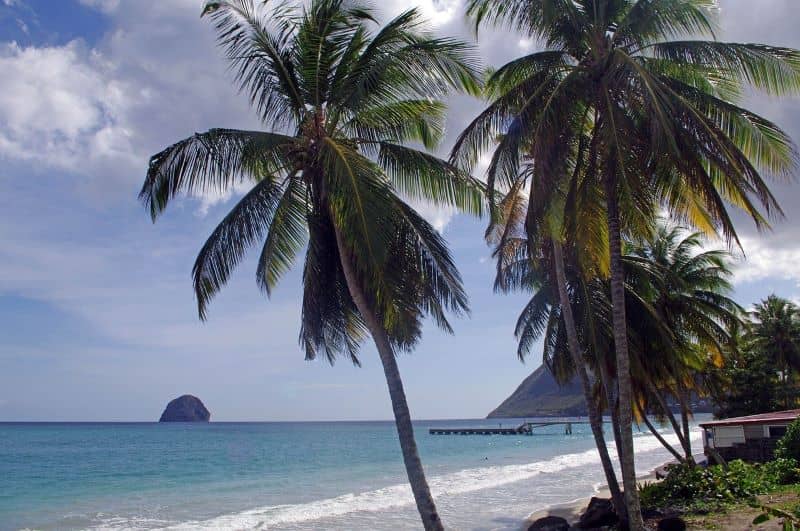 One cannot come up with a list of the best beaches in Martinique without Diamond Beach. Home to the infamous Diamond Rock, this is a popular area for runners.
The beach stretches for almost two and a half miles, with palm trees lining the coast and turquoise waters that can get rough at times. The beach is also referred to as Le Diamant, a postcard-pretty area that you simply cannot leave Martinique without visiting.
7. Anse Figuier
A scenic beach with crystal clear waters, Anse Figuier is perfect for snorkeling.
Beyond the rocks that border the cove and into the crystalline waters, you will find a colony of sea urchins and colorful tropical fishes. Regulars at this beach recommend late afternoon hours for snorkeling, for better chances of seeing more underwater species.
If you'd rather just enjoy the relaxing scenery, there are picnic sets scattered near the shore.
From your table, you'll see Morne Larcher and Diamond Rock. If you want to .learn about the ancient Caribbean people, you might want to visit the nearby  Ecomuseum.
Anse Figuier is one of those Martinique beaches that are best visited during weekdays, as it gets crowded during weekends.
8. Grand Macabou
View this post on Instagram
An isolated natural beach situated away from touristy areas, Grand Macabou is best for those who want a quiet yet fun time in the waters. The place is quite remote, with no restaurants nearby so you will have to bring your own food.
Have a picnic by the shore or underneath coconut trees, as you take in the warn, salty air, and the sight of crashing waves.
Listen to the sound of crabs, there's a lot of them here hidden in the rocks. This is a quick beach escape that you wouldn't want to miss.
9. Anse Mitan
View this post on Instagram
Looking for a beach in Martinique where you can enjoy the scenery, some snorkeling, great food, and nightlife?
Anse Mitan is a must-visit, with stunning views of the Fort-de-France topping the list of what makes it a favorite among locals and tourists alike.
If you're into snorkeling, you will appreciate the coral reefs which line one side of the beach, as well as the various seabeds and colorful fishes.
For a taste of the island's best, Anse Mitan takes pride in its diverse restaurant scene. This area is also known for its vibrant nightlife, with cafes and restaurants turning into bars with live music at sundown.
10. Plage du Bourg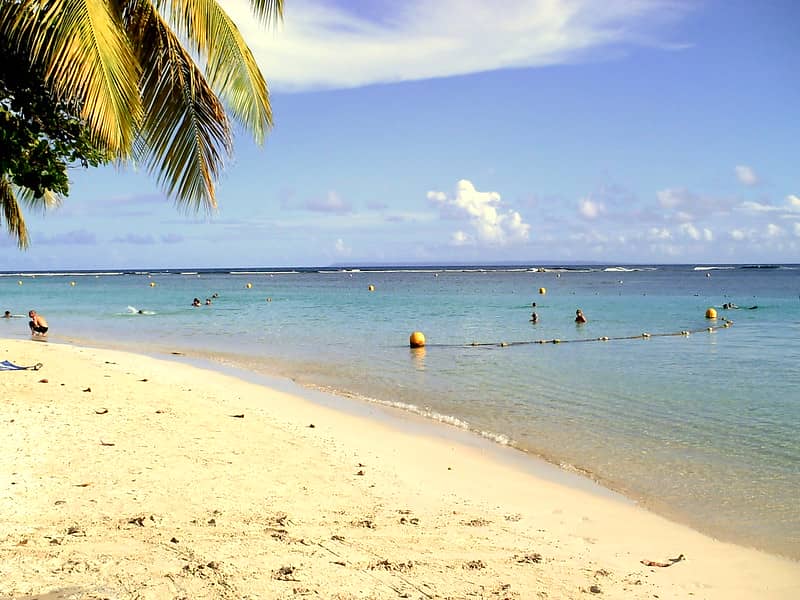 Regarded as one of the most beautiful beaches in Martinique, Plage du Bourg is the place to be if you don't want to stray too far from town.
It has a lively restaurant and bar scene and a location that makes it convenient to access amenities.
Since it is situated close to the town center, Plage du Bourg is perfect for early morning walks, as well as for viewing the sunset in the afternoon while you enjoy a drink.
Plage du Bourg maybe close to town and it is even backed by its 18th-century church, but it doesn't feel too crowded because of the many trees lining the beach.
11. The Pointe Marin
Blessed with nearly everything that makes for a perfect beach escape, this Martinique beach in the south is another must-visit.
There are coconut trees lining the shore, white sand, and crystal blue waters – a postcard-pretty scenery that you won't easily forget. This beach is located in the town of Saint Anne, and a lovely place for beach holidays.
The Pointe Marin is known for its mostly calm waters, making it ideal for swimming. The area is idyllic despite the presence of bars and tiny restaurants.  These establishments are housed in straw huts, giving the place a quaint tropical vibe.
12. Anse Dufour
View this post on Instagram
Situated near Les Trois-Ilets, Anse Dufour is the ideal getaway. The area is not touristy but has ample amenities and facilities for your convenience. Enjoy a meal with a view of the coast in one of the restaurants in the area.
You may also buy from food vendors that serve up some authentic local cuisine. Blessed with golden sands and turquoise waters, Anse Dufour is ideal for picnics, sunbathing, beach volleyball, and a relaxing dip in the waters.
13. The Baignoire de Joséphine
This last piece of paradise is technically not a beach but it has that laid back coastal vibe and awe-inspiring scenery.
Also called Josephine's Bath, this is actually a sandbar covered with about fifty centimeters of crystalline water.
It is located in the South East of Martinique, on the Atlantic coast, just off the town of François.
Considered as one of the most beautiful places in this part of Martinique, it is situated between the Islets Oscar and Thierry. This natural pool is simply magnificent, and a must-visit when you go exploring Martinique's coastal wonders.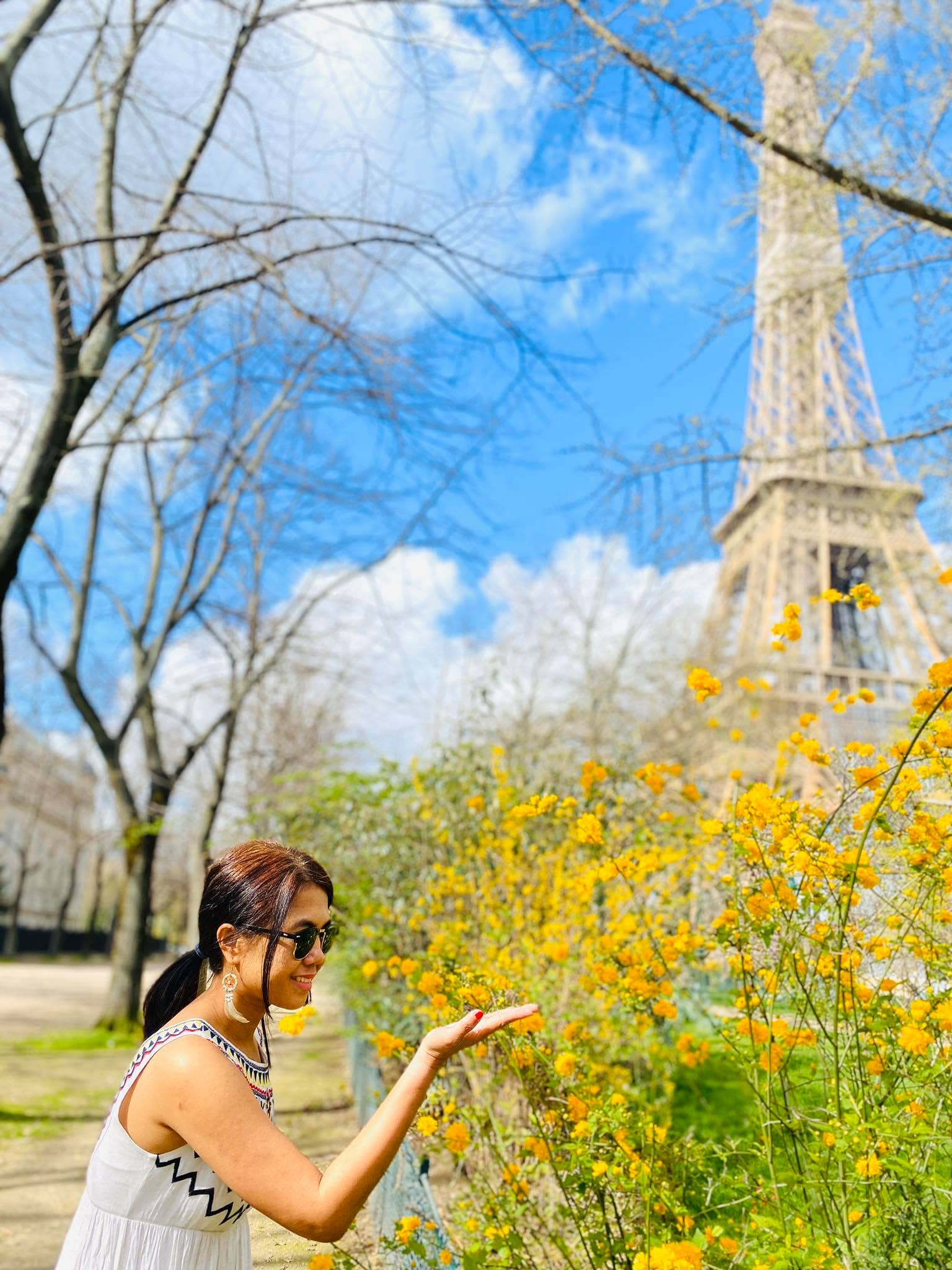 Hi, I'm Christine – a full-time traveler and career woman. Although I'm from the Philippines, my location independent career took me to over 40 countries for the past 8 years. I also lived in 3 continents – from the Caribbean, South East Asia to Africa. France remains special to me, however. From architecture, history, and arts – France is truly an amazing place.