There are so many things to do in France. This country is packed with history, amazing landscapes, imposing chateaus, and activities. With this, it is easy to get overwhelmed by the long list of activities in France.
Its long history has left some of the most fascinating structures and one of the most romantic places on earth. So if you are planning to visit France, we prepared a list of things to do, places to visit, and activities that you can include to your France bucket list. 
So here are the best places to see in France and why it's worth visiting this country.
---
New to Airbnb? Get $64 off for your next trip if you use our link here. 
---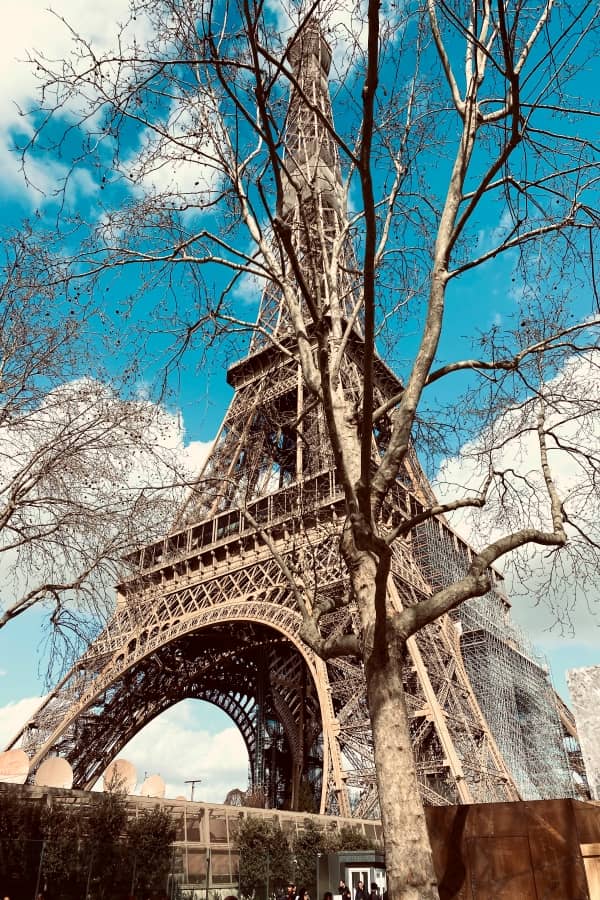 France Bucket List Number 1: Visit fairytale towns
1. Colmar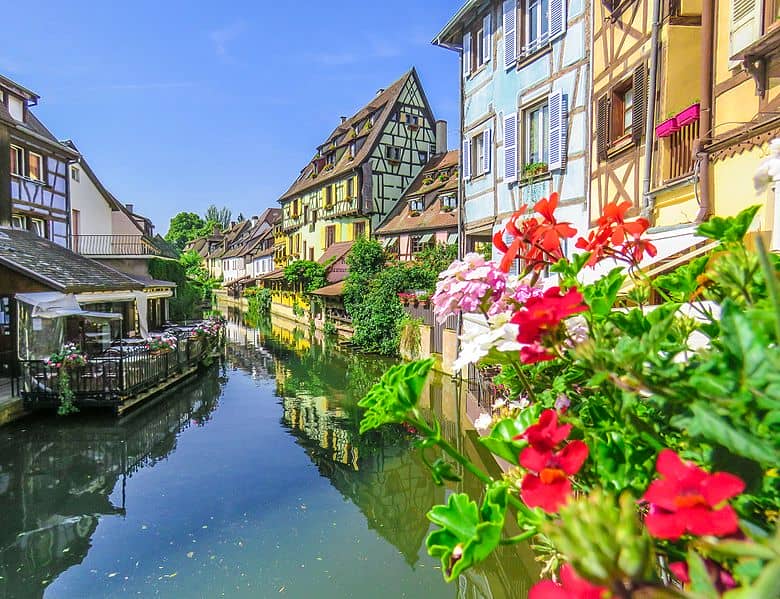 The gorgeous town of Colmar is just an hour away from Strasbourg, and also a part of the Alsace region.
Like most places in the Alsace, Colmar also has Germanic influences that are seen mostly in its architecture and the food.
While here, be sure to check out the Petite Venise area, set in its charming canals. This part lights up with Christmas markets during winter and blooms with colorful flowers during spring and summer.  
---
Check out these best things to do in Colmar, France. 
---
2. Mont Saint Michel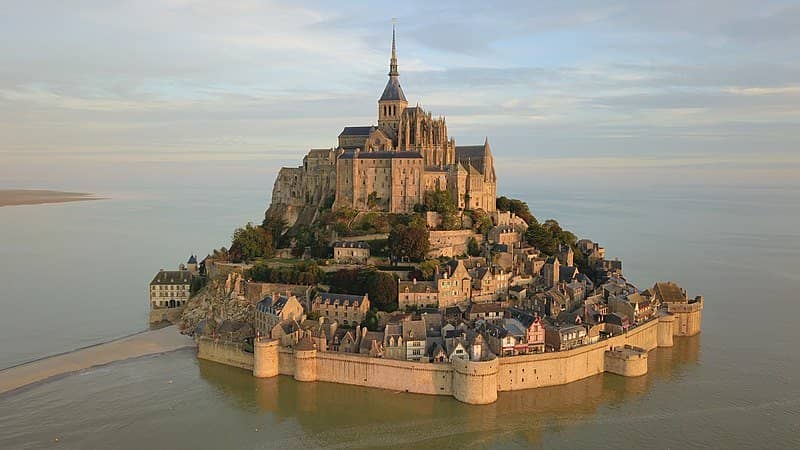 Nestled on a rocky island that can be accessed on foot during low tide, Mont Saint Michel is one of the most beautiful small towns in France you'll ever see.
Most come here for the abbey church, but the tiny town below is just as fascinating.
Built on a pure granite cliff, the medieval town is set on winding alleys and steps.
A walk up the abbey is like a journey inside a fairytale. The view of Mont Saint Michel from the mainland is quite magical at night, as the entire island is lit up.
Be sure to stay there until after sunset and watch as it transforms into such a splendid sight. 
---
Check out these best things to do in Mont Saint Michel, France. 
---
3. Riquewihr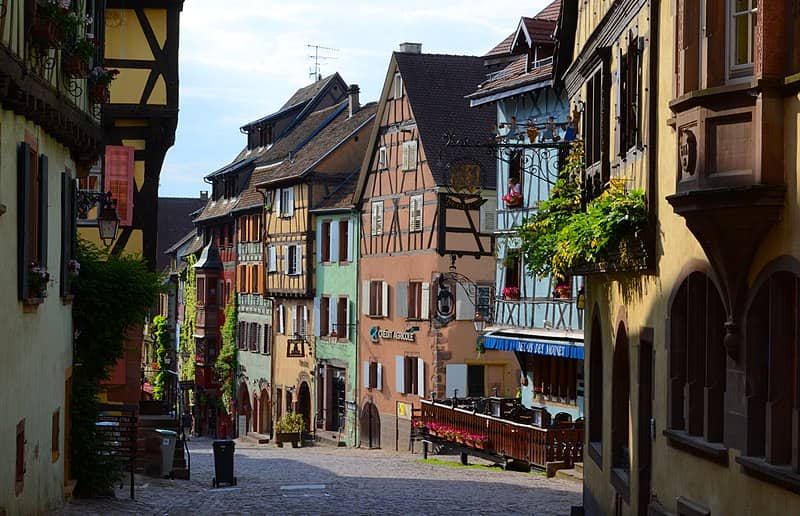 Located in the east of France, the fairytale-like Riquewihr is said to be the place that inspired 'Beauty and the Beast'.
This charming Alsace town has cobbled streets and alleys lined with colorful half-timbered houses.
Most of these are built from the 15th to the 18th centuries and looks straight out of a storybook. There's a local legend that sort of explains the colors in this town.
They say that shops have to be painted differently according to the owner's profession (such as baker, butcher, seamstress, etc).
---
Check out these best things to do in Riquewihr, France. 
---
4. Strasbourg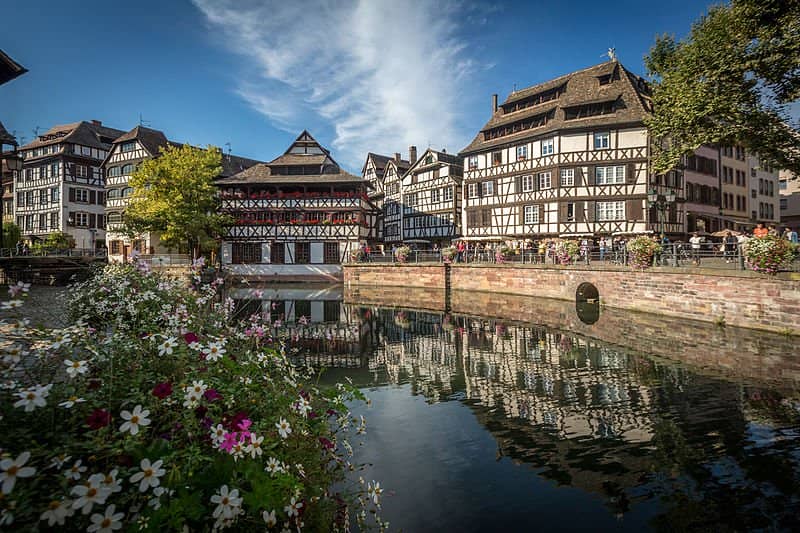 Strasbourg is the capital of the Alsace region and known for its stunning historical center. It has been fought over by France and Germany throughout its long history.
Hence, the mixed influences are reflected in its art, architecture, local culture, and even food.
Be sure to check out the incredible Gothic Cathedral while you're here, as well as the charming La Petite France in the old town. 
---
Check out these best things to do in Strasbourg, France. 
---
5. Carcassonne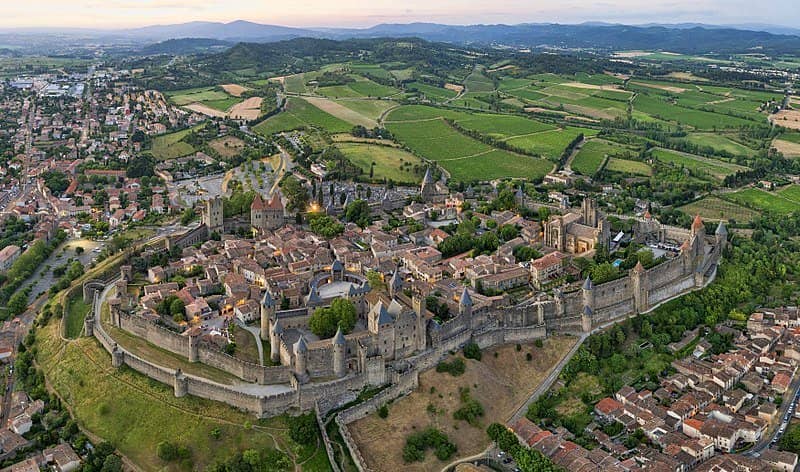 Being in Carcassonne is like being in another era, particularly the medieval times.
Set by the River Aude, it has a walled old town with everything in it straight out of the 11th or 12th centuries.
Marvel at the citadel, walk along the fortified walls, or check out the drawbridge. You'd probably pinch yourself asking if you're still in the 20th century.
There are also other stunning structures outside of the ramparts, as well as a charming bridge over the river. Carcassonne is without a doubt, one of France's most beautiful towns. 
---
Check out these best things to do in Carcassonne, France. 
---
6. Eguisheim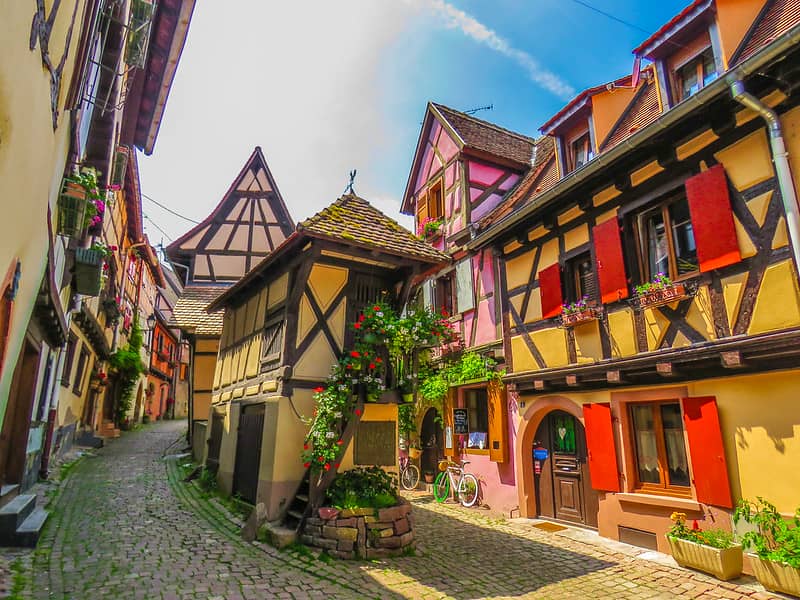 Eguisheim may not be the easiest place to reach using public transport, but it is a worthy day trip from Strasbourg. You first need to go to Colmar, and from there take a bus to the neighboring village of Wettolsheim.
From there, you can walk to Eguisheim. It is much better to go here as part of a guided tour of the Alsace Region to make the most of your time.
Still, it is a fantastic place to visit,  with its half-timbered houses circling out from the Château Saint-Léon right in the heart of the village. The 13th-century castle is now a church, but you can still see remains of the structure that once stood there.
Wander through the narrow streets and feel like you're journeying through a fairy tale. Aside from the half-timbered houses, vineyards are also in abundance in Eguisheim.
Along the hills, you'll also find the Château du Hohlandsbourg or the ruins of Husseren-les-Château­x.
---
Check out these things to do in Eguisheim, France.
---
France Bucket List Number 2: Visit the world's famous landmarks
7. Louvre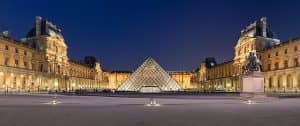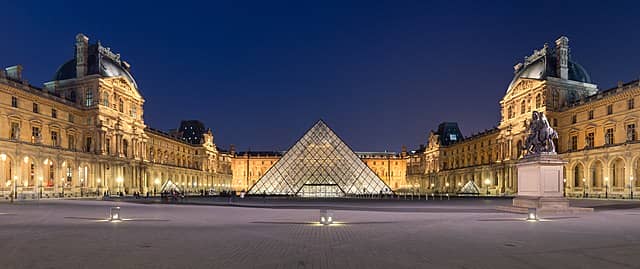 You cannot visit France and not see Louvre. You don't even have to get in, the facade is an artwork in itself. This former royal palace now houses the best museums in Paris and the most visited museum in the world.
Built-in the 12th century as a fortress, Louvre now houses some of the world's most important art and antiquities.
Make sure to visit while you're in Paris and explore Egyptian, Oriental, and Greek antiquities.
Be sure to also check out Islamic Art, Sculptures of the Middle Ages, as well as art from the Renaissance and Modern Times. ‬
8. Eiffel Tower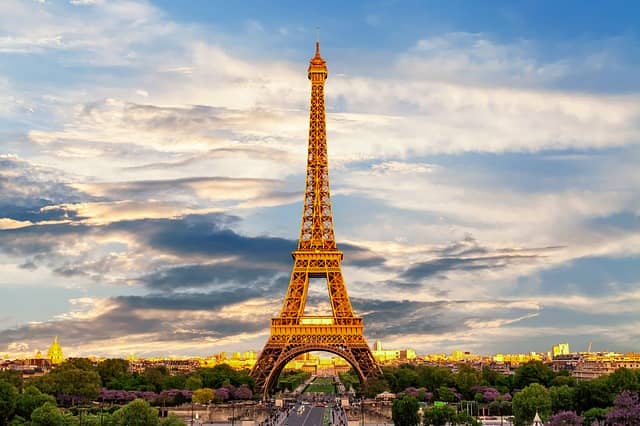 Eiffel Tower is one of the most popular landmarks, not just in France, but also around the world.
It was built as an entrance for the World's Fair (Exposition Universelle) in 1889 to celebrate the 100-year anniversary of the French Revolution.
Several companies and artists submitted their plans and designs but it was given to Alexandre-Gustave Eiffel – which the monument was named after.
It was meant to be just a temporary structure for the exposition and was supposed to be scrapped.
But the city officials saw its value as a radiotelegraph station and they chose to save it. Today, Eiffel Tower has become one of the most iconic landmarks in the world.
9. Cathédrale Notre-Dame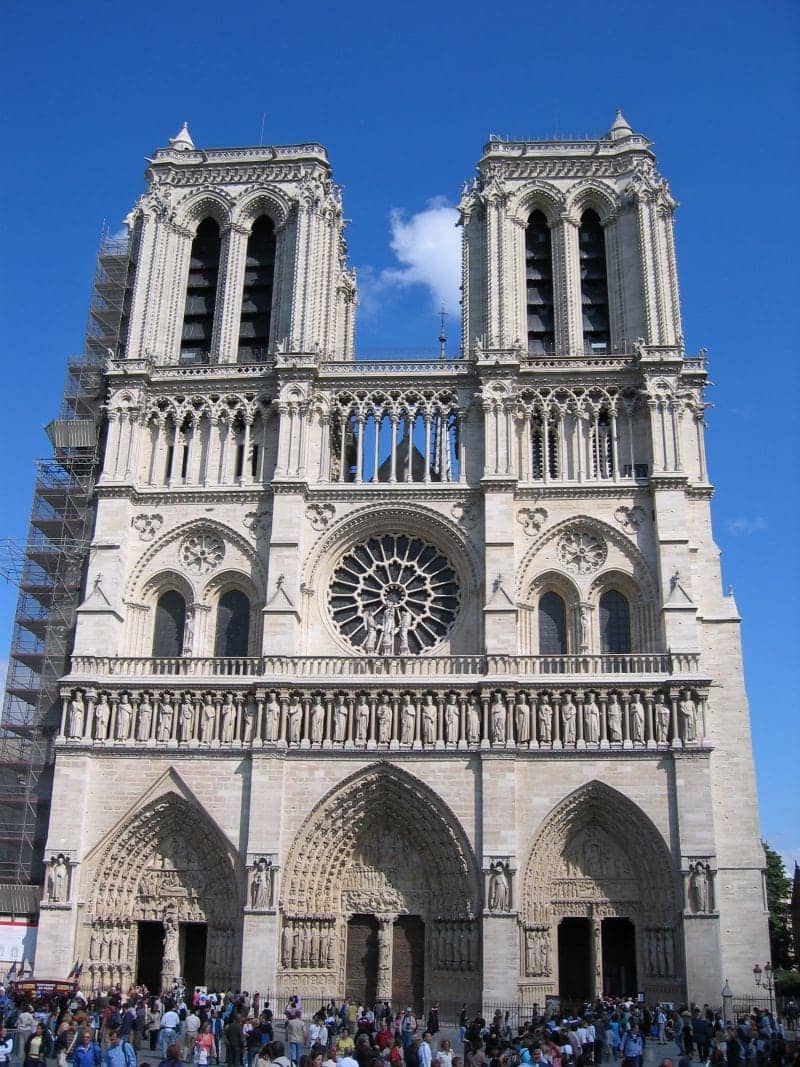 While the Notre-Dame Cathedral's majestic spires were destroyed during the April 2019 fire, it remains to be among the most beautiful sights in Paris. The cleanup just finished months ago and it is still about to be restored.
Still, you can still admire this French Gothic beauty from afar. This cathedral was consecrated to the Virgin Mary and considered one of the finest examples of French Gothic architecture.
This historic cathedral was built in 1160 and completed in 1260, and it played a big role in the history of France.
It is where the coronation of Napoleon I was held, along with the funerals of many French presidents. It was also the main setting of the popular book of Victor Hugo's The Hunchback of Notre Dame.
Today, the Cathedral of Notre Dame is one of the iconic symbols of Paris.
10. Palais Garnier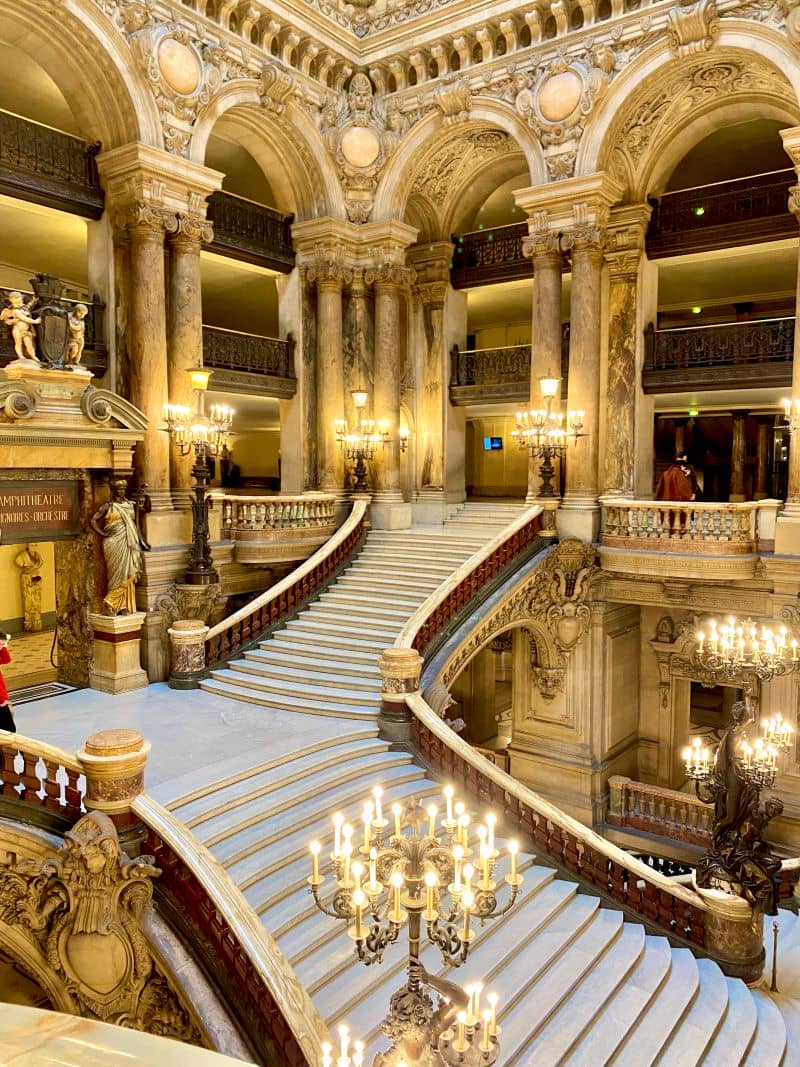 Said to be an ode to Parisian architecture, the enchanting Palais Garnier is an important part of Paris' ballet and classical music scene. Also called the Opera Garnier Paris or simply the Paris Opera, this cultural jewel has a history that's as fascinating as the productions within its walls.
Home to the Paris Ballet, the Palais Garnier is regarded as one of the grandest and most prestigious opera houses in the world. And you must include it on your France bucket list. 
---
Check out our guide for Palais Garnier for first-time visitors. 
---
France Bucket List Number 3: Try out some of the best French pastries
Choux à la Crème (cream puff)
Easily one of the popular French treats, a cream puff is made up of a ball of soft dough filled with flavored cream or custard.
This dough is the same kind used in eclairs and profiteroles. It is topped with frosting that usually complements the flavor inside.
In Paris, the quaint little cafe Odette is the place to go if you want a taste of these yummy treats.
It is located close to (and with a great view of) the Notre Dame Cathedral, in a lovely neighborhood that's also honed to the Shakespeare and Company bookstore.
You'll find a variety of cream puff flavors here, best paired with coffee or hot chocolate.
Crepes
When in Paris, and in most cities in France, you'll find streets lined with crepe stalls. You couldn't help but take in the scent of freshly made crepe, which is another must-try when in France.
These snacks are essentially a thinner version of a pancake, which could either have a sweet or savory filling.
A classic is beurre et sucre (butter and sugar) while if you want to try something flavorful, have one that's filled with cheese and bacon bits.
One of the best places to enjoy this French street food are La Crêperie de Josselin (67 Rue du Montparnasse) in the heart of the Montparnasse district.
Macarons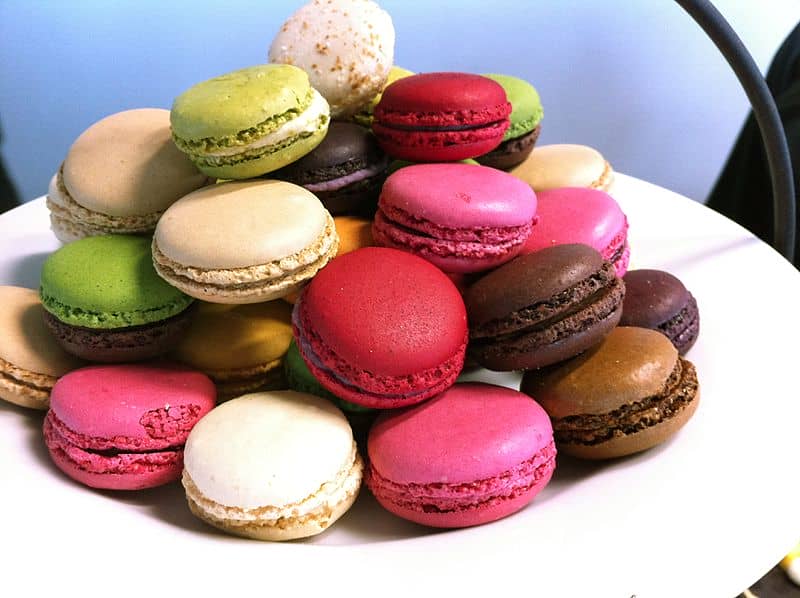 Macarons were imported from Italy to France during the 16th century by Catherine de Médici.
These little round almond cakes may have different versions in many countries, but the French ones are said to be the best and most popular.
Made with almond flour and a variety of fillings, the modern macarons come in different flavors.
If you're in Paris, indulge in this decadent treat at either Pierre Hermé or Maison Ladurée (14 Rue de Castiglione), said to be rivals when it comes to macarons.
---
Check out these best foods in France that you need to try
---
France Bucket List Number 4: Check out the lavender fields
Drome lavender fields
How about having the lavender fields almost to yourself?
Stroll along footpaths or bike through the purple fields in Drôme, a  department located in the north of Provence. The area is not that touristy yet so you can enjoy your time among these fragrant purple blooms like it's all yours.
From the Notre-Dame de Senanque in Gordes, it takes two and a half hours by car to reach the lavender fields of Drôme.
Find them in the picturesque village of Valaurie, which is already close to the vineyards of Bordeaux. The best times to visit are early morning or afternoon, as the colors are more vibrant and the fragrance more distinct.
St Paul's Mausoleum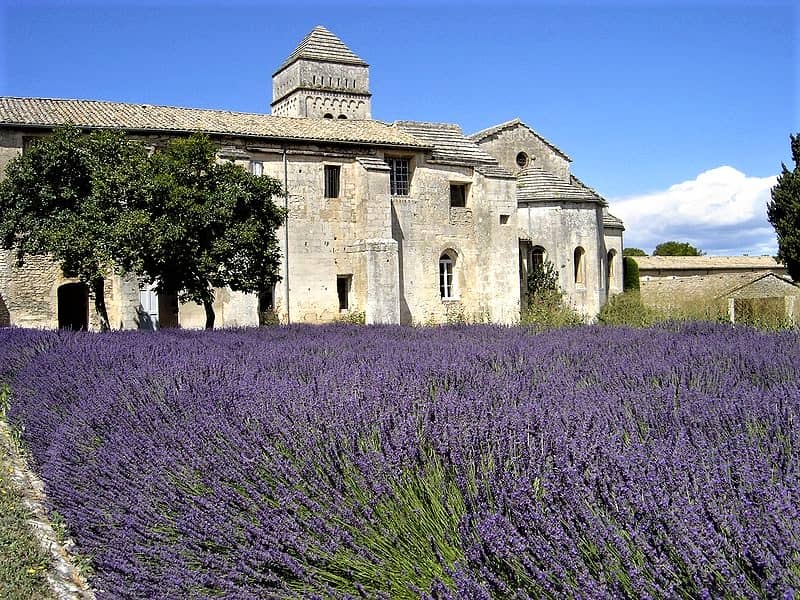 The modest lavender field at the back of St Paul's Mausoleum is one for the books. It is said to have inspired Van Gogh when he was confined here, making him produce a great number of his best works.
Formerly a monastery, St. Paul's was converted into a psychiatric asylum. In the early 1800s, where Vincent Van Gogh committed himself in May 1889. He was only there for a year, and that was a difficult period of his life.
However, that year was also said to be his most creative. Along the grounds of St Paul's Mausoleum, you'll find artworks inspired by its surrounding purple landscape.
The Valensole Plateau
View this post on Instagram
Located an hour north of Aix-en-Provence, is Valensole Plateau. This area is blessed with dozens of lavender fields covering the hills, and a must-visit during summer.
Drive along the lavender route where you'll see purple blooms on either side of the road. Stop whenever you want, walk through the fragrant fields and explore. Don't forget to visit Lavandes Angelvin, one of the popular farms in the area.
Stop by its cute farmhouse shop and buy some lavender souvenirs like essential oils, perfume, and soaps.
---
Check out these best lavender fields in France.
---
France Bucket List Number 5: Visit the castles in France
Château de Chambord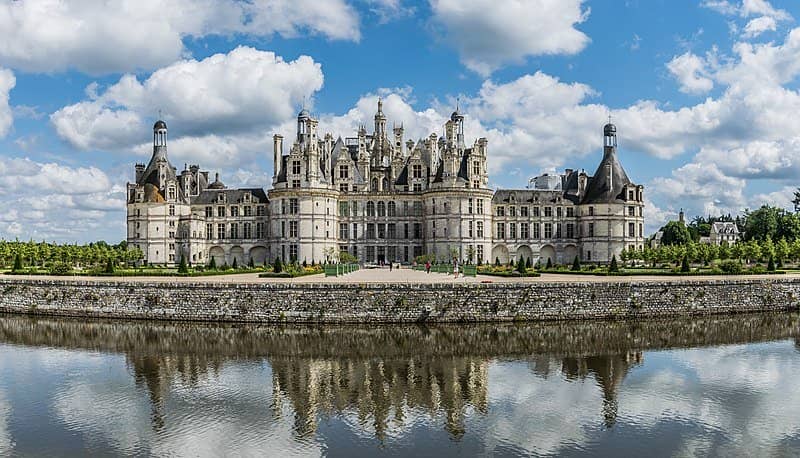 The easily recognizable Château de Chambord is probably among the grandest, too. It is the largest château in the Loire Valley and has quite a fascinating history.
This Renaissance castle is made with white limestone and surrounded by water on one side. It has beautifully landscaped gardens which is a product of its intriguing history.
Inside the castle, the rooms that are open to the public are styled as if it is still inhabited. It features period furniture and decor, that's saying a lot about the era when it was built. Château de Chambord is one of those castles in France that's a definite must-visit.
Pierrefonds Castle (Picardy)
Located 80 kilometers from Paris' northeast is the majestic Pierrefonds. This enchanting castle is situated in a bend in the road next to the Compiègne Forest.
It was originally constructed in the 12th century, was destroyed them went through renovations and restorations. These improvements resulted in the grandiose Pierrefonds that we see today.
Known as "the romantic folly of the Emperor". Pierrefonds is quite an impressive fortress. It has large crenelated towers as well as a pathway that leads around the battlements.
Chateau de Versailles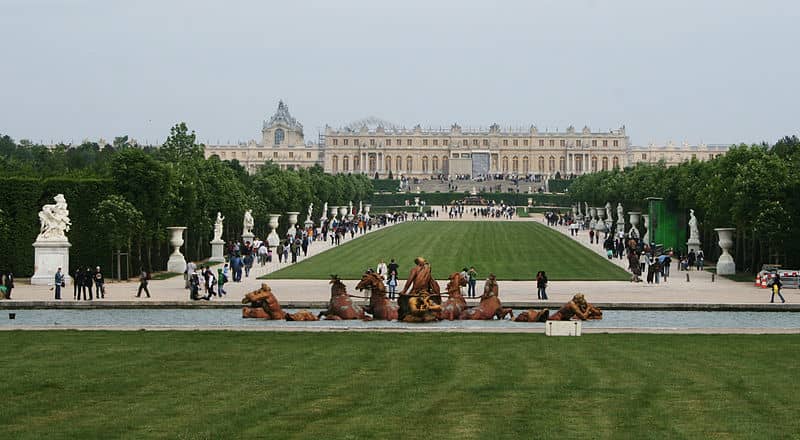 The extravagant Chateau de Versailles is located just 10 miles from Paris and one of the best castles in France. It is one of the most visited attractions in the world, a massive structure that was the former seat of power for France.
Today, it is known as a huge treasure trove showcasing French history.
This impressive grand chateau was built in 1631 by King Louis XIII. It was designed in the French Baroque style and has 2,300 rooms.
Within the complex is a luxurious park, picturesque gardens, and a Grand Canal.
A sight that's not to be missed in the palace is the Hall of Mirrors, which connects the King and Queen's apartments. It's a stunning hallway that's decorated with more than 350 mirrors.
---
Check out these best castles in France.
---
France Bucket List Number 6: Enjoy the wine in these French vineyards
Champagne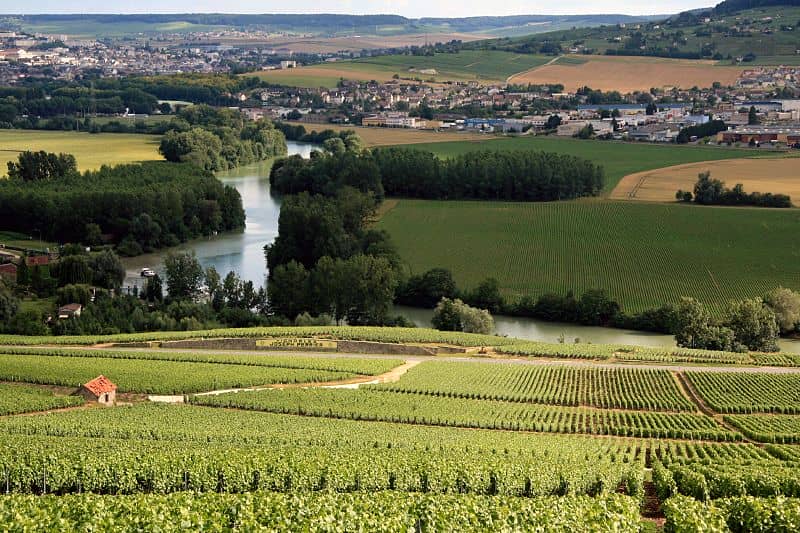 Synonymous with its sparkling wine counterpart, Champagne is hands down the most famous wine region in France. It is located in the northeast's historical province of Champagne.
The terroir is made of loose soil of clay, limestone, and sand. Its climate is often varied, with moderate sunshine, which limits the development of the vines.
This results in the uniquely crisp and fresh character of the Champagne, a wine invented by the Benedictine monk Dom Pérignon.
This popular sparkling wine is made from Chardonnay, Pinot Noir, and Pinot Meunier grapes using a technique wherein a second fermentation happens in the bottle itself.
This perhaps, is why Champagne is the wine of choice for happy celebrations throughout the centuries.
Burgundy wine region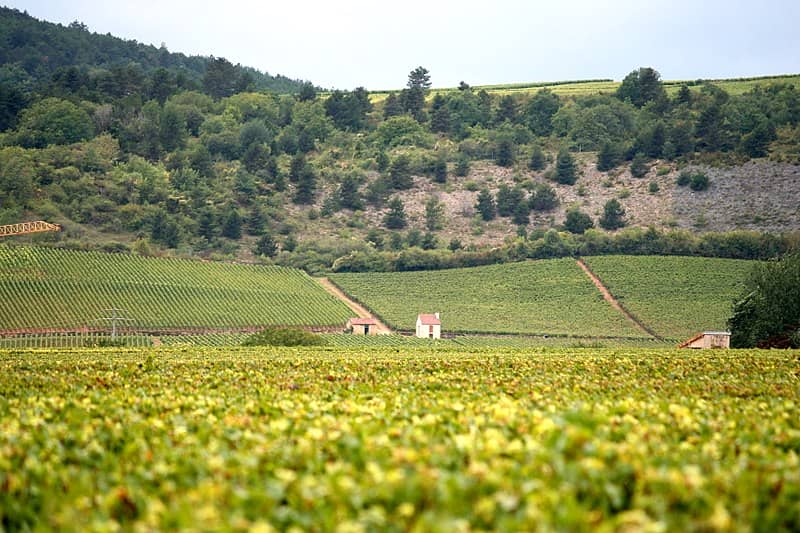 With its varied landscape, soil, and semi-continental oceanic climate, Burgundy is known to produce some of the country's best (and more expensive wines).
This region is centrally located and stretches from the south of Paris to Lyon. This territory has vineyards that grow from clay, limestone, and stone soil.
The most popular grape varieties in Burgundy are Pinot Noir and Chardonnay, which are made into wine that has the distinct flavor of cherry and dark fruits along with earthy and floral hints.
If you are headed this way, it is a must to sample the regional wines in Beaune, its vibrant capital.
Bordeaux vineyards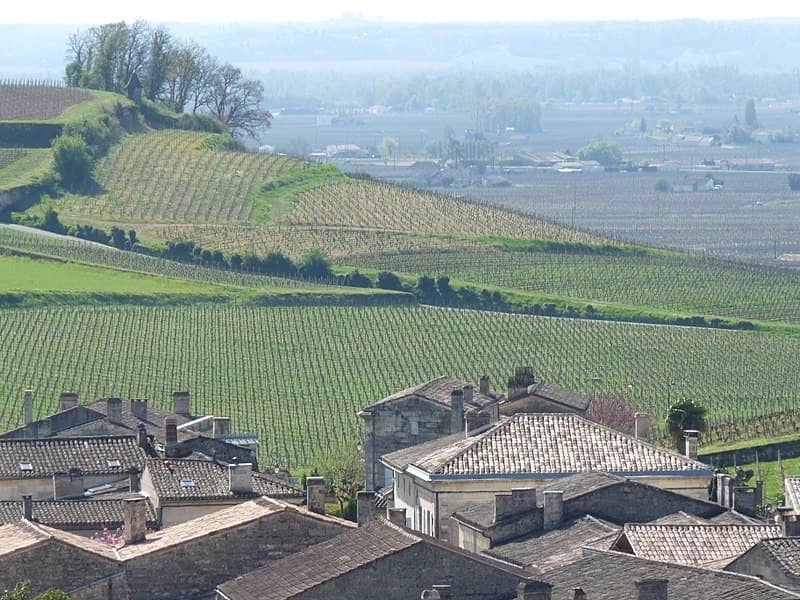 Strategically located by the Gironde estuary in the Southwest, Bordeaux is among the most popular wine regions in France.
Most Bordeaux vineyards are based around the city, by the Garonne and Dordogne Rivers. This region is known primarily for its red wine, made by blending Cabernet Sauvignon and Merlot.
There are different types because different wineries mix them in a variety of percentages.  The red wines from Bordeaux are distinctly medium- to full-bodied with a fruity aroma and earthy notes.
Bordeaux wines are also more expensive than the others, mostly because of their superb aging potential. This means that even if you keep them for a long time before consuming them, the wine simply gets better.
---
Check out these best wine regions in France.
---
France Bucket List Number 7: Enjoy the beaches
Plage de Port Blanc, Quiberon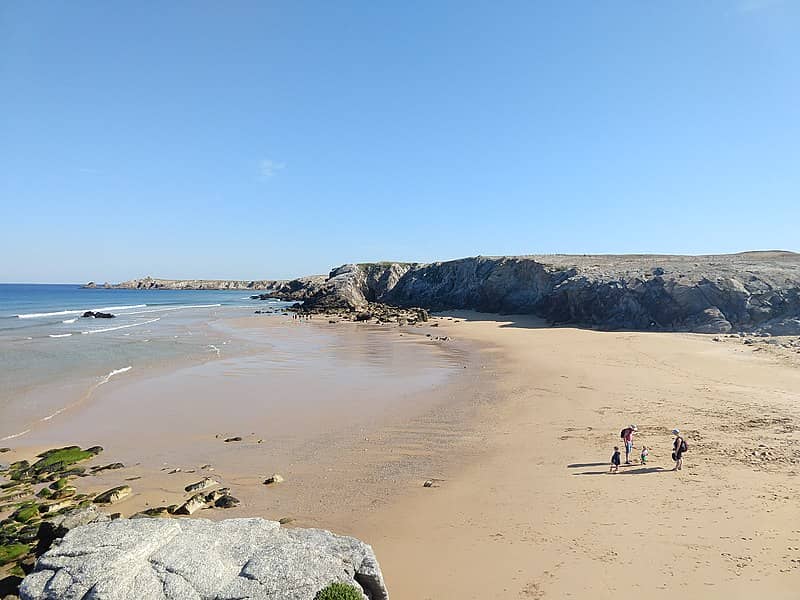 Blessed with a rugged, scenic coastline, Plage de Port Blanc is favored by surfers. It is located on the western shores of the Quiberon and receives a lot of wind.
Plage de Port Blanc is the go-to destination for avid surfers during the low season. The beach is a wide, long stretch of sandy shore, with a few pebbly parts.
If the beach gets a lot of wind during the offseason, it becomes flat and steady during summer.  This is one of the best beaches in France and a definite must when you're in the northern parts.
Plage de Roccapina, Corsica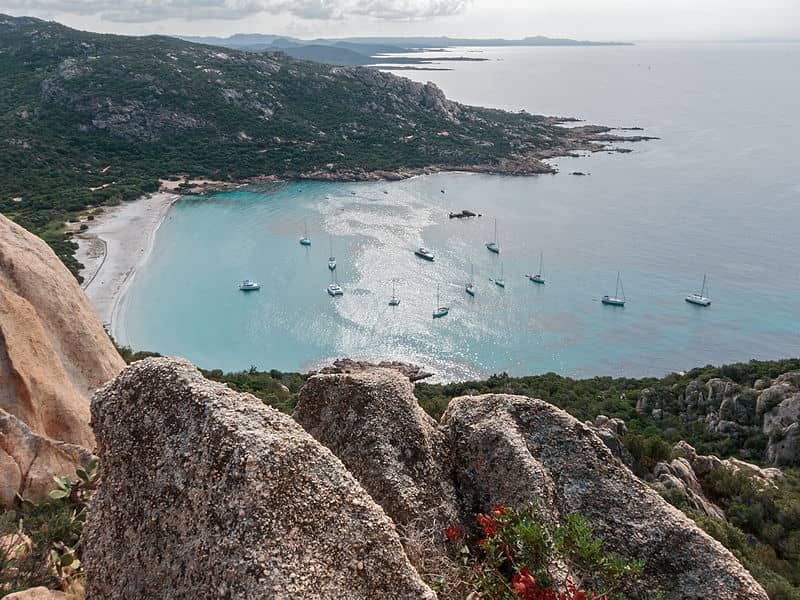 One can't just list the best beaches in France without mentioning Corsica.
Its magnificent beaches are just among the places you must visit, such as Plage de Roccapina. You'd have to brave rough terrain to reach Roccapina, but it definitely pays off once you're there.
Considered a wild beach, still undeveloped and with no amenities on sight, this is the perfect escape. The place doesn't get crowded either.
Here, you get to enjoy long stretches of and pebbles, as well ss crystalline waters meeting the blue sky. Stretch your legs as you dit on the shore and listen to the gentle crashing of waves. If you want to check out the surrounding scenery, climb up the lookout point and take in the stunning views.
Les Salines beach, Martinique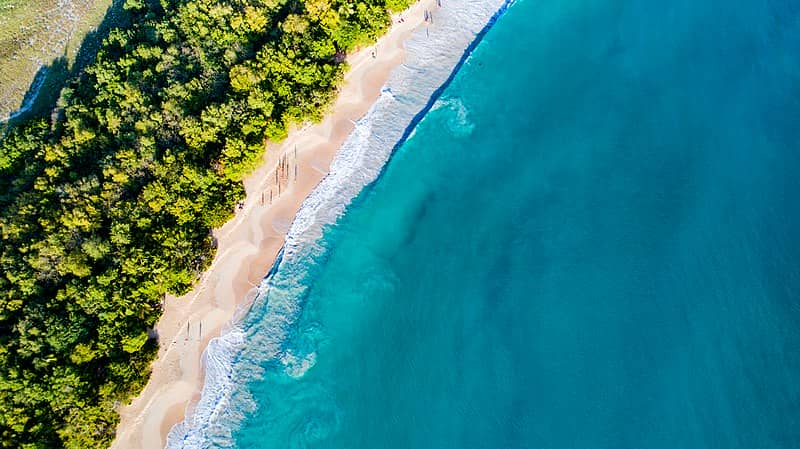 Ask anyone from Martinique about their favorite beach and they will most likely say Les Salines. This local favorite is also the most visited beach in Martinique, attracting at least a million visitors every year.
It's glistening white sand, swaying palm trees and turquoise waters are just among the reasons why people keep coming back.
The area also has a variety of restaurants close by, where you can enjoy a meal after having fun in the sun.
The best time to visit is from early morning until before noon, where the water is at its calmest and you can enjoy a relaxing swim or stroll along the shore.
Les Salines beach is also known as one of the loveliest spots for viewing the sunset so be there in the late afternoon.
Étretat Beach, Normandy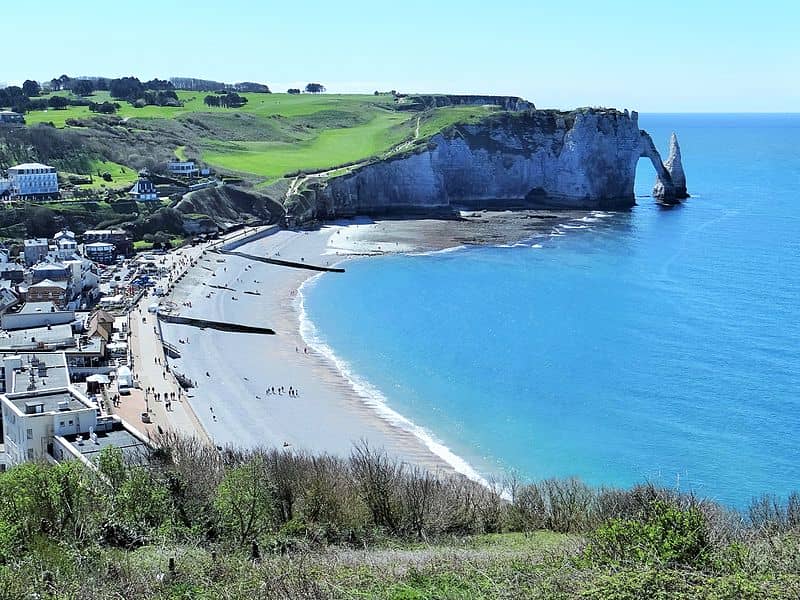 Located in Normandy in the Northwest is the scenic Étretat. With dramatic jagged cliffs adorning its beaches, it is regarded as one of the best beaches in France.
Located on a stunning coast just two hours away from Paris, Étretat is also known for the natural attractions nearby.
From boulders to medieval era structures, a walk on the beach is like being in an open museum. It's quite spectacular at sunset so be sure to stay and watch the play of colors over Étretat.
---
Check out these best beaches in France.
---
France Bucket List Number 8: Visit the lakes
Lac d'Allos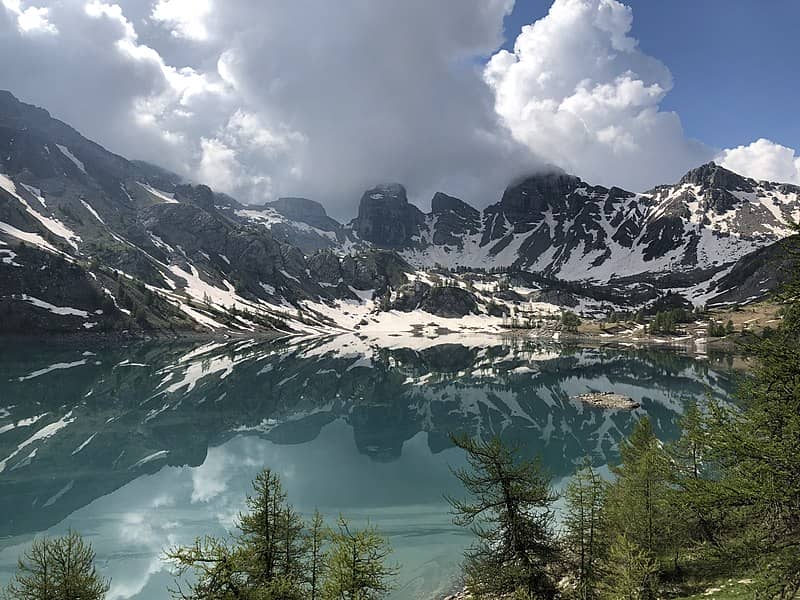 There are no direct roads that head straight to the stunning Lac d'Allos, but the one hour walk from Maison Forestière du Laus is absolutely worth it.
Lac d'Allos is the largest natural high altitude lake in Europe, situated in the heart of the Mercantour National Park.
A large portion of the water in this lake comes from melting snow from the peaks of the stunning cirque around it. The area is scenic and relaxing, that even the short hike going here is quite an experience.
Lac de Capitello

One of the best lakes in France is in Corsica is the pretty Alpine lake called Lac de Capitello.
It is the deepest lake in the area, surrounded by craggy mountains in the Restonica Valley. This small, circular lake is not easy to get to, as the hike going here is quite challenging.
Once you reach this place, however, you'll pretty much have Lac de Capitello to yourself.
The views and the relaxing atmosphere make it one of the best lakes in France to visit if you're looking for a scenic escape from touristy areas.
Lac de Serre-Poncon
Created in the 1960s as part of a flood-control project, the scenic Lac de Serre-Poncon is one of the largest man-made lakes in France.
Located in the south of the country, this lake is popular among swimmers,  windsurfers and those who love sailing.
Surrounded by both mountainous areas and gentle hills, Lac de Serre-Poncon is a stunning sight to behold at any time of the year. Camping is permitted in the banks, as well as a variety of water activities.
One of France's best lakes, Lac de Serre-Poncon is also adjacent to charming small villages like St. Vincent Les Forts or Espinasses that you can visit
---
Check out these best lakes in France.
---
New to Airbnb? Get $64 off for your next trip if you use our link here. 
---
Like It? Pin It!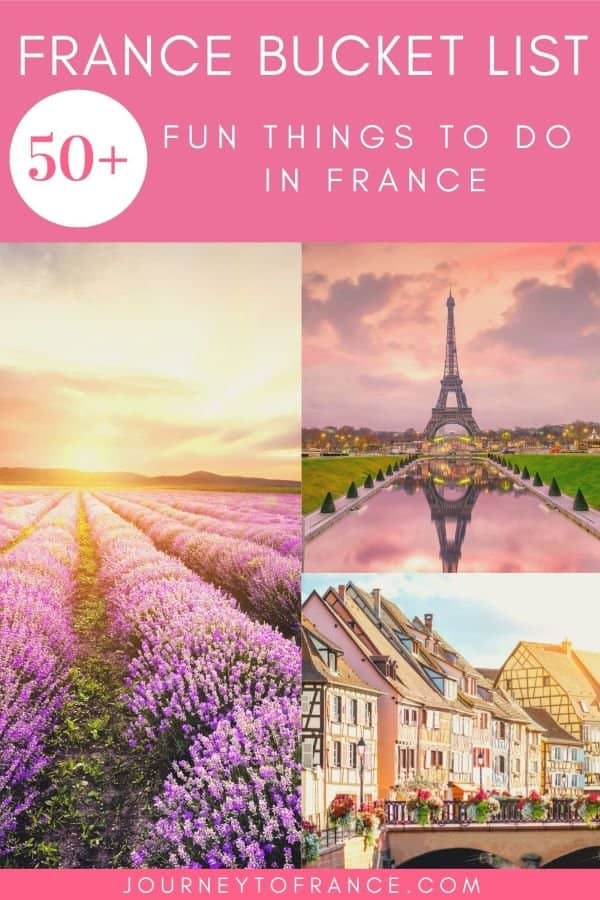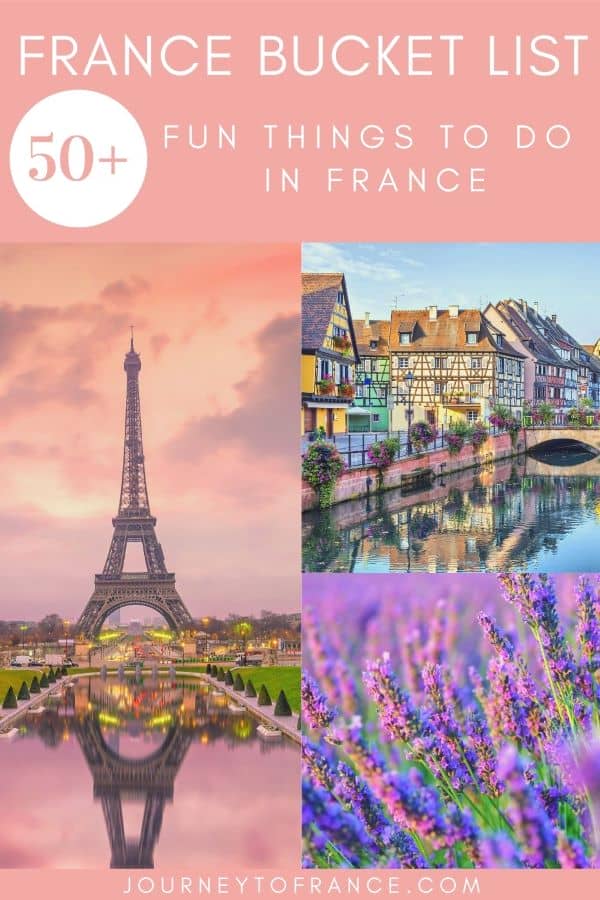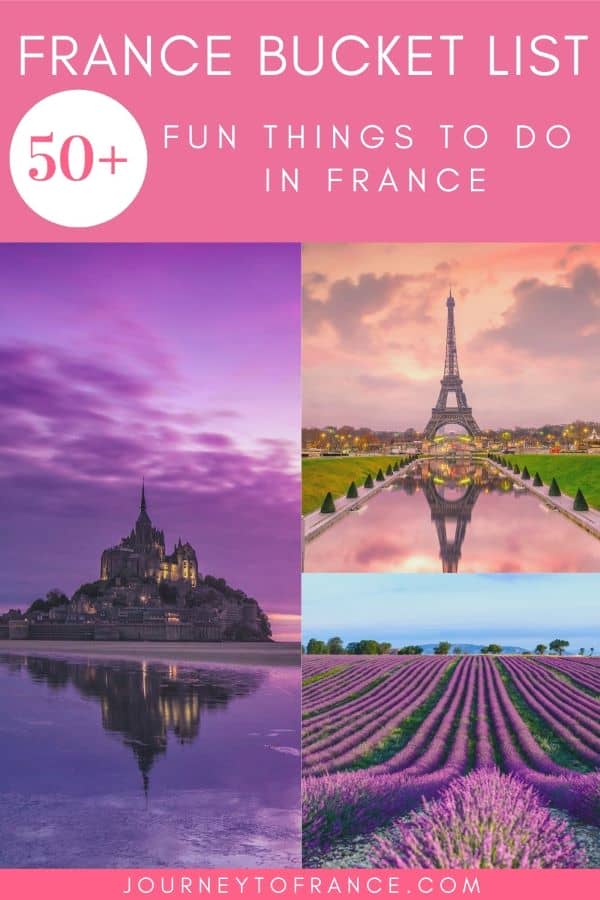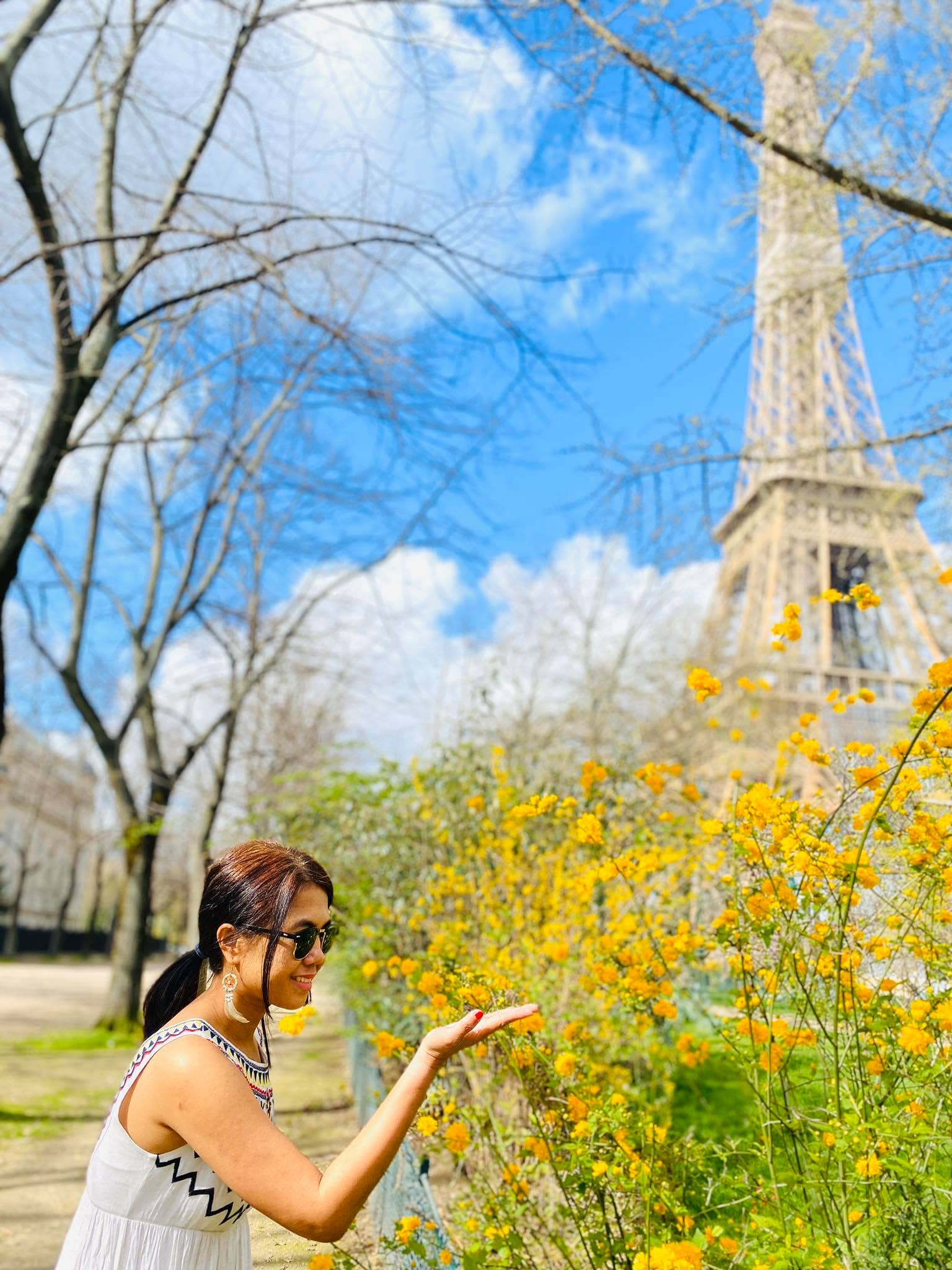 Hi, I'm Christine – a full-time traveler and career woman. Although I'm from the Philippines, my location independent career took me to over 40 countries for the past 8 years. I also lived in 3 continents – from the Caribbean, South East Asia to Africa. France remains special to me, however. From architecture, history, and arts – France is truly an amazing place.