The consistently fine weather with fewer chances of rain makes July a great month to visit France.
In this lovely summer month, most attractions and activities are easily accessible, even those that are reliant on certain weather conditions such as sailing or visiting Mont Saint Michel.
---
New to Airbnb? Get a $43 off for your next trip if you use our link here. 
---
July is part of the high season though, and it's best to plan and book your trip early.
You'd most likely be on vacation with a lot of other tourists, but the crowd shouldn't stop you from enjoying. Here's a handy guide to help you through your upcoming vacation to France in July.
France in July: Weather, Things to See and Travel Tips
Temperature in France in July
July's average temperature in France ranges from 16˚C to 25˚C.
Rain in France in July
France gets around 40mm over of rain over a period of8 days during July.
Wind in France in July
France's July wind speed usually goes from  8.2 to 9.0 mph.
Sun in France in July
France gets around 11 to 12 days of sun in July.
What to pack in France in July
These are the things that are non-negotiables when packing for a trip to any destination.
Keep things organized by putting each type in color-coded luggage organizers. Putting them in these separate, lightweight packing cubes or pouches make it easier for you to find or keep them in place.

Toiletry Kit – Bring only those that you won't most likely find in drugstores or malls in France. If your skin is adaptable and not too sensitive, bring products that have multipurpose such as moisturizing facial wash, or shampoo and conditioner bars. Otherwise, travel toiletry kit essentials include deodorant, makeup, toothpaste, toothbrush, travel size shampoo, conditioner, body soap, razor/grooming kit, and towel.
Gadgets – Apart from the usual cellphone, camera, tablet, and laptop, bring items that will ensure these will work properly in France. A must is a small power bank to make sure you can recharge your devices even on the road. You can get it here.
USB cables and a universal adapter are also a must as you don't know if your devices will have the correct type of plugs. You can get it here.
Other Important items – A first aid/emergency kit is a must and should contain the following: pain and fever medication, antidiarrheal medication, softening and soothing lozenges, anti-mosquito cream/gel and medicines for carsickness or seasickness.
Water in France is generally potable so instead of buying bottled water, you can bring your own bottle instead and just refill it. This reusable water bottle is also collapsible one so you can put it in your bag easily.
There's always a chance of rain in France so a foldable umbrella or lightweight raincoat is a must.
Bags and Luggage – A travel backpack should accommodate all your essentials plus the clothes that are good for about ten to fifteen days of travel. While in France, you also need a day bag that you can use when visiting attractions or going on day trips.

Even in Summer, France still gets some rainy days so be sure to pack some rain gear.
For the rest of the summer, it's best to bring comfortable clothes in light colors. Summer may not be scorching hot, as temperature averages from 70°F to 80°F (21°C to 27°C) but it's advisable to be prepared by packing the right gear and clothing items.
Don't forget to bring sunscreen that should be non-sticky and lightweight, as well as definitely waterproof in case you plan to swim. Summer is the perfect time for beach walks or nature trips, as well as exploring city centers.
Pack comfortable shoes that can be easily paired with most types and colors of clothes, like these sandals and sneakers.
Summer nights can get cold so bring large shawls to warm up.
Check out this packing list for all seasons.
Things To Do In France In July
1. Antibes
Antibes is part of the French Riviera and one of the prettiest places to visit in France in July. This resort town has a lovely Old Town area, with brilliantly preserved structures that date back to the 16th century.
Antibes also has gorgeous beaches that are perfect for picnics, a leisurely stroll, swimming, and getting a nice tan.
Explore the town's coastline and you just might discover a hidden cove or a beautiful lighthouse.
Other places that you must see in Antibes are the star-shaped Fort Carre and the impressive Musee Picasso.
---
Check out these things to do in Antibes.
---
 2. Biarritz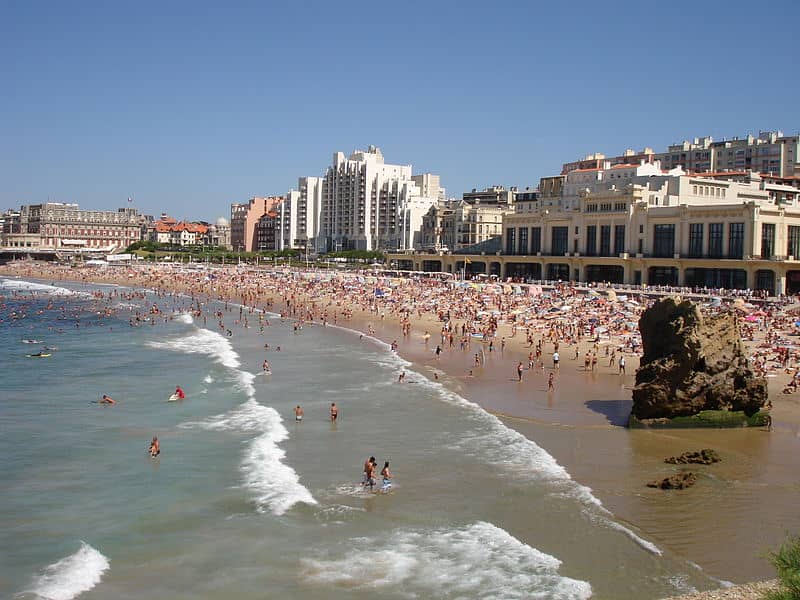 Formerly known as a sleepy French fishing town, Biarritz is now a thriving holiday destination. This is where you'll find the famous Hotel du Palais, which used to be the summer home of Napoleon.
Biarritz has always been a favorite vacation spot by the royals back in the 1800s.
These days, though, Biarritz is known as a part of the French Basque country. Get here if you've ever wanted to visit a place that seems to be stuck in another era.
The pretty architecture, the interesting neighborhood, and the intriguing culture makes Biarritz among the best places to see in France in July.
3. Cannes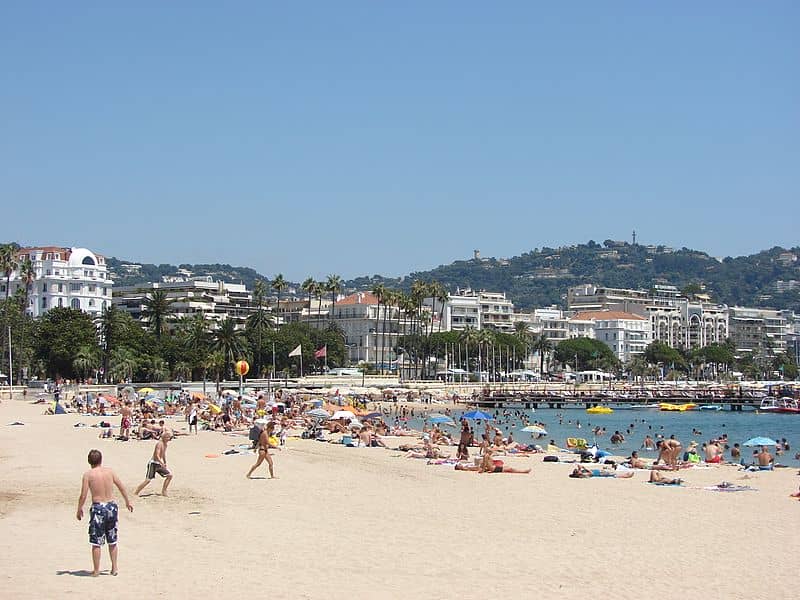 Another fascinating destination in the French Riviera is the trendy Cannes. It has gained popularity over the decades because of the yearly Cannes Film Festival.
Apart from its stylish and prestigious affiliations though, Cannes is known as a resort town with a rather unique local culture and history. Stroll through its old town or explore neighborhoods.
You'd most likely stumble upon buildings from the Belle Epoque era, or spot celebrities hanging out in posh hotels and restaurants.
Cannes is also known for its vibrant nightlife, so hit the clubs and party like a celebrity while you're here.
---
Check out these things to do in Cannes, France.
---
4. Bastille Day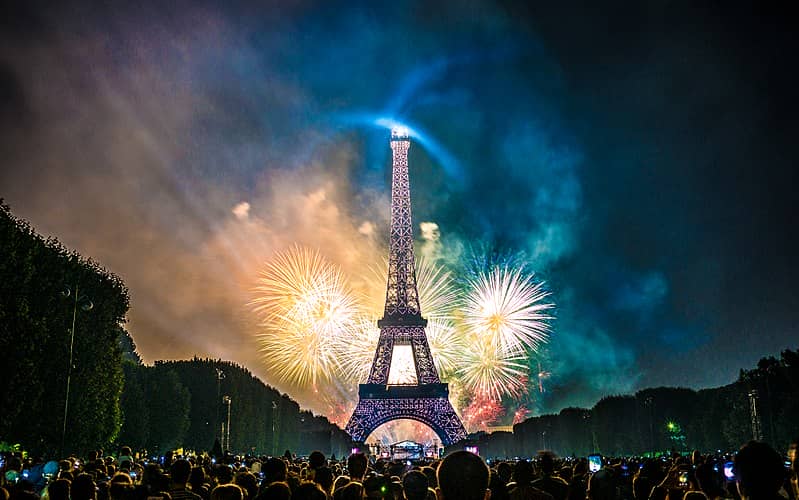 Lucky you if you happen to be in France on Bastille Day. That's an amazing way to experience local culture, as you join in the festivities in this French national holiday.
It is held every July 14 and involves a military parade along the Champs Elysées, as well as various celebrations all over the country.
This holiday commemorates the storming of the ‪Bastille‬ ‪Prison‬ in 1789 — which was one of the major events that lead up to the French Revolution.
On this day, you can also enjoy the colorful and flavorful markets, food festivals, concerts, and street parties.
5. Abbaye du Mont Saint Michel
Outside Paris, the stunning and mystical Mont Saint Michel has to be one of the most recognizable images of France. Perched on a rocky island on the Normandy coastline, this is one of the most visited France attractions.
July is definitely an ideal time to visit Mont Saint Michel, with its lovely weather that makes it easier to travel to the famous abbey.
Also known as the 'pyramid of the seas', the abbey has been a beacon to devout Christians since the Middle Ages.
The abbey church was also a part of the "Way of Saint James" pilgrimage that leads to Santiago de Compostela in Spain.  Pilgrims would walk across the Bay of Saint Michel during low tide yo reach the island.
Today, visitors can still go to Mont Saint Michel on foot — just check the weather first and wear sturdy, slip-proof shoes.
Below the abbey, the picturesque small town is also a lovely place to see and explore.
Stay until after sunset on the bay and witness as the place lights up. The island and abbey look like a magical castle floating on the water.
---
Check out these best things to do in Mont Saint Michel, France. 
---
6. Commune with nature in the Auvergne Region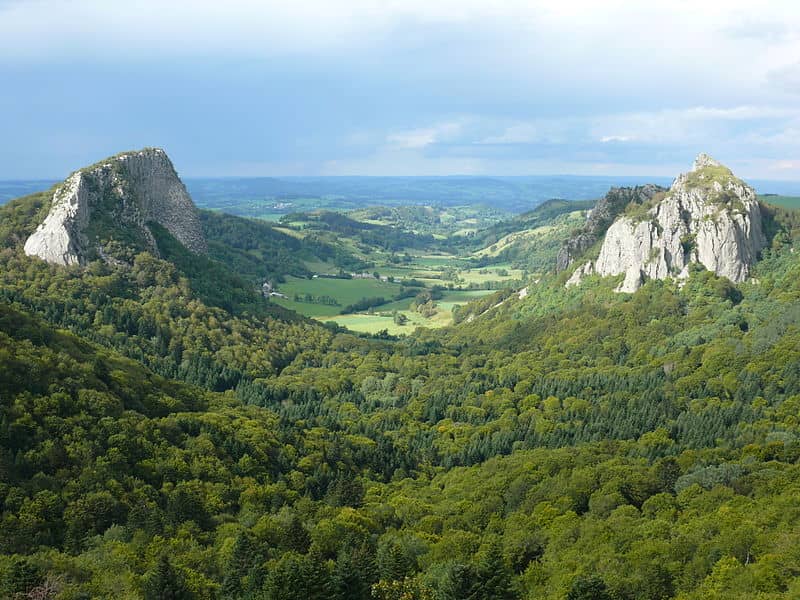 A unique French getaway that takes you to two of France's most expansive nature reserves – this is definitely one of the best things to do in France in July. Escape the crowded cities, or the touristy sites, and spend part of your summer communing with nature.
Go hiking, cycling, horseback riding, or even fishing in the expansive Regional Park of Volcans d'Auvergne. You may also go swimming or boating on the serene Lake Aydat.
Meanwhile, explore the biodiverse Regional Park of Livradois-Forez that's perfect for bird-watching, nature walks, and hiking.
July is also a great month to visit Auvergne, as it has fun events like the Concerts de Vollore, which feature classical music performances.
7. Go Sailing in Saint-Tropez
July is an ideal month for sailing in France. If you're up for this sea adventure, be sure to do it in the gorgeous Saint-Tropez.
Even its yacht-filled harbor is already a sight to behold. Check schedules and book a sailing trip, it's bound to be an exhilarating experience.
Cruise along the Mediterranean, take in the salty sea air and marvel at the crystalline waters. Sailing in Saint Tropez is one of those things to do in France that you won't easily forget.
---
Check out these things to do in Cannes, France.
---
8. Visit a national park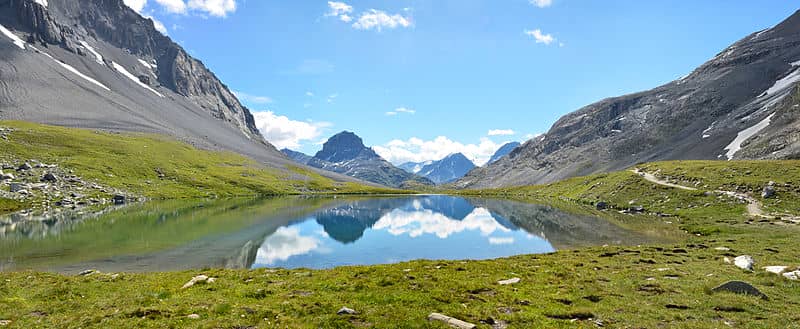 When you say France, people automatically think of its historic yet cosmopolitan cities such as Paris, Lyon, and Bordeaux.
The country is also known for its wine regions or the go-to celebrity holiday destinations in the French Riviera.
The rest of France, however, boasts of varied landscapes that make them a haven for the adventure types. These are national parks dedicated to preserving and protecting France's natural wonders.
So if you want something different to do, hiking or camping in a national park is one of the best things to do in France during summer.
---
Check out this guide to the national parks in France
---
9. Visit Reims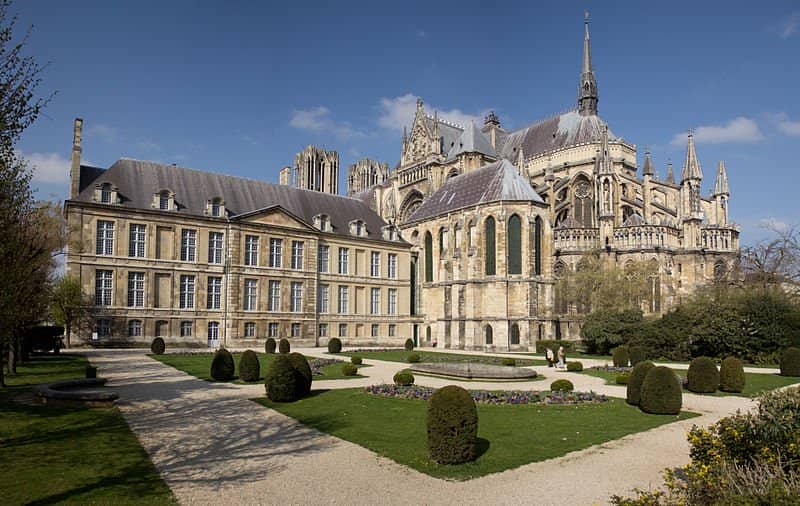 Reims is an easy day trip from Paris (less than an hour by TGV train), and one of the most exciting destinations in the Champagne Region. It is part of France' Villes d'Art et d'Histoire" (Cities of Art and History), because of its rich history and culture as well as its impressive architecture.
In Reims, you'll walk among centuries-old buildings and historic monuments, as well as fabulous cafes and restaurants. Reims is easily reached from Paris and you can explore its best attractions within a day.
However, Reims is also home to fascinating museums, elegant squares, and champagne houses.
This city is definitely a must explore and whether you're on a day trip or staying for the weekend.
---
Check out these things to do in Reims, France.
---
 Travel Tips in France in July
1. For that added local feel and loads of fun, be sure to take part in this month's many celebrations in France. July is a month of colorful and interesting festivals so it's a great opportunity to experience the local culture.
Markets abound during these festivals too so it's a chance for you to take home unique souvenirs or tasty treats from different parts of the country.
2. It wouldn't be easy to avoid the summer crowds when visiting any popular attraction in France. However, you can at least avoid not standing in line for hours (especially under the scorching summer heat).
Be sure to set out early and head to your chosen destination. You can also go in the afternoon hours before it closes. Midweek (Wednesday) is a great time to visit compared to other days of the week.
3. When in France, you are not expected to eat and finish it right away. The French enjoy their time relaxing over a cup of coffee or a full course meal.
When in cafés or restaurants, one is even expected to stay for at least 2 hours. The French savor their experiences and they'd truly appreciate it if you do the same while you're in their country.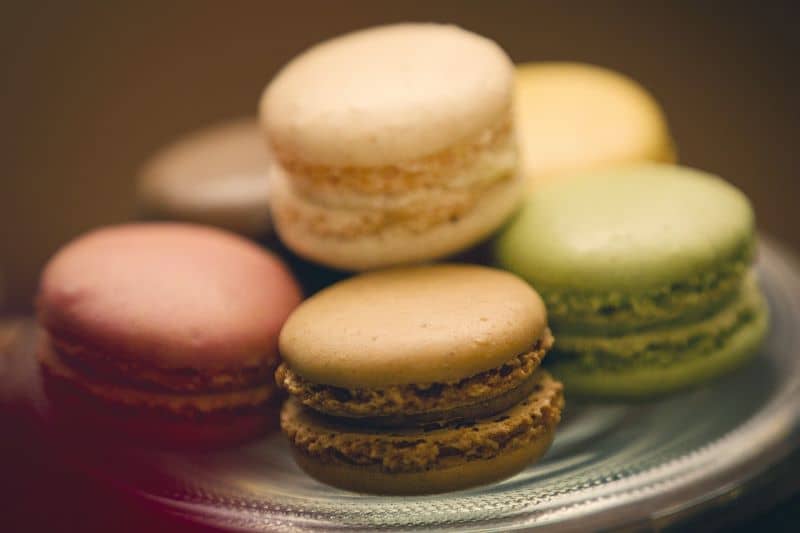 4. Don't make taxis your go-to means of transportation. This is the same with guided tours. Both can be quite expensive and you're not in control of your pace and schedule.
France has a reliable transport system that you should take advantage of. Trains, buses, and trams are accessible in most parts of France. They're not just the perfect way to navigate the country, they're also safe and hassle-free.
5. When using the train, it is cheaper to buy in France, right at the train station. It's also pretty convenient as you can just decide on a whim where to go. It's another way to truly experience being a local.
6. There is no strict tipping culture in France, especially in restaurants and cafes.
Most of the time, the 15% service charge is already included in the bill and it says 'Service Compris'. If the service is particularly exceptional though, the staff would appreciate a few Euros as a tip.
7. Try to learn some French phrases to help you navigate France easier.
---
New to Airbnb? Get a $43 off for your next trip if you use our link here. 
---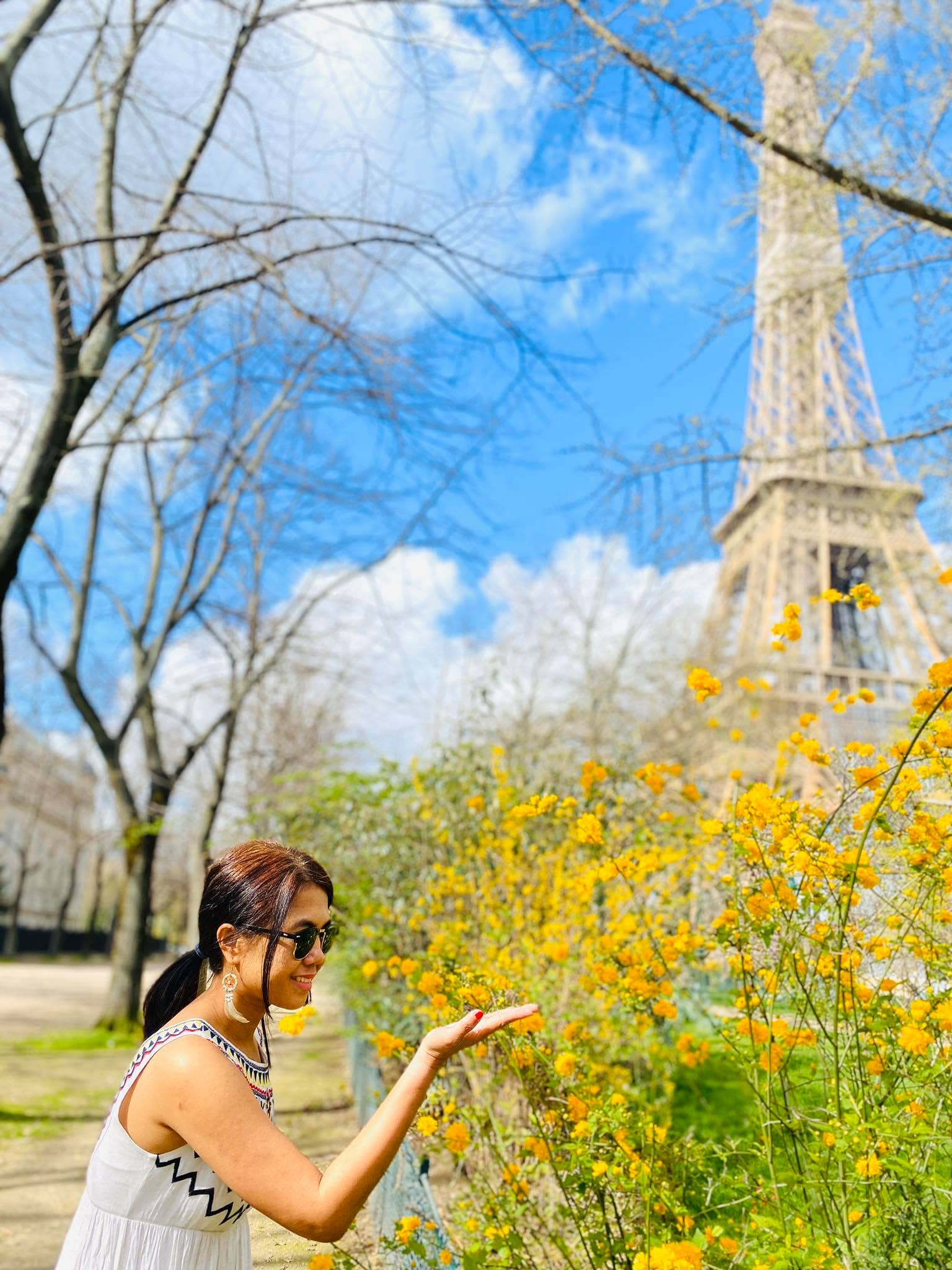 Hi, I'm Christine – a full-time traveler and career woman. Although I'm from the Philippines, my location independent career took me to over 40 countries for the past 8 years. I also lived in 3 continents – from the Caribbean, South East Asia to Africa. France remains special to me, however. From architecture, history, and arts – France is truly an amazing place.