Martinique has it all – pristine beaches, secluded bays, scenic hikes, and panoramic views.
If you're looking for a unique holiday destination in the Caribbean, this French territory offers diverse landscapes, intriguing history, and fascinating culture.
There's something for everybody in Martinique – whether you're a beach bum, a nature lover, or even a gourmand.
From beaches to ruins to old covered markets, here are the best places to see and things to do in Martinique.
11 Best Things To Do In Martinique
1. Fort-de-France
Fort-de-France is probably the first place you'll explore when you arrive in Martinique.
Before heading to the beaches, explore the islands' vibrant capital and get a glimpse of its rich history and culture.
See the Gothic Cathedral, visit the impressive Schoelcher Library or the ancient covered market.
For a quick escape from the hustle, enjoy a relaxing stroll at the picturesque Jardin de Balata up the hills or the beautifully landscaped La Savane Park in the center of town.
2. Visit Cathedral of St. Louis
Located in the downtown area of the Fort-de-France, the Cathedral of St Louis is one of Martinique's best attractions.
One cannot miss this Gothic Revival structure, said to be one of the finer examples if this style. The cathedral also has a Romanesque bell tower and its peak that dominates Fort-de-France' skyline.
The interiors are bright and pleasant, blending perfectly with its location on the sunny island of Martinique.
3. Trois-Îlets
If you're looking for more things to do after spending time at the beach, head towards Trois-Îlets.
This tiny harbor village boasts of city leisure staples with a distinct island vibe. Try your luck in the casino, enjoy a few drinks in one of the bars after a meal at a fine dining restaurant.
During the day, play a round of golf or some watersports.
Stroll along the marina and take in the picturesque scenery made of quaint shops, Creole houses, and the boats.
The busy and vibrant Trois Ilets is just a ferry ride away from the capital, and one of the best places to visit in Martinique.
4. Martinique Beaches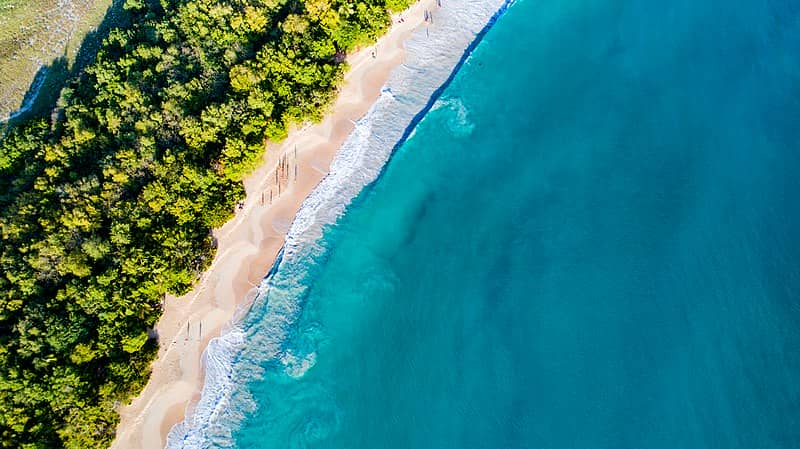 Surrounded by crystalline waters and close to rich marine ecosystems, the beaches are easily the top places to visit in Martinique.
From rocky to pebbly, to shores with fine sand, to those secluded black beaches – Martinique beaches are as fascinating as its history and landscapes.
Saint Anne is said to be the town where you'll find the best beaches, while Diamond Beach is known for its distinctly Caribbean atmosphere.
However, there are a lot of beaches close to the island's capital that are also worth visiting such as La Francaise and Plage De Madiana.
5. See the Volcanic Ruins at St. Pierre
The people of Martinique often say that Saint Pierre used to be the Paris of the Caribbean until it was devastated by the 1902 volcanic eruption.
The aftermath, they say, has turned this part of the island into the Pompeii of the Caribbean.
However, this poignant history is also one reason why people visit the place. The ruins still somehow reflect Saint Pierre when it was the cultural capital of Martinique.
Walk up and take a closer look at the old theater, where you can still see the remains of its stairways.
Spend a few hours exploring the ruins and discover a part of the island's history that makes it among the best attractions in Martinique.
6. Hike the Montagne Pelée (Mount Pelee)
A scenic journey awaits when you hike Montagne Pelée (Mount Pelee) in Martinique's Saint Pierre town. This was the volcano that erupted in 1902, destroying most of Saint Pierre.
Today, Mount Pelee is a dormant volcano that attracts hikers who want to enjoy views over the town and the Atlantic. At  1,377 meters high, this is a relatively easy climb.
However, the peak tends to be covered by clouds so schedule your hike early in the morning.
Pack comfortable hiking shoes and your sense of adventure, this is one thing to do in Martinique that you shouldn't miss.
7. Hike Along La Caravelle Trail
See more of Martinique's diverse sceneries by hiking along the lush La Caravelle Trail. The path takes you through dense forests, mangroves, and rugged cliffs carved by the waves of the Atlantic.
Hiking along the La Caravelle also offers a closer look at the ruins of Château Dubuc. Stop here and take the audio guide as you explore this site.
This is a fascinating look at life on the island centuries ago and one of the best places to visit in Martinique.
8. View Marine Life At Diamond Rock
Surrounded by the Atlantic, Martinique boasts of a rich marine life. Head towards the Diamond Rock with your diving or snorkeling gear and bond with the island's underwater residents.
Here, you'll see beautiful corals,  many species of fishes, sea fans (gorgonians) and sponges.
You cannot miss Diamond Rock, it is a popular Martinique attraction, a huge rugged diamond-shaped stone that protrudes from the water.
Apart from the diverse marine life, Diamond Rock is also known for its underwater caves.
9. Visit l'Habitation Clément (Rum Distillery)
If most of France has wineries, Martinique distinguishes itself with its rum distillery or what used to be one, like the l'Habitation Clément in Le François.
Now a museum, visit here often tops the list of things to do in Martinique.
Here, you will learn the history as well as the process of turning sugar cane into rum.
Surrounded by a park,   l'Habitation Clémen offers quite a laidback ambiance and a taste of its famous rum at the end of the tour.
10. Eat Creole and local delicacies
Being a French territory, Martinique is not exempted from the country's rich culinary heritage.
The island offers an interesting mix of Creole cuisine and local delicacies. Martinican cuisine often reflects its complex history as well as the island's diverse cultural heritage.
In Martinique, you'll get to enjoy scrumptious dishes that are made with either the freshest catch of the day or locally sourced ingredients.
Some of the must-try dishes are the popular Accra fritter, Boudin Creole sausage, Lambis or sea snail, and sweet Blanc Manger au Coco for dessert.
11. Shop spices in Grand Marche
After spending days on the island, you'll surely want to bring home a bit of Martinique with you.
One of the best things to do in Martinique is to spend hours, perhaps even an entire day shopping for spices.
You'll always have a taste of Martinique as you stock up on cinnamon sticks, dries bois bande, nutmeg, and turmeric root.
Be sure to also buy colorful bottles of herbs and condiments. All of these are found in the Grand Marche, in Fort-de-France.
So, that's our list of the best things to do in Martinique. I hope this helps if you're planning a trip to Martinique. Do you have any other suggestions for Martinique? Let us know in the comments below!
---
New to Airbnb? Get a $43 off for your next trip if you use our link here. 
---
Like It? Pin It!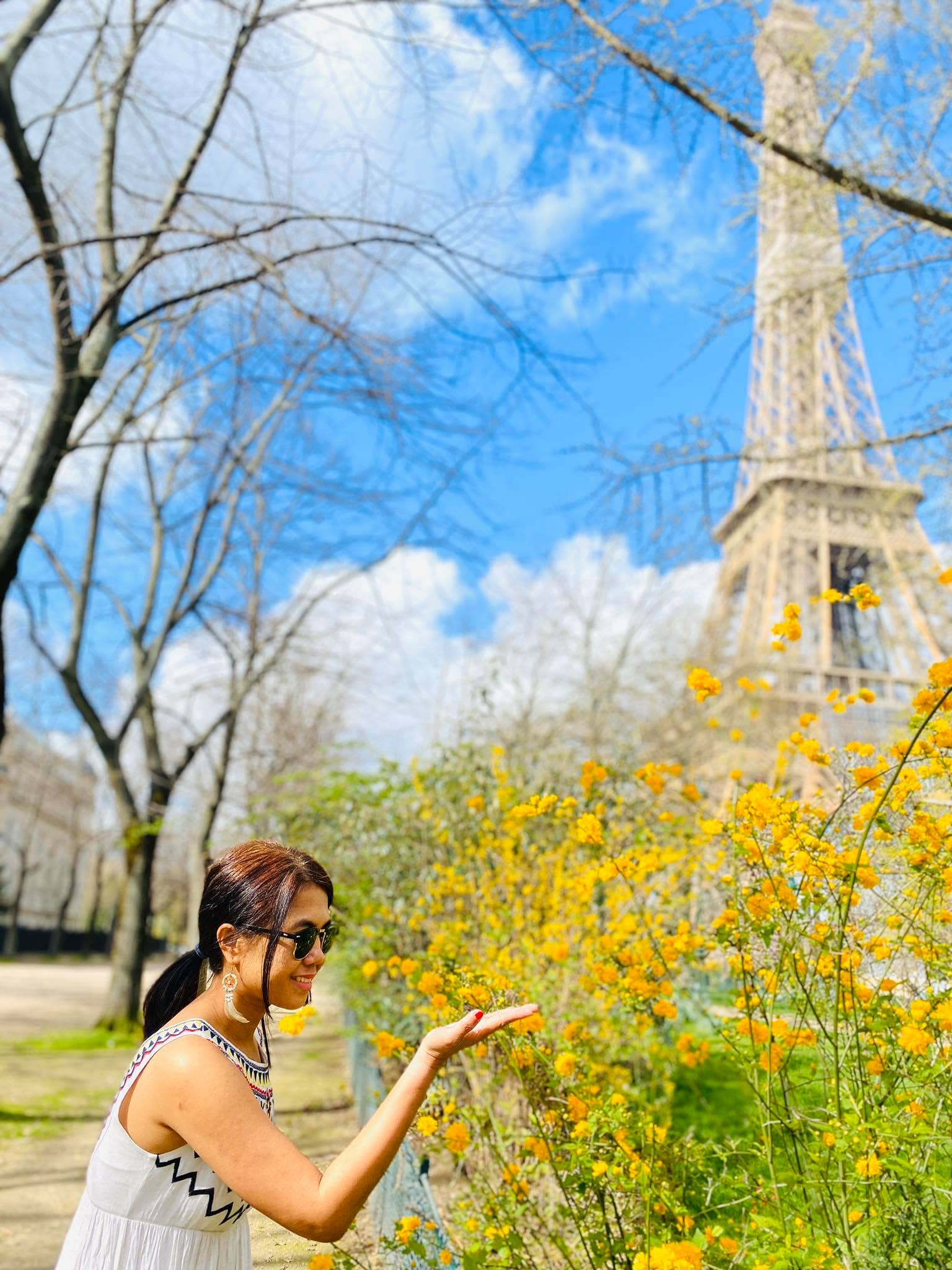 Hi, I'm Christine – a full-time traveler and career woman. Although I'm from the Philippines, my location independent career took me to over 40 countries for the past 8 years. I also lived in 3 continents – from the Caribbean, South East Asia to Africa. France remains special to me, however. From architecture, history, and arts – France is truly an amazing place.