Are you looking for the best things to do in Montmartre?
Many visitors to Paris love to wander around Montmartre or the Mountain of Martyrs. This neighborhood perched atop a steep hill is in the north of Paris center, in the 18th arrondissement.
Artists came to Montmartre in the late 1800s and early 1900s to set up shop and network with like-minded individuals.
From films like the groundbreaking Can-Can and the famed Moulin Rouge, the reputation of Montmartre as a bohemian enclave quickly spread.
There is no doubt that today, Montmartre is one of the most visited areas in Paris. That means you might have to make reservations at popular restaurants and wait in line to see a popular sight.
Meanwhile, walking a few blocks away from the main roads will lead you to Montmartre's calmer, more genuine side.
Are you planning on spending a day or two in Montmartre while you're in Paris? The crowds and the abundance of sights can be overwhelming. So here's a rundown of the best things to do in Montmartre so you can make the most of your time there.
11 Things To Do In Montmartre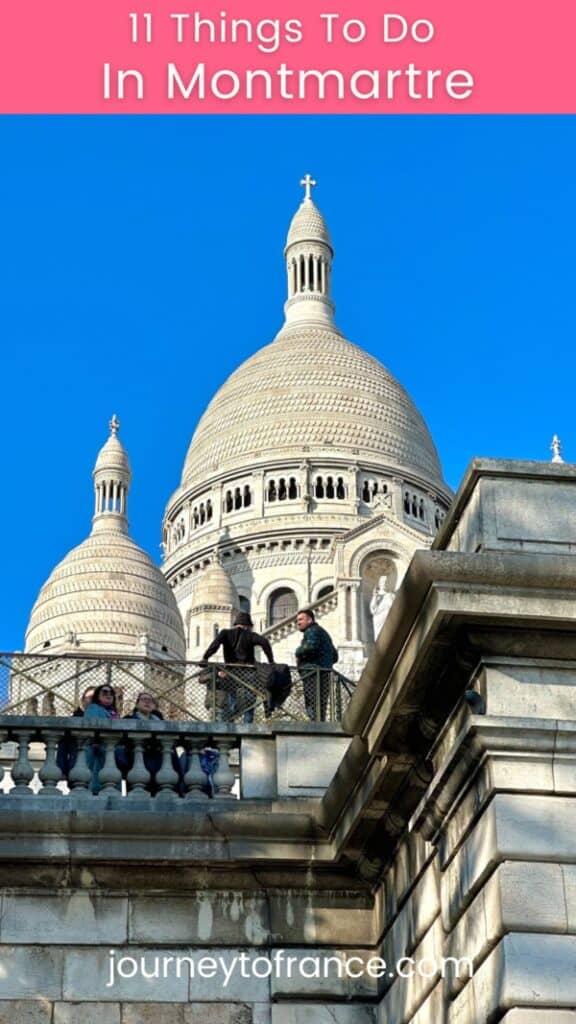 Journey To France contains affiliate links all throughout the site. If you choose to purchase a product or book services through our affiliate links, this earns us a commission at no extra cost to you. For our complete disclosure, click here
1. Visit Sacré Coeur Basilica
Located in Paris, Montmartre takes its name from the prominent hill at its geographic center. The Basilique du Sacré-Coeur (Basilica of the Sacred Heart of Paris) sits atop the hill and is one of the city's most recognizable monuments.
Sacré Coeur is a modern cathedral whose construction began in 1875 and lasted for over fifty years. The white façade has been the target of criticism for decades, but the ornate interior has received much less backlash.
Every day, from 6:30 AM to 10:30 PM, visitors can enter the basilica. There is no entrance fee to the basilica, but the cost to climb the dome's 300 steps is €6 (or a similar amount). If the weather is clear and blue, a trip to the dome will be well worth it as it offers one of the best views in Paris.
To book this tour click here.
2. Stop by the Carousel de Montmartre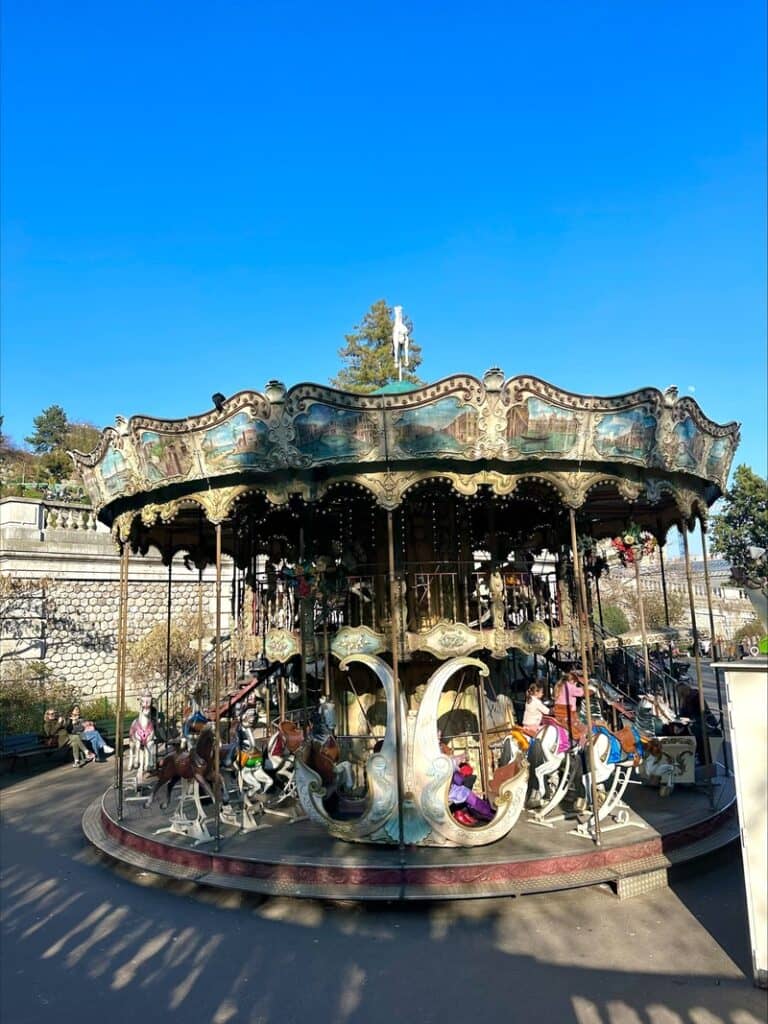 Even if riding the carousel in Montmartre is more fun for kids than adults, it is nevertheless worth seeing because it is one of the oldest carousels in Paris.
Be sure to keep your eyes on the ceiling if you decide to go for a ride on a horse yourself. There, you'll see stunning murals depicting Venice.
From the carousel, you also get to enjoy views of one of Europe's most visited cities. The carousel is quite a whimsical addition to your Montmartre tour and it looks amazing in photos as well.
3. Watch artists at work at Place de Tertre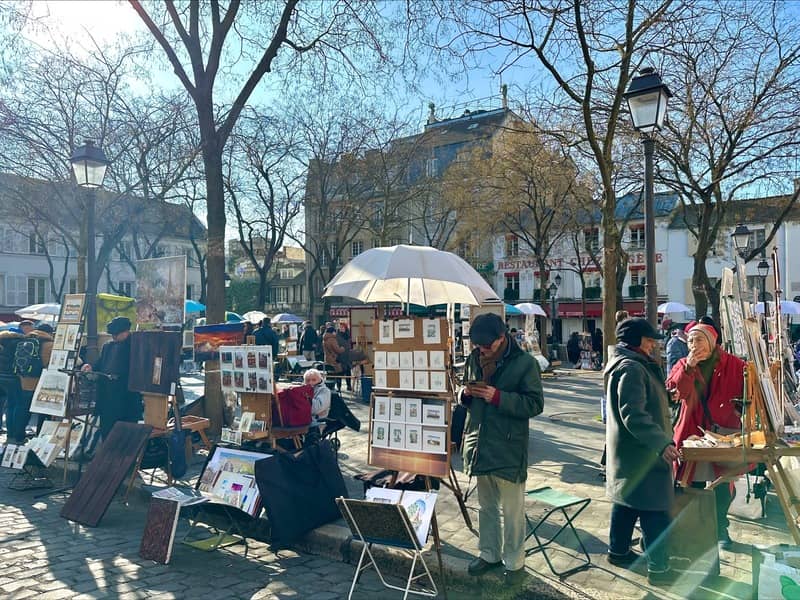 If you're looking for a great thing to do in Montmartre, visiting the public square, Place de Tertre, is a must. This is without a doubt one of the most frequented squares in Paris, and maybe the most artistic spot in all of Montmartre.
It's a public gallery where painters can set up their easels and work in peace. From the late 18th century up until World War I, the Place de Tertre was a mecca for creative types of all stripes.
Some of the most renowned painters of all time have worked here. Even in the wake of all this art history, artists continue to congregate here to create in the open.
4. Learn the different ways to express love at La Mur des Je T'aime (The Wall of Love)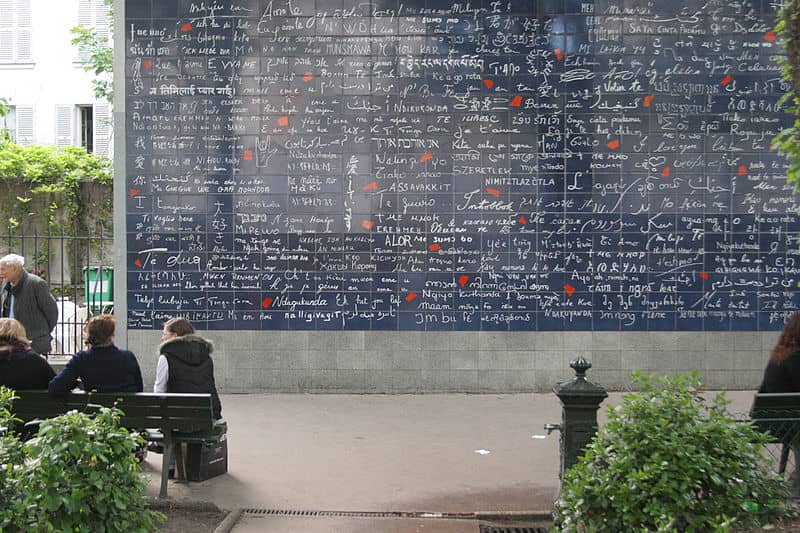 Located in the Jehan Rictus park area in Montmartre, Paris, the Wall of Love (French: Le mur des je t'aime, lit. the I Love You Wall) is a 40-square-meter (430-square-foot) wall dedicated to expressions of romantic affection.
Couples from all over the world flock to Paris, the City of Love, to see the I Love You Wall. This is an art installation created by Frédéric Baron and Claire Kito.
The 40-square-meter wall is covered in 612 enameled lava squares, with the phrase "I love you" written 311 times throughout the various scripts.
5. Go to a cabaret performance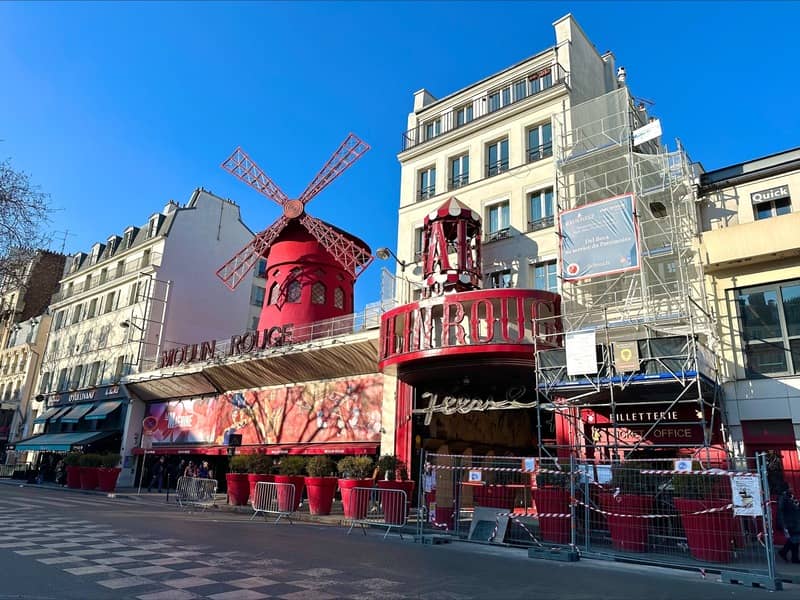 Montmartre is home to the most well-known cabaret in the world. The Moulin Rouge, or the Red Windmill, opened in 1889 as Paris' most thrilling music hall.
It welcomes revelers of all economic backgrounds to its lavish, sumptuous, and decadent interiors. After 130 years, it is still one of Paris's most visited sites. The Moulin Rouge has survived fires, wars, and artistic disagreements.
About a kilometer from the Moulin Rouge is another well-known Montmartre cabaret called Le Lapin Agile. This is a more casual affair, where you can drop in for an hour or two, have a drink, and then leave. The cover charge is €35 (which includes a drink), and the entertainment goes on all night long.
To book this tour click here.
6. Take the Funicular and enjoy the views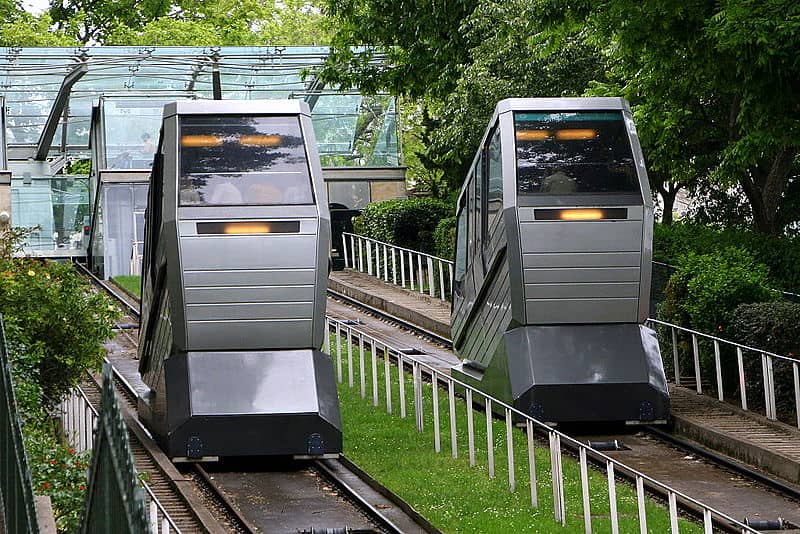 Due to the hilly terrain and the cobblestone streets, a stroll through this neighborhood can be taxing on your legs and feet. That's why you should check out this next exciting attraction in Paris's Montmartre.
From the bottom of the hill, near the Sacré-Coeur stairway, a funicular transports riders to the top of the hill.
Some 300 steps can be added to your day by walking along the Funicular and taking in the local street art. You can see works of artists such as Sobr, known for his fun art depicting dancing people.
7. Visit Montmartre Cemetery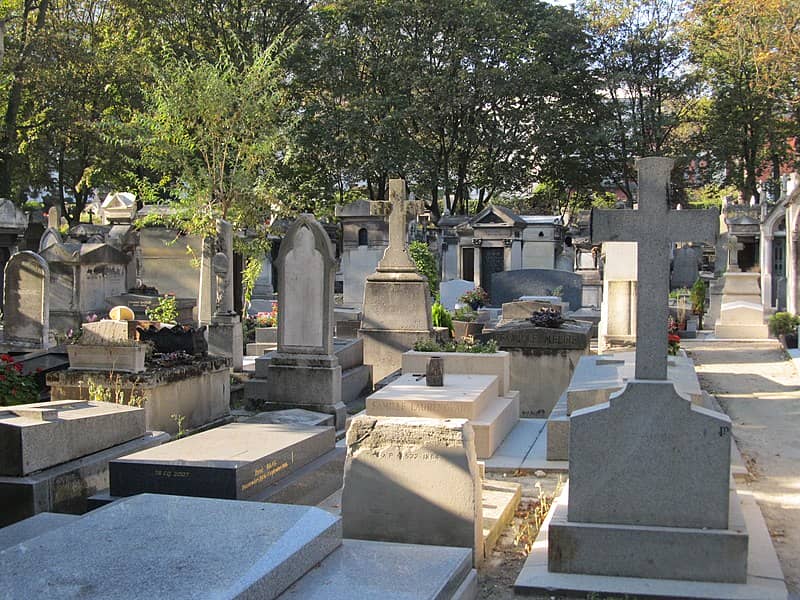 If you're up for some unusual things to do in Montmartre, go check out the city's second-largest active cemetery. There are a few of France's greatest literary figures buried there, including Émile Zola, Alexandre Dumas, and Edgar Degas.
At the site of an ancient gypsum excavation, the Montmartre Cemetery (also known as Cimetière du Nord) opened to the public on January 1, 1825. Great vistas of the steep, forested cemetery can be gained from the metal bridge that was built over it in 1888.
There are almost 300,000 persons buried in this cemetery across 20,000 plots, and its 33 sections or subdivisions. Each grave is an artistic display, whether it be a simple headstone, a grandiose tomb, or a family mausoleum.
Funerary art from many different cultures and eras—Egyptian, Classical, Gothic, Renaissance, Art Nouveau, and many more—represents the park's multicultural atmosphere and wide spectrum of architectural design.
More than 780 trees, including chestnut, maple, lime, ash, and conifer trees, add to the natural splendor of the area.
8. Spend a few hours in one of the museums in Montmartre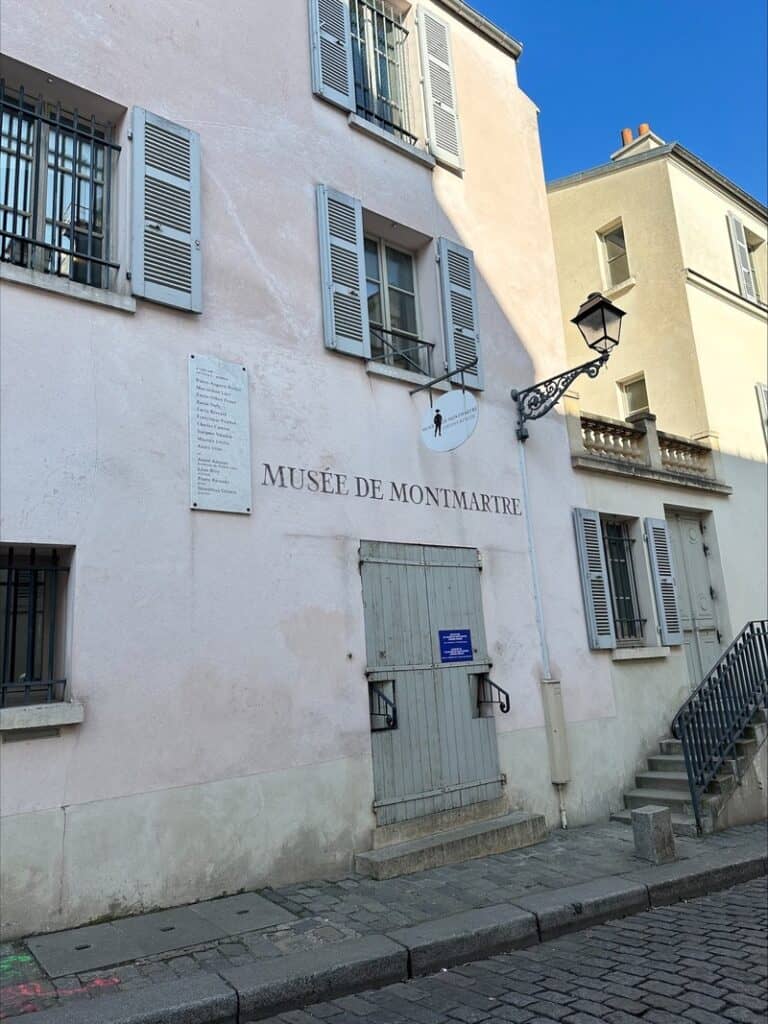 There are several excellent museums in Montmartre as well. Make it a point to stop by at least two. Here are some must-visit museums in Montmartre:
Over 300 years have passed since the construction of the buildings that house the museum, along with the Hotel Demarne and the Maison du Bel Air.
A French actor named Rosimond held the house in the 17th century, and it afterwards served as a temporary or permanent residence for many other well-known artists and writers.
Renoir painted La Balançoire, one of his most famous works, and Bal du moulin de la Galette in this home.
Le Musée de la Vie Romantique
Le Musée de la Vie Romantique (Museum of Romantic Life) in Montmartre, Paris, is housed in a charming hôtel particulier from the 19th century. This museum transports visitors back to the time of Romanticism. Artifacts, such as furniture, paintings, and jewelry, are meticulously displayed in rooms that formerly played house to some of Paris' most eminent thinkers.
Located near the Montmartre Funicular's starting point, this charming museum is in a structure reminiscent of Les Halles. Halle Saint-Pierre displays a modest Naive Art collection with modern art-focused temporary displays. There's a lovely coffee shop and bookstore right there, too.
There are more than 300 pieces here by Salvador Dali; the majority are lithographs, prints, and maquettes (preliminary models and sketches by artists). This place is a must-visit for Dali aficionados although it doesn't contain very many of his masterpieces.
Museum of Nave Art Max Fourny
The museum is located in a former marketplace that was renovated into an art gallery. There are more than 500 paintings and 80 sculptures on display, and the space is used for various art-related events and exhibitions. The museum is proud of its permanent and rotating collections, which feature modern examples of naive painting, folk art, and other genres. The bookshop and cafe of the Museum of Nave Art Max Fourny are both great additions to the museum.
To book this tour click here.
9. See Paris's last operating vineyard and be amazed (Clos de Montmartre)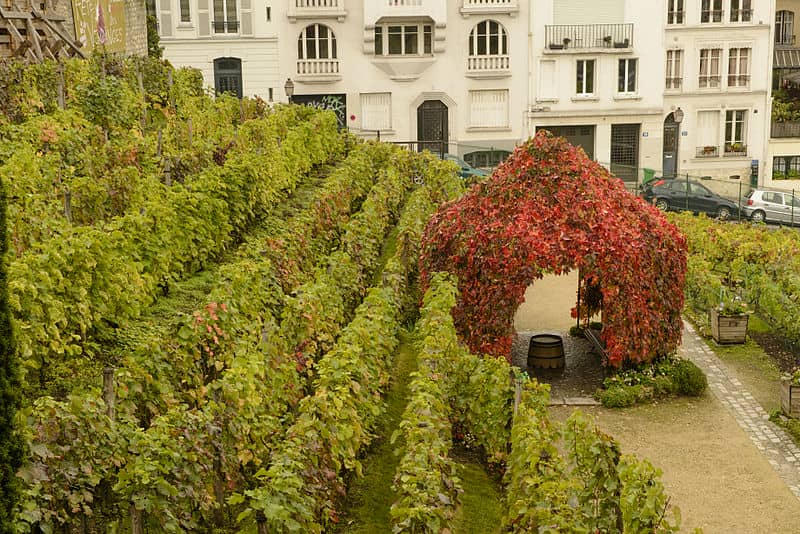 Le Clos Montmartre is one of the most beautiful secret places in Paris. It was established in the 19th century to save a piece of land in the district 18th from being turned into a housing development.
The vineyard with the most stunning panorama is located directly above Le Lapin Agile, behind the Musée de Montmartre. In the summer, the air is filled with the buzzing of butterflies and other insects.
10. Enjoy a meal in one of the famous Montmartre restaurants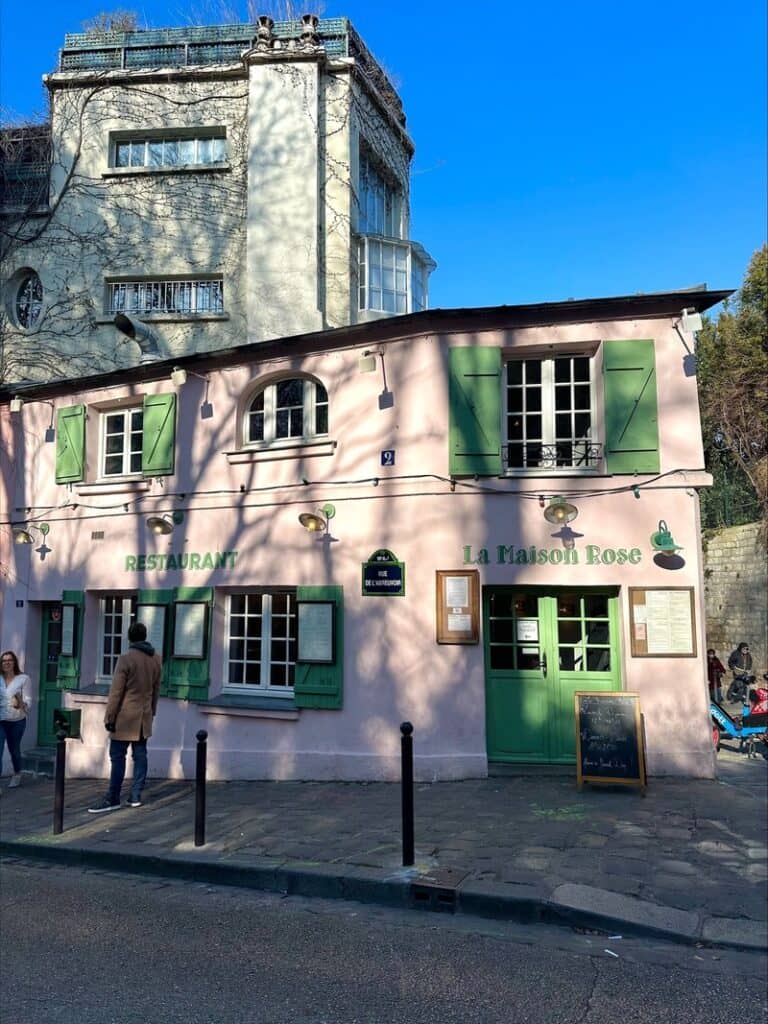 A trip to Montmartre isn't truly worthwhile until it includes at least one meal or snack consumed in one of the neighborhood's famous eateries, such as:
Many artists have been to this cafe in the Montmartre district of Paris, such as Picasso, Van Gogh, and Monet. Not only does this make for a lovely photo op, but it's also a pleasant spot to rest your weary feet after a stroll through the city's narrow, cobblestone streets.
In addition to traditional French fare, the menu also features a variety of speciality drinks (we had mulled wine, which was delicious), French wines, and other drinks.
Le Petit Moulin Montmartre
Le Petit Moulin Montmartre is a great option for those who are looking for authentic French cuisine. This wine bar and French bistro is situated close to the historic district of Montmartre in Paris. You won't want to leave after trying the cheeses here, and the wine list is out of this world.
The picture-perfect "Maison Rose" may be found near the intersection of Rue de l'Abreuvoir and Rue des Saules; it is widely considered to be one of the most lovely homes in all of Montmartre. But concealed behind this peculiar façade is a Parisian eatery that has since become famous throughout the city. You can stop by for lunch or supper and indulge in some hearty French cuisine with Italian flavors when you come here.
11. Follow in the footsteps of Amelie
Your next stop in Montmartre, Paris should be to retrace the locations used in the cult-favourite French romantic comedy. Awards and critical acclaim have been bestowed upon the film Amélie, whose full title is "Le Fabuleux Destin d'Amélie Poulain."
If you've seen the film before, you might recognize several of the settings from Montmartre. Café Deux Moulins, where Amélie worked in the film, is the most well-known of the filming locations.
This is a real cafe in Paris, and the area outside the cafe is also a popular photo spot.
Afterwards, stop by the grocery store known as Maison Collignon, which both appeared in the film Amélie.
Then, wander around the tiny squares, streets, gardens, and fairy-tale-like homes along the Allée des Brouillards where she often daydreamed. Just up the stairs lies the metro stop Lamarck-Caulaincourt, which turns out to be Amélie's actual "station."
Where to stay in Montmartre Paris
Travel Tips And Resources
Travel Insurance: I never leave home without travel insurance. My personal opinion is if you can afford to travel, you can afford to buy a travel insurance. All things can happen while on the road and you can never be too sure. And it's something that you'll be glad to have when you need it. For my preferred travel insurance, I use Safety Wing.
What To Wear: If you want some ideas on what to pack for France, check out this packing list guide for France.
Where To Stay: I personally use Booking.com for all my accommodations. Check out for their latest deals here.
Reading Resources: Check out our best reading resources here.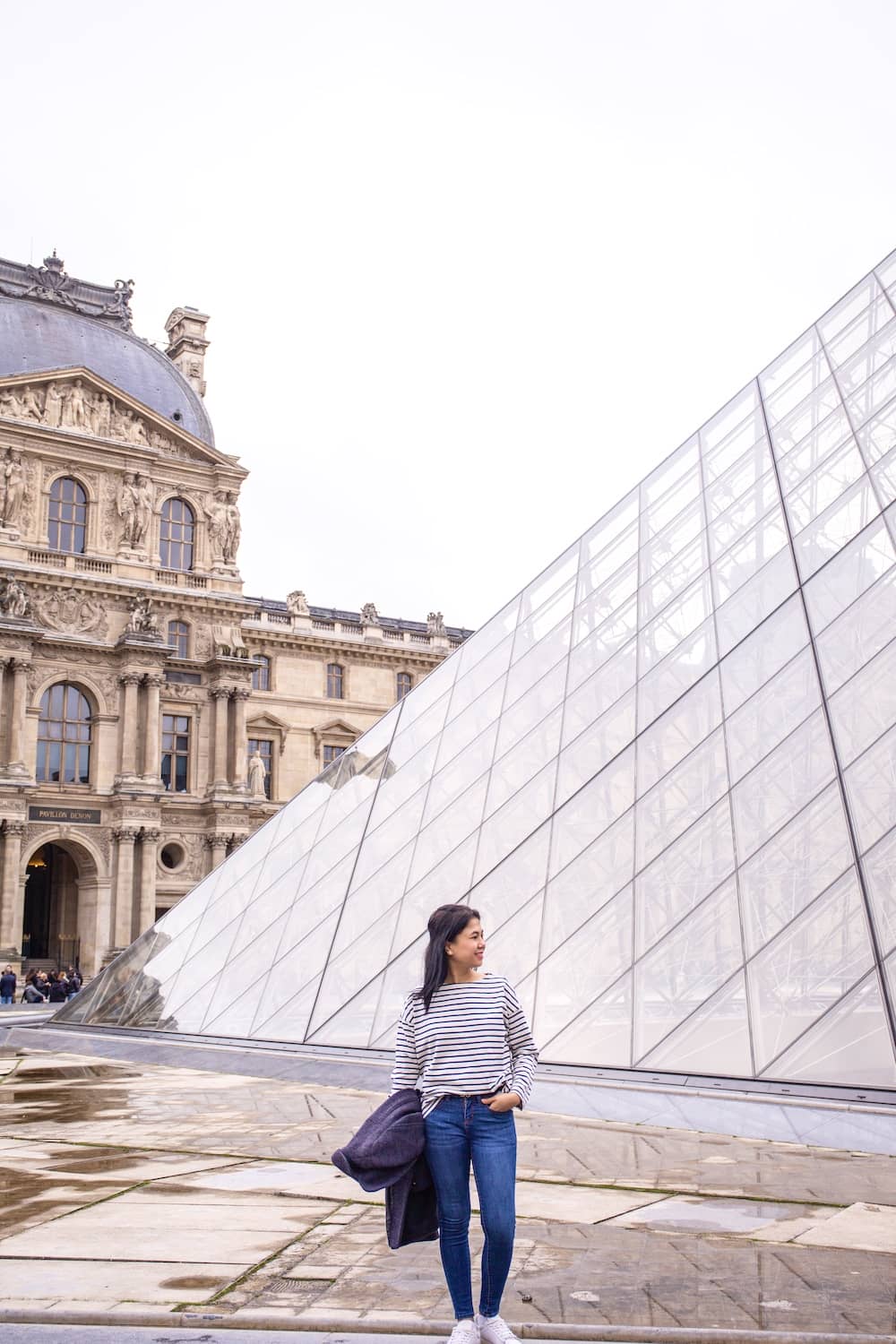 Hi, I'm Christine – a full-time traveler and career woman. Although I'm from the Philippines, my location independent career took me to over 40 countries and lived in 4 continents in the last 10 years, including France. A self-proclaimed Francophile, I love everything France.