10 Best Walking Shoes For Paris
Are you looking for the best walking shoes for Paris?
Wine, delectable pastries, the Eiffel Tower, and the city's other magnificent structures and monuments are all commonly associated with Paris, as is – fashion.
The image of Vogue-worthy French Fashionistas in everyday streetwear often comes to mind when people think of Paris. It's fair to say that the bar has been set high, and many tourists are eager to learn about the best walking shoes to wear in Paris.
A trip to Paris necessitates a lot of walking, so make sure you have comfortable shoes. Determining the best walking shoes in Paris, however, can be a challenge.
Many visitors to Paris and other European cities are taken aback by the cobblestone streets. It's not uncommon for tourists who have never walked on cobblestones to develop sore feet as a result of donning unpractical footwear.
The key is to find a happy balance between practicality and aesthetic appeal.
Parisians and other European city residents have a better understanding of the city's streets than tourists do, and they know exactly the perfect pair of shoes for walking around.
10 Best Walking Shoes For Paris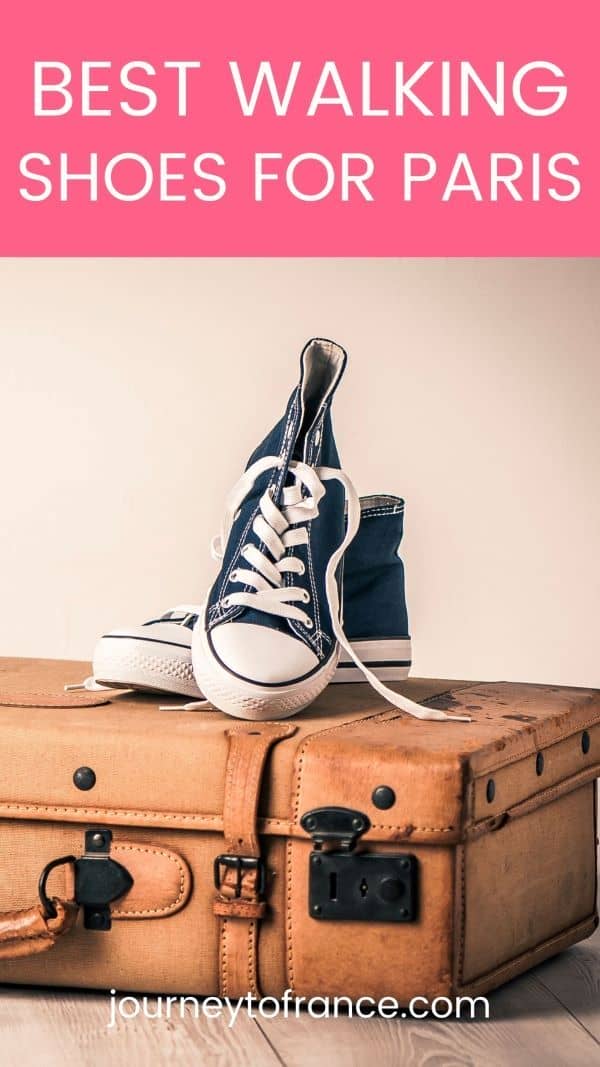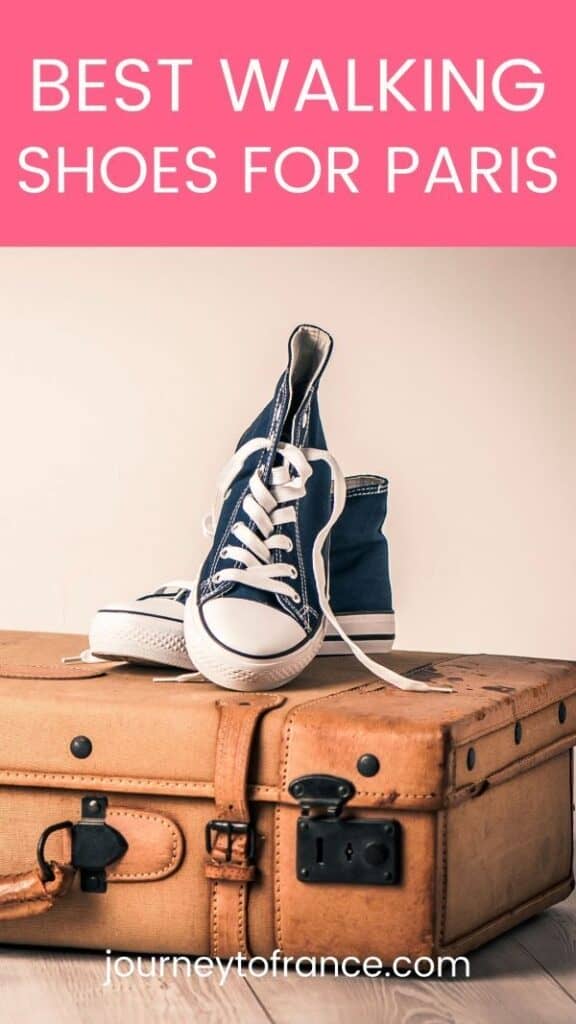 Journey To France contains affiliate links all throughout the site. If you choose to purchase a product or book services through our affiliate links, this earns us a commission at no extra cost to you. For our complete disclosure, click here
The Parisian Style
Effortlessness, class, and comfort are all present in Parisian fashion daily. This holds for both their clothes and their shoes. As a result, they are chosen carefully to fit in with the rest of the look.
This means that sneakers, for example, are worn not because they are comfortable, but because they complete and complement a style. It's possible to dress down a professional outfit with sneakers while also emphasizing a carefree attitude.
Best Walking Shoes For Paris
Leave your uncomfortable high heels at home if you're planning a trip to Paris soon and aren't sure what shoes to bring. If you want comfortable walking shoes to explore Paris, go with a pair of white sneakers or ankle boots.
We've put together this guide to the best walking shoes in Paris, as well as advice on what shoes to bring. If you want to have a memorable trip to the city of lights, keep reading to find out what works best for you.
Best white sneakers for Paris
If you're looking for shoes that're both comfortable and stylish, go with classic white sneakers. If you're going casual, pair them with jeans and a blouse, but don't let that stop you from wearing them with a stylish sundress.
1. A retro sporty Reebok MEMT Sneaker,
These low-top lace-ups are a wardrobe staple because they look great with just about anything. Take a morning stroll along the Seine and spend the afternoon at the Louvre in this cute pair, which is well-known for its good arch support.
The logos aren't overly flashy, but they still convey professionalism, and the design is laid-back enough to put you at ease while browsing. Dress it up or down depending on your mood with a structured blazer or a free-spirited blouse.
This style is available for both men and women. Aside from white, this pair comes in a variety of colours.
2. An all-season Ecco Soft 7 leather sneaker .
Many travellers prefer the Ecco Soft 7 because it combines arch support, high-quality materials, and a simple Scandinavian design.
Keep in mind that neutrals are the easiest to pack even though the shoe's supple leather upper comes in eight different colourways, from floral prints to metallics. Get the one in white, it's really pretty.
These long-lace leather sneakers with a contrasting sole are ideal for navigating the streets of Paris even during winter. Its anatomically correct design provides all-day comfort, while the ECCO comfort fibre system keeps it fresh and dry.
Best sneakers for Paris
If you're going to be commuting around Paris, you'll want to bring comfortable walking shoes. They're comfy and can take you from a leisurely walk in the park to a more active exploration of the neighbourhood's side streets.
3. A pop of colour in these New Balance Vizo Pro Knit Shoes
They're super-comfortable and the colour combinations are interesting, so they'll dress up any outfit.
The REVlite midsole technology in these New Balance shoes provides incredibly light cushioning, while the NB Comfort Insert provides a more comfortable ride.
These are thin and light, with deconstructed heel counters that give you support without adding bulk to your feet. The sock-like fit and feel of the knit are enhanced by the use of soft, comfortable yarns.
Moreover, thanks to its strong construction, it will withstand the daily abuse you'll put it through while exploring Paris.
4. Walk and run in these Nike Air Max
It's easy to see why these are among the most popular walking shoes among Parisians. The Nike Air Max Motion 2 combines a breathable mesh upper with no-sew overlays for heritage style.
A large, U-shaped Max Air unit provides all-day comfort, allowing you to wear this pair around Paris daily. This pair also has a heel clip for maximum visual impact and cushioning.
Nike Air Max Motion 2 is available in a variety of appealing colours to suit any personality and preference. They're super comfy and stylish whether you're wearing pants or a tea dress.
Best Flats For Paris
Flats especially work best in the summer. These may not be your go-to shoes for an all-day sightseeing, but flats are great for dressing up an outfit.
5. Durable Born Trang leather sandals
Born Trang's comfy leather sandals, with a silhouette inspired by Menorcan-style avarcas sandals, has recently become one of the brand's best-selling shoes, and it's no surprise: the footbed is packed with cushion, and the leather is super soft and supple.
You'll appreciate how comfortable and supportive these sandals are. You can walk all day in them for several days in a row and they will still be comfortable. They also look great with jeans, skirts, and especially dresses.
6. Comfortable Cute Skechers Go Walk Lite ballet flats
With Skechers' long history of creating comfort shoes, many women swear by the brand, making them a good choice for exploring Paris.
Particularly among female travellers, the Skechers Go Walk Lite has received rave reviews. Pair them with a well-tailored outfit or a boho midi skirt and a classic tee for a stylish and comfortable look while touring the Eiffel Tower on a hot summer day.
These Skechers flats are perfect for packing light for warm-weather vacations because of how versatile they are. Besides sightseeing, they can be used for bus travel for a night as well as light hiking.
7. Versatile Geox brogues for men and women
Brogues or Oxfords are essential if you want fancier walking shoes for Paris.
They are easily dressed up and down, making them appropriate for both a day of exploring and an evening out at a fancy restaurant. They can be worn with jeans, slacks, and skirts and are also a good choice for the shoulder seasons.
The Brogue 11 is a one-of-a-kind blend of styles and textures, made from rich leather embossed with crocodile embossing and featuring traditional wingtip perforation details. Geox's signature patent technology offers the waterproof perforated sole, which allows the foot to breathe and adds to the shoe's comfort.
Best Ankle Boots For Paris
Completing the list of the best walking shoes for Paris are ankle boots. These are versatile, stylish, comfortable and safe to wear during wet or snowy weather.
8. Waterproof Blondo ankle boots for men and women .
If you're wondering what walking shoes to bring to Paris in winter, consider waterproof boots. Visiting Paris in December will reveal that it is the wettest month, rather than the coldest.
Even in the autumn, you'll want waterproof boots to keep your feet warm and dry while you explore Paris's many attractions.
In addition to being comfortable, these boots are also water-resistant. They have traction on the bottoms of their shoes to prevent them from slipping when they are wet.
The top of the boot wraps around the ankle gives it a sock-like appearance. Breaking in the suede isn't a hassle because it's supple and soft.
9. Comfy Sperry Chelsea Boots .
Chelsea boots are considered to be one of the best walking shoes in Paris because of their versatility. In terms of casualness, they're a step up from sneakers.
These boots are perfect for walking down cobblestone streets and can be worn with just about anything. Even in the rain, these microfleece-lined boots will keep your feet dry and warm. It's easy to put on and take off thanks to the pull-on design.
10. Lightweight Hiking Boots from Salomon X Ultra 3 Mid for Men and Women
You'll be walking longer and faster in the Salomon X Ultra 3 Mid hiking boots, which weigh less than a pound.
While strolling through Paris, the mid-ankle design will keep you comfortable. The new lugs are more durable and provide better toe protection. These hiking boots for men and women are great for walking and hiking.
They are also ideal for travelling because they're light, comfortable, and waterproof. After the trip is over, they'll still be useful because of their versatility.
Tips When Packing Shoes for Paris
Comfort always beats out style. Even if your shoes are fashionable, but are painful on your feet, you should not wear them. Blisters or aching feet can throw your entire day off course.
Buy quality socks. Blisters can be prevented and odours eliminated by wearing high-quality socks. Make sure to bring a few pairs to make your Paris trip more comfortable.
Check support and insoles. Since everyone's feet are different, good insoles are recommended as they can improve the comfort of your sneakers, flats, or boots.
The shoes you wear should match the season and weather. If you're travelling in wet, snowy, or rural conditions, it's important to pack the right shoes. For example, wearing ballet flats in Paris during winter isn't the best idea, and walking through Paris in mountaineering boots during summer is probably overkill.
Make sure you break in your shoes. Even the most comfortable shoes can cause blisters after just a few years, so it's important not to skip this step. A few weeks before your trip, spend some time breaking in your new walking shoes.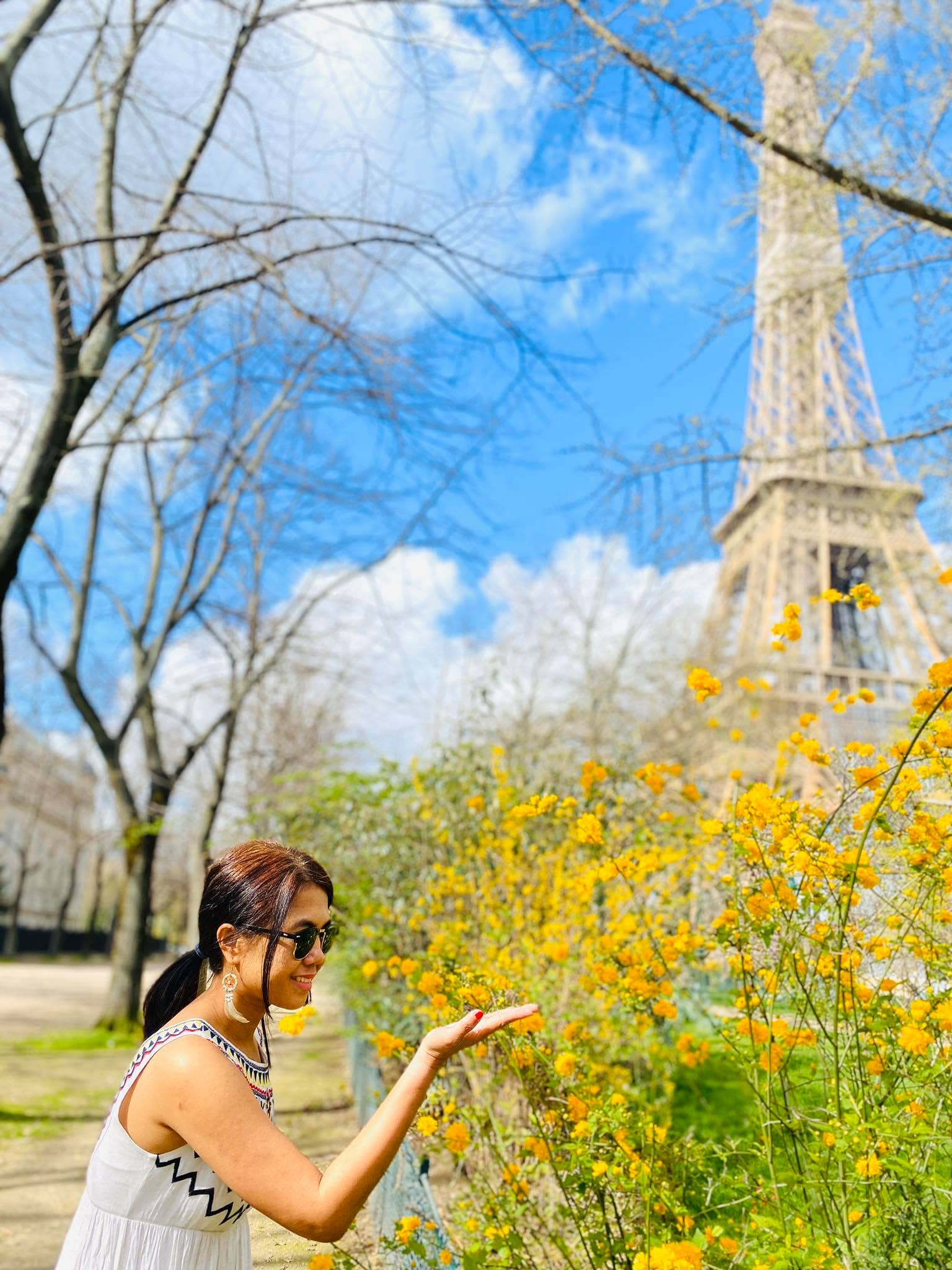 Hi, I'm Christine – a full-time traveler and career woman. Although I'm from the Philippines, my location independent career took me to over 40 countries and lived in 4 continents in the last 10 years, including France. A self-proclaimed Francophile, I love everything France.