Are you looking for some of the most beautiful poems about Paris?
One of the most beautiful and famous cities on the planet, Paris attracts visitors from all over the world – thanks to the Eiffel Tower, Louvre Museum, Notre-Dame Cathedral, the city's high-quality gastronomy, and many more.
Dubbed by many as the "City of Love," Paris is known for being a romantic and cultural city. It exudes romantic atmosphere that anyone who visits will not forget the romantic vibes they found in the French capital. No wonder it has been a source of inspiration for the world's most famous artists, thinkers, and writers of all time.
Many poets, both French and non-French, have penned remarkable poems about the French capital including its monuments and its diversity. Numerous poems have been written about Paris and they continue to grow even today.
9 Beautiful Poems About Paris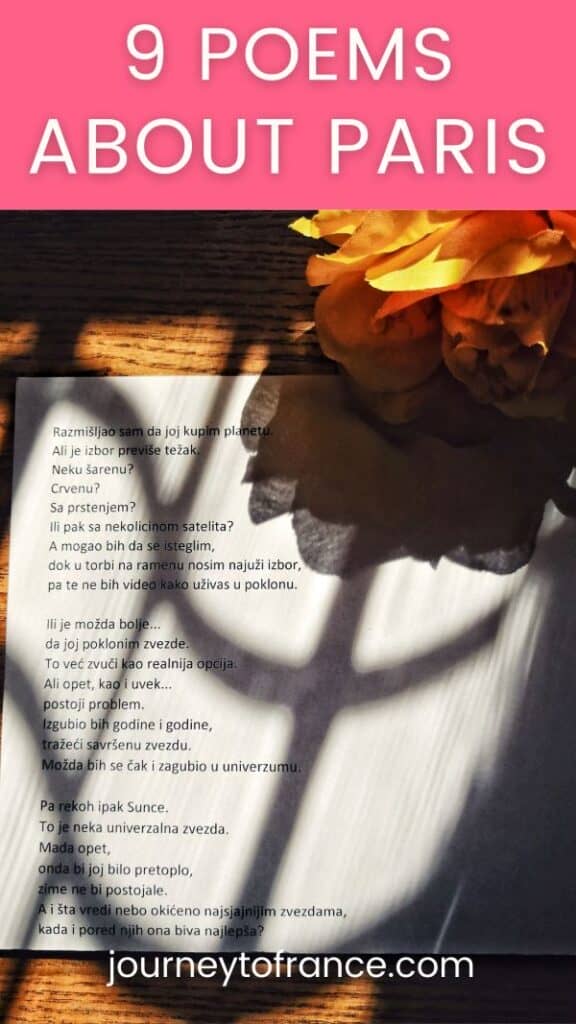 Journey To France contains affiliate links all throughout the site. If you choose to purchase a product or book services through our affiliate links, this earns us a commission at no extra cost to you. For our complete disclosure, click here
Here's a short list of our favorite poems about Paris worth sharing to everyone.
1. "Paris" by Willa Cather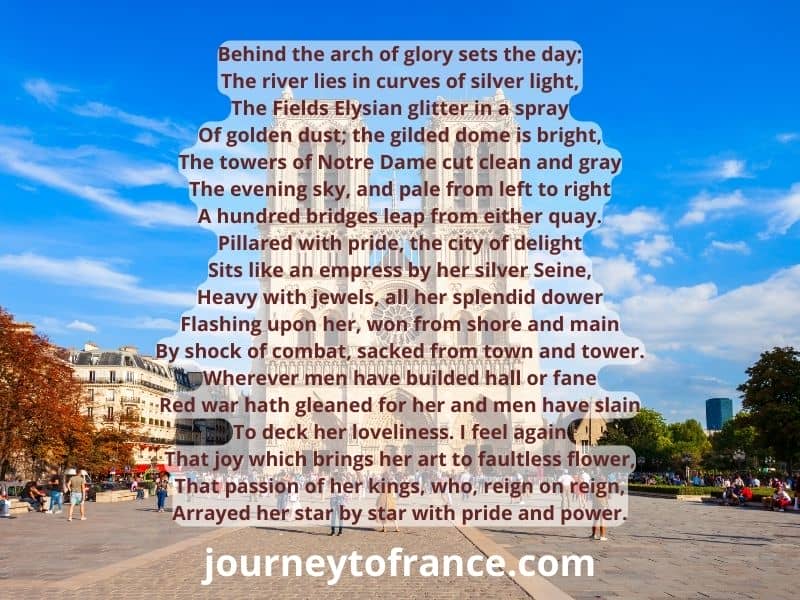 "Paris" by American author Willa Sibert Cather was published in her 1903 collection of poems, April Twilights. It is one of the three poems about France she had written and included in this collection.
The poem "Paris" is Cather's praise of the City of Light – "the city of delight," as the poet calls it, and a raid by her kings "with pride and power."
Cather arrived in Paris in 1902 and had since remained steadfast in her fondness for the French capital. In fact, she was in France in 1923 when the delightful news about her novel One of Ours winning the Pulitzer Prize reached her.
2. "American in Paris" by Ed Morris
"American in Paris" is one of the funny poems about Paris (and France in general) that make people smile.
"American in Paris" is a limerick written by American poet Ed Morris in 2019, which tells about an American named Toby who came to be called "Tobee" when he moved to "Paree" (Paris).
This simple poem pokes fun of the French language – accent, specifically – and amuses the reader.
3. "Montparnasse" by Ernest Hemingway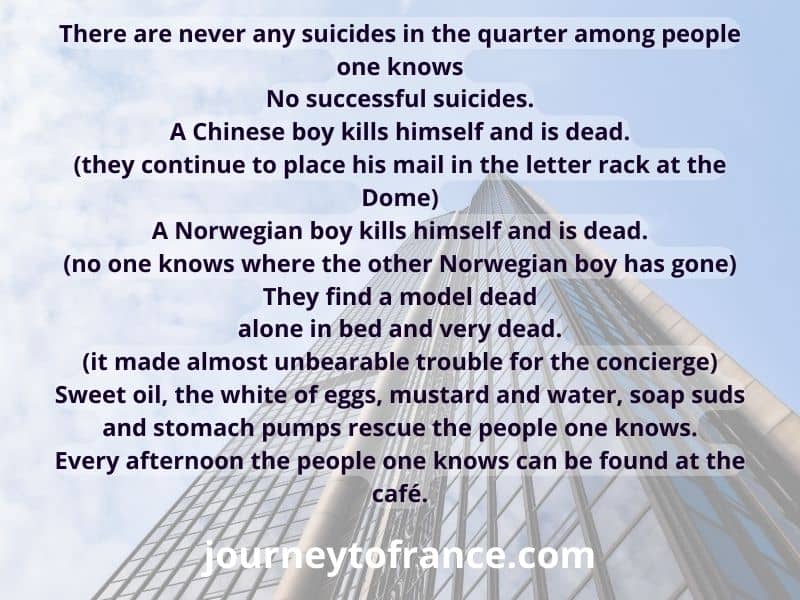 Many Americans came to Paris in the 1920s. At the time, the cafés of Montparnasse served as the beating heart of bohemian life among famous expats the likes of F. Scott Fitzgerald and Ernest Hemingway.
When having difficulty writing, Ernest Hemingway had a routine he did to combat his writer's block. He would stand by the window, look out over the roofs of Paris, and encourage himself to write "one true sentence" that he knew or had seen or had heard.
This fact makes it easy for us to interpret what his sad poem about Paris (Montaparnasse in particular) is trying to say. However, while "Montparnasse" sounds simple to understand, hiding behind the typical Hemingway-style lines is a real-life drama happening in that famous quarter in Paris.
"Montparnasse" is part of Hemingway's Three Stories and Ten Poems, published privately in 1923 in Paris, France.
4. Le Spleen de Paris by Charles Baudelaire
Le Spleen de Paris (English: Paris Spleen), also titled Petits Poèmes en prose in French, was published in 1869. It is a collection of 50 short prose poems by the French poet and essayist Charles Baudelaire. The collection is associated with literary modernism.
The Paris Spleen collection is focused on different themes such as pleasure, religion, mortality and the passage of time, sobriety and intoxication, women, and of course – the city of Paris.
The collection's title has literary meaning and does not refer to the spleen in the abdomen but the melancholy felt without a cause and characterized by a disgust with all things.
5. "Paris in Spring" by Sara Teasdale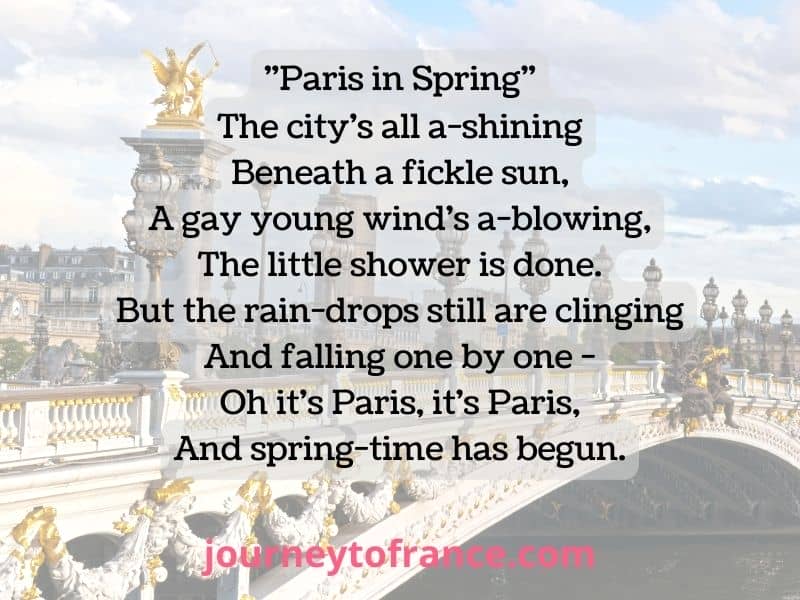 "Paris in Spring" was published in 1911 as part of of Helen of Troy and Other Poems by American poetess Sara Teasdale.
If you've been to Paris, you can very well identify with the poem. In "Paris in Spring," Teasdale writes a rather sensitive and delicate piece, showing how she could capture her experience in a brief sojourn in the City of Love during spring time.
"Paris in Spring," despite the simplicity, is such a great lyrical poem written by a great poetess. You can put it to music and sing it in your heart. Readers will love how it expresses pure joy in life experienced in Paris in the colorful season of spring.
7. "Paris: A Poem" by Hope Mirrlees
Written by British poet Hope Mirrlees who lived in the French capital during the early 1900s, "Paris: A Poem" (published in 1919) is a 600-line poem praised by critics as "remarkably bold and innovative," modernism's "lost masterpiece."
The poem takes the reader through Parisian streets over the course of a whole day, from day break to twilight and through to the next day's dawning, blending with the ads and street signs found in the Paris Metro. The poem also alludes to Shakespeare and Aristophanes.
8. "Fourth Caprice in Montparnasse" by T. S. Eliot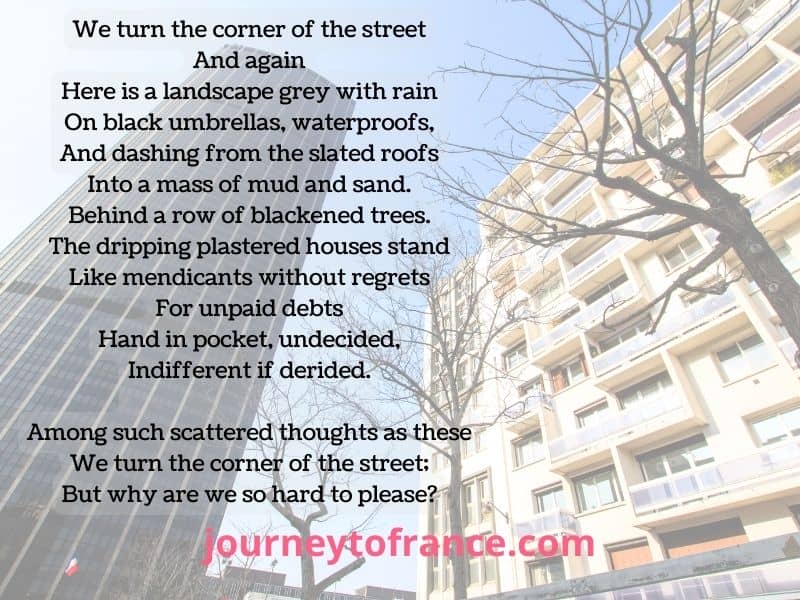 "Fourth Caprice in Montparnasse" is one of T. S. Eliot's earliest works, written when he was living in the French capital between his studies at Harvard University. During this time, the young British-American poet had already made a draft of his first famous poem, "The Love Song of J. Alfred Prufrock" (published in 1915).
Although written in the 1910s, "Fourth Caprice in Montparnasse" was only published in 1996 for the first time. The poem shows the influence of Paris and French culture on T. S. Eliot.
In 1948, Eliot was awarded the Nobel Prize in for his exemplary, pioneer contribution to modern-day poetry.
9. "La Tour Eiffel" by Maurice Carême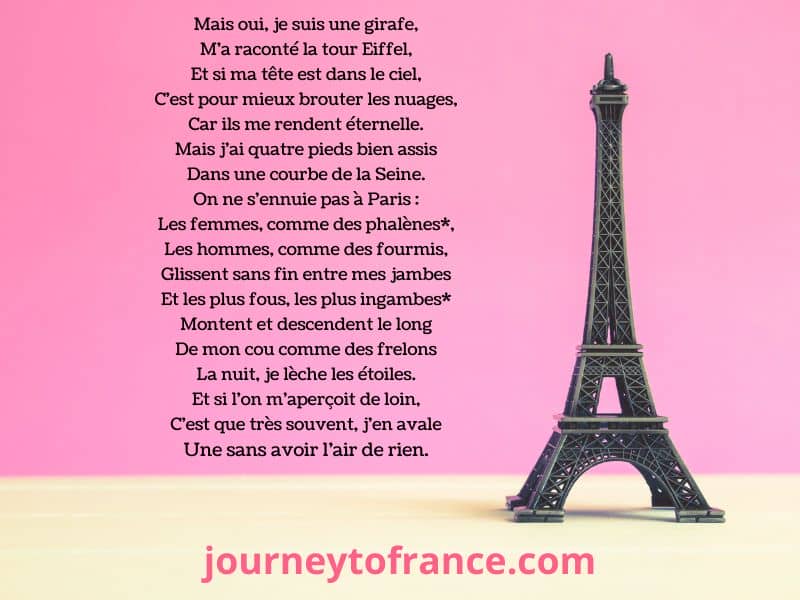 Maurice Carême is one poet encountered many times during primary schooling of children in France. He was not French, however, but a Belgian francophile who became best known for his simple writing style and children's poetry in the French language. He would remind every French of early school and small classes, and the first poems that they must learn by heart.
As the title suggests, "La Tour Eiffel" ("The Eiffel Tower") is one of those poems of Paris' most famous monument. Here the poet also raised the diverse aspects that the city offers, such as the River Seine, assuring and that those visiting Paris always have something to do, enjoy, and admire.
This children's poem is written in one single stanza of 18 lines. Carême used metaphor to describe the famous tower, comparing it to a giraffe in the first lines.
The Eiffel Tower, "whose head is in the clouds, grazing the sky like a giraffe," has become the symbol of the city and one of its main tourist sites. And of all the animals in the Savannah, giraffe is perhaps the most elegant.
6. "Paris" by Louis Aragon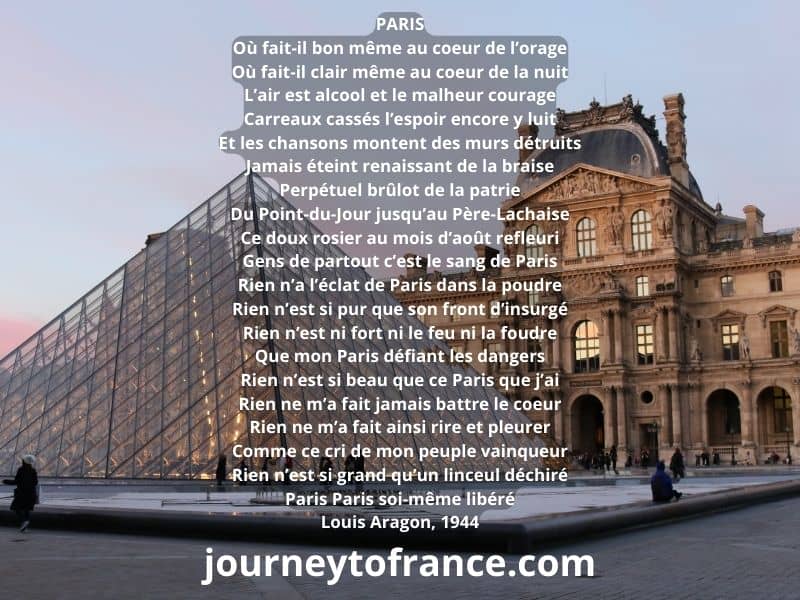 Written in around 1944, "Paris" by Louis Aragon is one of most prominent poems about Paris written by notable poets.
Surrealist Louis Aragon wrote "Paris" in quintains, glorifying the city in the first lines of the first stanza. In the poem, the city is described as a place where everything is fine even during bad times. Despite the war, the suffering and humiliation, and the destruction as the result of Nazi Germany's occupation of Paris, the French capital remains steadfast and strong.
The city's power is further expressed in the lines of the third stanza, where the poet describes Paris and its brilliance as "pure as his insurgent front," strong, and beautiful.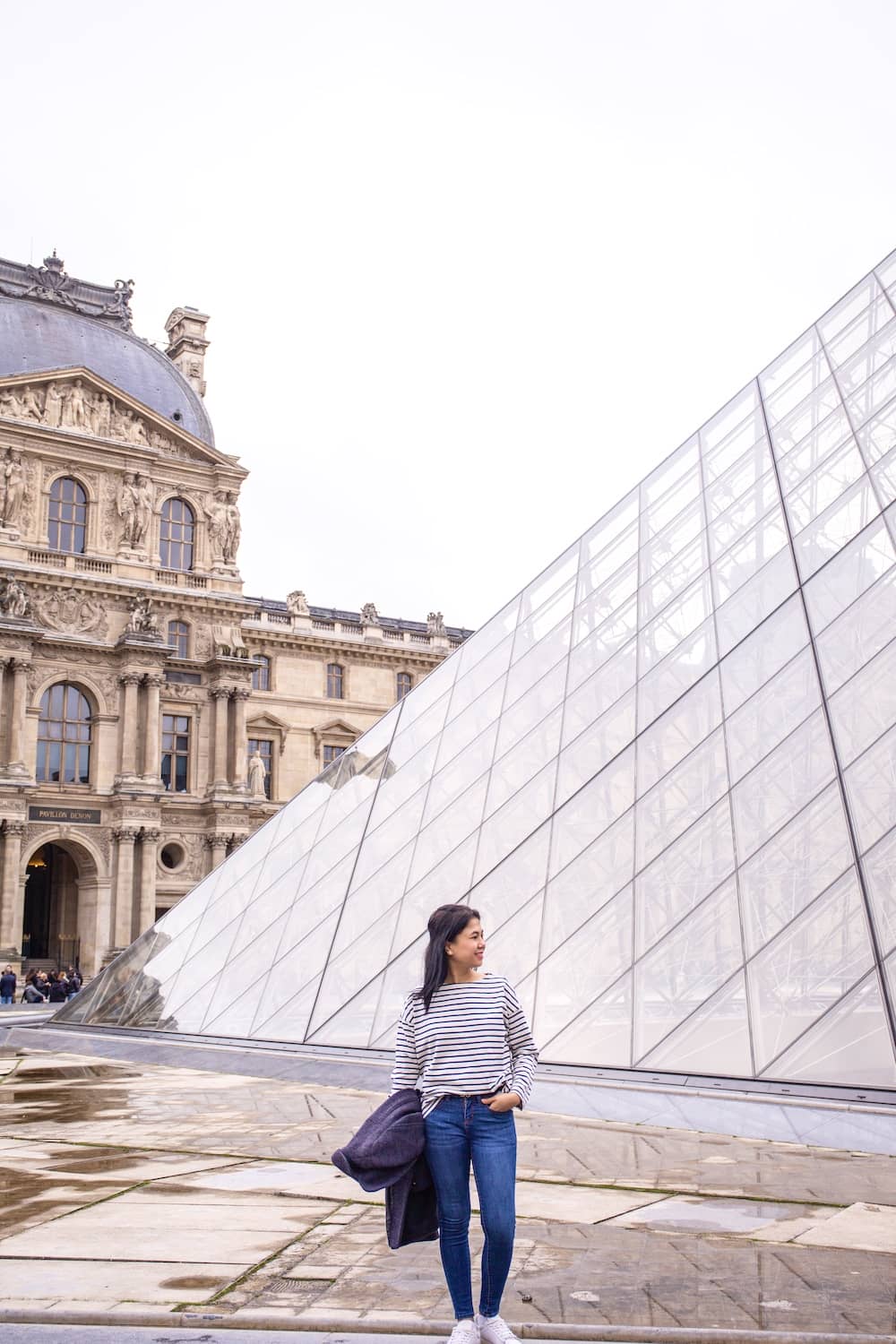 Hi, I'm Christine – a full-time traveler and career woman. Although I'm from the Philippines, my location independent career took me to over 40 countries and lived in 4 continents in the last 10 years, including France. A self-proclaimed Francophile, I love everything France.