Are you looking for French handbag brands that you can add to your collection?
France is home to some of the world's most exquisite handbags, which is not surprising considering how this beautiful country has produced a number of great fashion designers that have ever walked the earth.
But while French purses are notorious for being expensive, there are non-mainstream brands that have a characteristic that surprises bag afficionados: affordability.
21 Best French Handbag Brands You Should Know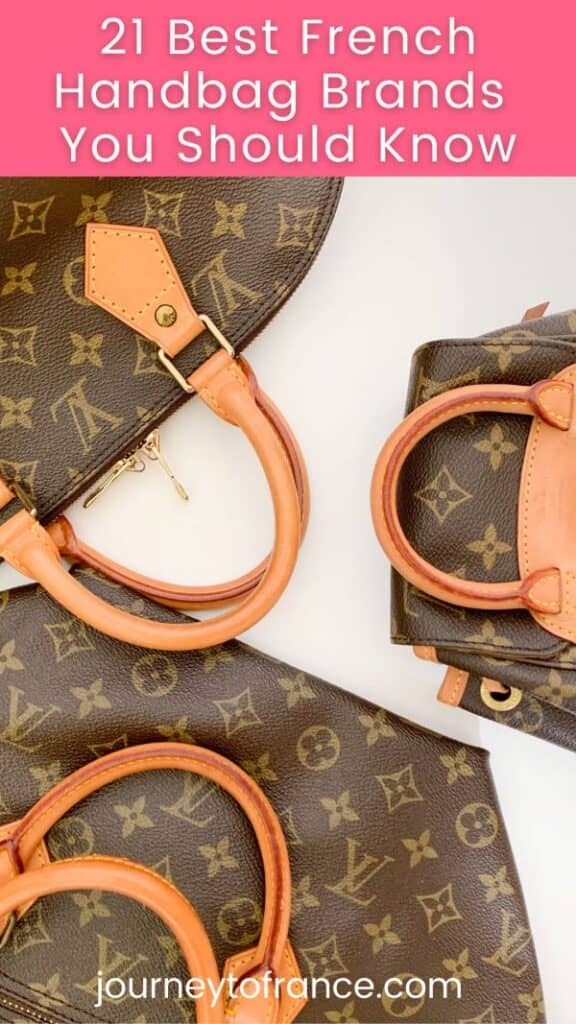 Journey To France contains affiliate links all throughout the site. If you choose to purchase a product or book services through our affiliate links, this earns us a commission at no extra cost to you. For our complete disclosure, click here
Whether you're a bag addict (like myself!) or not, read on to see the list of best French handbag brands you should know.
French Luxury Handbag Brands
1. Hermès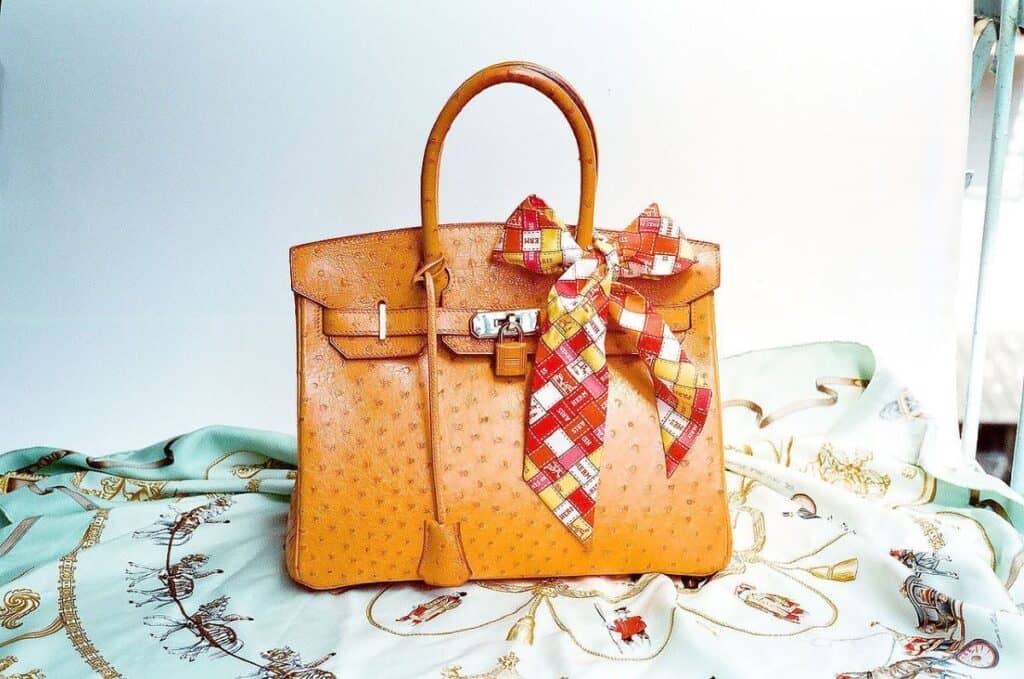 When we talk about the world's most expensive handbags, we are always sure to find several Hermès pieces in the top 10 list. Why, top Hermés purses range from over $200,000 to a staggering $2 million!
With nearly $7 billion in annual revenue, you'd be surprised to learn that this high-end French fashion house started out as a harness workshop in Paris. Hermès was founded in 1837 by Thierry Hermès, who created wrought harnesses and bridles for horse carriages.
So if you're wondering why the carriage with horse logo, there's your answer.
Ninety-eight years since its establishment, Hermès introduced the leather "Sac à dépêches," which was later renamed the "Kelly bag" after Monaco's Princess Grace Kelly.
And the rest is history.
RELATED ARTICLES:
2. Louis Vuitton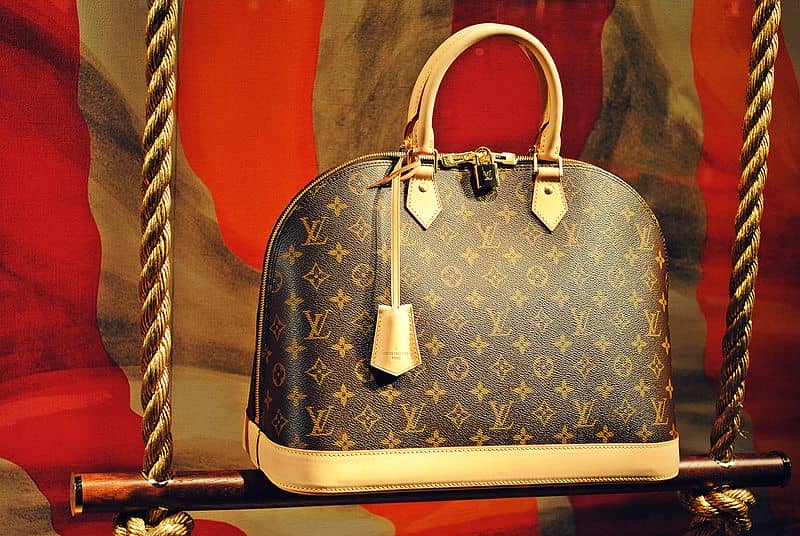 The French fashion house and luxury goods company Louis Vuitton Malletier, more commonly called Louis Vuitton or LV, has been around since 1854. Founded by Louis Vuitton in Paris, the early products they sold were handmade trunks.
The label's LV monogram, first introduced in 1896, is perhaps the most recognizable logo in the fashion world.
This French brand is also the most counterfeited. No other fashion brand has been more controversial and filed more anti-counterfeiting and copyright infringement lawsuits.
Louis Vuitton has been named the world's most valuable luxury brand for several years, with about $20 billion average annual sales.
READ MORE: 8 Most Expensive Louis Vuitton Handbags As Of 2022
3. Chanel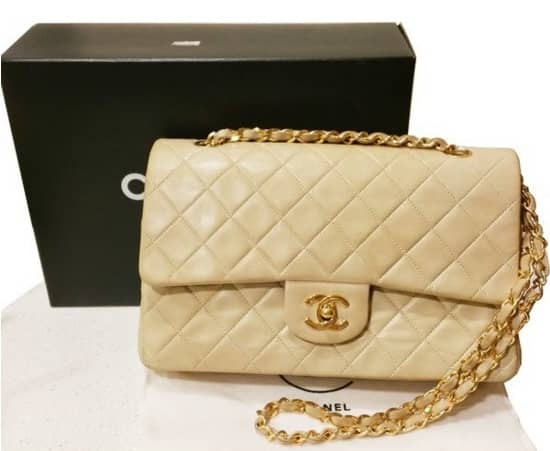 Founded by Coco Chanel in 1910, this French luxury fashion house creates some of the world's most coveted luxury goods.
To no one's surprise, Chanel is also among the most targeted by counterfeiters, with fake handbags selling for around $200 – some $4,000 less than the authentic ones.
The House of Chanel started out as a millinery shop in Paris. In 1913, Chanel began to sell couture products as well.
It was in 1955 that the fashion house introduced their iconic quilted-leather handbag with adjustable double-chains.
Today, this remains one of the best French luxury purses, worn by practically every member of the social elite.
READ MORE: 8 Most Expensive Chanel Handbags As Of 2022
4. Goyard
This French company has been making trunks since 1792 in Paris. However, it was not called "Goyard" until François Goyard's purchase of Maison Morel, successor to the original company Maison Martin, in 1853.
Known for their iconic interlocking chevron pattern, Goyard bags have been worn by high-profile personalities such as the Duke and Duchess of Windsor, the Grimaldis, Princess Lee Radziwill, and Édith Piaf. Today Madonna and Victoria Beckham are often seen with Goyard purses.
If you have some several thousand dollars to spare and want special orders a la Sir Arthur Conan Doyle's "Writer's trunk," you may place them at Goyard's 233 rue Saint-Honoré boutique or in their factory in Bezons. These special pieces are completely handcrafted.
5. Givenchy
The French luxury brand Givenchy was founded by a French fashion designer and aristocrat, Count Hubert de Givenchy, in 1952, with Audrey Hepburn becoming its most famous brand ambassador for 40 years.
If you're looking for the best handbags to invest in, Givenchy should be on your list. Their iconic Antigona and Pandora are sure winners, with celebrities and influencers regularly spotted wearing them.
6. Céline
Now one of the well-loved luxury bag brands in France, this brand by Céline Vipiana and her husband Richard first started as a custom-made shoe shop for children, in 1945. It later expanded into offering high-end leather products and women's ready-to-wear.
As of 1996, it has been controlled by the illustrious LVMH conglomerate, which has a long history of successful ventures. Their most successful line of purses is undoubtedly their baggage series.
Their goal as a company has always been to provide simple yet elegant products, and they continue to do so.
7. Dior
When it comes to haute couture and aromatic perfumes, Dior is a name that requires no introduction.
Christian Dior, a French fashion designer, started his namesake brand in 1946, and today it is one of the most well-known French designer handbag labels in the world.
Princess Diana helped spread the word about their high-end leather purses. The brand has also produced one of the most iconic French bags, the Lady Dior. It features Cannage patterns, distinctive Dior charms, and roomy, padded shoulder straps.
8. Saint Laurent
When it comes to luxury French handbag brands, Saint Laurent has been a mainstay since 1961. This demonstrates a deep level of expertise in satiating the fashion desires of people everywhere. Looking at this designer's bags and purses, you'll be exposed to a plethora of wonderful vintage pieces. There are a wide variety of materials and finishes available as well.
The Y Line is a must-have accessory due to its high-quality features and original design. The ultimate goal of every lady who aspires to exude elegance in social situations is to achieve this.
9. See By Chloé
See By Chloé is a younger interpretation of the aesthetic of the main line that was introduced in 2001. This was when the brand was launched as the sister label of the fashion business Chloé. It has been producing collections of easy-to-wear pieces that exemplify an effortless and "I woke up like this" sense of chic for well over a decade now. These collections continue to this day, making See by Chloé one of the popular French handbag brands.
The Hana shoulder bag and the Joan tiny suede shoulder bag are my two absolute favorites among shoulder bags. You can purchase See By Chloé handbags from retailers like Nordstrom, Net-A-Porter, MyTheresa, and Farfetch, among others.
Affordable French Handbag Brands
10. Longchamp
Longchamp was founded in Paris, France, in 1948 by Jean Cassegrain. The company was named after the Parisian Longchamp Racecourse, hence, the racehorse logo.
But did you know it started out as a tobacco business? And then, in the 1950s, Mr. Cassegrain launched the world's first luxury leather-covered cigarette pipes with exotic leathers as features. They became such a hit that even Elvis Presley loved them.
It was in 1971 that Longchamp launched its first women's handbag, becoming one of France's leading makers of leather goods.
Today, Longchamp's Le Pliage nylon bag is still as popular as it was a few decades earlier. Longchamp also remains one of the most popular handbag brands in France.
11. Gérard Darel
Gérard Darel, the French brand specializing in leather goods, became famous when they released their handbag model called "24 heures" – which translates to "24 hours" – in 2003.
The company has been around for decades, though, having been founded by the couple Gérard and Danielle Darel in 1971. They opened their shop in Paris in 1987.
The "24 hours" bag was a huge success, called by most critics as a must-have "it" bag.
Today, after almost two decades, the Gérard Darel 24 heures bag remains every Parisian's iconic handbag and the brand's flagship model.
12. Polène
Who wouldn't like a "bag du jour" that's below $1,000? I would! And most Parisian girls would as well.
Enter Polène's Numéro Un bag, priced at $400, and its little sibling – the Numéro Un Mini, which sells for just a little above $300.
Polène, the French leather goods brand founded in 2016, was named after the Normandy country where its founders – the siblings Mathieu, Antoine, and Elsa Mothay – hailed from. It takes pride in reasonably-priced high-quality purses which come in a variety of hues and leather combinations.
Polène is definitely the new "it" French purse brand that is surprisingly affordable.
13. Louvreuse
Louvreuse, a French high-end leather goods brand, was founded in 2016 by Victoire de Villiers. This brand is a good option for those who want purses and handbags that are unique and creative – and won't break the bank.
Louvreuse was named after the Louvre, which is the brand's inspiration. With that being said, you shouldn't be surprised by their "pyramid bags" that will remind you of the Louvre.
If you're in Paris, you must visit their boutique at 14 rue Cler and grab a Cleo pyramid bag for less than $400. For a more personal touch, ask for your name or initials to be added to your bag.
14. Amélie Pichard
The eponymous label was started in 2011 by Amélie Pichard as a shoe line. Its first bag, ABAG, was introduced a year later and has become instantly recognizable in the intervening years.
Since then, the company's reputation as an eco-friendly, long-lasting brand has grown thanks to its variety of vegan products.
Also, they've asked buyers not to give up on their purchases at the first indication of wear and tear. If the product is unrecognizable, however, they request that it be brought into the store so that they may attempt a rescue. That's a practice that makes them one of the most popular French handbag brands today.
15. A.P.C
A.P.C. is an acronym that stands for Atelier de Production et de Création. It is the name of a French ready-to-wear company that was established in 1987 in Paris by the Tunisian Jewish fashion designer Jean Touitou.
This French label first became famous for its traditional jeans made of raw denim, but today it provides a whole selection of women's clothes and accessories that exemplify an understated elegance perfect for everyday use.
To consistently provide quality pieces with enduring cuts, Jean Touitou always favors traditional as well as fine materials. Both the Albane cross-body bag and the Demi-Lune bag are my favorites among the handbags offered by A.P.C.
16. Ateliers Auguste
Ateliers Auguste is a young and contemporary fashion business that is well-known for its understated and other accessories.
In 2012, brothers Laurent and Xavier Valembert established the company to produce bags specifically geared toward males.
They eventually expanded their product line to include handbags that were specifically made for women. The handbags, which are created in France and distributed across the rest of the world, are produced by talented craftsmen in workshops located in Italy and Portugal.
In addition to handbags, the store carries products such as purses, bucket bags, tote bags, and crossbody bags, among other options.
This is one of the French purses brands that are priced so that they fall somewhere in the middle of the economical and luxurious categories, with a focus on the former.
17. Le Tanneur
Since its founding in 1898, Le Tanneur has always been known for the excellent workmanship of all the handmade full-grain leather goods. Le Tanneur designs and manufactures high-quality leather bags for both sexes that are built to last a lifetime.
Le Tanneur, which takes its cues from the medieval aristocracy's finest leatherworkers, is dedicated to perfecting the art of leatherworking. All of the Limited Edition Madeleine handbags, whether they're hobo, crossbody, clutch, shoulder, or backpack styles, feature this same level of meticulous craftsmanship. One of the best French bag brands, you can own a Le Tanneur for less than 300 euros.
18. Sequoia
Full-grain cowhide leather is used in the construction of Sequoia handbags. The designs of the handbags frequently have an old-fashioned appearance and feel. The classic carry handbags, on the other hand, have been updated to give them a more contemporary appearance, creating a beautiful hybrid of the two types.
Shoulder straps, however, are not included with the carry purses, but they can be purchased separately. The hobo, the box bag, the cube, the clutch purses, the baguette, the round, and the retro crocodile are some of the best bags from the brand.
19. Sézane
Sézane is a French fashion brand that was founded in 2013 by Morgane Sézalory. If you adore the way French girls dress, I'm sure you're already familiar with the brand.
Sezane has, for quite some time now, providing customers with a selection of exquisite purses and other leather products in the form of little goods. The Farrow bag and the Quilted Victor bag are two of the most iconic French bags offered by the brand.
20. Tila March
Tila March is a luxury French purses brand based in France that is most recognized for producing the "Zelig" tote bag. Tamara Taichman, a fashion editor, came up with the idea for the bag first so that she might have something to carry with her during Paris Fashion Week. The bag was an immediate and overwhelming hit with customers.
Tila March is now a brand that encompasses a multitude of elegant yet practical handbag silhouettes, as well as small leather accessories and numerous shoe designs. Tila March also produces numerous shoe designs.
21. Vanessa Bruno
In 1998, fashion stylist Vanessa Bruno established her namesake label of ready-to-wear and accessories.
Now one of the popular French handbag brands, it all started when she took a canvas bag and some sequins and fashioned them into a classic and practical piece. This bag quickly gained traction in the fashion world in France.
The only thing missing from your getup is a dash of glitz, and that can easily be remedied by adding a Vanessa Bruno bag, which is both practical and fashionable. You'll have no trouble finding the perfect shade for you, whether you're drawn to green, pink, or beige.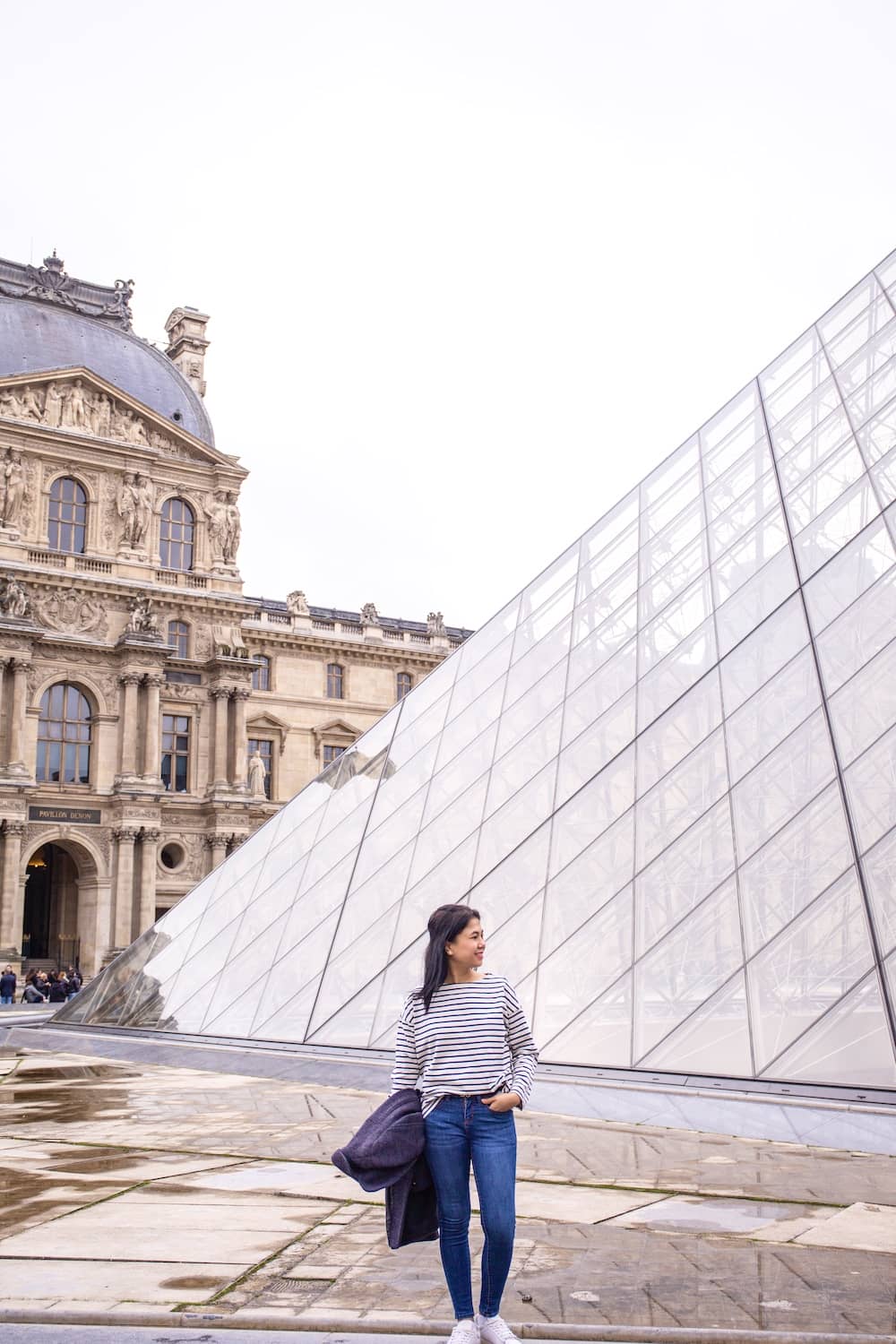 Hi, I'm Christine – a full-time traveler and career woman. Although I'm from the Philippines, my location independent career took me to over 40 countries and lived in 4 continents in the last 10 years, including France. A self-proclaimed Francophile, I love everything France.