Are you looking for the best prepaid SIM cards in France for travelers?
If you're visiting France, you may be able to access the Internet via the hotel's wireless network. Free Wi-Fi is currently available in several public venues, such as train stations and cafes.
However, it's impossible to know exactly what you'll need at any given time during your journey. It's also possible that you won't have internet access at any given time, so it's wise to have a backup of your data on your phone.
Your local data plan and SIM card may incur exorbitant charges when used overseas, so that's not an option. The good news is that even tourists can buy a SIM card in France that they can use to stay connected while traveling.
But what are your options? This guide to the best SIM cards in France will help you decide.
First, let's get to know a few things about getting a SIM card in France.
Can you buy a prepaid SIM Card in France?
A French SIM card can be purchased from Orange, SFR, Bouygues Telecom, or Free Mobile whether you're a French citizen or visitor.
Always have some form of identification on hand while purchasing at an airport kiosk or in the city center, such as a residency permit or passport.
You must fill out a form on the website if you want to buy a SIM card online.
Where to buy a SIM card in France?
Airport
On arrival at the airport, the quickest and easiest way to get a France sim card is to buy one there. Both of Paris's international airports are located in the city.
French President Charles de Gaulle and the Paris-Orly International Airport. Both offer a tourist information desk where you may purchase a French SIM card for your phone.
The France SIM card kiosks are currently found in major international airports. At Nice and Marseille airports, you can also purchase a SIM card. With an airport SIM card purchase, you'll be able to communicate with a customer service representative in English.
City Center
There are several phone retail establishments in every French city's central business district. To find out where the nearest store is, put in one of the four mobile internet service providers on Google Maps and click "Find."
The Best Prepaid SIM Cards In France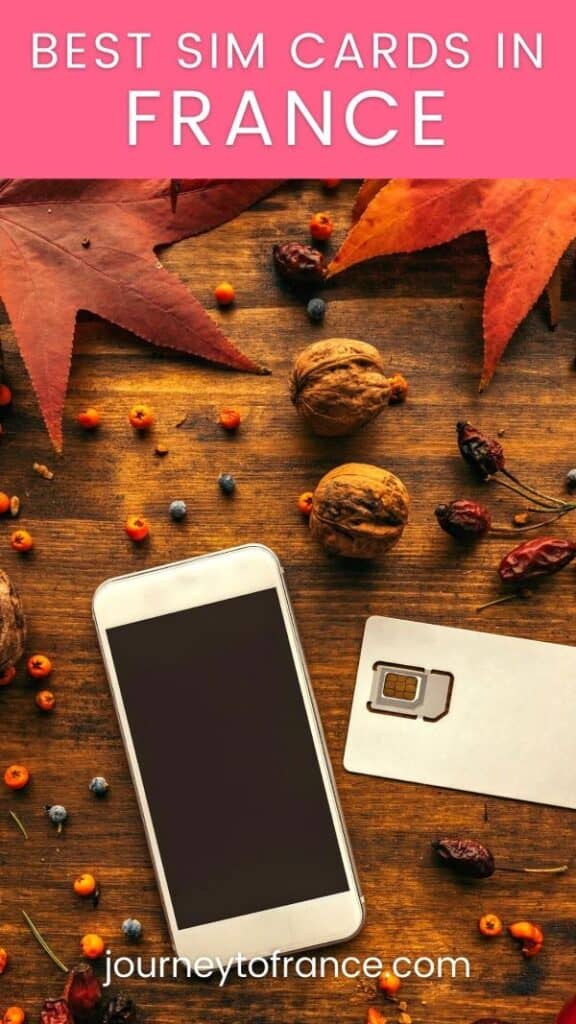 Journey To France contains affiliate links all throughout the site. If you choose to purchase a product or book services through our affiliate links, this earns us a commission at no extra cost to you. For our complete disclosure, click here
1. Orange Prepaid Holiday SIM Card
Cost: €40
Where to buy: airports, newsstands, Orange stores, and online
Orange is France's largest and oldest telecommunications firm, and it has a network that extends across Europe. It is impossible to compete with Orange's nationwide coverage and internet 4G speed in France.
A €40 (or $49.90) prepaid holiday SIM card plan is offered by Orange for travelers. Allows you to make and receive 120 international phone calls and 1,000 text messages with this SIM card (to anywhere in the world).
All European calls and texts are free. Additional 20 GB of data can be used throughout Europe, as well.
Since Orange is a well-known brand, there are numerous Orange stores throughout Paris. To speak with a representative about any issues you may have with your SIM card, feel free to stop by any time — they understand English!
The only downside of using Orange is that the credits expire 14 days after your initial use. Your phone number can be "topped up" at a newsstand or Orange store (La Boutique).
A pre-purchased Orange Holiday SIM Card is available for $49.90 online. As a result, you won't have to waste time looking for a newsstand or a phone booth when you get there.
2. Bouygues Telecom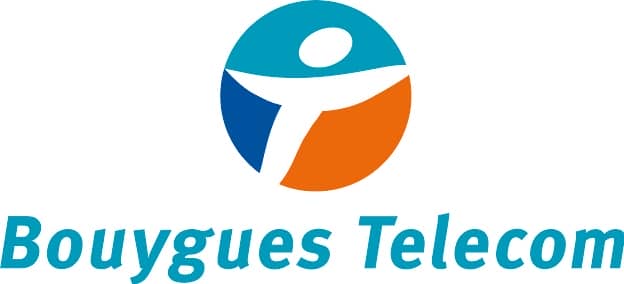 Cost: €39.90
Where to Buy: airports, newsstands, tobacco shops, Bouygues stores, and online
Bouygues Telecom, one of France's largest telecommunications providers, also offers prepaid SIM cards. T
ourists can use the My European SIM, a prepaid card that can also be used in other European nations. For 39.90€, you receive unlimited calls and texts in France and Europe, 20Gb of data, and 25€ of foreign communications for 30 days…
This card is available for purchase online, but it can only be used in France for its intended purpose.
There is an Eiffel Tower-shaped SIM card ejector, stickers, and a keychain included with the card, as well as an audio tour and a map of the Paris metro system in 10 different languages.
In addition, they provide a variety of pre-paid credit cards (in French). Unlimited calls, texts, and internet usage are included with their Pay As You Go package.
For 5€, there are unlimited calls and texts, 500Mb of data, and 3€ consumable credits good for 3 days.
For 10€, there are unlimited calls and texts, 1Gb of data, and 5€ consumable credits good for 10 days.
For 20€, there are unlimited calls and texts, 2Gb of data, and 10€ consumable credits good for 30 days.
For 40€, there are unlimited calls and texts, 5Gb of data, and 25€ consumable credits good for 60 days.
3. SFR Prepaid SIM Card
Cost: €10-€40
Where to Buy: airports, tobacco stores, supermarkets, and "Relay" newstands
French telecom company SFR, or the Société Française du Radiotéléphone, is one of the country's most prominent players in the telco market. SFR is a well-known and well-respected company, like Orange.
You may also buy SIM cards in France through SFR. You may get 5 GB of data for 8 days for only 10 euros with a basic mobile internet pass. For 40 euros, they also offer a 5G-compatible SIM card with unlimited French phone calls and 95 GB of internet.
You may phone anywhere in the world (excluding France) for 20 euros and get 4 GB of internet. Similarly, the other two alternatives are good for 30 days, as well.
You can add to your bundle at any authorized retailer, distributor, or supermarket. The recharge code (10 numbers) is sent to 952 through SMS, and you're good to go. If you're looking for the most cost-effective way to stay connected, you've come to the right place. Take a look at Recharges Illimitées Pay As You Go plans:
Package 1 costs €5, which comes with 1 hour of national/local calls and 200MB of data good for 7 days
Package 2 costs €10.99, comes with Unlimited national/local calls and 500MB of data and is good for 10 days
Package 3 costs €20.99, and comes with Unlimited national/local calls and 1GB of data good for 30 days.
Package 4 costs €30, and comes with Unlimited national/local calls and 4GB of data, good for 30 days.
Note: Once the cap is reached, all data will be terminated. For those who want to keep in touch while on the road, the SFR Welcome Prepaid SIM is a good option. Only a few chosen supermarkets and legitimate outlets sell this pre-paid French SIM card. €34.99 (about $40) buys you the following:
1-hour calls to France, Europe, USA, and China, 500 SMS to France, Europe, USA, and China, 2GB national/local data, and Unlimited SFR WiFi service good for 14 days.
4. Free Mobile SIM Card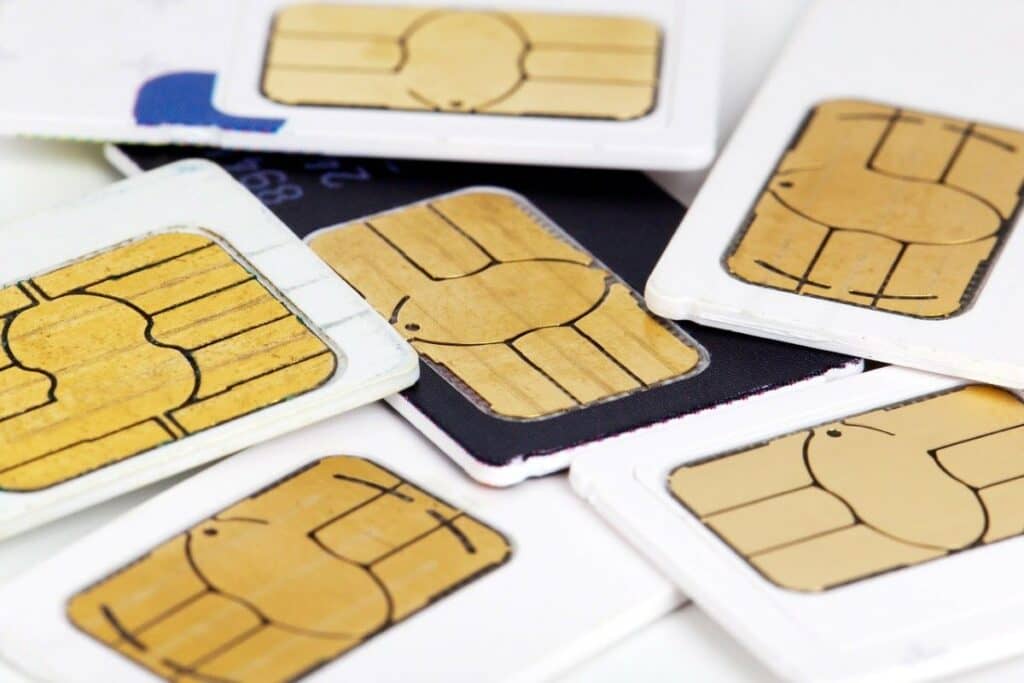 Cost: €20 for unlimited calls, texts, and the Internet.
Where to Buy: official Free store at 8 Rue de la Ville-l'Évêque, 75008 Paris
One of France's most exciting new telecom companies, FreeMobile, charges only €20 per month for unrestricted use of its network services (including texting and browsing the web). Sadly, FreeMobile just has one office in the French capital. Getting a question addressed can take an hour or more, as you might expect.
Since FreeMobile has vending machines at its main and only store at 8 Rue de la Ville-l'Évêque, 75008 Paris, you can get a SIM Card there instead in about 10 minutes.
FreeMobile will send you an email with your user ID and password after your purchase. In the "SIM-vending" machine, you can pay for the SIM Card and service by just swiping your credit card.
Remember that when you join up with FreeMobile, you're signing up for a monthly subscription that you can cancel at any moment and without incurring any fines or having to answer any questions.
You could expect to pay €25 to €30 in total, which includes €20 for the service and €10 for an activation fee unless you plan to stay in France or Europe for more than a month. For new clients, (Free generally offers a 5 euro discount.)
When visiting France and other parts of Europe, this is the finest value that you can avail of. Among other things, you'll get unlimited calls to the United States and Canada, and unlimited data in France. Additionally, you'll get 25 GB of data in Europe, so you can stay connected even if you're on vacation in another European country.
Be aware that you must return to the FreeMobile Paris store and seek to discontinue your service before you return home. Your cancellation request will be processed by a member of the team. Afterward, mail the paperwork to a French post office to Free's head office. It's a lot simpler than it appears to be!
Hi, I'm Christine – a full-time traveler and career woman. Although I'm from the Philippines, my location independent career took me to over 40 countries and lived in 4 continents in the last 10 years, including France. A self-proclaimed Francophile, I love everything France.