France is home to some of the world's most magnificent lakes. Some of it are natural while some are man-made, created for a variety of purposes such as dams, reservoirs, and as a means for flood control.
Whatever time of the year you visit, these lakes are such spectacular sights to behold. Enjoy a leisurely stroll, set up camp, picnic, or simply sit by the banks to relax when you visit.
These lakes are a great alternative to beaches that easily gets crowded.
Here are some of the best lakes in France that should be part of your vacation itinerary.
11 Best Lakes In France That You Must Visit
1. Lac d'Allos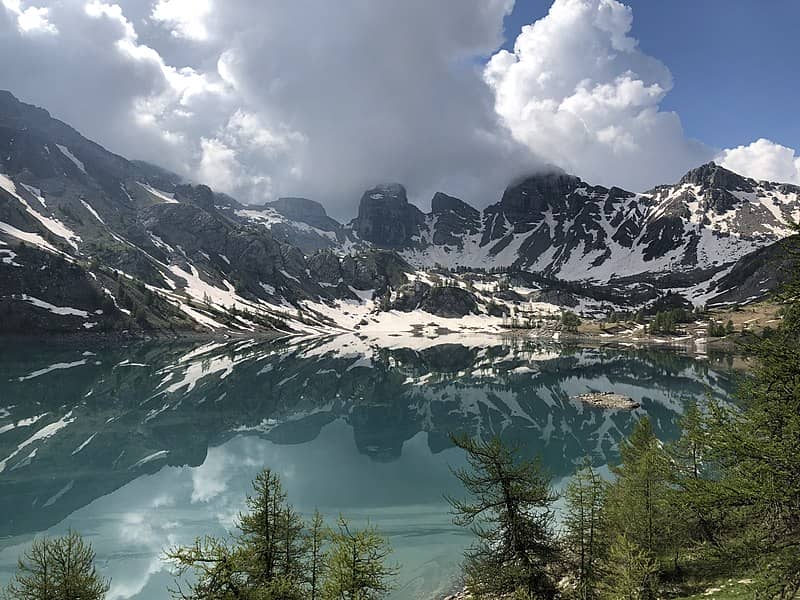 There are no direct roads that head straight to the stunning Lac d'Allos, but the one hour walk from Maison Forestière du Laus is absolutely worth it.
Lac d'Allos is the largest natural high altitude lake in Europe, situated in the heart of the Mercantour National Park.
A large portion of the water in this lake comes from melting snow from the peaks of the stunning cirque around it. The area is scenic and relaxing, that even the short hike going here is quite an experience.
2. Lac de Capitello

One of the best lakes in France is in Corsica is the pretty Alpine lake called Lac de Capitello.
It is the deepest lake in the area, surrounded by craggy mountains in the Restonica Valley. This small, circular lake is not easy to get to, as the hike going here is quite challenging.
Once you reach this place, however, you'll pretty much have Lac de Capitello to yourself.
The views and the relaxing atmosphere make it one of the best lakes in France to visit if you're looking for a scenic escape from touristy areas.
3. Lac D'Annecy
Located in Annecy in the region of Haute-Savoie, this lake is often regarded as among the best lakes in France.
The scenery is quite spectacular, the shores are perfect for a relaxing stroll, biking, or a picnic.  The second biggest lake in the Savoie region, Lac D'Annecy is also one of the cleanest lakes in the world.
This is also a glacial lake that was formed 18,000 years ago and offers magnificent views of the French Alps.
Some parts of the Lac D'Annecy also have facilities for activities like diving, fishing, rowing swimming, and sailing.
4. Lac du Bourget, Savoie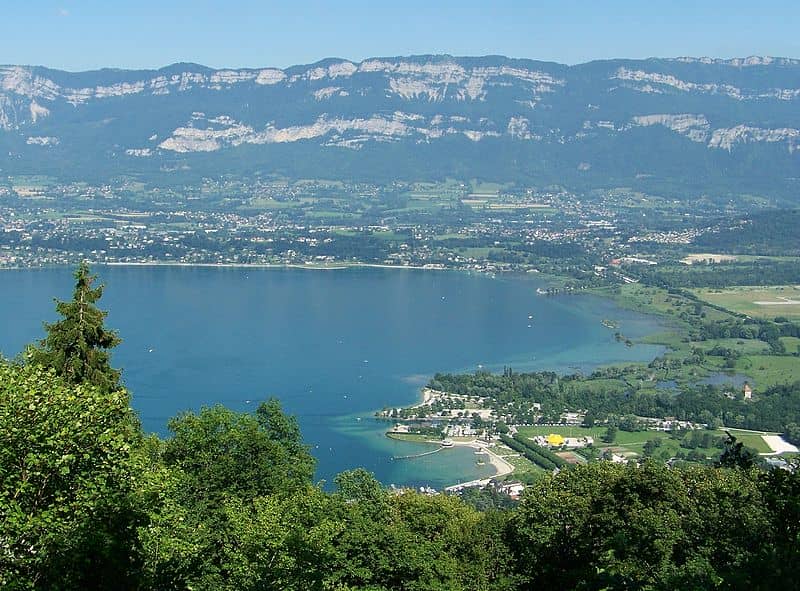 Another beautiful lake in the Savoie region, Lac du Bourget is the largest natural lake in France.
Surrounded by mountains that give it a lush, serene atmosphere, this lake is also known as the Lac Gris.
Apart from the scenery,  Lac du Bourget is also known for its pure clean water as well as being a great site for fishing. There are also facilities for activities like kayaking, stand-up paddle, and waterski.
The lake is also situated by the pretty spa town Aix-les-Bains where you can walk around, explore, or have a meal.
5. Gaube Lake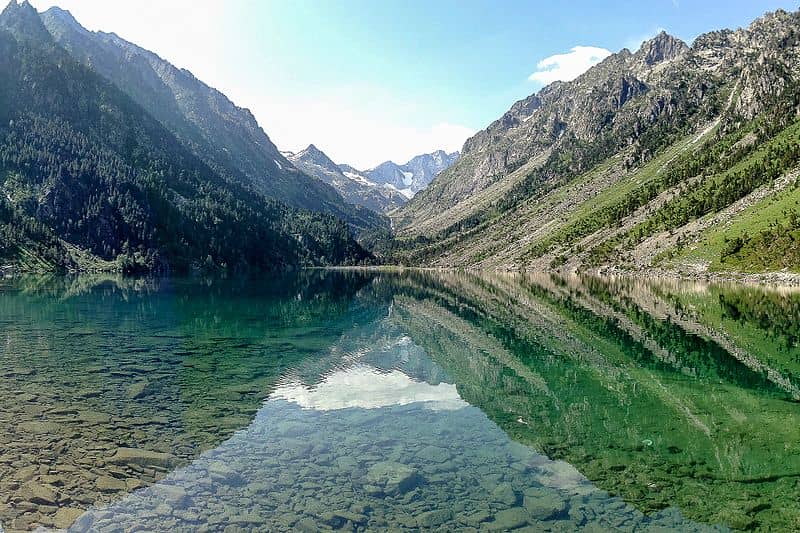 Situated in the French Pyrenees, Gaube Lake is one of France's best lakes to visit for its spectacular views and serene atmosphere.
It is surrounded by the highest mountain in the area, Mont Vignemale, which is another reason why Gaube Lake is a must-visit. Marvel at the reflection of the mountain in the lake's glacial blue water, as it's one of the prettiest sights ever.
It takes almost an hour to hike to Gaube Lake, but as with every challenging journey, the views alone are definitely worth it.
Alternatively, you can also take a cable car from the Bridge of Spain to reach this lake.
6. Lake Geneva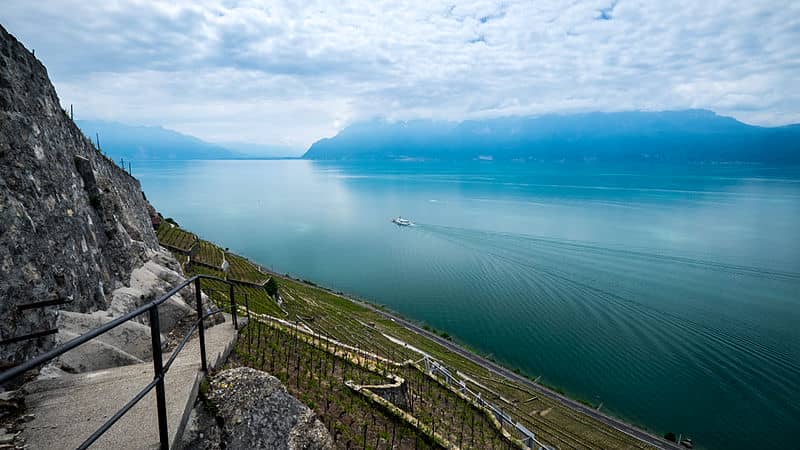 The mesmerizing Lake Geneva straddles two countries: France and Switzerland.
However, that doesn't make it less of beauty and is still among the best lakes in France.
At around 580 square kilometers, it is the biggest lake in the Alps as well as in Western Europe.
Lake Geneva is a natural lake, with only a small part that's man-made. It has stunning blue water ripples in some parts, while the rest are like are fine crystal. On the shores, you can rent boats for cruising or sailing.
You can also sunbathe, fish in designated sites, as well as swim or dive. You can also visit the island of La Harpe, Challon Castle, or see the village of Yvoire.
7. Lake Gérardmer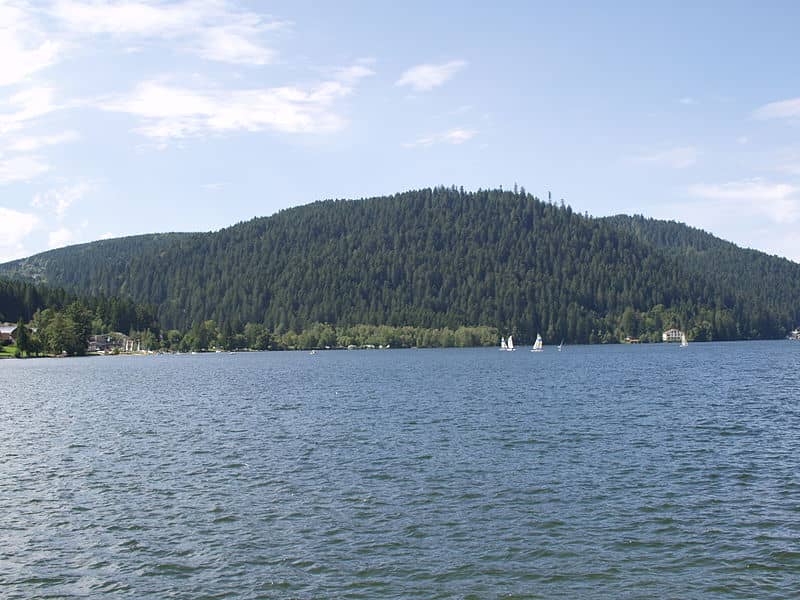 Known for its shimmering waters, Lake Gerardmer is located in the heart of the Ballon des Vosges Regional Natural Park. One of the best lakes in France, it is a favorite among visitors and locals alike.
It is nicknamed  "the pearl of the Vosges", situated at an altitude of 660m, at the foot of the city of Gerardmer.
Formed around 80,000 years ago, this glacial lake is completely frozen during winter.
There are hiking trails around Lake Gerardmer which are perfect spots for watching the sunrise or sunset.
8. Lake Grand Lieu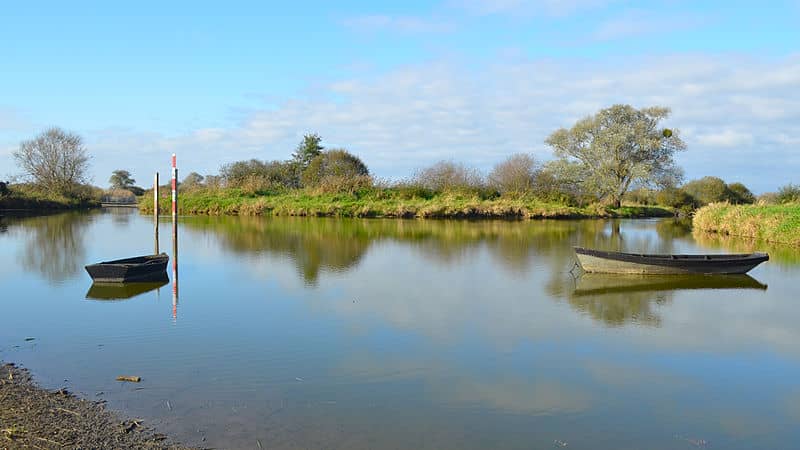 Situated in the Loire-Atlantique region, the Grand-Lieu Lake is the only National Nature Reserve in the area. This magnificent lake is also the second-largest ornithological reserve in France, next to the Camargue.
Apart from the scenery, the lake is home to some 270 species of birds, and diverse fauna and flora.
Hike around the shore or pick a strategic spot, and watch out for Great Egrets, Gray Herons White Spoonbills, or Otters which is everywhere at Grand Lieu Lake.
9. Lac du Mont Cenis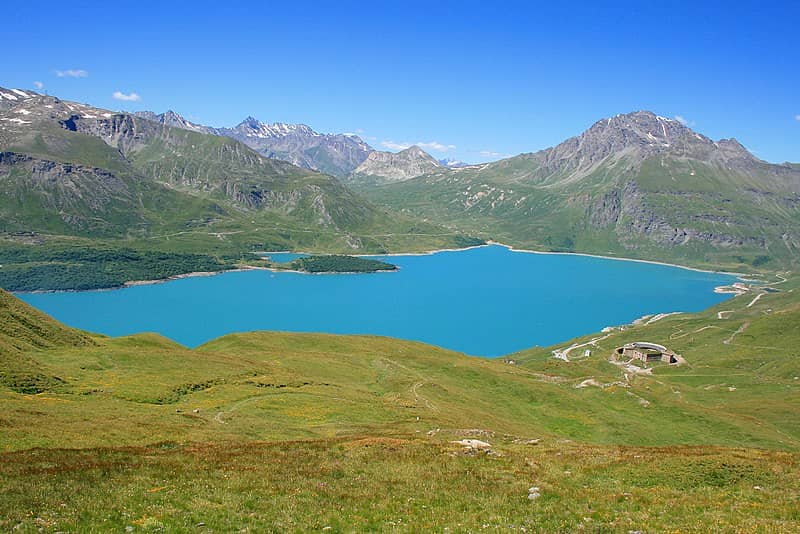 Lac du Mont Cenis is located mostly within France but is close to the Italian border. This is an artificial lake, created during the construction of a hydroelectric dam at Mont Cenis.
Back in the middle ages, the area where Lac du Mont Cenis is located now was part of a route that was a thoroughfare between Western Europe and Italy.
Known for its crystalline blue waters, Lac du Mont Cenis is also blessed with lush vegetation and rare plant species that are only found here.
10. Lac de Serre-Poncon
Created in the 1960s as part of a flood-control project, the scenic Lac de Serre-Poncon is one of the largest man-made lakes in France.
Located in the south of the country, this lake is popular among swimmers,  windsurfers and those who love sailing.
Surrounded by both mountainous areas and gentle hills, Lac de Serre-Poncon is a stunning sight to behold at any time of the year. Camping is permitted in the banks, as well as a variety of water activities.
One of France's best lakes, Lac de Serre-Poncon is also adjacent to charming small villages like St. Vincent Les Forts or Espinasses that you can visit
11. Lac de Sante Croix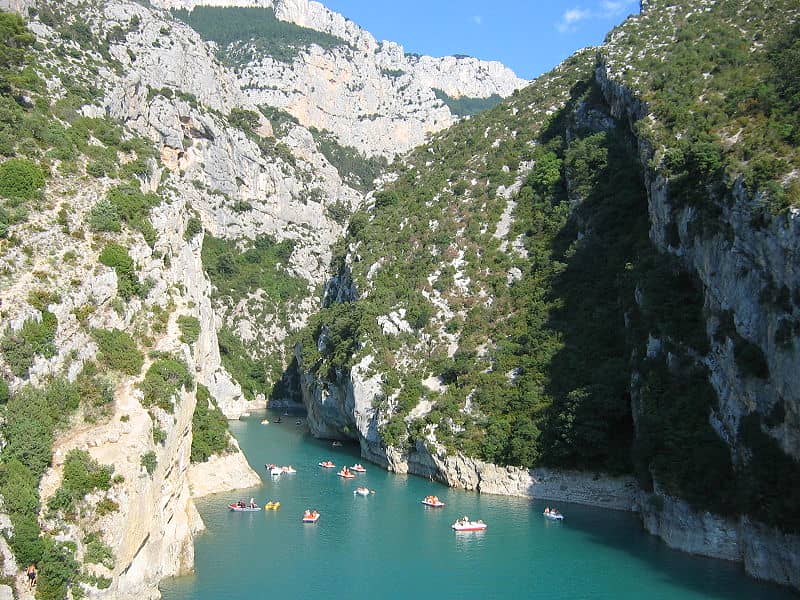 A common misconception about this pretty lake is that its artificial, but Lac de Sante Croix has smaller lakes connected to it.
It formed in the early 1970s when the Sainte Croix dam was built across the Verdun River. The lake is ideal for a nice day trip out of the city or crowded areas, with lush forests and hills surrounding it.
Visitors can also cruise through the lake by kayak, as there are facilities around the lake for it.
The sunset views from Lac de Sante Croix are also among the beat in this part of France so be sure to stay until late afternoon.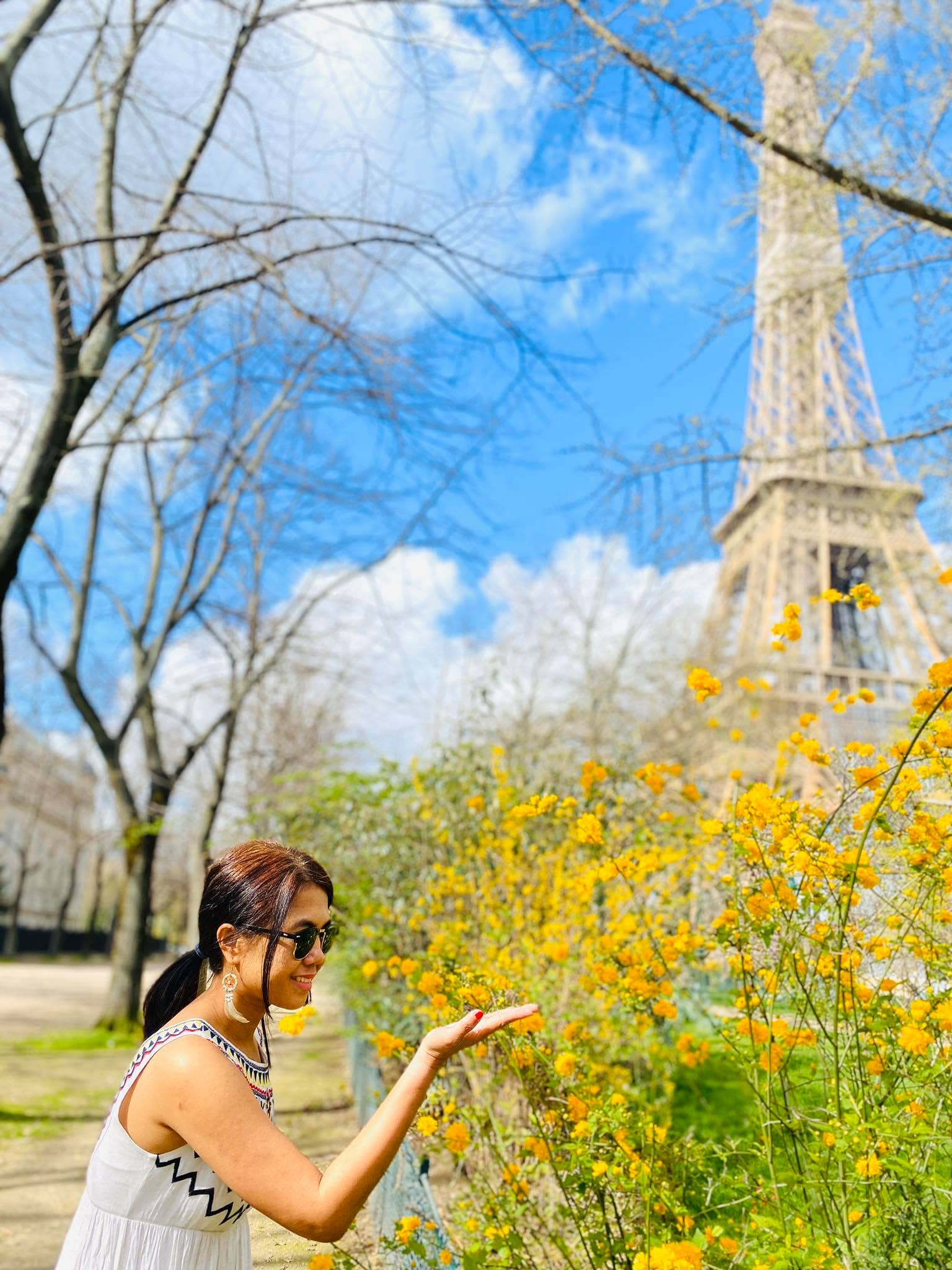 Hi, I'm Christine – a full-time traveler and career woman. Although I'm from the Philippines, my location independent career took me to over 40 countries for the past 8 years. I also lived in 3 continents – from the Caribbean, South East Asia to Africa. France remains special to me, however. From architecture, history, and arts – France is truly an amazing place.