If you're looking for something different to see in France, make Annecy a part of your upcoming trip. It is also one of the most beautiful towns in France.
Tucked in a small corner of France, this gorgeous town is bordered by the cleanest lake in Europe. It does not have the usual historic sights or grand museums.
---
New to Airbnb? Get a $43 off for your next trip if you use our link here. 
---
Still, there's plenty to see and do here that will make your visit an unforgettable one.
From its fairytale-like town center to the abundance of cheese, there are several things to do in Annecy, France.
11 Best Things To Do In Annecy, France
1. Walk around the Old Town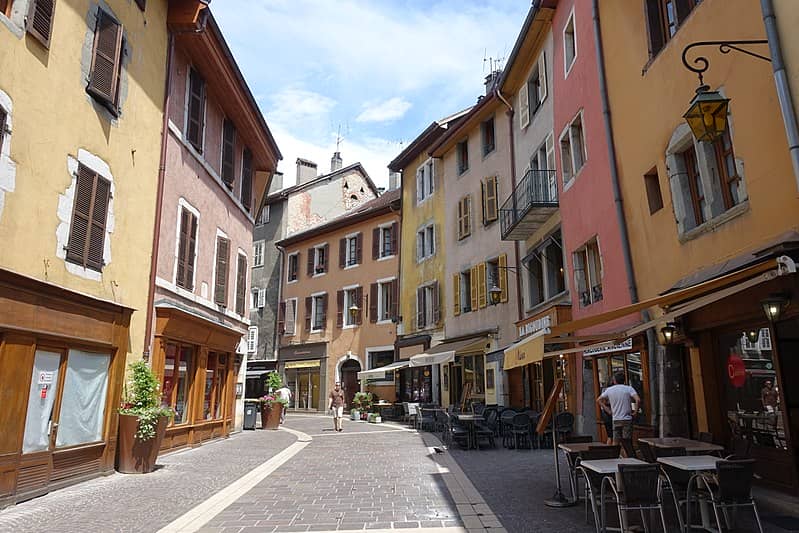 A stroll through the Old Town is without a doubt, the best thing to do when you arrive in Annecy. This town has a long history, and it goes as far back as Roman times.
Much of what people see in its Old Town has been around since the medieval era. This area is a great place to start to get accustomed to this picturesque historic town.
Walk on cobbled streets, explore narrow alleyways and admire buildings that have been around for hundreds of years. In between, relax in cute cafes and eateries that are scattered throughout the area.
2. Walk along the canals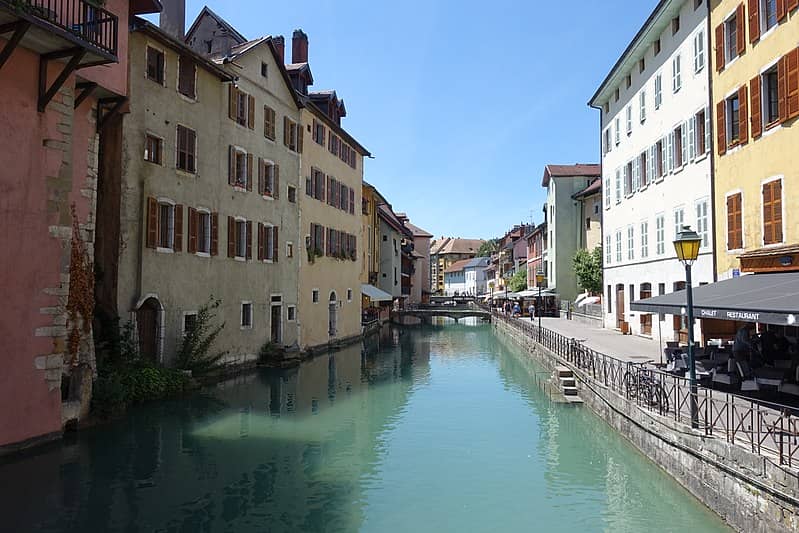 Often referred to by visitors as Little Venice because of the network of canals through the Old Town. These waterways are among Annecy's best attractions. A canal cruise is always a great idea to see Annecy from a different perspective.
However, there are also pedestrian pathways built alongside these canals. These make for a lovely stroll to see more of the area, in and out of the Old Town.
3. Visit the markets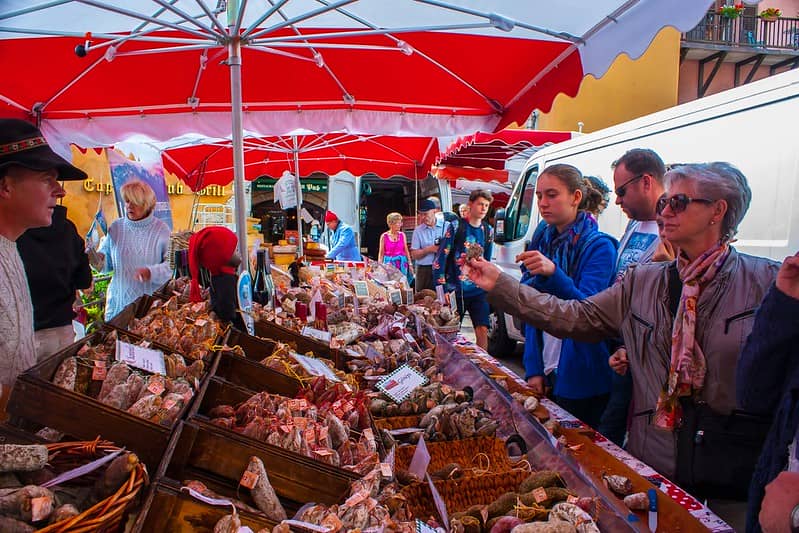 A visit to any French town isn't complete without seeing the markets. As in most towns and cities, the markets are the best places to visit in Annecy to experience local life.
You can pick up some goodies and souvenirs while practicing your French, too! There are markets in Annecy any day of the week, but the Sunday market is a must experience.
This one takes up most of the Old Town, and where there's a wide variety of products on offer. Annecy's Sunday Market is when locals from across the lake bring their goods and fresh produce to sell in the city.
4. Walk or bike along Lac D'Annecy (Lake Annecy)
One of the best places to see in Annecy is its stunning lake, which is the third-largest in France.
Stretching up to 15 kilometers on its longer side, Lac D'Annecy is perfect for walking or biking around. A cycle path runs around the entire lake, so it is easy to navigate.
Along the way, you also get to explore neighborhoods and enjoy fantastic views.
5. Palais de l'Île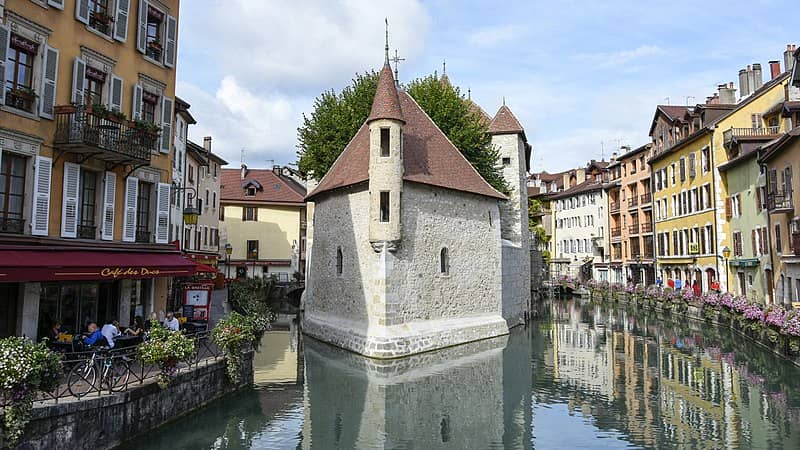 The Palais de l'Ile used to be a prison, the coin-minting workshop in the mid-14th century. It then became the residence of the Dukes of Savoy in the 1500s, before it was converted to the Palace of Justice (Law Courts) in the 16rh century.
Today, it is the most photographed and one of Annecy's best attractions. Perched on an island in the Canal du Thiou, you won't miss Palais de l'Île.
See it from the Pont sur le Thiou (bridge), for the best views as it looks like the massive bow of a ship. Inside Palais de l'Ile is a museum about architecture as well as some old prison cells.
6. Pont des Amours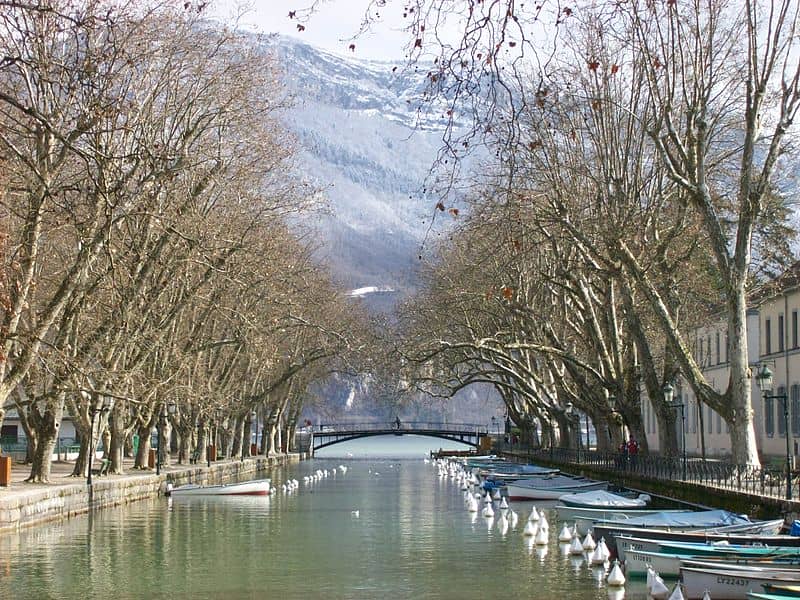 Pont des Amours is a footbridge over Lake Annecy that provides some of the best views of the area. It is situated at the entrance of the Canal du Vassé, said to be frequented by lovers in the past. Townsfolk believe that if lovers kiss on the bridge, they will be united forever.
True or not, Pont des Amours is among the best places to see in Annecy. It was formerly called the 'Gateway to the Public Garden', and is one of the most picturesque spots in Annecy.
Whether with someone or not, pack a good camera and have that scenic shot on Pont des Amours.
7. Chateau d'Annecy
Chateau d'Annecy was built from the medieval to the Renaissance period. It was the former residence of the Counts of Geneva from the 13th to the 14th century. Today, a visit here is one of the best activities to do in Annecy.
Located on a hill, Château d'Annecy offers some of the most stunning views of the lake and nearby mountains. The château is now a museum that has exhibits on contemporary art, medieval sculpture, and regional history.
It also hosts temporary exhibits on various subjects throughout the year.
Opening Hours:
From October 1 to May 31: every day except Tuesday
10 a.m. – 12 p.m. and 2 p.m. – 5 p.m.
From June 1 to September 30: every day
10:30 a.m. – 6 p.m.
Closed Tuesdays from October to May; public holidays: January 1, Easter Sunday and Monday, May 1, November 1, November 11, December 25.
The last tickets are issued 45 minutes before closing.
The Château d'Annecy free on the first Sunday of October to May.
Admission Fee
Adult: € 5.50
Child: € 3.
Free for children under 12.
Contact Information
Address: Place du château 74000 Annecy
Phone: 0450338730 /0450338734
E-mail: musees@annecy.fr /
8. Eglise Saint-Maurice
The Eglise Saint-Maurice dates back to the 15th century and is the oldest church in Annecy. It used to be a chapel for the Dominican Convent before it became a parish church in the 19th century. Now a historical monument, it still holds religious services.
From the outside, it is quite a sight to behold, with its distinctive Flamboyant Savoyard architectural elements.
Meanwhile, the interiors are more subdued with a vast nave. You'll also find here an elaborately carved centuries-old pulpit and a beautiful painting of the Virgin in Glory.
9. Jardins de l'Europe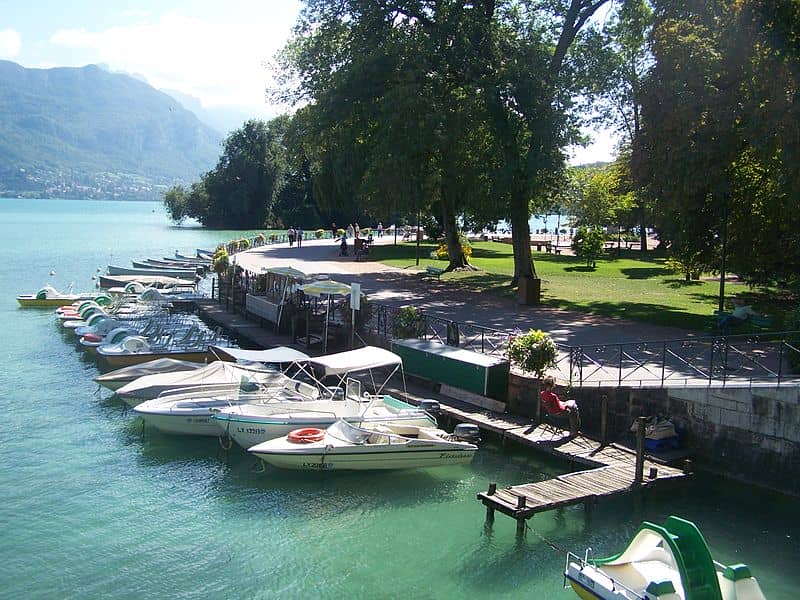 If you're looking for a lush green space in town, check out the Jardins de l'Europe. Situated beside the lake, this flower-filled area is right next to the picturesque Pont des Amours.
From this pretty garden, you also get to enjoy great views of Chateau d'Annecy. If you're coming from  Eglise Saint-Maurice, it is just a short walk away from the church to the gardens. The garden is an ideal place for a relaxing stroll.
During certain times of the year, Jardins de l'Europe hosts a variety of events. A popular event is Bastille Day in February, with lots of exciting activities and a grand fireworks show.
10. Avenue d'Albigny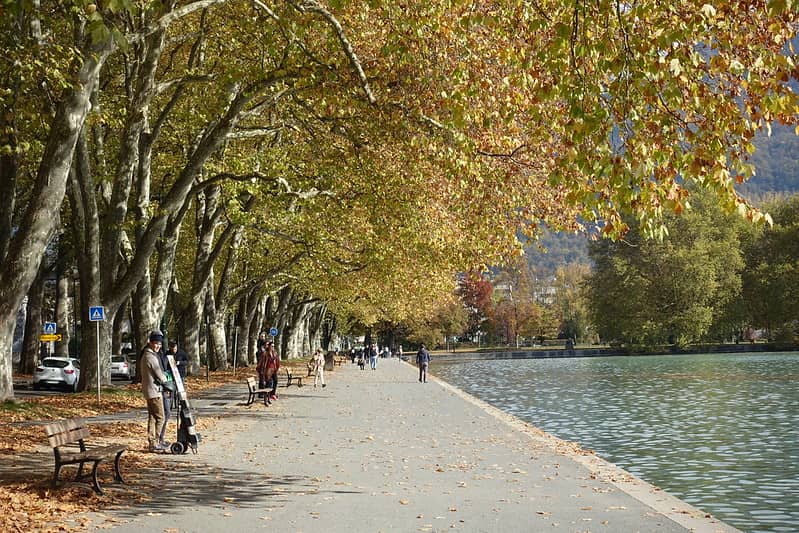 The Avenue d'Albigny is a picture-perfect stretch of shoreline along the Lac d'Annecy.
A stroll through this area is among the best things to do in Annecy at night. The scenery is just magical, as the stunning lake seems to sparkle against the night lights.
This tree-lined path starts at the Jardins de l'Europe and extends to the Parc Charles-Bosson. This is an ideal post-dinner activity, a wonderful way to take in the town's scenery as the day ends.
11. Taste all the cheese
We saved the best for last. It is something that will probably take hours or a whole day!
Definitely among the best things to do in Annecy on weekends is to eat all the cheeses. The town is home to some truly delicious French cheeses and Alpine cuisine that have them as the main ingredient.
Find them at the weekend markets, or better yet, stop by a fromagerie. Stock up on a variety of cheeses you can bring home, or even goodies made with cheese.
A visit to a fromagerie is a must when in Annecy. The smell alone, as you enter the shop, makes it worthwhile.
---
Planning to visit Annecy and don't know where to stay? Here's our list of top hotels in Annecy, France.
---
New to Airbnb? Get a $43 off for your next trip if you use our link here. 
---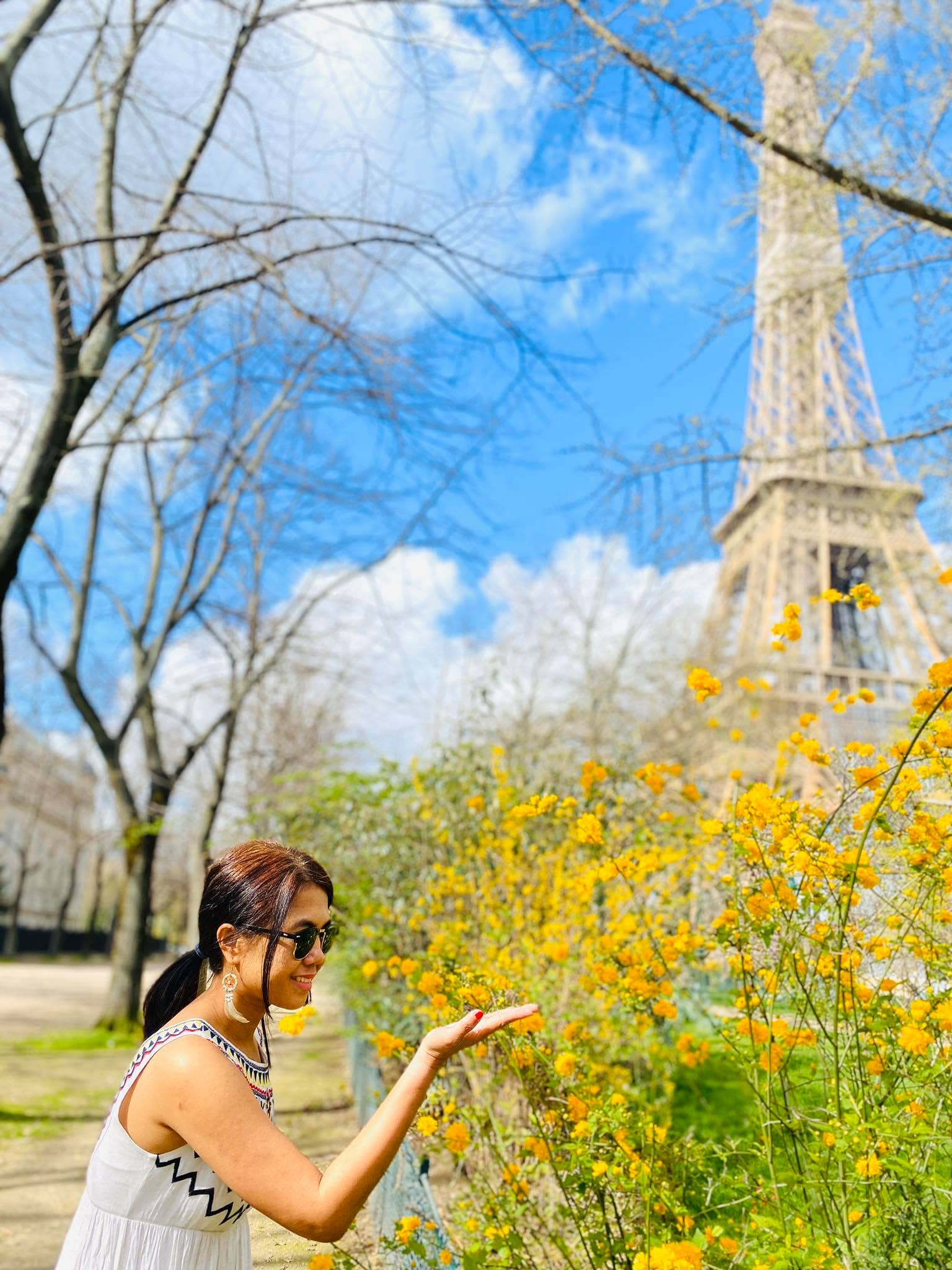 Hi, I'm Christine – a full-time traveler and career woman. Although I'm from the Philippines, my location independent career took me to over 40 countries for the past 8 years. I also lived in 3 continents – from the Caribbean, South East Asia to Africa. France remains special to me, however. From architecture, history, and arts – France is truly an amazing place.