Are you looking for the best Michelin-rated restaurants in Paris?
If you're looking for a refined dining experience in Paris, look no further. A meal at a Michelin-starred restaurant should be included in your itinerary.
The Michelin Guide has been awarding stars to France's best restaurants since 1926. Michelin Stars have become a well-known culinary rating system around the world.
In 2020, Paris had 119 Michelin-starred restaurants, making it the second city in the world with the most Michelin-starred restaurants (behind Tokyo). However, it's difficult to pick between so many excellent dining options.
That's why we've put together a list of the top Michelin-starred restaurants in Paris to help you have the most unforgettable meal of your trip.
11 Best Michelin Restaurants In Paris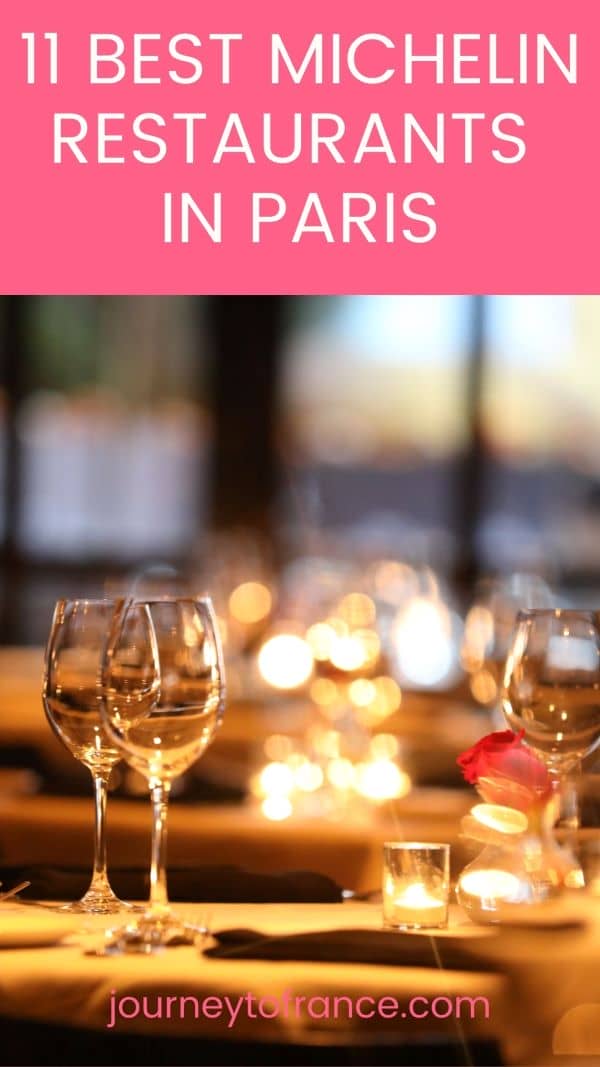 Journey To France contains affiliate links all throughout the site. If you choose to purchase a product or book services through our affiliate links, this earns us a commission at no extra cost to you. For our complete disclosure, click here
1. Arpège | Three stars
Awarded in 2000
84 Rue de Varenne, 75007 Paris, France
Chef Alain Passard's Arpège is dedicated to creating harmonious cuisine; every ingredient of every dish is carefully considered to ensure it matches the rest.
Passard is also committed to quality; the restaurant has been supplied by its three potagers, or kitchen gardens, since 2000, and each year they produce 40 tons of fresh, all-natural ingredients.
In Arpège, the Vegetable Tasting Menu is €340, while the Earth and Sea Menu (for meat and fish eaters) is €450. Both menus include 11 courses of Passard's renowned cuisine.
The Gardener's Lunch Menu, priced at €185, is also available for those looking for a more affordable but still high-quality dining experience.
2. Epicure | Three Stars
Awarded in 2009
112 Rue du Faubourg Saint-Honoré, 75008 Paris, France
This three-Michelin-star restaurant in Le Bristol, Paris, entices visitors with its beautiful surroundings and delectable cuisine. It is divided into two dining rooms, Winter and Summer, which are used according to the seasons.
Chef de cuisine Eric Frechon's dishes aim to reintroduce simple but delicious combinations made with high-quality seasonal ingredients to the forefront of the culinary world.
They're based on classic French cuisine, but they're constantly evolving and improving. Try the roast venison saddle in port with celeriac purée and beetroot, paired with a wine recommended by Chief Sommelier Marco Pelletier.
3. Frenchie | One star
Awarded in 2019
5 Rue du Nil, 75002 Paris, France
Frenchie has long been a go-to spot for Parisians looking for great food in a stylish setting.
In January 2019, the restaurant was awarded its first Michelin star, giving diners even more reasons to visit. After all, it's not often that a five-course Michelin-starred menu costs €88 in Paris.
At Frenchie, each visit is a surprise because the menu changes every two weeks and is not listed on the website.
So, expect classics like grilled fish and pork belly, as well as more unusual combinations like foie gras with carrot, tamarind, and macadamia nut, which starts at €50.
4. Le George | One star
Awarded in 2017
31 Av. George V, 75008 Paris, France
Chef Simone Zanoni's modern Mediterranean cuisine was awarded its first Michelin star in 2017 at Le George, which is located within the opulent Four Seasons George V Hotel.
The menu has dishes meant to be shared. They are light and healthy, perfect for a more relaxed tapas-style dining experience.
The à la carte menu, as well as the full dégustation (tasting menu, recommended) at €125 and the less expensive lunch menu at €65, are all surprisingly affordable.
Don't leave without trying one of Zanoni's signature dishes, the onion tarte tatin, or one of the delectable desserts.
5. L'Astrance | Two Stars
Awarded in 2019
32 Rue de Longchamp, 75016 Paris, France
Tables at Michelin-starred restaurant L'Astrance are notoriously sought after. It is only open four days a week and reservations are subject to a strict two-month waiting list.
The food here is primarily French, with an occasional Asian twist, such as in the miso-marinated mackerel.
Chef Pascal Barbot's surprise menu will astound you as you begin your well-curated meal with an amuse-bouche.
Then try the restaurant's most famous dish, the Mushroom Millefeuille with Foie Gras marinated in Verjus, sprinkled with porcini powder, and drizzled with lemon confit. It tastes just as good as it sounds.
6. Le Cinq at Four Seasons George V | Three Stars
Awarded in 2001
31 avenue George-V, Paris, 75008, France
The setting of Le Cinq, which is reminiscent of an ornate château, is both grand and welcoming.
The elegant gold-themed dining room, the oil paintings, and the pretty flower arrangements all set the tone for this gastronomic experience.
This Michelin restaurant serves classic French cuisine with a contemporary twist, with menus changing seasonally to make the most of each ingredient.
Traditional fare such as grilled lamb, as well as more modern dishes like lightly smoked eel with black bread and grape juice reduction, are among Chef Christian Le Squer's must-try creations.
7. Le Jules Verne | One Star
Awarded in 2019
Av. Gustave Eiffel, 75007 Paris, France
Having a meal at the Eiffel Tower in Paris is anything but cliche, which is why Le Jules Verne is a must experience. Le Jules Verne is a one-Michelin-star restaurant run by head chef Frédéric Anton, who also owns Le Pre Catalan, which has three stars.
Anton made certain that the visitor's attention was balanced between the food and the view. To highlight the magnificence of the cooking, the tables are kept bare and the dinnerware is always white.
With unpretentious titles like crab, cauliflower, farmhouse chicken, chestnut, and chocolate, the menu honors products from the French terroir. Three courses are available on the A la Carte menu (available at lunch).
The Voyages Extraordinaires tasting menu, meanwhile, includes 5 or 7 courses for €190 or €230 per person, excluding beverages.
8. Palais Royal Restaurant | One star
Awarded in 2015
110 Galerie de Valois, Paris, 75001, France
One of the most charming Michelin restaurants in Paris can be found at the Palais Royal. It even has a garden terrace!
The Palais Royal Restaurant has one Michelin star and is hidden away in the Jardins du Palais-Royal, where French writer Colette spent her final years.
Since the restaurant is in a secluded location in the gardens it becomes a particularly lovely spot for leisurely lunches and balmy summer evenings.
Guests can order à la carte or try the tasting menu for €162, which is only served if all guests at the table order it. A must-try is the sea bass marinated in orange with green asparagus and foie gras.
9. Restaurant Guy Savoy | Three Stars
Awarded in 2002 (previously had 2 Stars since 1985)
Monnaie de Paris, 11 Quai de Conti, 75006 Paris, France
Even though your bill will likely exceed £330 per person after wine, Guy Savoy is well worth every cent.
Since 1985, the restaurant has had at least two Michelin stars, with the third awarded in 2002. Many people consider dining here as the "best meal they've ever had."
Guy Savoy, like the landmarks that surround it (namely, the Louvre, Pont Neuf, and the Seine), is a French institution.
Savoy's signature style combines a reverence for the natural attributes of his ingredients, mastery of technique, and a dash of bold creativity. Signature dishes like artichoke soup with black truffle, ice poached oysters, and 'open' mille-feuille are a must-try.
10. Septime | One star
Awarded in 2014
80 Rue de Charonne, 75011 Paris, France
Septime is one of Paris' most prestigious Michelin-starred restaurants. If you want to get a reservation here, you'll need to start planning months in advance. But despite its popularity as a foodie destination, Septime's dining room is cozy and unpretentious.
Septime moves away from traditional and more formal fine dining and strives to honor the heritage of French cuisine. The cost reflects this, with a seven-course tasting menu for €95 plus drinks and a five-course lunch menu for €60.
Expect dishes like smoked roasted cauliflower with onion and mustard jus (juice), pickle, and bacon, or duck, roasted shallot, and fig and juniper juice, depending on the season.
11. Sur Mesure Par Thierry Marx | Two Stars
Awarded in 2012
251 rue Saint-Honoré, Paris, 75001, France
Since "sur mesure" actually means "tailor-made," Chef Thierry Marx will prepare your food with exquisite craftsmanship. Chef Marx's cuisine is distinctly curated, and it is what he is known for.
With each refined and exciting dish, you're in for a memorable culinary experience. Risotto de soja avec huîtres et cèpes and Buff Wagyu façon charbon are two dishes to try.
Travel Tips And Resources
Travel Insurance: I never leave home without travel insurance. My personal opinion is if you can afford to travel, you can afford to buy a travel insurance. All things can happen while on the road and you can never be too sure. And it's something that you'll be glad to have when you need it. For my preferred travel insurance, I use Safety Wing.
What To Wear: If you want some ideas on what to pack for France, check out this packing list guide for France.
Where To Stay: I personally use Booking.com for all my accommodations. Check out for their latest deals here.
Reading Resources: Check out our best reading resources here.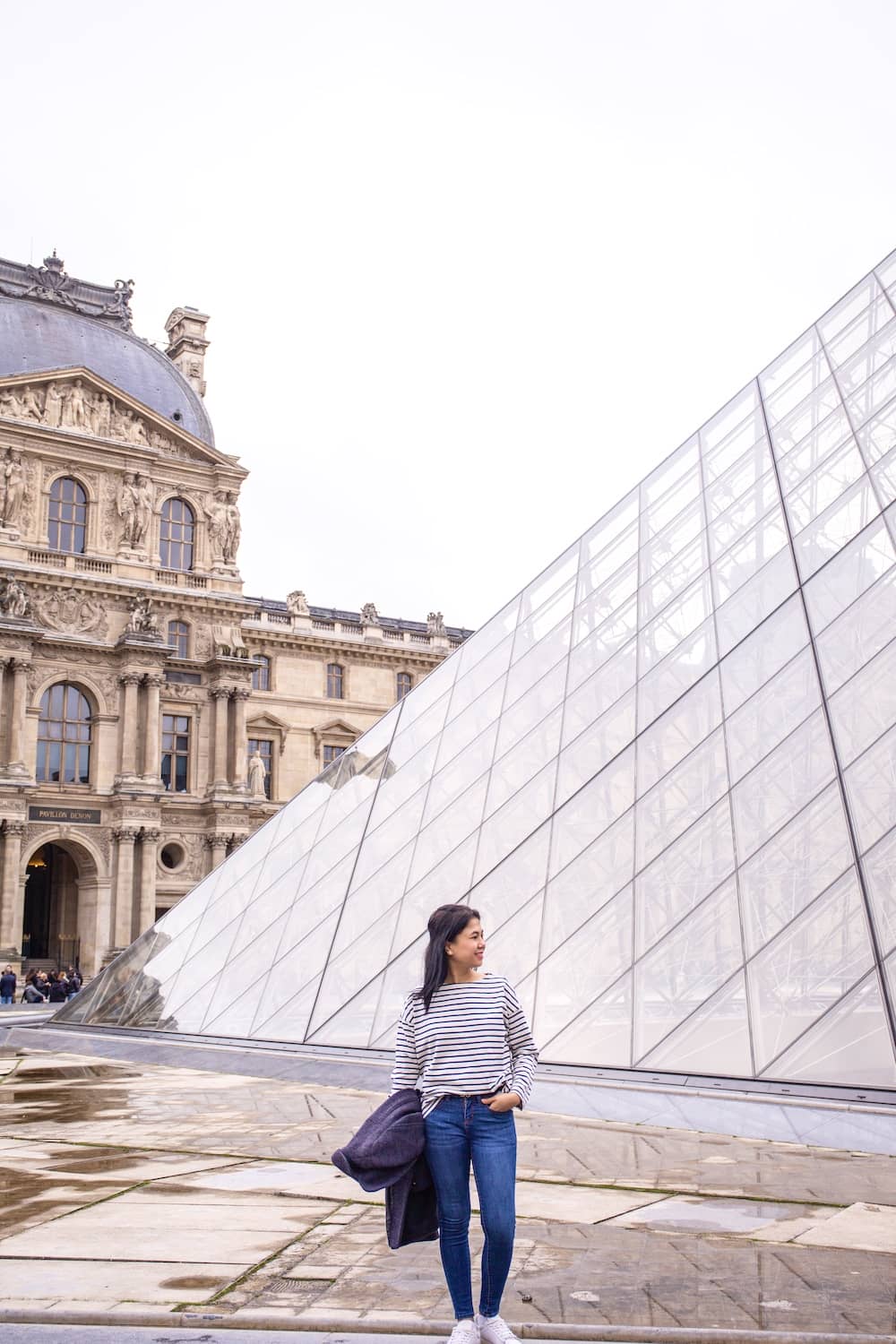 Hi, I'm Christine – a full-time traveler and career woman. Although I'm from the Philippines, my location independent career took me to over 40 countries and lived in 4 continents in the last 10 years, including France. A self-proclaimed Francophile, I love everything France.