Distinctly shaped like a champagne cork in aerial shots, Troyes takes pride in being "La cité en forme de Bouchon de champagne" (the city in the form of a champagne cork).
Located in the Champagne-Ardenne region, by the Seine River, Troyes is one of the prettiest French destinations you'll ever see.
This historic town is the capital of Champagne, known for its charming Medieval and Renaissance buildings and churches.
Troyes is also home to an impressive variety of museums that showcase its rich culture and fascinating history.
Easily accessible from Paris, this medieval town is compact and you can walk to most of the sights.
Headed this way soon? Check out this definitive list of the best things to do in Troyes, France.
11 Unique Things To Do In Troyes, France
1. Explore the Old Town of Troyes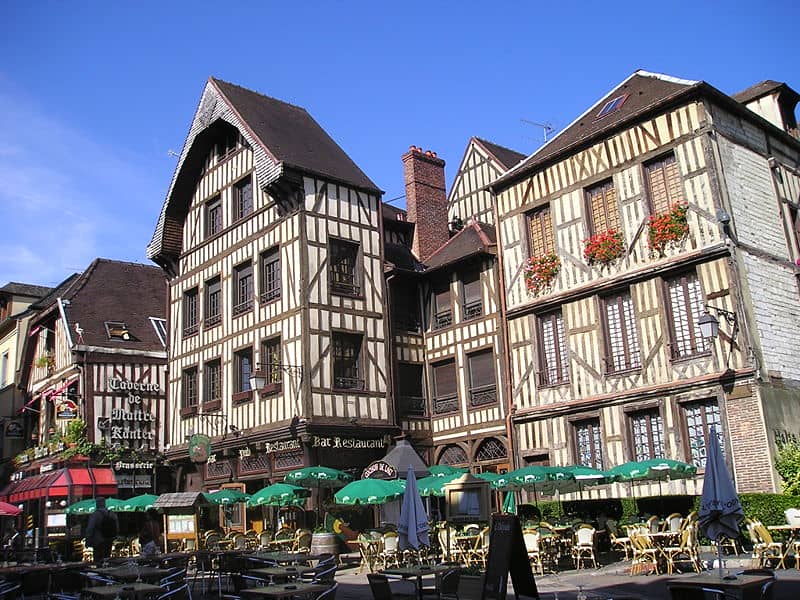 The Old Troyes has to be one of the most picturesque places you'll ever see.
Timber-framed houses from the Medieval and Renaissance periods line the streets, and it feels like being transported to those bygone eras.
Stroll along the town's charming streets and marvel at these four-story houses, which are among the best attractions in Troyes.
Being here is a wonderful introduction to this lovely town that promises so much more.
Make sure to stop by for a snack in one of the terrace cafes, where you get to enjoy a glimpse of the sights of this Champagne capital.
2. Musée de Vauluisant
How about visiting two intriguing museums housed in one historic building? Yes, that's definitely what awaits visitors at Musée de Vauluisant.
It is one of the best places to see in Troyes, known for its pretty twin turreted towers.
Constructed in the 16th to 17th centuries, it was originally one of the most fabulous hotels during its time.
Today, Vauluisant is home to the Musée d'Art Champenois (Regional Art Museum) as well as the Musée de la Bonneterie (Textile-Hosiery Museum).
The former occupies the first floor, where you'll see stunning religious art and a collection of stained glass from nearby churches and monasteries. The Textile-Hosiery Museum meanwhile is on the second floor.
Here is where visitors get to know a part of Troyes' history when it was the hosiery capital of France in the 1700s to the 1960s.
A visit to the Musée de Vauluisant is an enriching and fascinating experience that visitors shouldn't pass up while in Troyes.
3. Museum of Modern Art
Troyes' Museum of Modern Art features the collection of hosiery manufacturers, Pierre and Denise Levy. This museum is housed in the former Bishop's Palace, and it's one of the most interesting places to visit in Troyes.
Comprised of pieces from the 19th and 30th centuries, this is quite an impressive collection.
There are works from the likes of Bonnard, Courbet, Gauguin, Seurat, and Vuillard. You'll also see pieces from Balthus, Dufy, Matisse, and Renault.
Visitors will be treated to the stunning art deco glass by Troyes-born Maurice Marinot, as well as a lovely African art collection.
4. Museum of Tools and Trade
A unique Troyes attraction is this museum that celebrates how a variety of things are made.
Housed in the Hotel du Mauroy, a visit to the Museum of Tools and Trade (Maison de l'Outil et de la Pensee Ouvrière) is definitely one of the best activities to do in Troyes.
Established in 1974, this is one of the coolest places to see and explore.
It has an impressive collection of around 10,000 tools used in probably every trade imaginable.
Check out tools used by basket makers to tile-makers, or masons to wheelwrights.
There's also a stunning library comprised of 32,000 books on crafts, techniques, and trades, which is the second of its kind in France.
5. Troyes Cathedral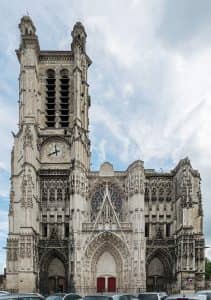 The Troyes Cathedral is also known as Cathédrale St-Pierre St-Paul, an intriguing structure that took 400 years to build.
Located in the heart of Troyes, this church is one of the best examples of the Flamboyant Gothic style.
The architecture from the facade to its interiors are wonderfully intricate, featuring eye-catching design in rich colors.
A definite highlight are the stained glass windows that depict Bible stories. It is said that those images were used to teach medieval peasants about the Bible.
Regarded as one of the most beautiful churches in Europe, a visit here is one of the best things to do in Troyes.
6. Sainte Madeleine Church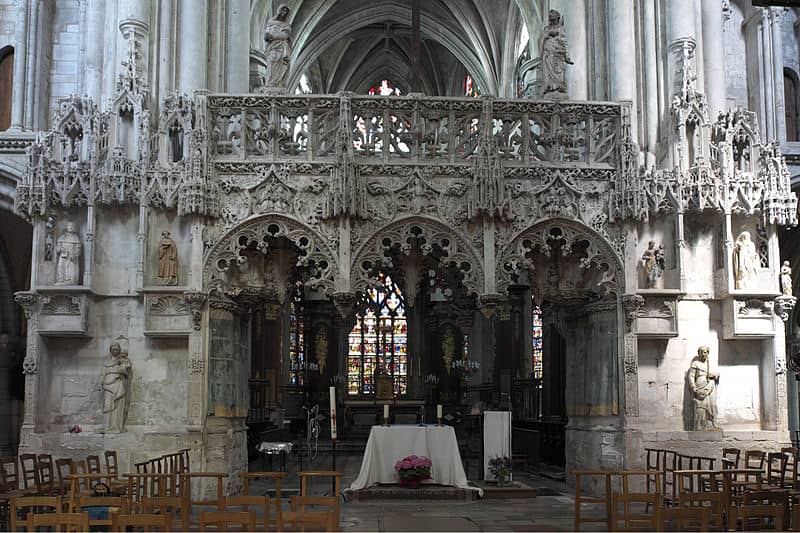 Another church that should be part of any Troyes itinerary is the majestic Sainte Madeleine Church. This Gothic church dates back to 1120 and was rebuilt in 1200.
This church is the oldest in town, and one of the best attractions in Troyes.
Sainte Madeleine Church is known for its intricately carved stone screen, with its ogee arches that hang over the church's nave.
It was added to the church in the 16th century, and one of the few remaining stone screens in France.
This church also has some incredible stained glass windows, and a must-see are those that depict the Passion and the Tree of Jesse.
Before you leave, be sure to stop by to relax at the pretty, serene garden just behind Saint Madeleine Church.
7. Basilique Saint-Urbain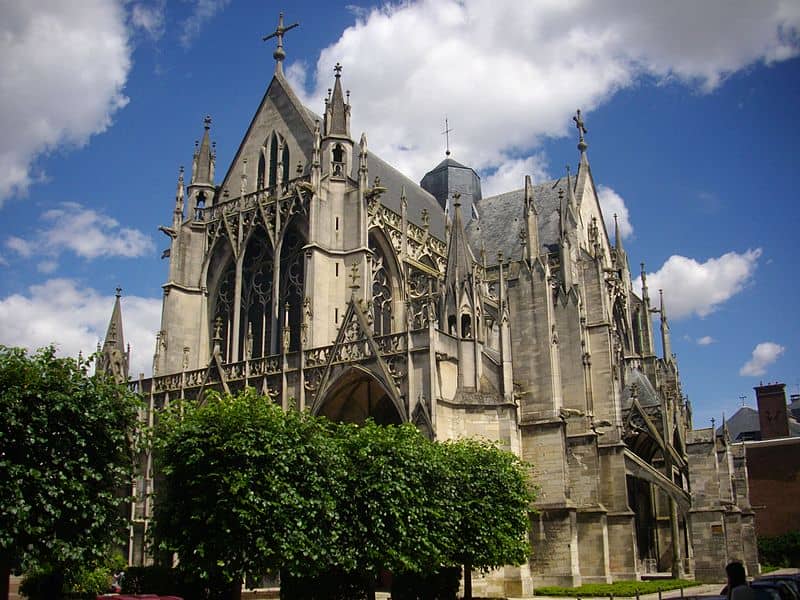 Known for its Gothic stained glass and interesting sculptures, Basilique Saint-Urbain is one of the most memorable places to visit in Troyes.
It was started in 1261 by Troyes native Pope Urban IV, who built the church to honor his patron saint. The Basilique features stunning Gothic stained glasswork, as well as a 13th-century Last Judgment tympanum in the narrow porch.
Inside a chapel in Basilique Saint-Urbain's south side, is the statue of "Vierge aux Raisins," or the Virgin with Grapes.
It dates back to the Renaissance era and depicts the Virgin Mary holding Jesus in one hand and a bunch of champagne grapes on the other.
8. Ruelle des Chats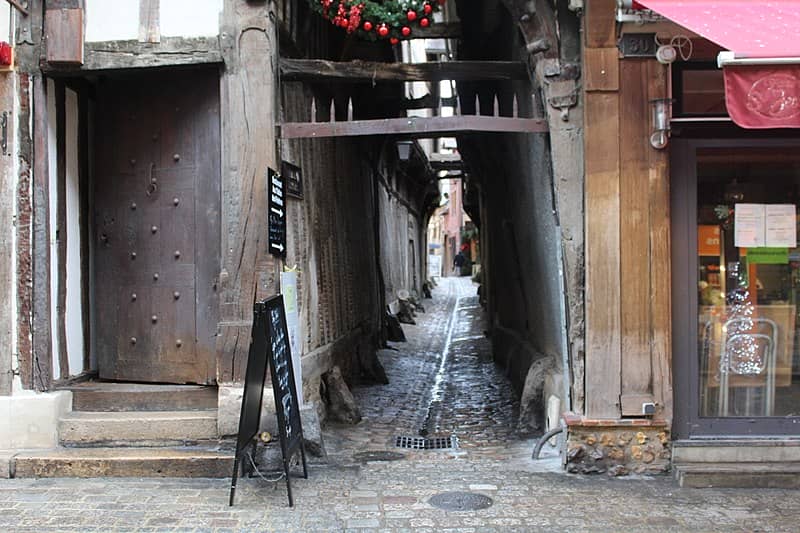 One of the unique things to do in Troyes is a walk through the medieval alleys known as Ruelle de Chats.
The name literally means 'the cat's alleys, and is quite an interesting place to visit.
The buildings on either side of the alleys are built so close that their roofs are almost touching. This proximity allows cats to jump from one building to another, hence the name.
Spend some time to wander around this area when in Troyes, as it's also a way to see the centuries-old timber-framed glasses up close.
After your visits, enjoy a meal in one of the good restaurants close to the alleys.
9. Savor Troyes' Café culture
Troyes has a strong coffee culture that's comparable to that of Vienna in Austria or Zagreb in Croatia.
Mixed with the innate French trait of savoring experiences, drinking coffee in Troyes is a must for every visitor.
Pick any of the pretty cafes lining the Old Troyes, sit by the terrace or window and watch the world go by as you enjoy your favorite coffee blend.
This is one of those things to do in Troyes that lets you take part in something that's been in their culture for centuries.
10. Enjoy the Food
France as a whole is a country with a diverse and rich culinary heritage. Nearly every region, town or city has something distinct to offer and Troyes is no exception.
While in this town, be sure to enjoy meals or snacks in any of its numerous restaurants, eateries, cafes and even food market stalls.
There's just a lot of interesting food options to try, from the traditional to the modern, from elegant to quirky.
Some of the best foods to try while in Troyes include local dishes like andouillette, a homemade sausage invented many centuries ago.
If you're looking for something quick and light to snack on in between exploring the town, visit the cake shops of Troyes. The pastries and cakes here are such delightful treats.
Make sure to try their bread as well, particularly the brioche that comes in various shapes, sizes and flavors.
10. Visit a Champagne House in Troyes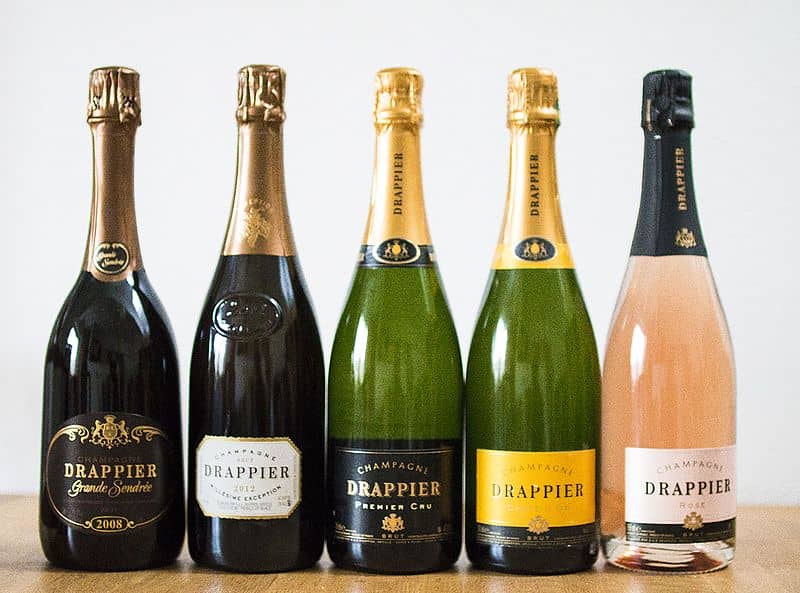 Troyes is in Aube, a department in the northeast of France known as the second-largest champagne producer in the country.
While in this charming medieval town, it is just proper to spend time in an actual Champagne house.
Troyes may not be as popular as Reims or Epernay, but a visit to a champagne house here is quite a treat.
A good place to visit in Troyes is the family-owned Drappier Champagne.
This producer of the bubbly uses bio-dynamic methods and produces top-quality Champagne sold at affordable prices.
---
New to Airbnb? Get a $43 off for your next trip if you use our link here. 
---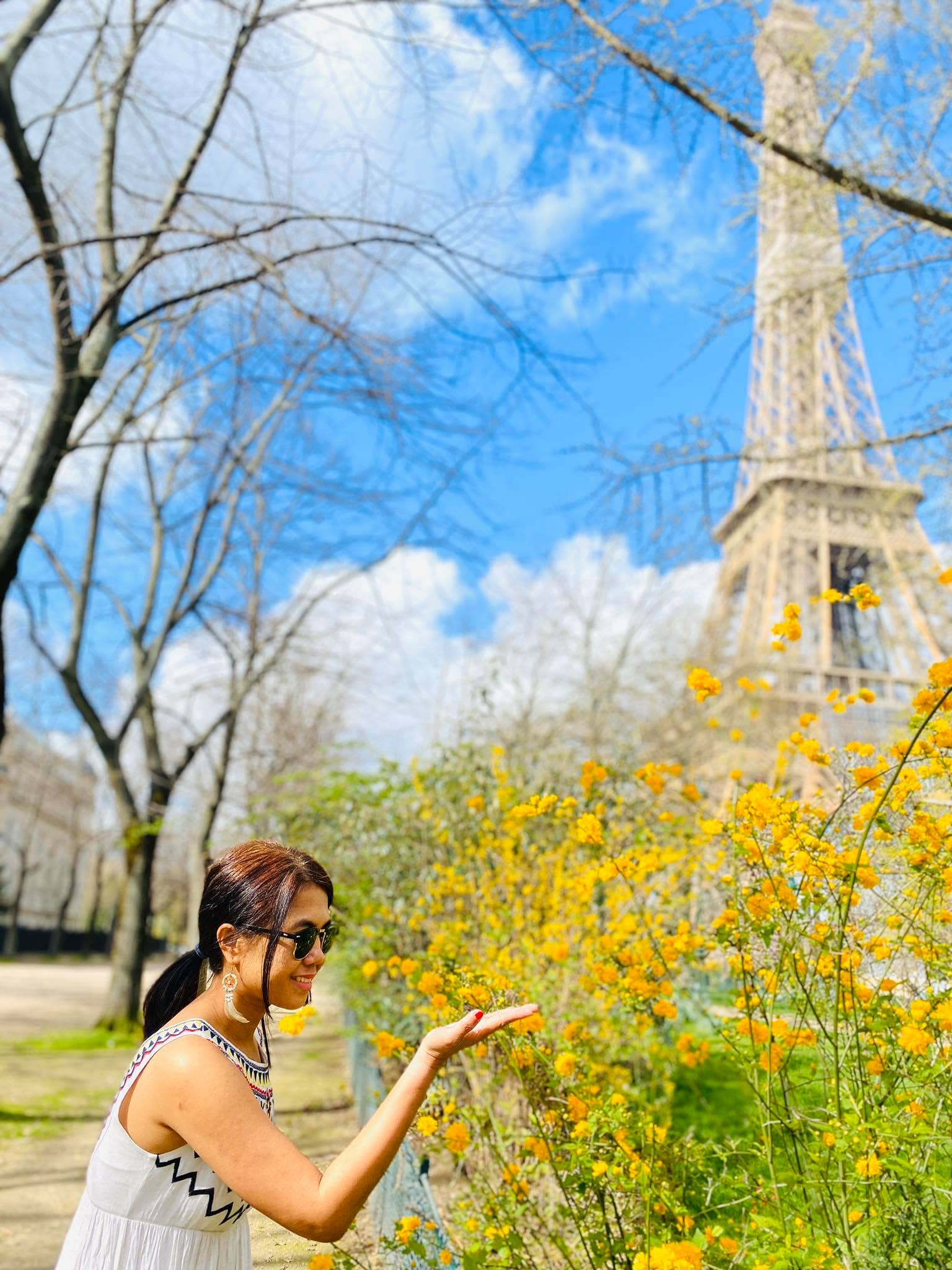 Hi, I'm Christine – a full-time traveler and career woman. Although I'm from the Philippines, my location independent career took me to over 40 countries for the past 8 years. I also lived in 3 continents – from the Caribbean, South East Asia to Africa. France remains special to me, however. From architecture, history, and arts – France is truly an amazing place.