The French gardens – whether they're within estates, surrounding a castle, are among the best places to see in France. Visiting these elegant and idyllic gardens add more meaning to a French holiday.
If you're going to France soon and want to be literally surrounded by beauty, a garden tour is a must.
How about a road trip to wander through these French gardens? Whatever you have in mind, here are some of the best gardens in France that you must visit.
10 Best Gardens In France That You Must Visit
1. Chateau de Chenonceau Garden, Loire Valley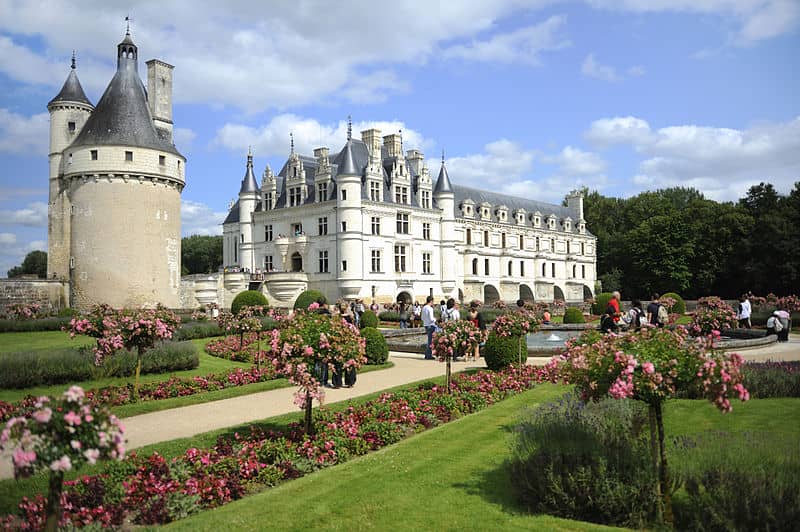 The surrounding gardens of Chateau de Chenonceau surrounded have one of the most intriguing histories among all French gardens.
These lush green spaces are the handiwork of Catherine de Medici and her rival Diane de Poitiers, the mistress of Catherine's husband Henri II.
Diane lived in the palace until her lover's death, then she was told by Catherine to leave. Diane's formal French garden remained though and so did the orange trees and rose garden started by Catherine.
These days, it is tended by the chateau's American head garden Nicholas Tomlan. The chateau gardens are home to a  diverse flower species, particularly the ornamental kind.
There are also vegetables but like the flowers, they are used to create huge bouquets that are in every room of the castle.
Apart from Catherine and Diane's gardens, there is also a  maze, a green garden, and a vegetable garden surrounding the chateau.
2. Fontainebleau Garden, Ile de France
Apart from its rich history and prominence as Napoleon Bonaparte's favorite residence,  Château of Fontainebleau is known for its exquisite gardens.
Amidst 139 acres of parkland that surround the chateau are three stunning gardens that are worth visiting.
First is the largest garden in Europe – the  Grand Parterre, which dates back to the mid-1600s.
Parts of it were destroyed by Louis XV, but the lush and fragrant herb garden remains as well as the fountains with a collection of statues.
The second garden is the Jardin Anglais with its rare trees, statues, and a river that runs through it.
Then there's the picturesque small garden built during the time of Henry IV called Jardin de Diane. This garden features a pond, a fountain, and a statue of Diana.
3. Monet's Gardens, Giverny, France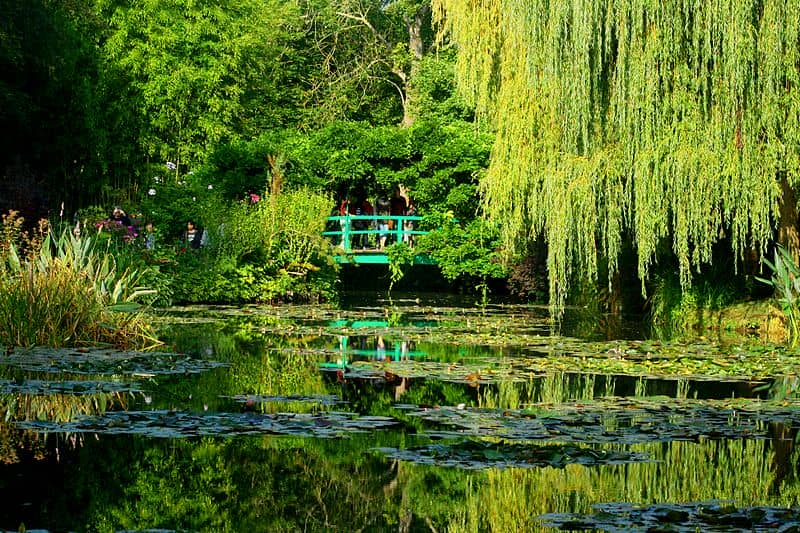 Located at the gateway to Normandy is the idyllic garden in Claude Monet's Giverny home. This beautiful garden has been captured in a lot of paintings by the Impressionist artist himself.
This garden was commissioned by the artist, who wanted a Japanese garden. He got exactly what he wanted, an inspiring and relaxing place that's now regarded as one of the best gardens in France.
Monet's garden features colorful flowers especially dahlias, a variety of trees, Japanese cherry trees, a pond with water lilies, and pretty footbridges. The garden surrounds the artist's modest two-story house which is now a museum.
A walk through this garden is like being in one of his paintings, or a fairy tale. A visit here makes for a lovely day trip from Paris, or a scenic stop if you're heading to Normandy.
4. Oriental Park of Maulevrier, Maine et Loire, Vendée
All the way into the French Atlantic Coast is a picturesque garden that's a project of the architect Alexandre Marcel.
Known for his Oriental style, Marcel worked on this scenic Japanese garden which is the largest of its kind in Europe, from 1899 to 1910. The garden surrounds a lake and features Bonsai trees, small bridges, pagodas, mini waterfalls, and lots of exotic plants.
These plants are arranged according to Yin and Yang principles as well as Taoist symbols representing the four elements. The Oriental Park of Maulevrier is a delightful place to visit any time of the day, but it is recommended to explore the gardens at night.
During night tours, visitors are given a Japanese lantern to bring as they wander around the garden, which looks enchanting under the night sky.
5. Gardens Séricourt, Pas de Calais
This must see the garden in Séricourt may seem like it is hidden away, but it is actually easy to access from the north coast of France.
This delightful garden was designed by Yves Gosse de Gorre, who takes care of this place along with his son. It is a series of gardens, each inspired by historic events in the region.
Visitors can walk around the Peace Garden or the stunning Cathedral of Roses where people get to walk through a rose tunnel.
There's also the geometric garden filled with asters, hemerocallis, and other perennials that looks especially stunning in autumn. Gardens Séricourt is recognized as a Jardin Remarquable and has won awards for its unique setting.
6. Jardin Botanique D'Èze, France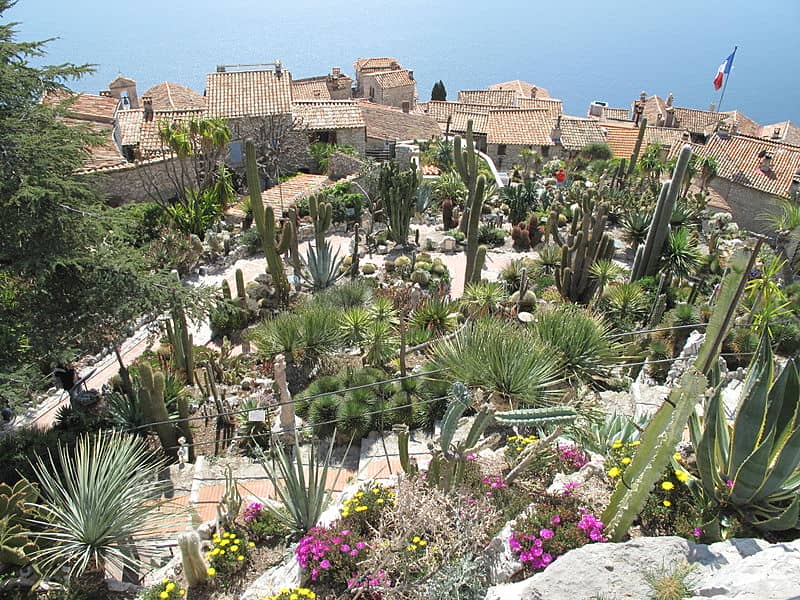 Located in the medieval hilltop village of 'Èze in the French Riviera, this botanical garden is regarded as among the best in France. It was founded by the town's major André Gianton after the second world war.
It was designed by the person who worked on the Exotic Botanical Garden of Monaco, Jean Gastaud. This enchanting garden spans the French Riviera hills, which are about 400 meters above sea level.
Known for its cactuses and succulents, the Jardin Botanique D'Èze is also classified as Jardin Remarquable and has won awards.
From the gardens, visitors can enjoy spectacular views of the French Riviera that stretches all the way to the Esterel Mountains as well as the Golf of Saint Tropez.
7. Gardens Kerdalo, Brittany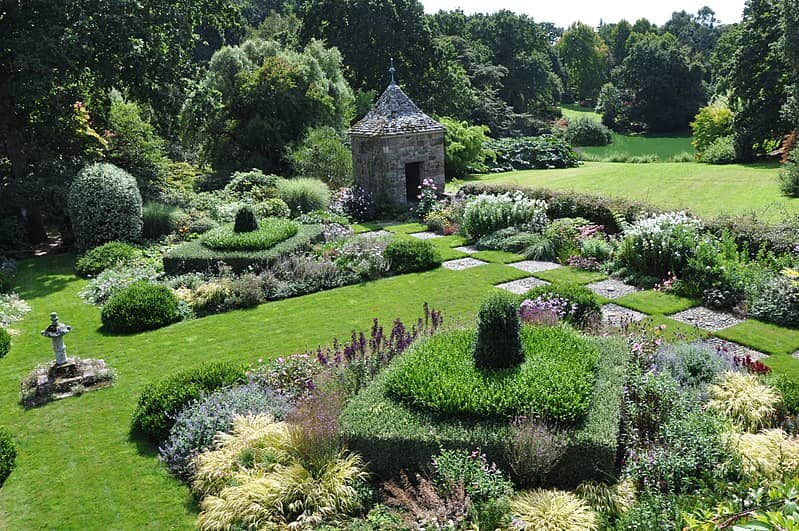 This picturesque garden is tucked away in a valley close to the Brittany coast and said to be one of the best gardens in France.
It was created by its owner Peter Wolkonsky in 1965 and is now being cared for by his horticulturist daughter Isabelle.
This garden has won awards, and recognized as both a "jardin remarquable" and  "Monument Historique". Bright and colorful, the garden spans 18 hectares.
Some of its most scenic features are the grotto hidden behind huge leaves of gunnera, and the enchanting pergola that's covered with wisteria.
Gardens Kerdalo is lovely at any time of the year, but if you're in France during springtime, it is a must-visit. The place just explodes into color and life, with acers, Azaleas, and rhododendrons.
8. The Hanging Gardens of Marqueyssac, Périgord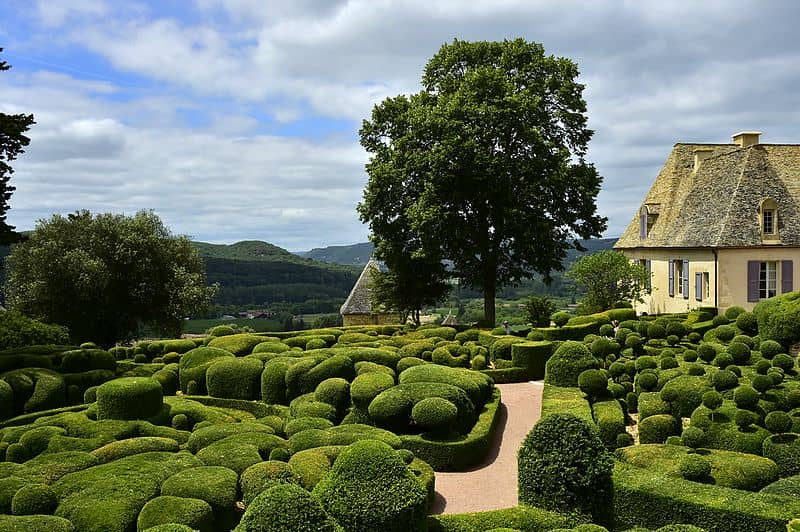 Known as the most visited garden in the region, the Hanging Gardens offers panoramic views of the scenic Dordogne Valley.
Jardins suspendus de Marqueyssac or the Hanging Gardens of Marqueyssac was created by followers of André le Nôtre who worked on the Versailles gardens. This truly remarkable garden is made up of topiary art like hand-pruned boxwoods along with a maze of shaded walking paths.
It is a must-see in the evening when they allow candlelit tours and the place turns into a setting that's straight out of a fantasy film
9. The Gardens of Versailles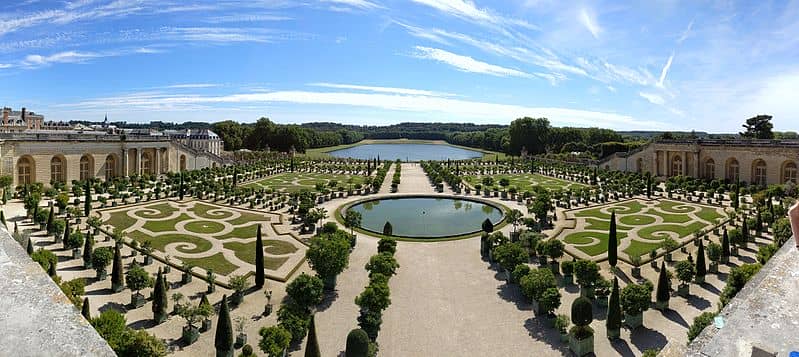 No list of the best gardens in France is complete without Versailles. This is where you'll see a classic and truly impressive example of a French garden.
Designed by André Le Nôtre, the elegant Versailles gardens feature numerous sculptures,  manicured lawns and lots, and lots of colorful flowers.
What sets it apart from the other gardens, though, are the many fountains and sculptures spread throughout the area.
The Versailles garden is huge, and it will take hours to see all of it. Visitors can also opt to see the gardens at night when there's a stunning show featuring music and lights in the fountain and sculpture gardens.
10. Gardens of Vaux-le-Vicomte
The gardens of the magnificent château of Vaux-le-Vicomte was also designed by André Le Nôtre. It is another grand formal French garden, that stretches for just a little over a mile.
It features box hedges, a canal, colorful flower beds, and gravel walks.
All of these are integrated into a pattern that resembles a maze. Statues and yew trees adorn the rolling lawns that create an idyllic setting.
It surrounds a stunning chateau, that's also one of the most visited in France. This garden becomes an enchanting summer evening destination, where visitors will see 2,000 candles illuminate the house and gardens.
---
New to Airbnb? Get a $43 off for your next trip if you use our link here. 
---
 Like It? Pin It!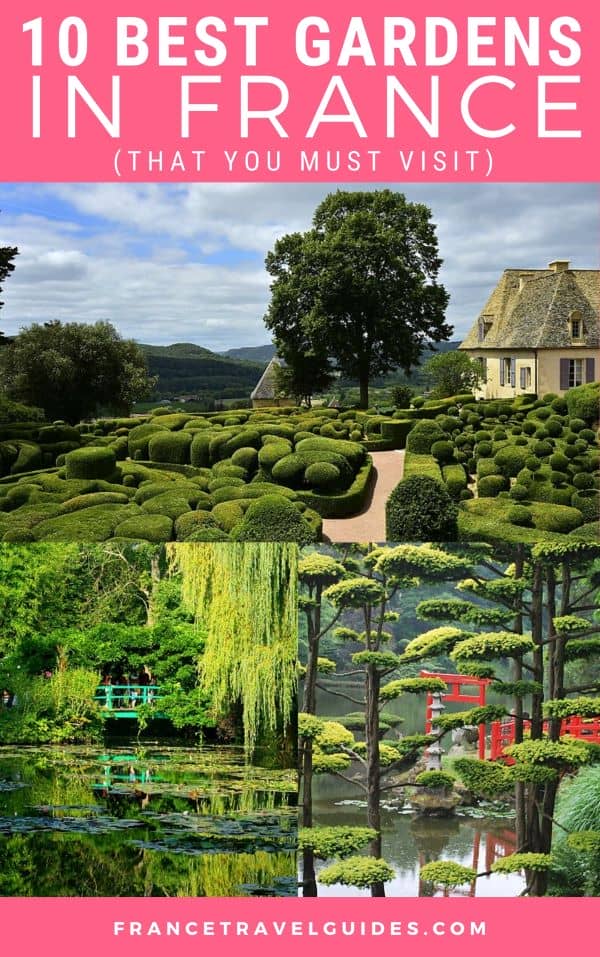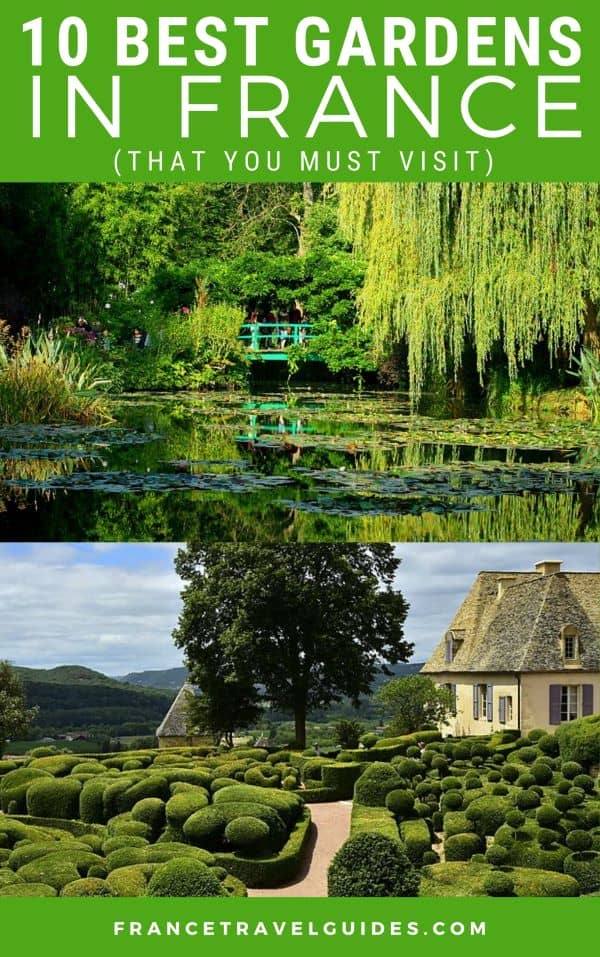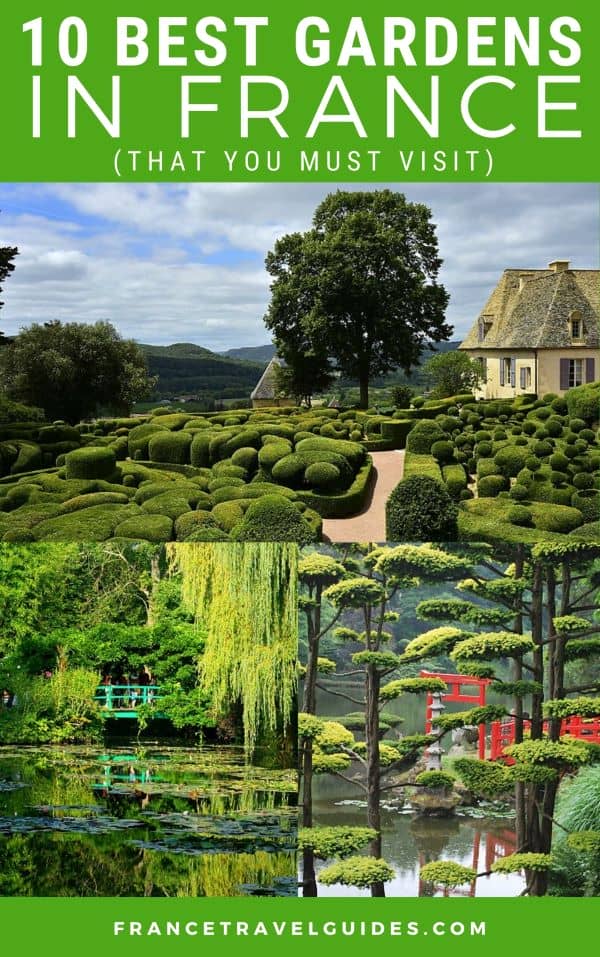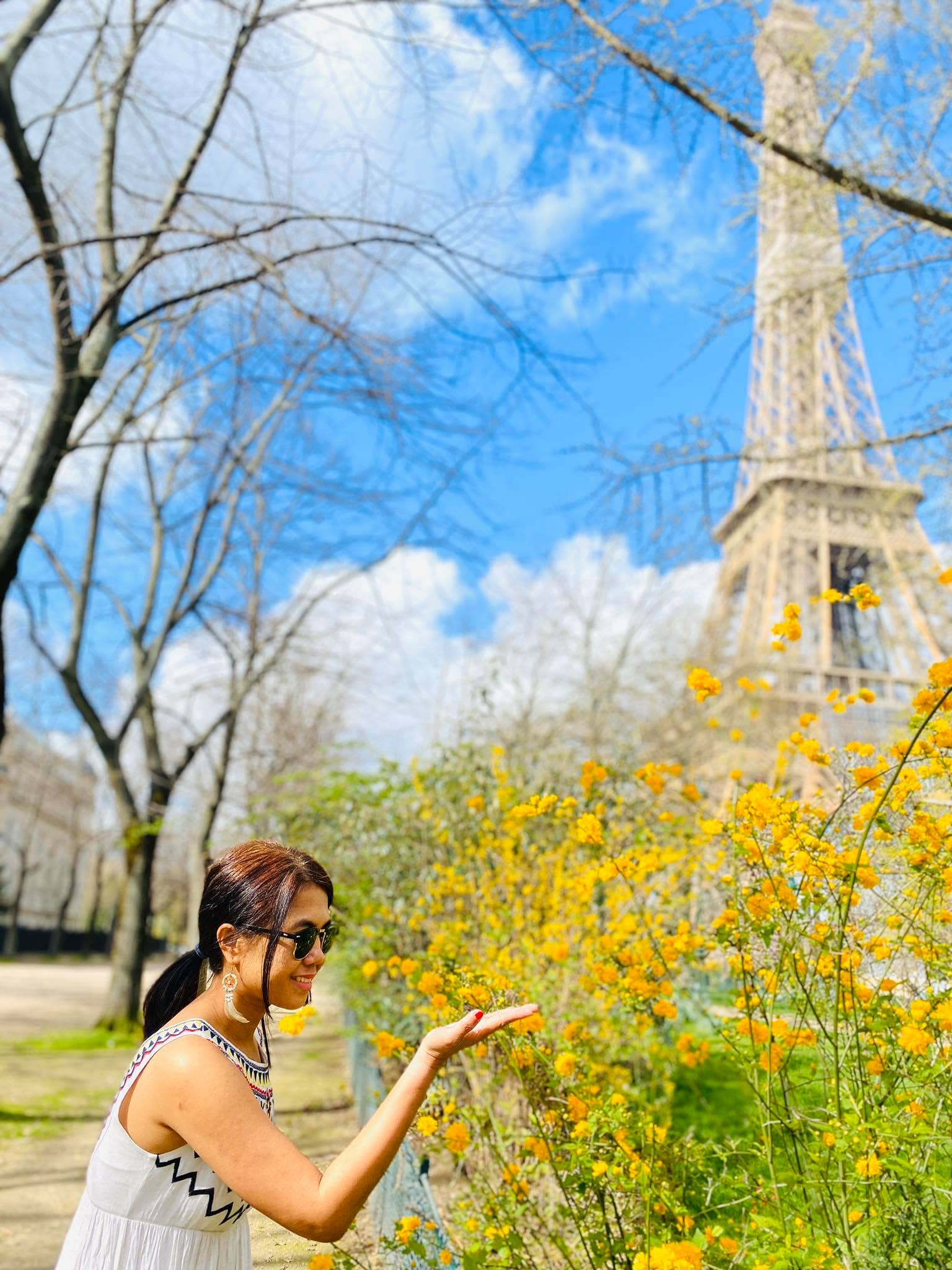 Hi, I'm Christine – a full-time traveler and career woman. Although I'm from the Philippines, my location independent career took me to over 40 countries for the past 8 years. I also lived in 3 continents – from the Caribbean, South East Asia to Africa. France remains special to me, however. From architecture, history, and arts – France is truly an amazing place.