Guide To Paris 5th Arrondissement
The 5th Arrondissement in Paris is an excellent place for a stroll. The area stretches from the banks of the Seine and encircles the Jardin des Plantes, the Latin Quarter and some renowned universities and institutions of Paris such as La Sorbonne.
As one of Paris' most historic arrondissements, the 5th is home to some of the city's most storied buildings. The Roman city of Lutetia grew along the Cardo Maximus, the current avenue Saint Jacques of the 5th.
The ancient city of Lutetia was also home to a Roman forum, a couple of Roman baths (the Thermes de Lutèce), and an amphitheatre (the Arènes de Lutèce), all of which may still be found in the city today.
Plus, Lutetia is most likely to have started somewhere between 172 and 174 rue Saint Jacques, Paris's oldest street. this may be the origin of today's kilometre zero, which stands in front of Notre dame and is located in the 4th arrondissement.
READ MORE: Guide To Paris Arrondissements
The 6th arrondissement of Paris is also known to both locals and tourists as the Latin Quarter. It is because, throughout the Middle Ages, Latin was widely spoken by students and religious people.
The name was also a reference to the area's early occupants (the Romans, who speak Latin). Today, the Latin Quarter is home to famous Parisian universities, noteworthy libraries, medieval cathedrals, and other structures.
As a tourist destination, the 5th Arrondissement of Paris has become a popular spot for students and intellectuals alike.
The 5th offers much more than the popular Shakespeare and Company BookStore. Paris's 5th Arrondissement's most popular tourist attractions, along with the best places to eat and stay, are outlined below in this comprehensive guide.
Below is a list of top tourist sights in Paris 5th Arrondissement as well as the district's best restaurants to enjoy good local food and fabulous hotels.
Guide To Paris 5th Arrondissement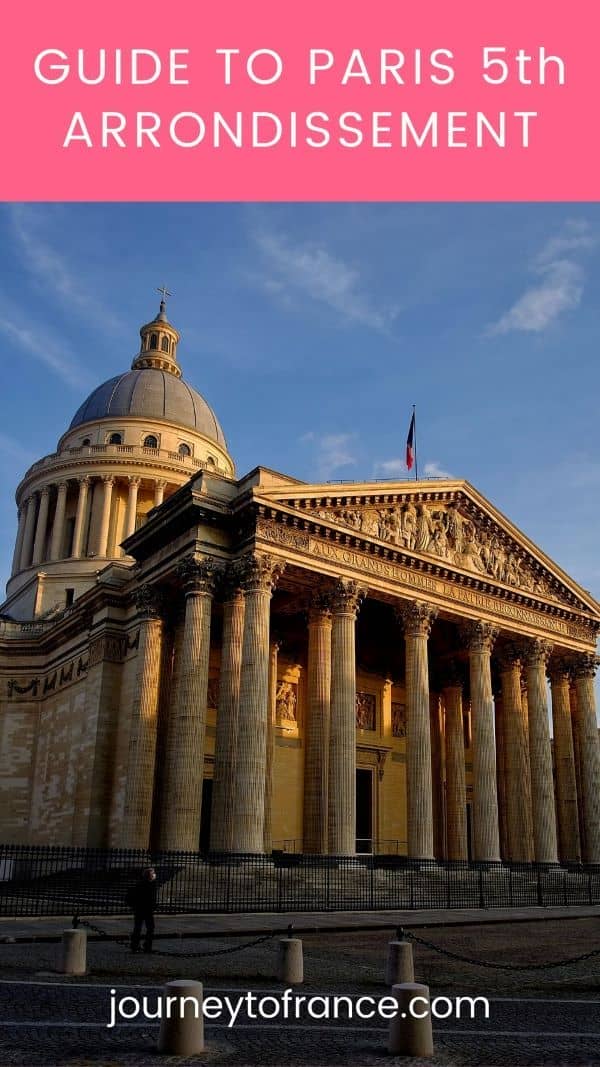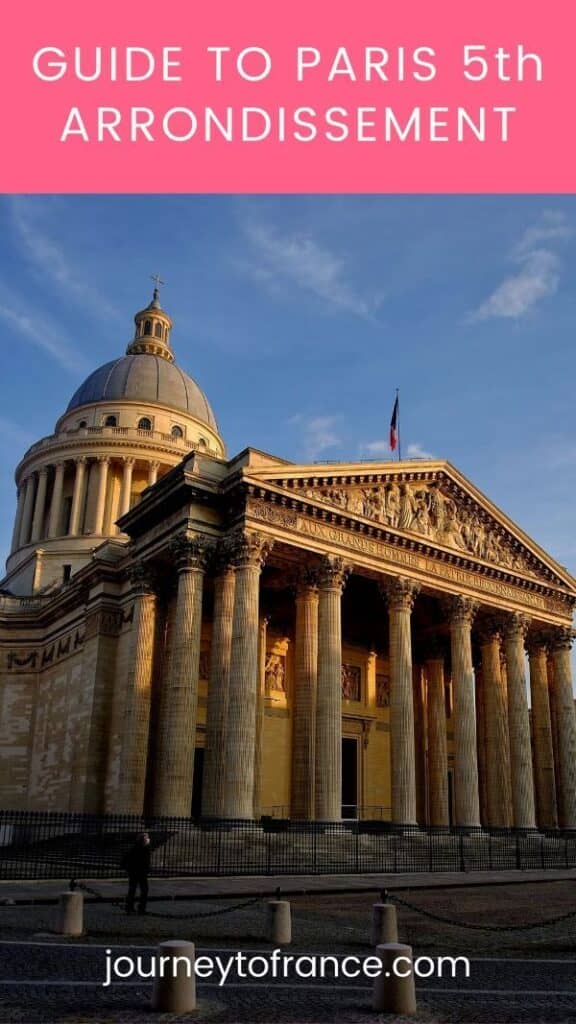 Journey To France contains affiliate links all throughout the site. If you choose to purchase a product or book services through our affiliate links, this earns us a commission at no extra cost to you. For our complete disclosure, click here
Popular Attractions in 5th Arrondissement
Home to the Panthéon, the 5th arrondissement of Paris has a diverse range of attractions.
The Panthéon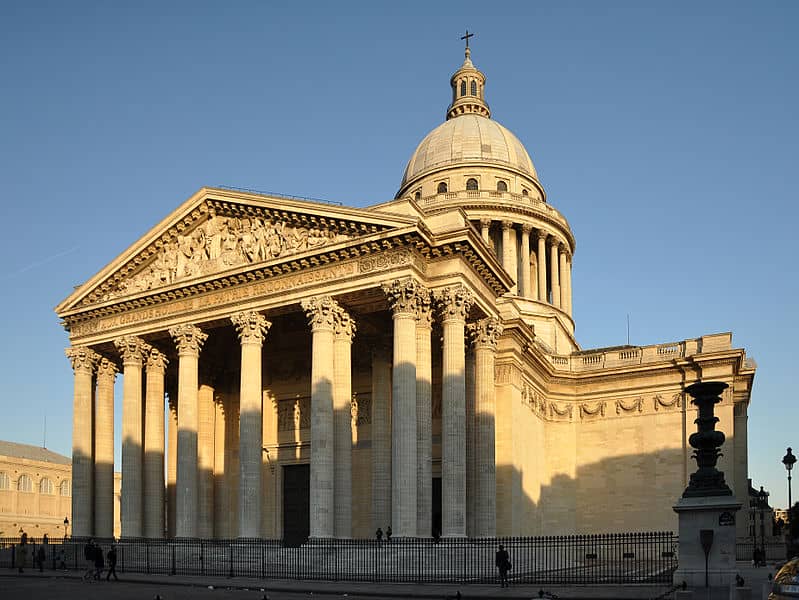 The Grands Hommes of France is honoured at this former church that has been transformed into a temple. The famed Foucault's Pendulum, which hangs from the cupola on the inside, is also on display. If the cupola is open, visitors may ascend to the top for one of the most spectacular views of Paris.
Jardin des Plantes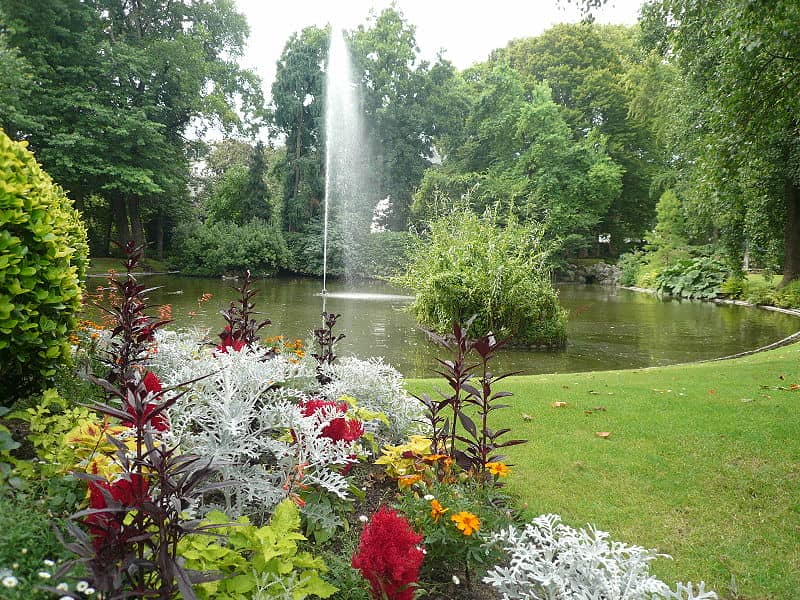 This is France's main botanical garden, as well as the location of the National Museum of Natural History.
Jardin des Plantes also features the stunning iron architecture of the 18th-century greenhouses, which serves as a sanctuary for exotic plants and trees all year.
If you are in Paris during spring, Paris' most stunning cherry trees may be found at Jardin des Plantes.
National Museum of Natural History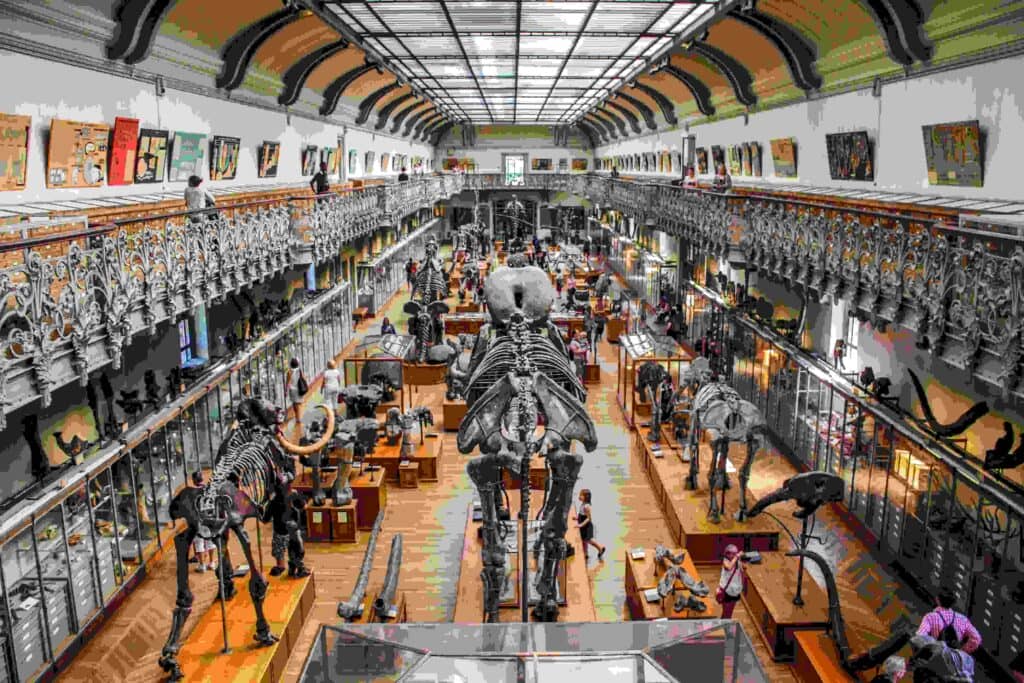 Several museums make up the National Museum of Natural History, three of which may be found within the Botanical Gardens. Taxidermied animals and fossils are on display at the Evolution Gallery and the Gallery of Anatomy and Paleontology.
On the premises, you'll find a small zoo as well as a gallery dedicated to mineralogy and geology.
Shakespeare and Co. Book Store
Shakespeare and Co. Bookstore sits right across the river from the Notre Dame Cathedral. If you need an English book while in Paris, this is a good place to visit.
Several notable authors, including Allen Ginsburg and James Baldwin, have paid visits to the store since its inception in 1951. If you are planning to go here, note that there will be long lines outside the store on the busiest days throughout the peak season.
Musée Curie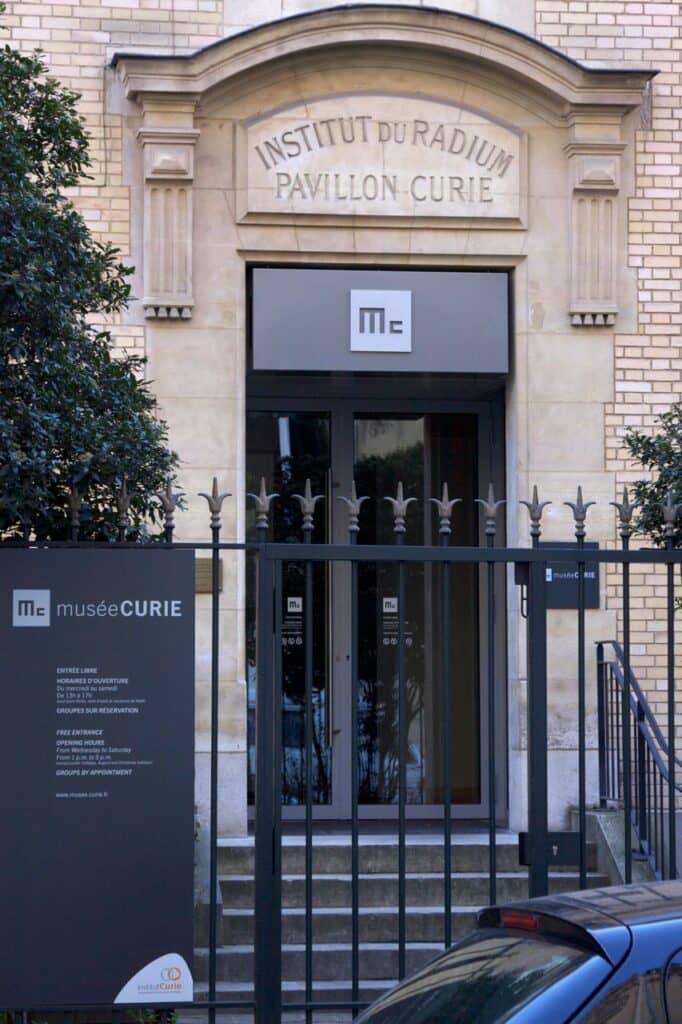 In this free museum, visitors can learn about the history of Pierre and Marie Curie's discovery of radioactivity and how they used their findings. Here, visitors will learn more about the very first medical applications with radiotherapy.
Marie Curie's small office and private laboratory, where she spent most of her time, are both must-see attractions.
Where To Eat in 5th Arrondissement
Whether you're seeking inexpensive meals or a premium dining experience, the 5th arrondissement has several fantastic options. Here are our top picks:
Budget
Alizée (5, rue du Pot de Fre) – Everything prepared at Alizée is made with organic ingredients, is gluten-free, and is incredibly innovative in its presentation.
This place gets good reviews for the friendly and accommodating staff. Plus, for a reasonable price, you can get high-quality bio food. Booking in advance is recommended if you plan to visit at night because there are only 4 or 5 tables available.
Midrange
Comme Chai Toi (13, quai de Montebello) – Just across the street from Notre-Dame Cathedral, this charming bistro is the ideal starting point for exploring the city.
You'll feel right at home at Comme Chai Toi, where you'll find a warm and welcoming ambience, classic design, and delicious food. Get ready to eat hearty local cuisine right out of grandma's recipe book.
Luxury
La Truffière (4, rue Blainville) – The La Truffière is a family-friendly restaurant that serves inventive French cuisine.
In the heart of Paris's historic 5th arrondissement, this 17th-century mansion is the perfect place for a romantic getaway. The Truffle cuisine is available year-round, and the wine list features more than 4,200 bottles from France and other countries.
Where To Stay in 5th Arrondissement
If you want to stay in the busy 5th arrondissement, you'll be pleased to learn that it is home to some fabulous hotels. Whether you're on a tight budget or looking for a luxurious stay, these are our favourite three hotels on the 5th:
Budget
Hotel des Carmes

Hotel des Carmes is located in Paris, close to Notre Dame Cathedral. The rooms are simple, yet they contain all you need for a nice stay. In the breakfast area, guests can enjoy a continental breakfast. A 24-hour front desk and a lounge space are available as extras.
Other close attractions include the Opéra Bastille, the Orsay Museum, the Tuileries Garden, and the Place de la République.
Midrange
The Grand Hotel Saint Michel is located in the centre of Paris, just a short walk from the Luxembourg Gardens and the Pantheon. It offers modern, individually decorated rooms with free Wi-Fi and some with views of Parisian rooftops.
Guests can also enjoy a breakfast buffet, room service, and afternoon tea in the lobby. The Grand Hotel is near multiple Metro stations as well as the Luxembourg RER Train station, which provides direct access to Charles de Gaulle Airport.
Luxury
Set in the Latin neighbourhood of Paris's 5th arrondissement, all rooms here at the beautiful Hotel Monge are big, clean, and stylish, with everything you'll need close at hand. Guests can use the wellness facility, which includes a hammam and massage services, as well as an honesty bar and a tea room. WiFi is available throughout the hotel.
Small stores, pubs, and restaurants are within a 5-minute walk of the property, and the Panthéon and Sorbonne Universities are within a 15-minute walk.
Travel Tips And Resources
Travel Insurance: I never leave home without travel insurance. My personal opinion is if you can afford to travel, you can afford to buy a travel insurance. All things can happen while on the road and you can never be too sure. And it's something that you'll be glad to have when you need it. For my preferred travel insurance, I use Safety Wing.
What To Wear: If you want some ideas on what to pack for France, check out this packing list guide for France.
Where To Stay: I personally use Booking.com for all my accommodations. Check out for their latest deals here.
Reading Resources: Check out our best reading resources here.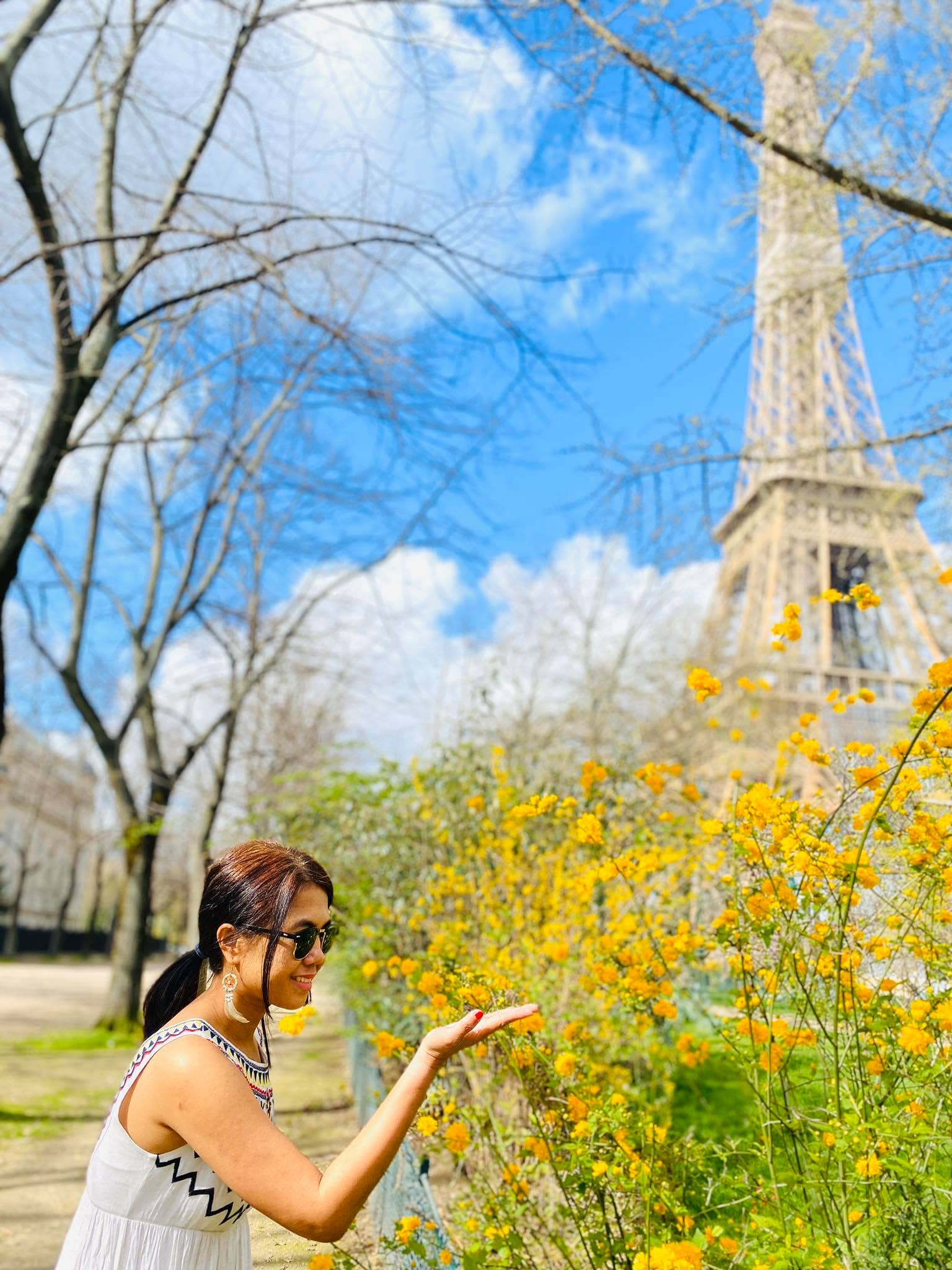 Hi, I'm Christine – a full-time traveler and career woman. Although I'm from the Philippines, my location independent career took me to over 40 countries and lived in 4 continents in the last 10 years, including France. A self-proclaimed Francophile, I love everything France.