France has a fascinating and rich culture, history, and tradition that there's so much to see and explore during a visit.
As you navigate Paris or visit other towns and cities, you'll soon find out that there's a lot here that you simply want to bring home with you.
You'll always have Paris and the rest of France with these cool French souvenirs that you can easily fit into your luggage.
14 Best French Souvenirs That You Must Buy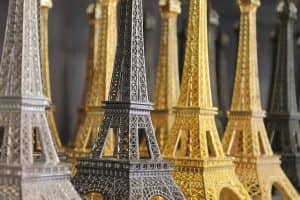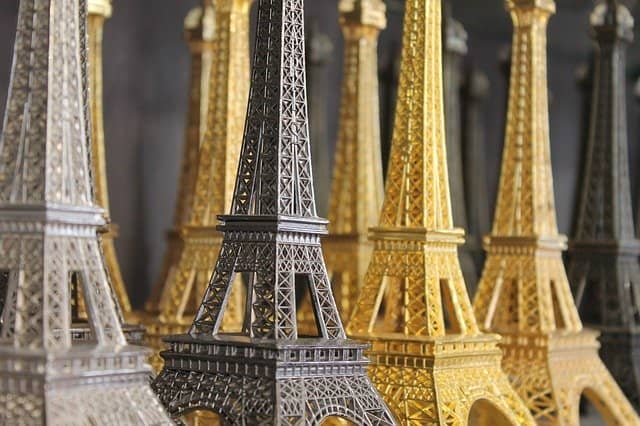 1. Eiffel Tower replica souvenir
Sure, an Eiffel Tower replica is a cliché souvenir, but what can be more iconic than the 'Iron Lady'?
No other item can easily remind someone of Paris or France than this historic landmark, and so you must bring it home with you.
A replica, that is, such as this beautiful decor  for your home or office, or something you can always bring with you like these cute keychains.
You can even be like Gustave Eiffel and build your own with this fun Lego set.
2. Beret
It's probably cliché but berets are among the best souvenirs from France that should be on your shopping list.
These hats add a certain artsy flair to any attire, and you'll feel like you're still walking the streets of Paris wherever you are in the world.
Sure, you can buy a beret in other countries but nothing beats knowing that the one that you have was actually purchased from a Parisian shop or market.
Go get the hand-knitted ones, or those made from interesting material like wool or felt.
Get something in this cool color or one that goes well with any outfit.
3. Scarf
French scarves are known for their top-notch quality and versatile designs. They are also among the best French souvenirs to bring home to remind you of your trip.
Whether it's a square one or a rectangular one with tassels made of pure silk or warm wool  French scarves are sure to add style to your favorite outfits.
4. French Perfume
France has always been known as the producer of some of the world's most famous perfume brands. The country has a centuries-old tradition of perfume-making and has created iconic fragrances.
If you're in France and looking for some unique French souvenirs, go and seek out perfume shops and pick a fragrance that suits your fancy, or your loved ones.
Whether it's a strong sensual scent like Guerlain's Eau de Toilette Bloom of Rose or fresh and feminine like Lancome's La vie est belle Eau de Parfum, you'll find a scent that fits you best.
5. Savon de Marseille
A unique French souvenir to bring home are these lovely, fragrant cube soaps made in the southern port city of Marseille.
They have been around for six hundred years, known for using all-natural ingredients such as olive oil.
They are mostly handmade and are great for dry skin. Savon de Marseille make excellent gifts for anyone who likes anything pretty and fragrant.
6. Lavender products
France is where you'll find these stunning lavender fields that yield a variety of products from essential oils to tea.
Most of these lavender fields are in Provence, and definitely a must-visit. While there, go get some lavender products that will always remind you of the trip.
Some of these lavender products that are great French souvenirs are Lavender satchels that you can put in your bag, luggage, closet, and drawer.
Lavender oils meanwhile, gives off a relaxing scent that also helps when you have trouble sleeping.

7. Tropéziennes
You may have seen them in shoe stores and most likely have referred to them as sandals.
They are actually called tropéziennes, the strappy summer footwear of choice for French ladies traipsing in the French Riviera, where it originated.
These are actually versatile footwear that you can wear from daytime strolls to evening parties, worn with jeans, shorts, or a cute summer dress.
They are pretty French souvenirs that will always remind you of walking along the beaches in the south of France. Go get these tropéziennes here in a variety of colors.
8. Secret potions
France has this unique little industry called parapharmacies, which caters to products that are proven and tested for their medical and wellness properties.
These parapharmacies either have their own stores or are has stalls or shelves in pharmacies.
What sets these parapharmacies apart are the advice and suggestions given to customers that are designed for their specific needs such as trouble sleeping, anxiety, or skin conditions.
These products are called 'secret potions' and a number of these have become reliable brands even in the fashion and beauty industry.
If you're looking for a one-of-a-kind souvenir from France, how about some of these secret potions?
Some of the best stuff to buy are the superb moisturizer Embryolisse, and the blemish and scar eraser Cicalfate.
9. Champagne
Champagne is one of those truly French products that one must bring home as a souvenir.
Invented in the 18th century by French monks, authentic champagne can only come from the French region Champagne.
Don't settle for less and be sure to buy a bottle, or five.
Get those that bear the names of some of the region's best champagne houses such as Dom Perignon Vintage Champagne which comes in beautiful 750 ml bottles.
10. Canned Sardines
French sardines are probably among the ones with the prettiest containers. They are packaged in beautifully designed tins, and the sardines itself aren't bad either.
They are gourmet delights that can be eaten on its own or spread on a baguette or used in pasta sauce or topping.
Fished from the Atlantic, sardines make wonderful French souvenirs to bring home.
Go and stock up on these Godinec French Sardines With Lemon or the French Sardines Fillets in Extra Virgin Olive Oil variant.
11. French Cheese
They say that in France, you can taste one unique type of cheese for each day of the year.
That means there's at least 365 of them, and these cheeses definitely make excellent French souvenirs.
Go get a sampler that you can enjoy or share with a friend or two, like this Gift box or something you can serve in a party like this  Cheese Sampler Board.
12. Chocolate
France is one of five European countries known for its chocolate (the other four are Switzerland, Belgium, Germany, and Spain).
Chocolates are always a welcome treat, and they are one of the best souvenirs from France that you can bring home.
These delightful treats come in different forms, and if you're buying French chocolates, then go and buy a few for each type.
Splurge and indulge in a box from trusted brands like La Maison du Chocolat. If you enjoy baking, give your goodies an added French flair with  Valrhona chocolate for baking.
If you have tried and fell in love with Cafe Angelina's hot chocolate, then get the mix so you can still enjoy a cup of the delicious treat at home.
13. Macarons
Macarons are one of those uniquely French treats that are a definite must-try when you're in Paris.
They come in different flavors and fillings, that you won't simply get enough of them once you've tried one.
They are among the best French souvenirs to bring home, and most come in pretty boxes or tins.
Buy a box for you to indulge on like these Leilalove Macarons – Mademoiselle de Paris or a bigger batch that you can share with friends or family such as this Authentic French Macaron by La Boulangerie des Gourmets.
14. French Wine
Nope, you cannot leave France without sampling its wines and it would be a shame not to bring home at least a couple of bottles.
French wines are considered among the best in the world, and they come in different flavors and varieties.
Wines are made practically in every region of France and they make the best souvenirs.
Go get a few bottles to drink along with your favorite dishes, such as the inexpensive but flavorful Beaujolais or something for a special occasion like this St. Emilion wine. Go buy a Vintage to indulge in, or better yet, a selection of red, white, and rose to share with friends.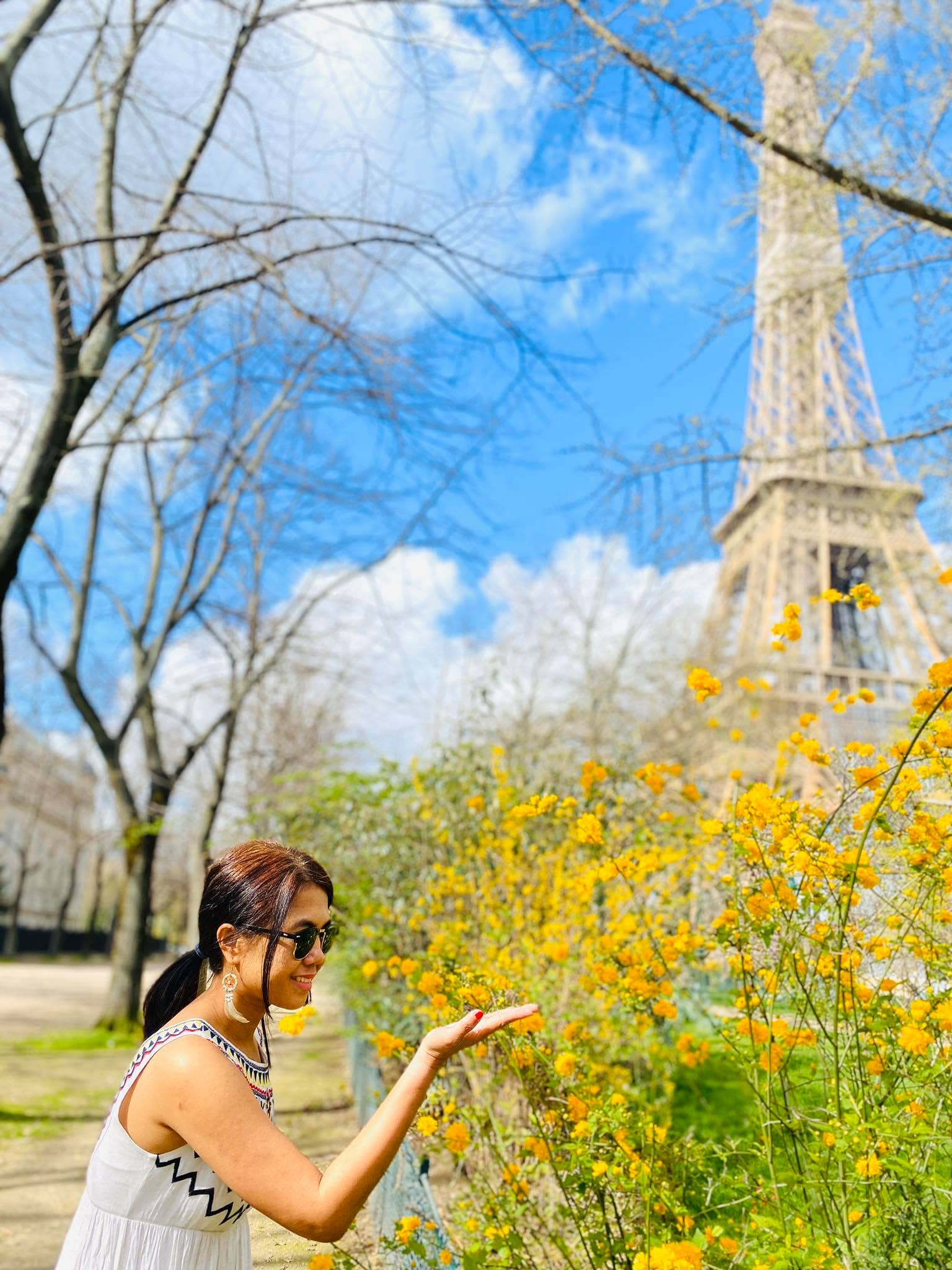 Hi, I'm Christine – a full-time traveler and career woman. Although I'm from the Philippines, my location independent career took me to over 40 countries for the past 8 years. I also lived in 3 continents – from the Caribbean, South East Asia to Africa. France remains special to me, however. From architecture, history, and arts – France is truly an amazing place.