There are several things to do in Colmar, France.
Located in North-Eastern France, on the border with Germany, is the fairytale French town of Colmar.
It's also right in the heart of France's Alsace region, known for its vineyards and fine wines. So do not forget to sample some Alsace wine.
If only for its scenic beauty, Colmar should be part of any French getaway. It is also one of the most beautiful towns in France.
READ MORE: Best Hotels In Colmar, France.
Go walk along cobblestone streets, cruise the canals, or admire the colorful half-timbered houses. Colmar is also one of the best day trips from Paris.
Here are more wonderful things to do in Colmar, France to make your trip worthwhile.
11 Best Things To Do In Colmar, France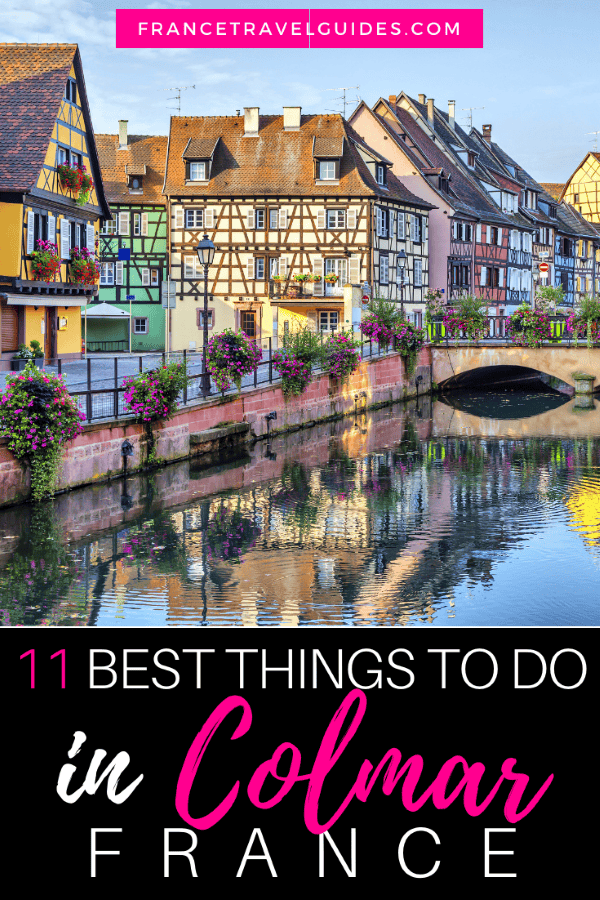 Journey To France contains affiliate links all throughout the site. If you choose to purchase a product or book services through our affiliate links, this earns us a commission at no extra cost to you. For our complete disclosure, click here
1. Stroll around the Colmar Old Town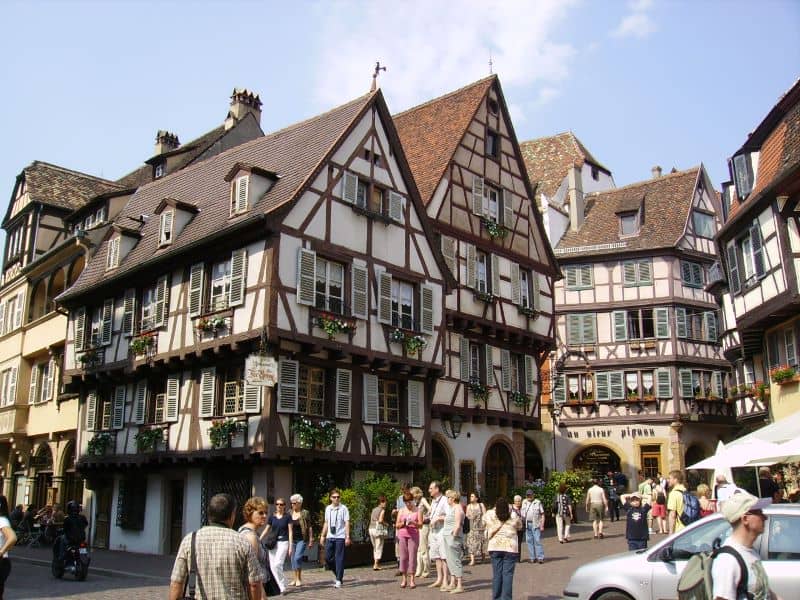 Upon arriving in Colmar, one of the best things to do is to explore its old town.
Whether you choose to walk or prefer to cruise on the lovely canals, the experience is just worth it.
The Old Town, in particular, looks straight out of a movie set. With romantic little bridges or tree-lined streets, nearly every spot is picture-perfect.
Colmar's Old Town is an architectural goldmine, and these giant masterpieces greet you at every turn.
Check out the Gothic churches, Baroque mansions, or colorful half-timbered houses.
In between admiring these beauties, relax with a croissant or pain au chocolat in one of the cute cafes nearby.
2. Musée Unterlinden
You'd want to devote an entire day to Musée Unterlinden, there's just a lot to see here.
It is located in an old building that's a former Dominican convent, which is a work of art in itself.
If you want to see artifacts depicting Alsatian culture and history, the Unterlinden Museum is the place to go.
One of the best places to see in Colmar, the museum also has an extensive collection of Romanesque and Gothic sculpture, medieval paintings and modern art.
A must-see in Musée Unterlinden is the Isenheim Chapel, which features the works of early German artists.
While there, be sure to see Matthias Grünewald's Isenheim Altar, regarded as one of the most important pieces of German art.
Opening Hours:
Wednesday – Monday 9 a.m-6 p.m
Tuesday closed
1st Thursday of the month 9 a.m.- 8 p.m
Closed
Admission Fee:
Admission + Audioguide 15 €
Admission 13€
Reduced admission* + Audioguide 13€
Reduced admission* 11€
Groups (of 15 or more persons), senior citizens (+ 65 years)
Youngs* + Audioguide 10€
Youngs* 8€
12 to 17 years, students under 30 years
Families 35 €
2 adults and 2 to 5 children from 12 to 17 years
Audioguide per Person 2€
Free admission for under 12, members of the Société Schongauer, museum subscription, holders of the Museum-Pass-Musées.
*In case of discount tickets, a valid proof is required
Contact Information:
Address:1 Rue des Unterlinden, 68000 Colmar, France
Phone:+33389201550
Email: info@musee-unterlinden.com
3. Eglise des Dominicains
The Eglise des Dominicains or Dominican Church is easily one of the best things to see in Colmar.
The structure is several centuries old, said to be a fine example of early Gothic architecture.
Inside, you'll find beautiful stained glass windows and the painting "Virgin of the Rose Garden," a masterpiece by Martin Schongauer.
Check out also the enchanting 14th-century cloister, which is now the Municipal Library of antique manuscripts.
Admission Fee:
Adult: 2 €
Children: € 1
Contact Information:
Address: Dominican Square 68000 Colmar, France
Phone:+33 389412720
4. Little Venice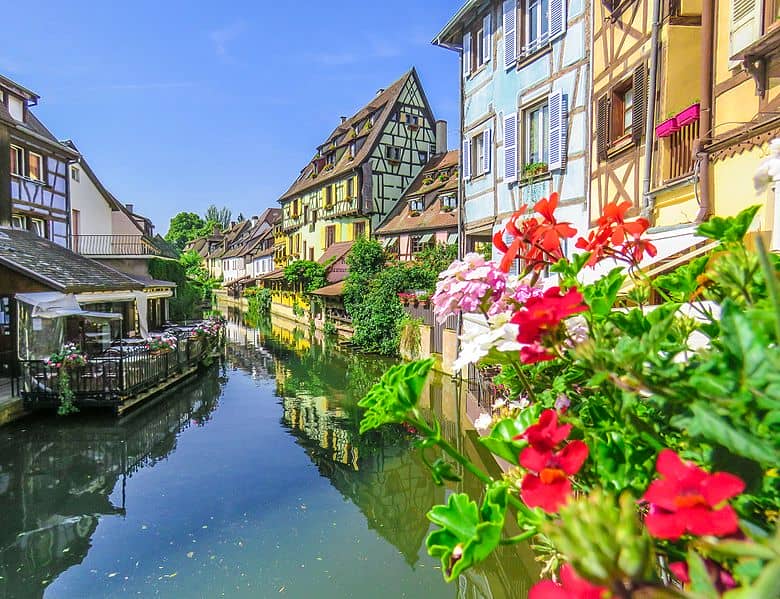 With its picturesque network of canals, it's easy to see why Colmar has a place called Litlle Venice.
Located near Quai de Poissoniers, this area is one of Colmar's best attractions and dates back to the 14th century.
With all the conflict, revolution, and wars that France has suffered, Little Venice remains unscathed.
Stroll along the pathways alongside the canals, or better yet, go on a canal cruise. The view of Colmar from the water is quite stunning, you wouldn't want to miss it.
5. Marvel at the Covered Market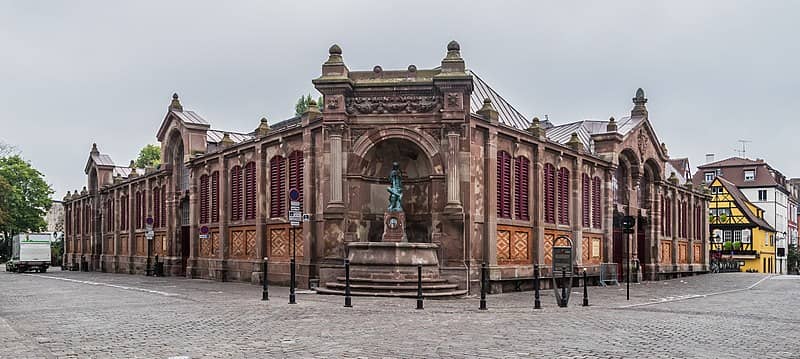 The covered market is one of the best attractions in Colmar and a must-visit. This market is housed in a red and orange building adjacent to the Petite Venise, so you won't miss it.
Inside, you'll find twenty merchants selling good olive oil, the best ripe cheese, and freshly harvested produce.
You'll also find several cafes in the market and you can sample the dishes of the day.
The covered market is a great place to get acquainted with what Colmar has to offer in the food department.
Go here for a meal, or stock up on delicacies you can bring back home.
6. See the works at Musee Bartholdi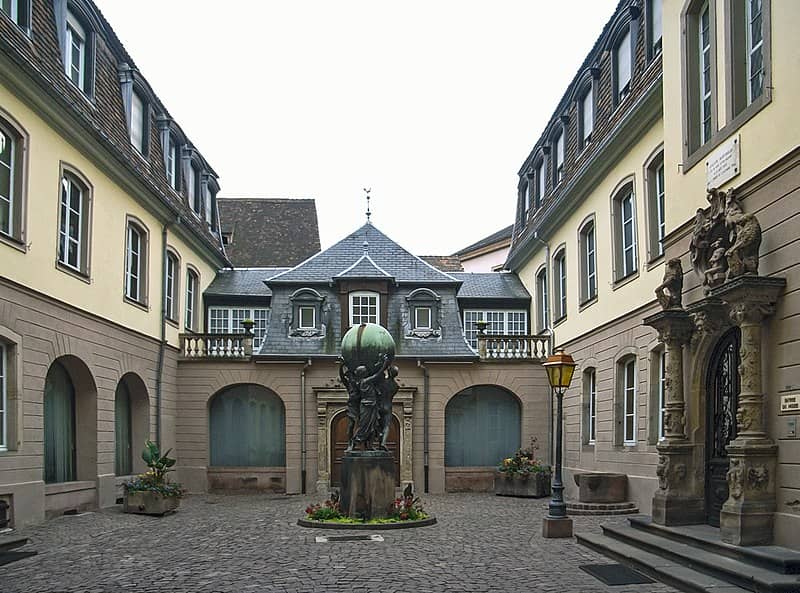 Frederic-Auguste Bartholdi is best known for his work as the creator of the Statue of Liberty and is Colmar's most famous son.
This Musee Bartholdi is located right in the house where he was born. It is one of the most interesting places to visit in Colmar, a truly one of a kind art museum.
The three-story museum collects a number of his works, depicted in models and sketches such as the Statue of Liberty and the Lion of Belfort.
Throughout his career, Bartholdi created a lot of sculptures and fountains, like the Schwendi Fountain, at Colmar's Place de l'Ancienne Douane.
While in Musee Bartholdi, you may also visit the living quarters of the Bartholdi family which features the family's furniture as well as the artist's personal effects.
Opening Hours:
The museum is open from 1 st March to 31 December (except 1 st May, 1 st November and 25 December).
Wednesday to Monday from 10 a.m. to 12 p.m. and from 2 p.m. to 6 p.m.
Closed on Tuesdays.
Admission Fee:
With compulsory reservation (time slot)
Adult group (10 to 20 people / group): € 4.50
School group (10 to 15 people / group): free
Without reservation
Adult – full price: 6.50 €
Adult – senior (65+): € 4.50
Teacher: € 4.50
Free for people with reduced mobility and an accompanying person (note: museum on 3 floors without lift), under 18, students on presentation of the card, holders of a press card, the ICOM card (curator), the Louvre School card, the Culture Card (UHA) and for holders of the Museum Pass and the Colmar City Pass.
Contact Information:
Address:30 Rue des Marchands, 68000 Colmar, France
Phone: +33(0)389419060
Email:musee.bartholdi@colmar.fr
7. Pfister House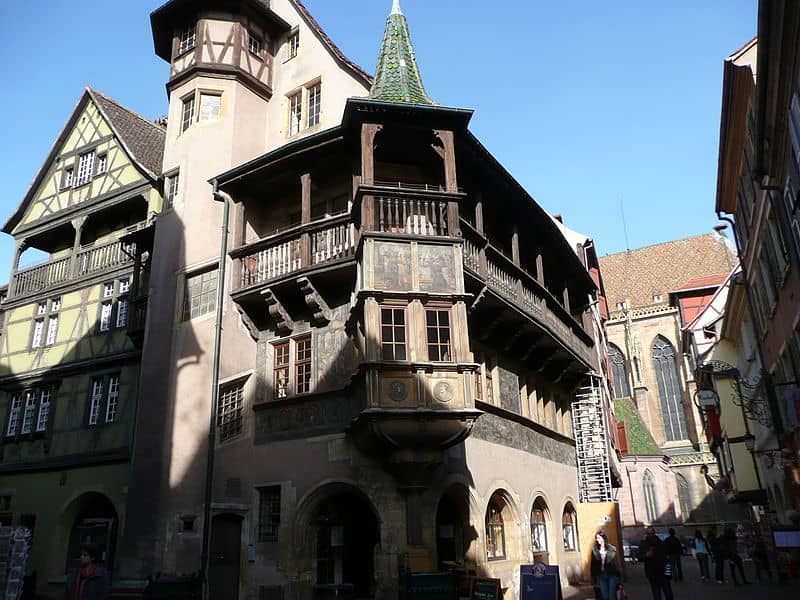 The Pfister House is essentially where you'll get an impromptu lesson on Colmar's art history. This is a quirky yet interesting building that's literally filled and almost wrapped in art.
This 500-year old building is one of the symbols of the old Colmar. The decorated facade is quite striking, while the inside is filled with an impressive variety of art.
The paintings adorn the walls of the house, ranging from those depicting scenes from the Bible to portraits of German emperors.
Located along Rue des Marchands, this is one of the most unmissable and best places to see in Colmar.
Contact Information:
Address:11 Rue des Marchands, 68000 Colmar, France
Phone:+33389 413361
8. Tourist Trains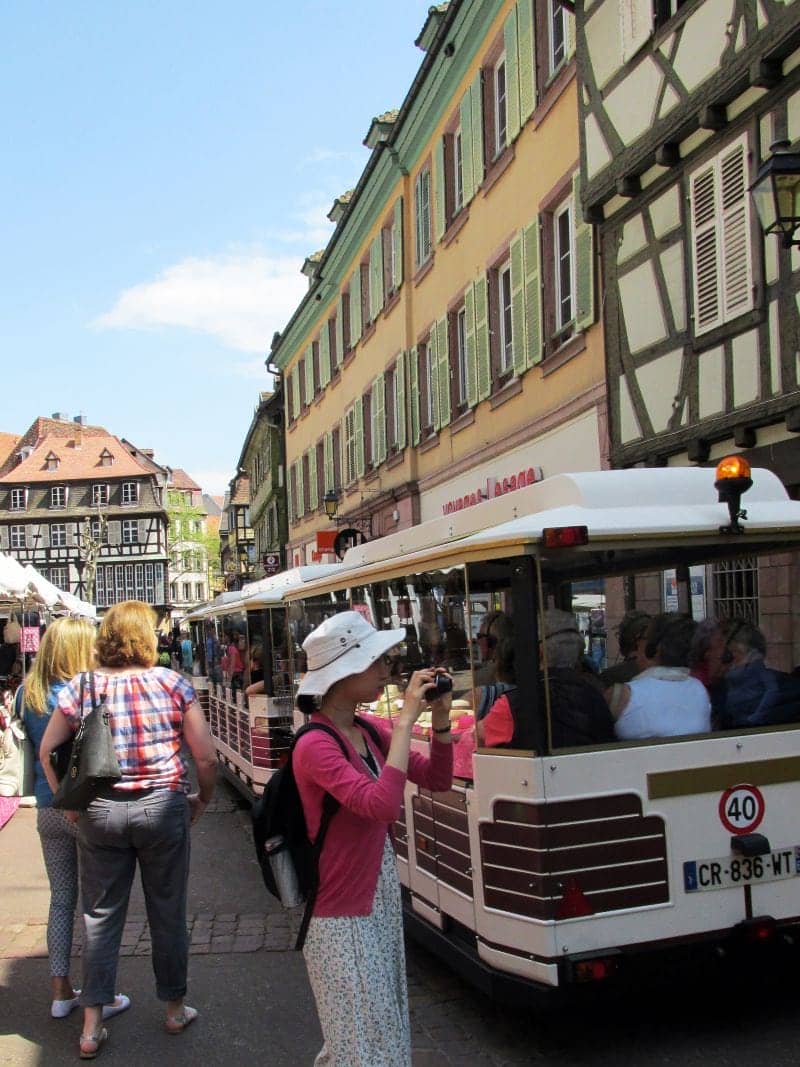 A fun activity to do in Colmar is a ride in one of its tourist trains. It's a great way to see the area, and you might discover some hidden gems, too.
These trains come with a friendly and knowledgeable conductor. They provide commentary, information, and trivia about places that you see along the train's route.
Whether you take the Green Train or the White Train, you'll surely enjoy a scenic ride through Colmar.
9. Stroll through the Scenic Quartier des Tanneurs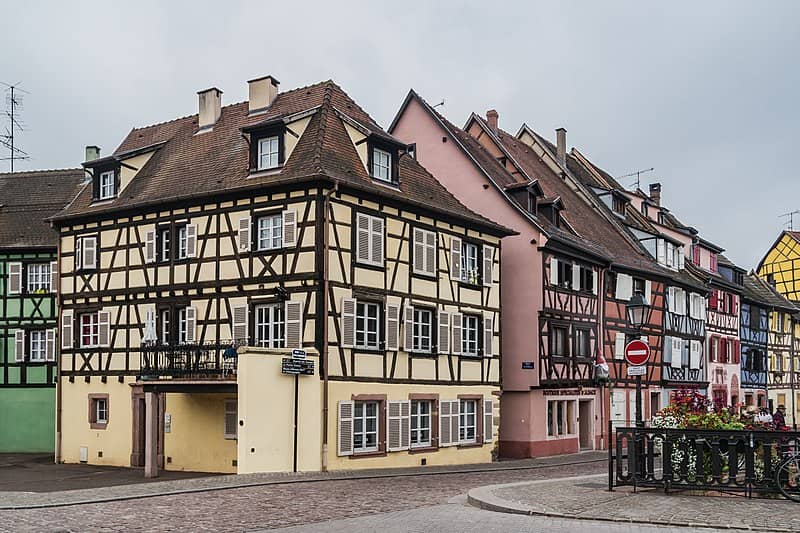 One of the best things to do in Colmar is to explore its neighborhoods.
The Quartier des Tanneurs (the Tanners' Quarter), is a lovely area of picturesque canals and beautifully restored half-timbered houses.
This quarter was named after tanners who lived and set up shop here and created leather products.
A must-see here is the Venetian palace inspired Hôtel des Chevaliers de St-Jean (House of the St. John's Knights). It is said to be one of the most unusual Renaissance mansions in Alsace.
You also shouldn't miss other impressive buildings in the area such as the Market Hall and the Palais de Justice (Law Courts), which dates back to the 18th century.
10. Try some Alsatian food
Colmar may be located in France but being part of the Alsace region, the food has Germanic influences.
There are lots of good cafes, eateries, and restaurants around Colmar for you to try.
The question now is, which ones to eat?
Definitely a great thing to do in Colmar during weekends, sampling Alsatian food is like a taste of Germany, too. Start with the tasty rösti, which is a baked potato-and-cheese dish.
You may also want to try a hearty casserole of meats, potatoes, onions, and other vegetables called the Alsatian Baeckeoffe.
A great option for lunch or dinner is a thin crust pizza called Munster cheese and tarte flambée or flammkuchen.
Since this is France, try the usual foie gras or quiche as well. Or how about the poulet au Riesling?
That's chicken cooked in Riesling wine, which also brings us to another must-try in Colmar: Alsatian wine.
11. Try Alsace's Best Wines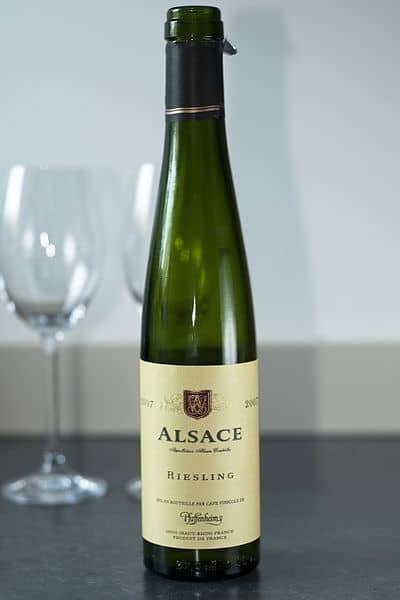 For hundreds of years, the Alsace region in France has been known for its white wine. One of requisite thing to do in Colmar is to sample the wines.
These Alsatian wines are named after their grape varieties.
During tasting sessions, you get to try different wines and compare them. You may find these tastings in local wine shops or weekend markets.
There are wineries that also offer tours to their vineyards so look out for those, too.
Alsatian wines are said to be among the best in the world. Be sure not to miss indulging in this experience!
Planning to visit Colmar soon? Here's the list of the best hotels in Colmar to help you plan your next trip.
---
Like it? Pin It!


Travel Tips And Resources
Travel Insurance: I never leave home without travel insurance. My personal opinion is if you can afford to travel, you can afford to buy a travel insurance. All things can happen while on the road and you can never be too sure. And it's something that you'll be glad to have when you need it. For my preferred travel insurance, I use Safety Wing.
What To Wear: If you want some ideas on what to pack for France, check out this packing list guide for France.
Where To Stay: I personally use Booking.com for all my accommodations. Check out for their latest deals here.
Reading Resources: Check out our best reading resources here.
Hi, I'm Christine – a full-time traveler and career woman. Although I'm from the Philippines, my location independent career took me to over 40 countries and lived in 4 continents in the last 10 years, including France. A self-proclaimed Francophile, I love everything France.