Looking for things to do in Alsace? Alsace is a historical region in France bordering Germany and Switzerland.
Known for its Germanic influences, it is famous for its colorful fairytale towns, wineries, and interesting history.
For more than 300 years, the political status of the region was heavily contested by France and Germany. And until now, its borders are still not well established.
---
New to Airbnb? Get a $43 off for your next trip if you use our link here. 
---
But regardless of the political status, Alsace is one of the best places to visit in France and it's also one of the popular day trips from Paris.
Here are a few things you might not know about the region and what's the best places to see in Alsace.
15 Best Things To Do In Alsace Region, France
1. Maison Pfister, Colmar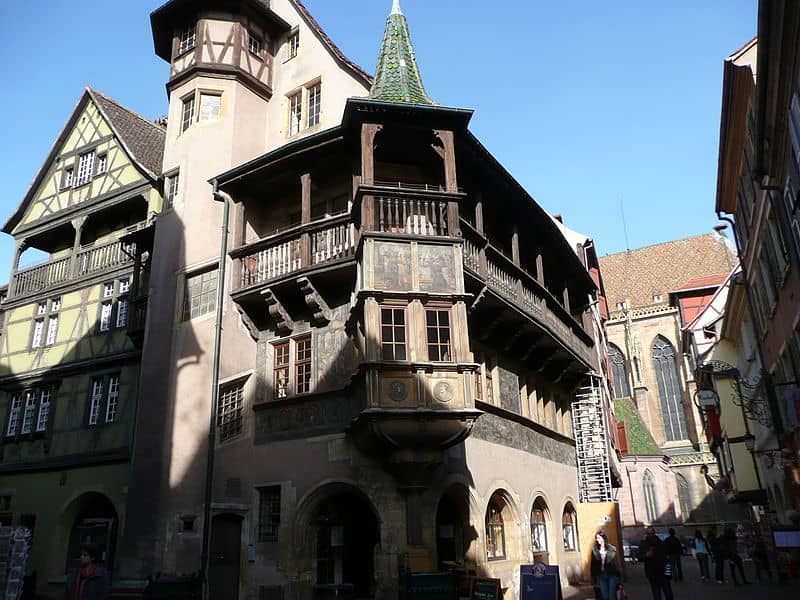 The Pfister House is essentially where you'll get an impromptu lesson on Colmar's art history. This is a quirky yet interesting building that's literally filled and almost wrapped in art.
This 500-year old building is one of the symbols of the old Colmar.  The decorated facade is quite striking, while the inside is filled with an impressive variety of art.
The paintings adorn the walls of the house, ranging from those depicting scenes from the Bible to portraits of German emperors.
Located along Rue des Marchands in Colmar, this is one of the most unmissable and best places to see in Alsace.
Contact Information:
Address:11 Rue des Marchands, 68000 Colmar, France
Phone:+33389 413361
2. Barrage Vauban, Alsace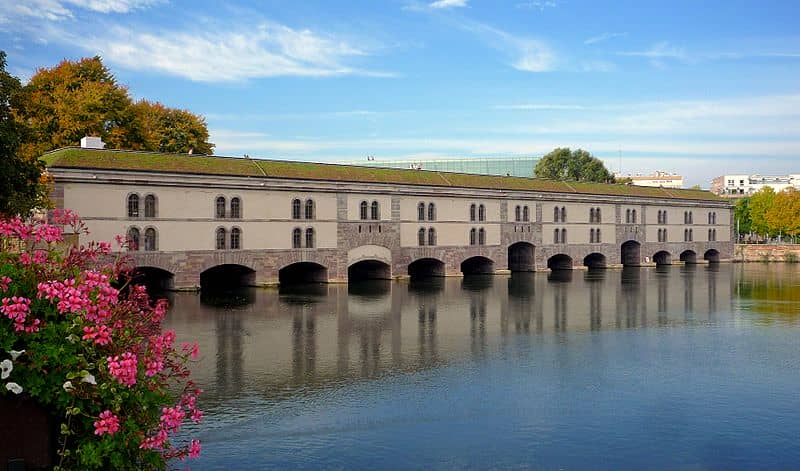 Barrage Vauban is a bridge, weir, and defensive structure in Strasbourg which has an observation deck that provides scenic views of most of Petite France and the Strasbourg Cathedral. These days, it's being used to display sculptures of the city's artifacts.
The dam was built between 1686 to 1690 and was meant to use to flood the river if the enemies attack. It was used for its original purpose during the Franco-Prussian war in 1870 when the Prussian attacked Strasbourg.
3. Cathédrale Notre Dame de Strasbourg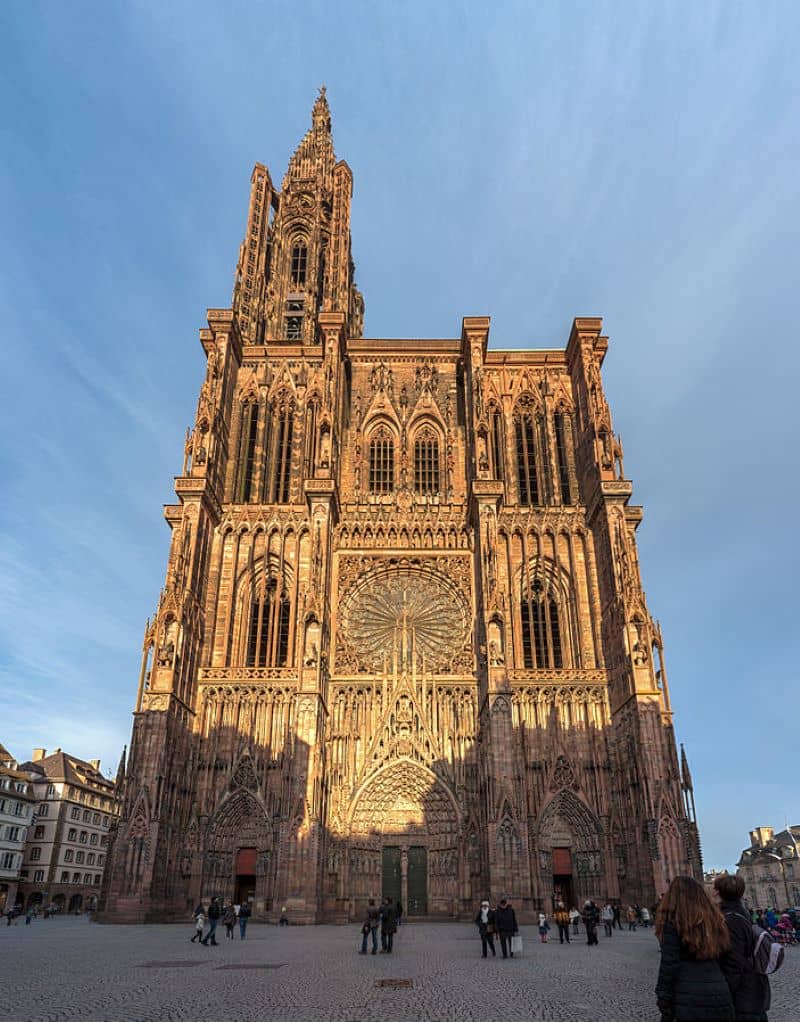 Without a doubt the most famous Strasbourg attraction, the ‪Notre-Dame de Strasbourg cathedral is also the oldest ‪Gothic cathedral in the world‬.
It is an iconic Strasbourg symbol, which you can visit for free to check out its architectural marvels namely, the‪ highest spire which dates back to 1439, the large rose window on the main facade, and the astronomical clock, with its animated automatons.
Another must-see the feature is the platform, which is 332 steps u and basically the cathedral's rooftop. It provides stunning panoramic views over the city and you can even see all the way to Germany. ‬
Opening Hours
Monday to Sunday – 7:00 AM to 11:20 AM – 11:40 PM to 7:00 PM
Admission Fee
€2 – for the astronomical clock
€4.60 – for the viewing platform.
Contact Information
Address: Place de la cathédrale 67000 Strasbourg
4. La Petite France, Strasbourg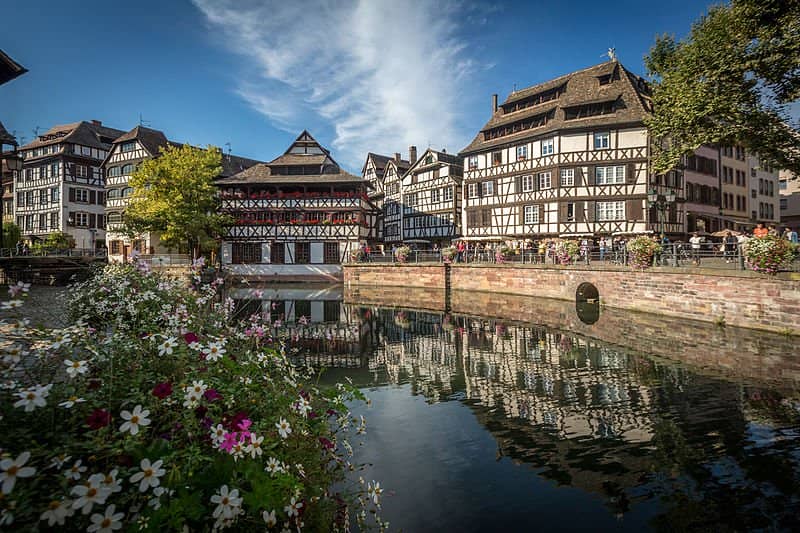 Known as the most attractive place in Strasbourg, the La Petite France area is situated in the western part of the Old Town on the Grande Ile.
This part used to be the poorest and smelliest centuries ago but has eventually transformed itself to the picturesque district that it is now, and among the best places to visit in Strasbourg.
When in La Petite France, you shouldn't miss the half-timbered house‪ Maison des Tanneurs, the storybook-like bridge Ponts Couverts, a dam called Barrage Vauban which has an observation deck that provides scenic views of most of Petite France and the Strasbourg Cathedral.‬
5. Château du Haut-Kœnigsbourg, Alsace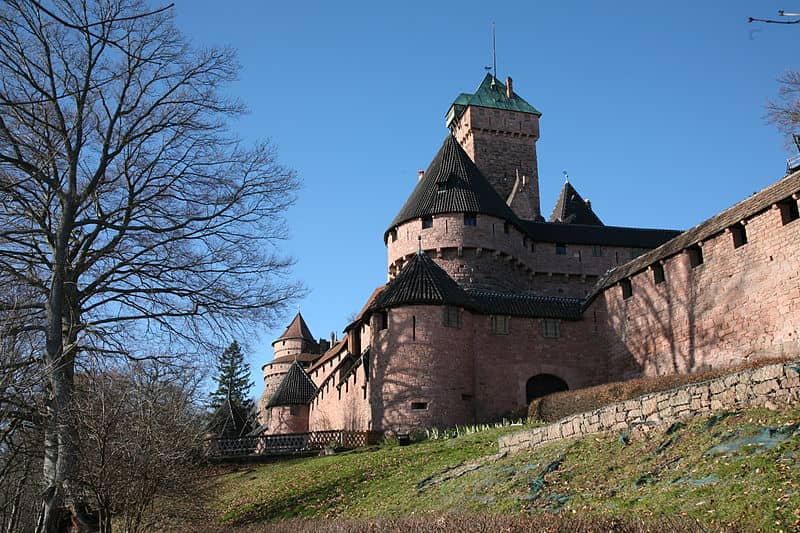 The Haut Kœnigsbourg castle was a witness to so many battles throughout the centuries since it was built. It has protected its inhabitants from the middle ages to the Thirty Years War before it was abandoned.
Located in Orschwiller, it is one of the most visited medieval castles in France, particularly in the Alsace region.
It was reconstructed from 1900 to 1908, making it more accessible to visitors who want to know more about its history.
6. Place Kléber, Alsace
Another place where you can hang out and just take in the local vibe is the Place Kleber or Kleber Square in Strasbourg.
It is an attractive pedestrian area with flower beds and fountains, a favorite meeting place among the locals, and where you can admire a huge brightly lit tree during the holidays.
Another feature of the Kleber Square that you must check out is the Aubette, pink sandstone building that dates back to the late 1700s.
7. Grande Île, Strasbourg, Alsace

‪As it's crossed by the Ill river, several islands comprise Strasbourg and the most popular is Grande Île. Its name translates to 'large island' and is known as the historical center of the city.
This is where you'll find most of Strasbourg's attractions such as‬ 4 medieval churches, several hotels, and palaces from the 18th century and the world-famous Strasbourg Cathedral‬ (Cathédrale Notre-Dame de Strasbourg).
This area is also a ‪UNESCO World Heritage Site and the ideal starting point for your Strasbourg visit especially if you're pressed for time.
If you're planning to stay in Strasbourg longer, stay for an hour or two here, walk around or stop at every attraction, and take in the city's historical atmosphere. ‬
8. Alsatian Museum
Alsatian Museum houses over 5000 exhibits and artifacts documenting the life of Alsatian Jews.
Located in three timber-framed houses which were all former private residences in Strasbourg, it showcases old costumes, ceramics, furniture, potteries, etc.
If you want to learn more about the life of Alsatians from the 18th to 19th century, this is one of the best things to do in the Alsace region.
9. La Petite Venise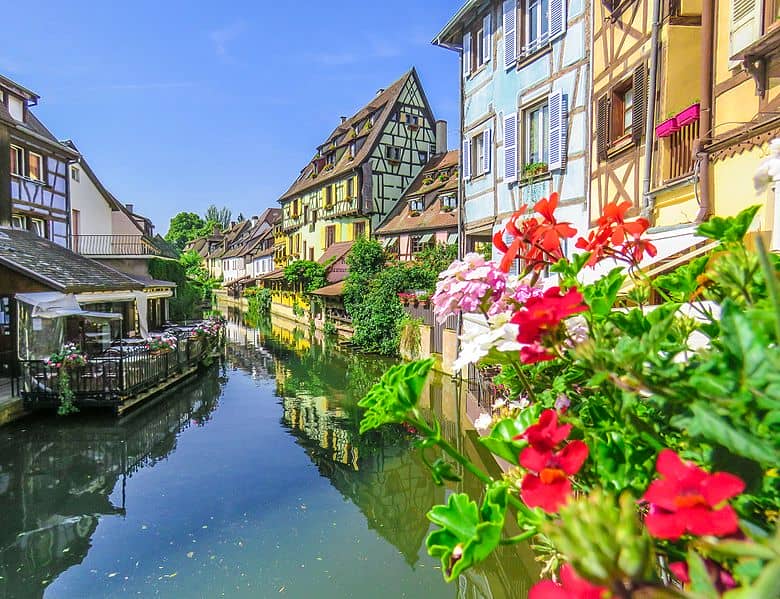 The covered market is one of the best attractions in Colmar and a must-visit. This market is housed in a red and orange building adjacent to the Petite Venise, so you won't miss it.
Inside, you'll find twenty merchants selling good olive oil, the best ripe cheese, and freshly harvested produce.
You'll also find several cafes in the market and you can sample the dishes of the day.
The covered market is a great place to get acquainted with what Colmar has to offer in the food department.
Go here for a meal, or stock up on delicacies you can bring back home.
10. Unterlinden Museum
You'd want to devote an entire day to Musée Unterlinden, there's just a lot to see here.
It is located in an old building that's a former Dominican convent, which is a work of art in itself.
If you want to see artifacts depicting Alsatian culture and history, the  Unterlinden Museum is the place to go.
One of the best places to see in Colmar, the museum also has an extensive collection of Romanesque and Gothic sculpture, medieval paintings and modern art.
A must-see in Musée Unterlinden is the Isenheim Chapel, which features the works of early German artists.
While there, be sure to see Matthias Grünewald's Isenheim Altar, regarded as one of the most important pieces of German art.
Opening Hours:
Wednesday – Monday 9 a.m-6 p.m
Tuesday closed
1st Thursday of the month 9 a.m.- 8 p.m
Closed
Admission Fee:
Admission + Audioguide 15 €
Admission 13€
Reduced admission* + Audioguide 13€
Reduced admission* 11€
Groups (of 15 or more persons), senior citizens (+ 65 years)
Youngs* + Audioguide 10€
Youngs* 8€
12 to 17 years, students under 30 years
Families 35 €
2 adults and 2 to 5 children from 12 to 17 years
Audioguide per Person 2€
Free admission for under 12, members of the Société Schongauer, museum subscription, holders of the Museum-Pass-Musées.
*In case of discount tickets, a valid proof is required
Contact Information:
Address:1 Rue des Unterlinden, 68000 Colmar, France
Phone:+33389201550
Email: info@musee-unterlinden.com
11. Castle of Fleckenstein, Alsace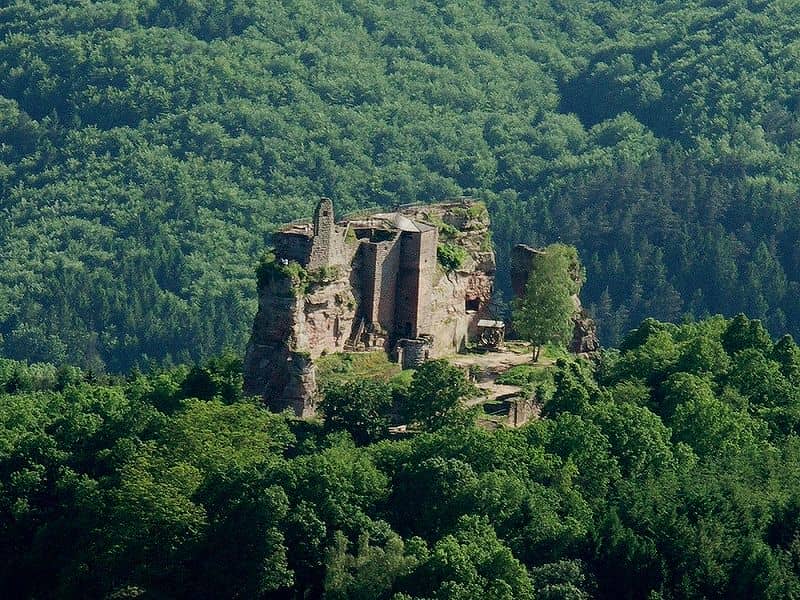 The castle of Fleckenstein is a ruined castle built in the rocky outcrop and in the middle of a dense forest of Regional Nature Park. It was built in the 12th century and was meant to be an impregnable fortress.
It was owned by the Fleckenstein family until 1720 and stood its ground for 4 centuries. It was said that it was modified and modernized so many times until it was destroyed by the French troops at 1680.
Currently, it is one of the most visited castles and one of the most-visited places in the Alsace region.
12. Riquewihr, Alsace
Located in the east of France, the fairytale-like Riquewihr is said to be the place that inspired 'Beauty and the Beast'.
This charming Alsace town has cobbled streets and alleys lined with colorful half-timbered houses.
Most of these are built from the 15th to the 18th centuries and looks straight out of a storybook. There's a local legend that sort of explains the colors in this town.
They say that shops have to be painted differently according to the owner's profession (such as baker, butcher, seamstress, etc).
---
Check out these best things to do in Riquewihr, France. 
---
13. Try out Tarte flambee
An easy favorite from the Alsace region and one of the best foods in France is the Tarte flambee.
This is a type of crispy, thin-crust pizza that's usually topped with crème fraîche, sliced onions, and lardons.
It is also called flammekueche in Alsatian, and a must-try when in any city or town in the region.
One of the best places for Tarte flambee is Le Marronnier (18 Route de Saverne) in Strasbourg, known for its crisp-edged, bacon-strewn version.
14. Explore Eguisheim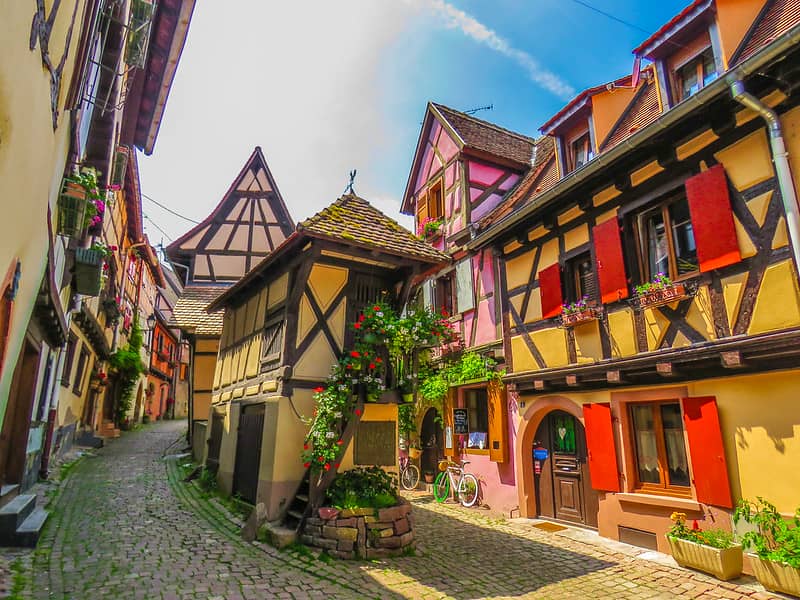 Eguisheim may not be the easiest place to reach using public transport, but it is a worthy day trip from Strasbourg. You first need to go to Colmar, and from there take a bus to the neighboring village of Wettolsheim.
From there, you can walk to Eguisheim. It is much better to go here as part of a guided tour of the Alsace Region to make the most of your time.
Still, it is a fantastic place to visit,  with its half-timbered houses circling out from the Château Saint-Léon right in the heart of the village. The 13th-century castle is now a church, but you can still see remains of the structure that once stood there.
Wander through the narrow streets and feel like you're journeying through a fairy tale. Aside from the half-timbered houses, vineyards are also in abundance in Eguisheim.
Along the hills, you'll also find the Château du Hohlandsbourg or the ruins of Husseren-les-Château­x.
---
Check out these things to do in Eguisheim, France.
---
15. Visit Kaysersberg in Alsace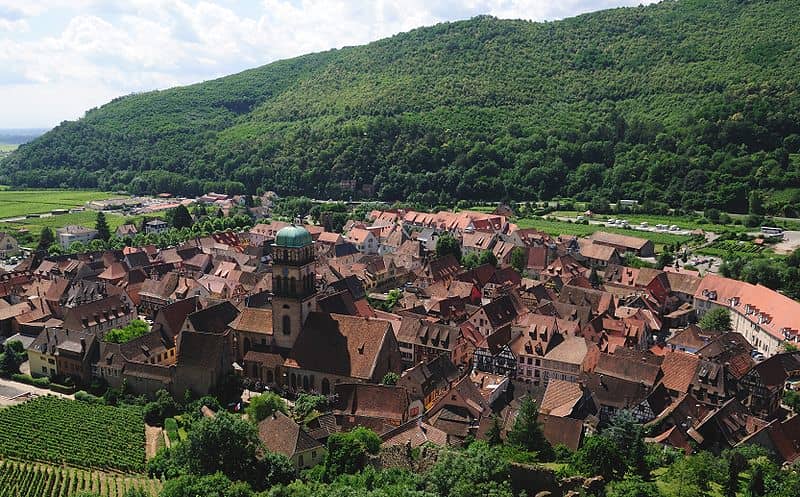 Kaysersberg may not be as popular as the other town and villages in the Alsace, but it is one of the best things to do in the Alsace region.
Start your visit here at the picture-perfect  Fontaine Constantin, which is surrounded by half-timbered houses. Wander through this pretty village and spend time along the Weiss riverfront.
Here, you'll find charming old fashioned houses especially along the  Ancien Lavoir or Pont Fortifie area.
Another must-see in Kaysersberg is the beautifully restored 13th-century Château du Hohlandsbourg, which is also a museum.
---
New to Airbnb? Get a $43 off for your next trip if you use our link here. 
---
Like It? Pin It!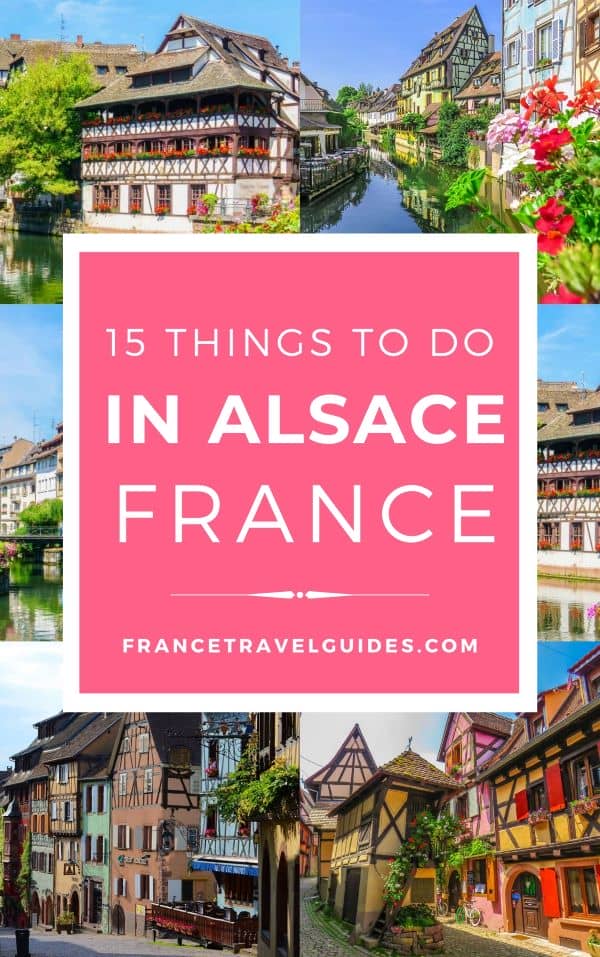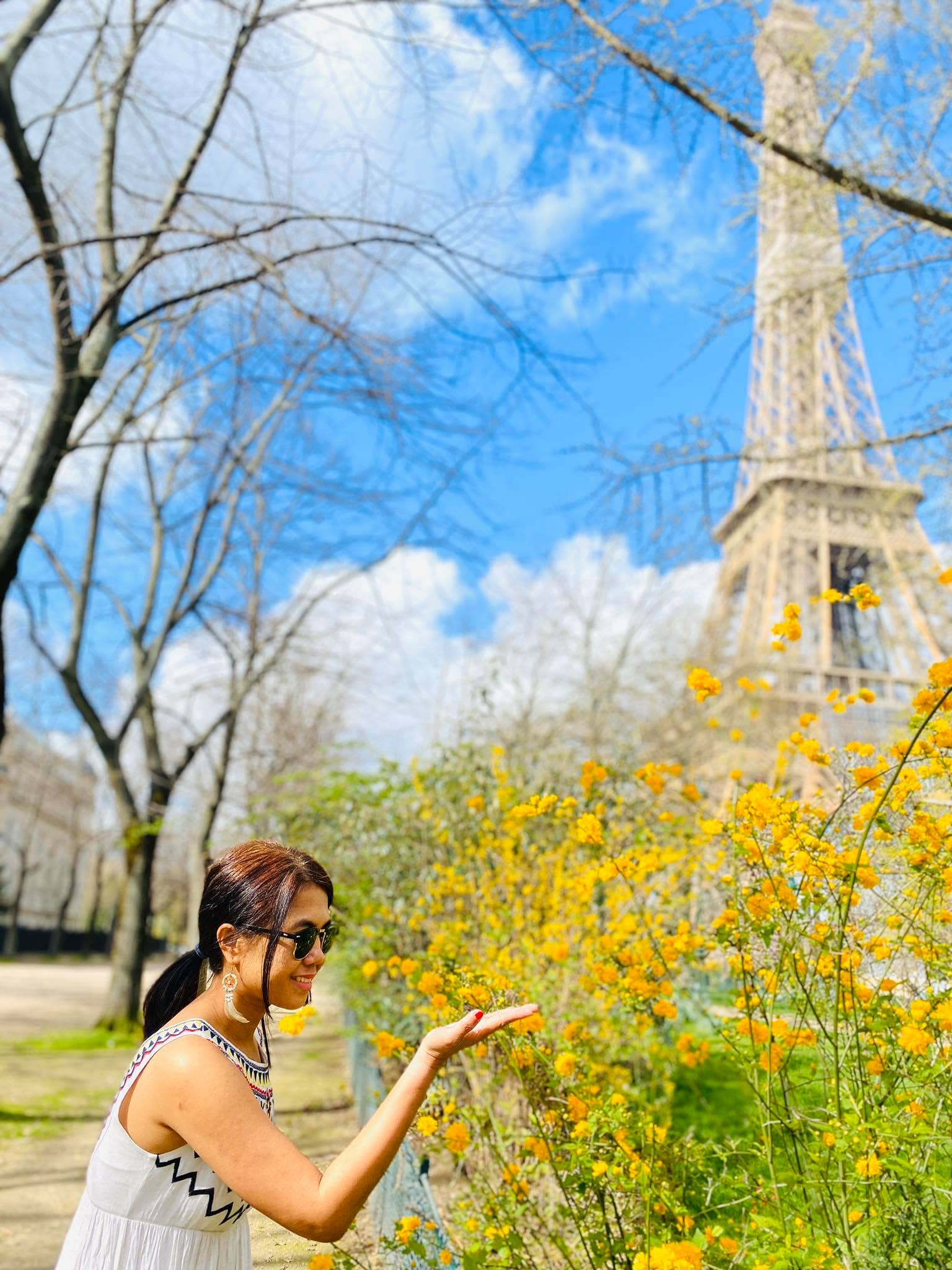 Hi, I'm Christine – a full-time traveler and career woman. Although I'm from the Philippines, my location independent career took me to over 40 countries for the past 8 years. I also lived in 3 continents – from the Caribbean, South East Asia to Africa. France remains special to me, however. From architecture, history, and arts – France is truly an amazing place.