The elegant boulevards, iconic architecture, beautiful parks, and delicious food make Paris such a magical city that it's easy to say you won't get enough of it even if you have a day or two to spare.
Maybe you'd rather spend long hours strolling in the Luxembourg Gardens, wandering around Louvre or hanging out at Shakespeare and Company; but France and its neighboring countries have so much to offer that there are several day trips from Paris that you can do as well.
Fairytale castles surrounded by water, dramatic Gothic churches, stunning seaside villages, important historical sites, gardens and vineyards, and even chocolates to entice you to get out and explore.
Here's a list of best day trips from Paris, France.
8 Best Day Trips From Paris, France
1. Versailles
Chateau de Versailles sounds like a given when you're in Paris, but there are countless reasons why people flock here. Stay for a day, and you'll never run out of things to do in Versailles.
Situated on the western side of Paris, Versailles is a significant place for several historical events. The château was formerly a hunting lodge built by Louis XII and nowadays it holds the Museum of France's history.
Less than an hour from the capital, make sure you include Versailles when planning your Paris day trips. Here you can walk around the grounds, rent a bike, or even better, a golf cart.
Explore the huge palace and gardens and experience some of the most opulent interiors and intricate gardens in the world.
Make sure you visit the Hall of Mirrors, the stunning opera house, and the new court of scents where you can learn all about perfumes and their history.
Versailles also has a great food market with a variety of options like wine, fish, fruits, cheeses and so much more to spend some time at, and where you can get lunch dinner or snacks when you get hungry from exploring.
Opening Hours
Castle
Open every day except on Mondays,
25 December and 1 January
Opening times: 9.00 am – 5.30 pm
Last admission: 5 pm
Ticket office closes at 4.50 pm
Domaine de Trianon
Open every day except on Mondays,
25 December and 1 January
Opening Times: 12.00 pm – 5.30 pm
Last admission: 5.00 pm
Ticket office closes at 4.50 pm
Gardens
Every day from 8:00 am to 6:00 pm
Galerie des Carrosses
from 12:30 to 18:30
closed on Mondays
Admission Fee
Palace ticket -18 €
The Palace ticket includes the admission to:
the Palace (with the audioguide)
the temporary exhibitions held in the Palace
the Gardens (except on Musical Fountain Shows or Musical Gardens days) and the Park
the Coach Gallery
Passport Tickets:
This ticket gives access to the whole area of ​​Versailles and Trianon.
20 € -Without Musical Fountain Shows or Musical Gardens
27 €-With Musical Fountain Shows or Musical Gardens
Access to the Palace of Versailles and the estate of Trianon is free for everyone below 18 years old, residents of the European Union below 26 years old, teachers in French schools, people with disabilities, and one accompanying person.
Contact Information
Address: Place d'Armes  78000 Versailles France
Phone:01 30 83 78 00 
To book, click here. 
2. Giverny
Located just 80 kilometers to the west of France, the village of Giverny was the home of the Impressionist painter Claude Monet from 1883 until his death in 1926. The village and its surroundings inspired many of Monet's paintings so if you love art, a visit to Giverny is a Paris day trip that you must experience.
In this tiny village is Monet's home, now known as the Claude Monet Museum, where much of his belongings and how the rooms were arranged were pretty much untouched.
This is also where you can see the elaborate gardens, the iconic Japanese Garden, which has the famous water lily ponds and Japanese Bridge. Giverny is also home to the Musée des Impressionnismes where you can discover more about the Impressionist painters.
3. Loire Valley Castles
Known as the "Garden of France", and only two to three hours from Paris, Loire Valley is an area known for its opulent castles of the ancient nobility of France.
It is one of the prettiest day tours from Paris if you want that feeling of being in a completely different world or era.
Loire Valley is also known for its architectural heritage and historic towns such as Amboise, Montsoreau, Orléans, Saumur, and Tours, and particularly for its stunning châteaux.
Two castles you must visit are Chateau Chambord (often referred to as the "Beauty and the Beast" castle) and Chateau de Chenonceau (from the movie "Ever After"). Go in and wander around, marvel at its details both inside and outside on the grounds and in the gardens.
Aside from the castles, Loire Valley is also known for its wineries, many of which offer tours for wine tasting.
To book, click here.
4. Mont Saint Michel
A UNESCO World Heritage site and one of the most stunning places you'll ever see during a Paris day trip Mont Saint-Michel is surely worth the few hours train ride and the hike.
From afar, Mont St Michel is a picture-perfect mound, surrounded by a wall, covered in a grey-roofed medieval village and topped with a dramatic gothic abbey.
Its main attraction is the spectacular Norman Benedictine Abbey of St Michel, which sits on the peak of the rocky island, completely surrounded by its medieval town.
To fully appreciate and explore Mont Saint-Michel though, make sure you enter through the original gates.  Walkthrough the main street as it winds around the island up and past souvenir shops and restaurants.
Stop and visit the small but interesting historical and maritime museums then continue up and wander through the narrow corridors of the abbey.
Still, one of the best parts about the visit to Mont Saint-Michel is the view from afar so stay until sunset and nightfall to see the lights twinkling, making the place look like something out of a medieval fairytale.
Mont Saint-Michel is also one of the most beautiful towns in France. 
Opening Hours
The abbey is open every day except the 1st of January, the 1st of May and the 25th of December.
2 May to 31 August: 9 am to 7 pm, last admission at 6 pm.
1 September to 30 April: 9.30 am to 6 pm, last admission at 5 pm.
Admission Fee
Prices for 4 museums
Adults from 25 years old: 18 €
Adults between 18 and 25 years old: 12€
Under 18 years old: Free of charge
Prices for 2 museums (valid during winter closure)
Adults from 25 years old: 12€
Adults between 18 and 25 years old: 9€
Under 18 years old: Free of charge
1 museum
Adults from 18 years old: 9 €
Adults between 18 and 25 years old: 4 €
Under 18 years old Free of
Groups
Prices for 4 museums: Adults from 18 years old: 9 €
Less than 18 years old: Free of charge
Prices for 2 museums: Adults from 18 years old: 6 €
Less than 18 years old: Free of charge
1 museum: Adults from 18 years old: 4 €
Less than 18 years old: Free of charge
Contact Information
Address: Michel Normandy Boulevard de l'Avance 50170
Phone:02 33 89 80 00
Email: tourisme.lemontsaintmichel@msm-normandie.fr

To book, click here.
5. Great Stables of Prince de Conde and Palace Chantilly
Located in Rue du Connétable and built in the middle of the waters, is the Chantilly Estate. It is around 7800 hectares of forest and only 25 minutes away from the French capital, making it an ideal day tour from Paris if you want to venture into something unusual.
The Chantilly Estate has the castle, the Condé museum, the park, the Grandes Ecuries, and the Musée du Cheval. Take a tour inside the Chateau de Chantilly, built by Henri d'Orléans, Duke of Aumale, son of Louis-Philippe, the last king of France.
The Chateau de Chantilly is a well-known French château and it houses the Musée Condé, one of the finest art galleries in France which own the second biggest collection of ancient paintings after the Louvre.
The Grandes Ecuries hold the Musée du Cheval and horse shows where you can watch the country's most famous racers, get lost in a fascinating history lesson about the estate's culture, architecture, cuisine and more.
Outside in the huge grounds, enjoy a stunning view of the gardens, and make sure you enjoy a delicious meal at the Chantilly Domain, and sample some delicious goat's cheese.
Opening Hours
High season
From March 30, 2019, to October 27, 2019, inclusive
Open 7/7 including holidays
10h-18h / 20h for the park
Exceptional closure :
Wednesday, July 17, 2019: the entire Domaine de Chantilly is closed to the public. Thursday, July 18, 2019: Les Grandes Ecuries, the exhibition Joconde Nue at the Jeu de Paume and the English Garden will not be open to the public.
Low season
From October 28th, 2019 to March 27th, 2020 included
Every day except Tuesday
10h30-17h / 18h for the park
Annual closure :
From January 06 to January 24, 2020
Admission Fee
Park
Adult – €8
Children from 7-17yrs old- €6
Children under 7- Free
Domain
Adult – €17
Children from 7-17yrs old- €13.50
Children under 7- Free
Equestrian Show
Adult – €21
Children from 7-17yrs – €17
Children under 3years- Free
Domain Equestrian Show
Adult – €30
Children from 7-17yrs – €24
Children under 3years- Free
Domain Family Ticket
Adult /Children from 7-17yrs – €48
Children under 7years- Free
Contact Information
Address: 7 rue du Connétable 60500 Chantilly
Phone: +33(0)344273180
To book, click here.
6. Rouen and Honfleur
Both a haven for painters and artists from all around the world, a visit to Honfleur and Rouen is one the best day tours from Paris that's bound to have you snapping pictures at every turn.
Close to each other and within a few hours from the capital, both Places are regarded as some of the prettiest places in France.
Honfleur's major attraction is the LeVieux Bassin (Pord de Honfleur), and the port itself is surrounded by rows of colorful 17th and 18th-century narrow houses that provide a perfect backdrop for hundreds of picture-perfect scenery.
It is also home to delicious French and Mediterranean cuisine, pretty cobblestone streets, and impressive architecture.
While in Honfleur, make sure you visit the famous Saint Catherine's Church, Saint-Leonard's Church, Notre-Dame de Grace, Normandy Bridge, and the amazing Jardin des Personalities.
Rouen is a charming town in the Normandy region of France, and on the train ride going here, way you'll pass through the gorgeous countryside of the Seine Valley.
Here you'll find brightly colored half-timbered buildings, a gorgeous cathedral, and a fancy astronomical clock tower. Rouen is also home to the site of Saint  Joan of Arc's execution and La Tour Jeanne d'Arc, the tower where she was held.
Like Honfleur, Rouen was a source of inspiration for many known French artists, including Pissarro and Monet. A must-see is the Museum of Fine Arts considered as one of the best of its kind in the region.
To book click here.
7. Normandy
Whether you fancy yourself as a bit of a history nut or simply into setting out into something different and memorable during a day trip from Paris, Normandy is the perfect place to explore.
Only a few hours by rail from the French capital, the entire area of Normandy, located north-west of Paris, is rural and scenic, and visiting the D-Day beaches is something that will stay with you even after you've left the place.
Apart from being the site of the infamous D Day landings, Normandy is also a picturesque place for a day out, despite its poignant history.
Make sure you visit the Arromanches' artificial harbor, Colleville-sur-Mer's American military century, Omaha Beach and Pointe du Hoc for a full understanding of the events of the war.
Walk around the extensive Memorial de Caen which explores the history behind D Day and the Second World War.
Both moving and beautiful, a visit to Normandy is definitely something worth considering when you wish to venture out of Paris for a day.
To book, click here.
8. Colmar day tour from Paris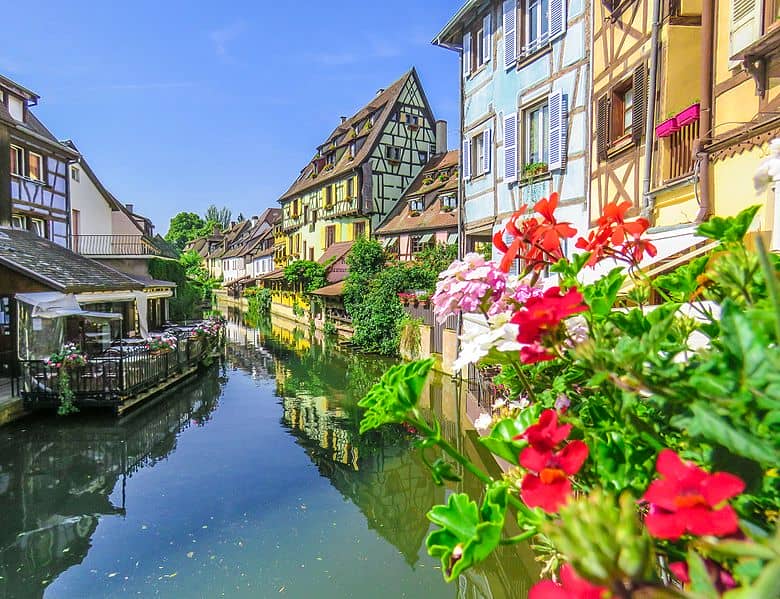 There are several things to do in Colmar, France. Located in North-Eastern France,  on the border with Germany, is the fairytale French town of Colmar. It's also right in the heart of France's Alsace region, known for its vineyards and fine wines.
If only for its scenic beauty,  Colmar should be part of any French getaway.
Go walk along cobblestone streets, cruise the canals, or admire the colorful half-timbered houses. And do not forget to sample some Alsace wine. It is also one of the best day trips from Paris.
---
Like It? Pin It!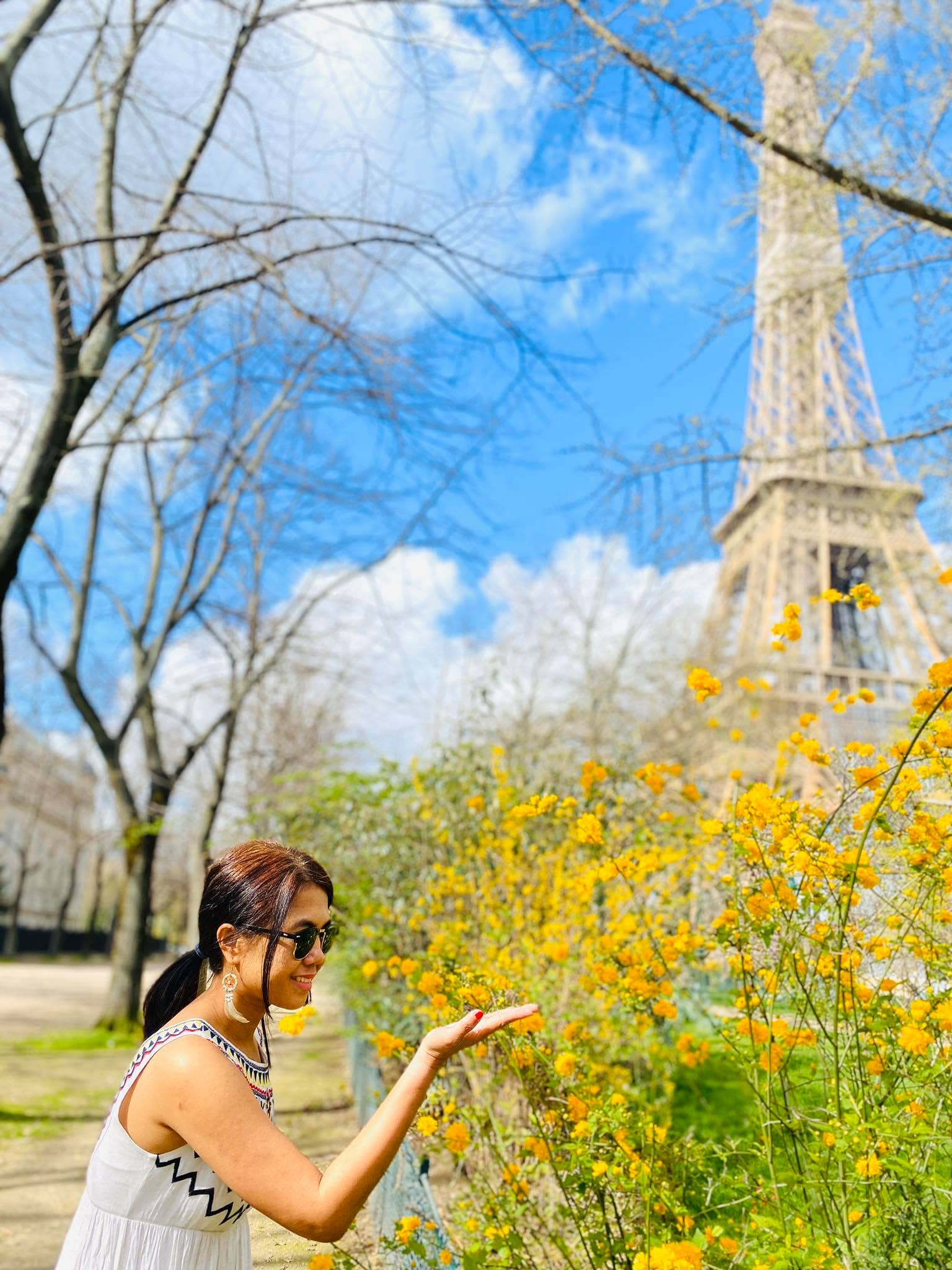 Hi, I'm Christine – a full-time traveler and career woman. Although I'm from the Philippines, my location independent career took me to over 40 countries for the past 8 years. I also lived in 3 continents – from the Caribbean, South East Asia to Africa. France remains special to me, however. From architecture, history, and arts – France is truly an amazing place.