They say that everything is pretty in France, but imagine its scenic landscapes and chateaus covered in winter glory.
Enchanting simply turns into simply magical, and if you're planning a visit here in December, you're in for a treat.
Even with the super cold weather with chances of snow, France remains to be a great place to explore.
---
New to Airbnb? Get $64 off for your next trip if you use our link here. 
---
Remember to not focus your itinerary on the cities or the south.
Instead, book trips to places like the Pyrenes, or not that famous locale like Perigord and Bloise.
Wherever you plan to go, read up on this handy guide about France in December to help make the most of your trip.
France in December: Weather, Things to See and Travel Tips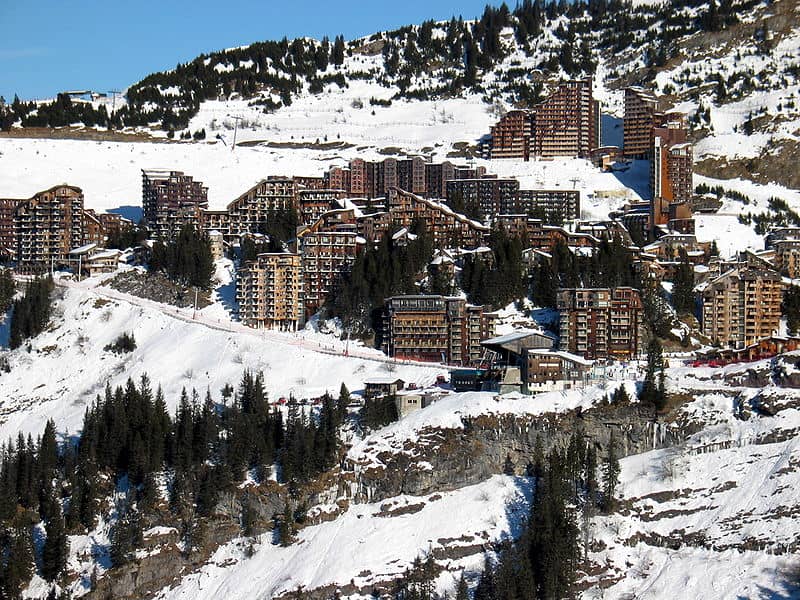 What is the weather like in France in December?
Temperature in France in December
The average temperature in France in December is between 3°C to 8°C.
Rain in France in December
France usually gets about 59 mm of rain over a period of 7 days.
Wind in France in December
France has an average wind speed of 10.6 mph to 11 6 mph in December.
Sun in France in December
Days are shorter in France in December and get only around 8 hours of sun a day.
What to pack in France in December
These are the things that are non-negotiables when packing for a trip to any destination.
Keep things organized by putting each type in color-coded luggage organizers. Putting them in these separate, lightweight packing cubes or pouches make it easier for you to find or keep them in place.

Toiletry Kit – Bring only those that you won't most likely find in drugstores or malls in France. If your skin is adaptable and not too sensitive, bring products that have multipurpose such as moisturizing facial wash, or shampoo and conditioner bars.
Otherwise, travel toiletry kit essentials include deodorant, makeup, toothpaste, toothbrush, travel size shampoo, conditioner, body soap, razor/grooming kit, and towel.
Gadgets – Apart from the usual cellphone, camera, tablet, and laptop, bring items that will ensure these will work properly in France. A must is a small power bank to make sure you can recharge your devices even on the road. You can get it here.
USB cables and a universal adapter are also a must as you don't know if your devices will have the correct type of plugs. You can get it here.
Other Important items – A first aid/emergency kit is a must and should contain the following: pain and fever medication, antidiarrheal medication, softening and soothing lozenges, anti-mosquito cream/gel and medicines for carsickness or seasickness.
Water in France is generally potable so instead of buying bottled water, you can bring your own bottle instead and just refill it. This reusable water bottle is also collapsible one so you can put it in your bag easily.
There's always a chance of rain in France so a foldable umbrella or lightweight raincoat is a must.
Bags and Luggage – A travel backpack should accommodate all your essentials plus the clothes that are good for about ten to fifteen days of travel. While in France, you also need a day bag that you can use when visiting attractions or going on day trips.

Winter is another of the rainiest seasons in France.
If you're traveling during this time, bring a foldable umbrella or lightweight raincoat.
Days and nights are definitely cold, so bring clothes that will help warm you up such as a lightweight thermal jacket, scarf, gloves, and wool socks.
For ladies, stay fashionable in this versatile sweater dress.
The cold weather shouldn't stop you from enjoying, so be sure to wear stylish yet comfortable and sturdy shoes that are also slip-proof.
Check out this packing list for all seasons.
Things To Do in France in December
1. The French Alps And The Pyrenees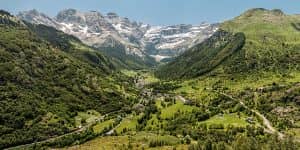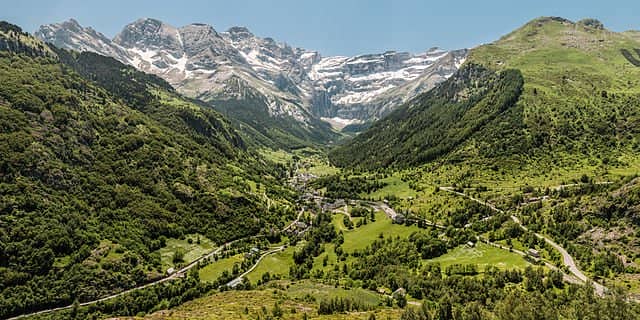 Anyone going to France in December must experience the stunning French Alps and the Pyrenees. The sight is just magnificent, and it's a  place that's well-connected to the other parts of the country.
Here, you can enjoy winter sports such as all sorts of skiing, ice climbing, ice rappelling, snowshoeing, and snowboarding.
If you'd rather watch or simply enjoy the sights, there are places nearby like chateaus and parks. As for the rest of the area, they are gloriously blanketed in winter glory.
2. Explore the beaches in Nice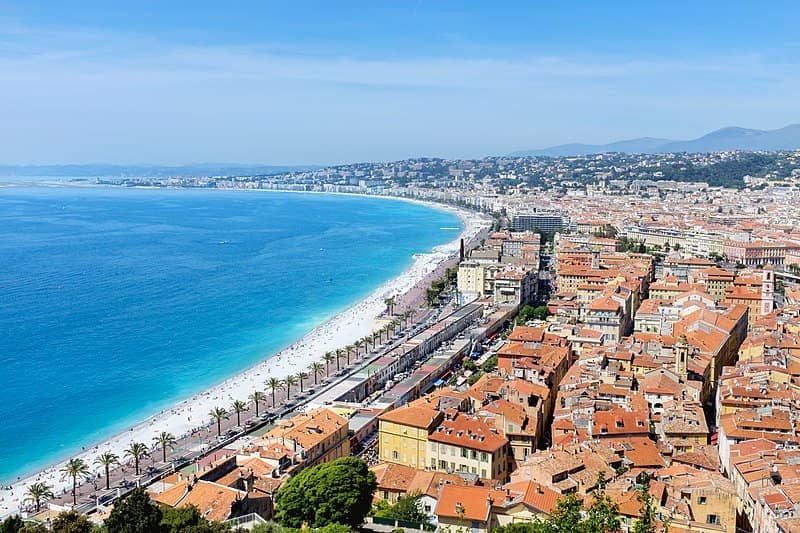 If you'd rather warm a bit while in France in December, head towards the pretty coastal city of Nice. Known for its lovely beaches, this town is a go-to destination for those who want to enjoy a warm December.
Nice is well connected by bus to most cities so it's easy to make it your day trip or a weekend getaway. It is also is one of the best places to see in France in winter.
Lounge on sunny beaches, have a picnic, and take in the views of the sea and sky.
---
Check out these things to do in Nice, France
---
3. Visit the Gothic City of Bloise

Another stunning place to see in France in December is Bloise in Loire Valley.
This city has a wonderfully Gothic vibe and it is situated by the Loire River. Walk along its cobbled streets on windy December is quite a treat.
Be sure to visit the old cathedral and explore the royal palace.
The latter, the Chateau Royal de Bloise contains impressive ornate chambers and home to 16th to 19th-century paintings and sculptures.
Walk along the river or stand on the bridge as you watch the city go by. There's something unmistakably atmospheric about Bloise's predominantly Gothic architecture against a wintry backdrop.
Easily reached via public transport or organized tours from most cities, Bloise is among the best places to visit in France in December.
---
Check out these best things to do in Bloise, France. 
---
4. Indulge in Perigord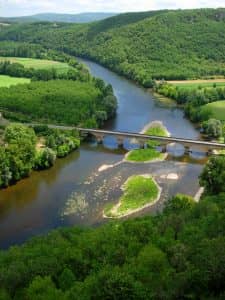 Hop onboard the Dordogne, the high-speed train from any train station across France, and head towards Perigord.
This town is truffle heaven, and December is one of the best months to enjoy this delicacy here.
Enjoy it in a variety of dishes, pair your meal with sweet wine. Shop for a few jars to bring home with you.
Indulging in this delicious treat is one of the best things to do in France in December.
In between your truffle feast, see the rest of Perigord. and visit the chateau, explore Lascaux, stroll the Marqueyssac gardens.
5. Charming Christmas Markets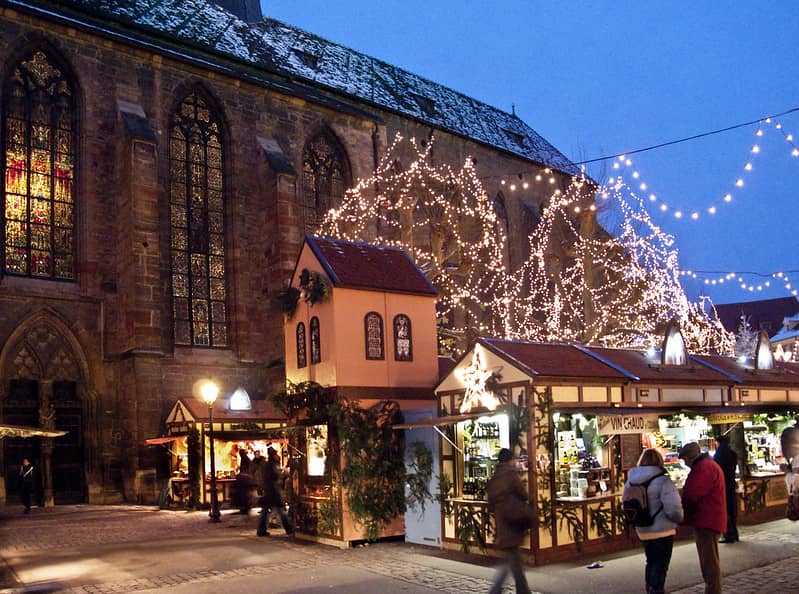 When in France in December, a visit to a Christmas market or two is a must. A place that truly fills up the senses, Christmas markets abound in France from north to south.
Often located in parks, squares, and churchyards, these markets are filled with shops and stalls. They sell local and regional delicacies to clothes, accessories, and even souvenirs.
Christmas markets are among the best places to shop for holiday gifts that you can't find anywhere else. This is also the best place to be if you want to stock on French goodies like chocolates, cheese, truffles, and wine.
Enjoy the sparkling lights, the colorful booths, the smell of cloves, handmade soaps, and spiced wine.
A day in any of the Christmas markets across the country is one of the best activities to do in France in December.
7. Ice Skating with the locals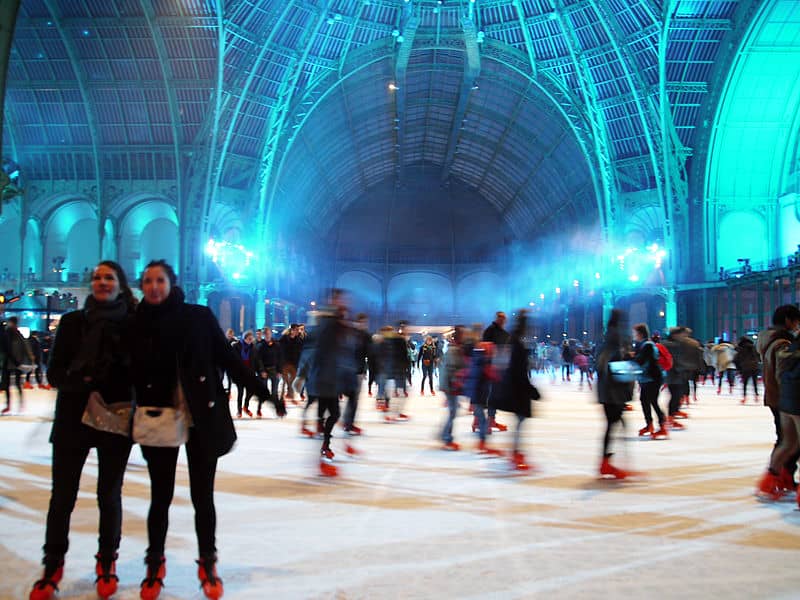 Back in Paris, and if you'd like to add an authentic local feel to your visit, try ice skating.
As winter covers the rest of the city, put on ice skates and glide through the rinks. This is a favorite thing to do in France among the locals, and a fab opportunity to practice your French.
After a day in the museums or exploring the city's fascinating neighborhoods, ice skating is a fun thing to do. It's a fun exercise if you want to burn all the excess calories you'd most likely accumulate.
Ice skating rinks are all over the city and admission is free, you only need to pay for the skates.
The rinks are located in some of the most scenic places in Paris, do just take your pick!
Set out early if you want to ice skate with the Eiffel Tower in the background as the place fills up easily.
Travel Tips for France in December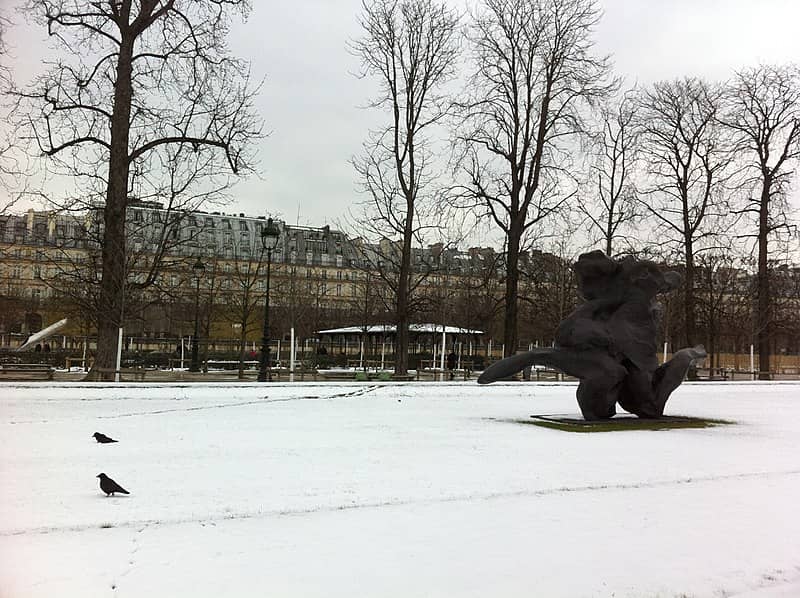 1. It doesn't matter what month of the year, when in France, try as much as you can to interact and blend with the locals.
When you enter an establishment (e.g. store, restaurant, etc.), say hello ("Bonjour") before you begin browsing, ordering, or asking questions. Remember to also say goodbye ("Au revoir") as you leave.
2. When eating out and you want to sample more of what's on offer, check out the "Prix Fixe" menu.
A Prix Fixe usually includes a starter, main course, and dessert at a fixed price. There are also restaurants that offer many choices for each course and others even include some wine.
---
Check out these best traditional foods in France
---
3. When browsing items in an outdoor market, remember not to touch the items especially the produce or food like cheese and bread.
If you're interested in one, simply point. Some may offer samples so just take some instead of touching those that are on display.
4. France is a large country with varied weather in most regions. This is something to consider when packing for your trip.
The north of France is often cold and nights even have a freezing temperature, so bring warm clothing, scarves, gloves, and thick socks.
The south of France is a bit warmer but can get chilly or windy. Bring a windproof jacket and scarves to stay warm.
5. During this time, it is already dark by 5 in the afternoon. Plan your trips early — from nearby museums and chateaus to surrounding cities and towns.
Set out early especially if you're driving as roads may be difficult to navigate.
---
New to Airbnb? Get $64 off for your next trip if you use our link here. 
---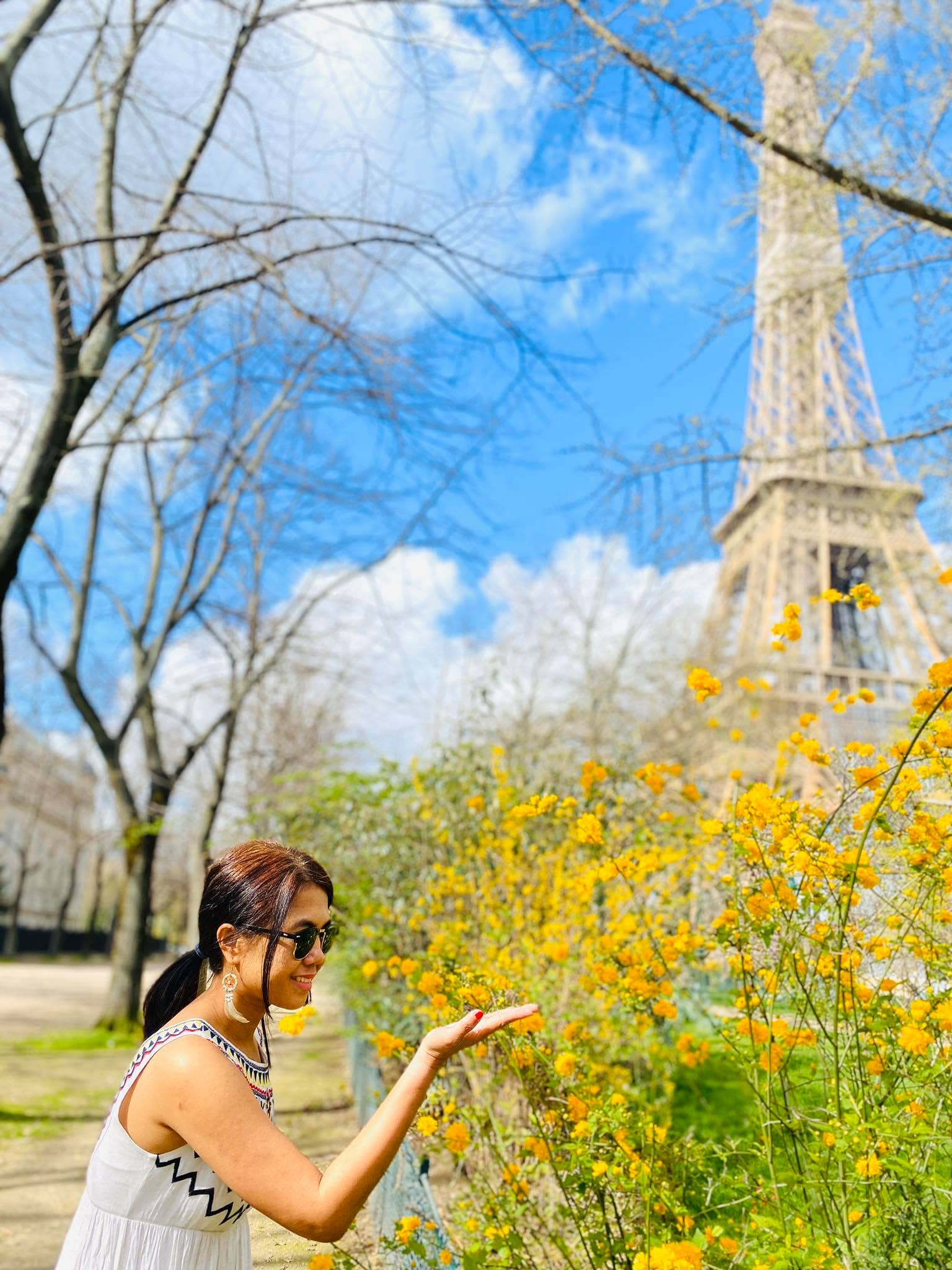 Hi, I'm Christine – a full-time traveler and career woman. Although I'm from the Philippines, my location independent career took me to over 40 countries for the past 8 years. I also lived in 3 continents – from the Caribbean, South East Asia to Africa. France remains special to me, however. From architecture, history, and arts – France is truly an amazing place.