Eguisheim is a picturesque village in the Alsace wine trail that's just seven kilometers away from Colmar.
It was awarded the Village Préféré des Français (Favorite French village), and a member of Les Plus Beaux Villages de France (The Most Beautiful Villages of France).  Eguisheim is a walkable area that one can easily explore within a day.
With its cobbled streets, half-timbered houses, and flowers blooming everywhere, it is like wandering through a fairy tale.
It is easily reached from Colmar and Strasbourg and it makes for a great day trip from the city. Here are some fun things to do in Eguisheim, France when you visit.
10 Best Things To Do in Eguisheim, France
---
New to Airbnb? Get $64 off for your next trip if you use our link here. 
---
1. Walk through the Ramparts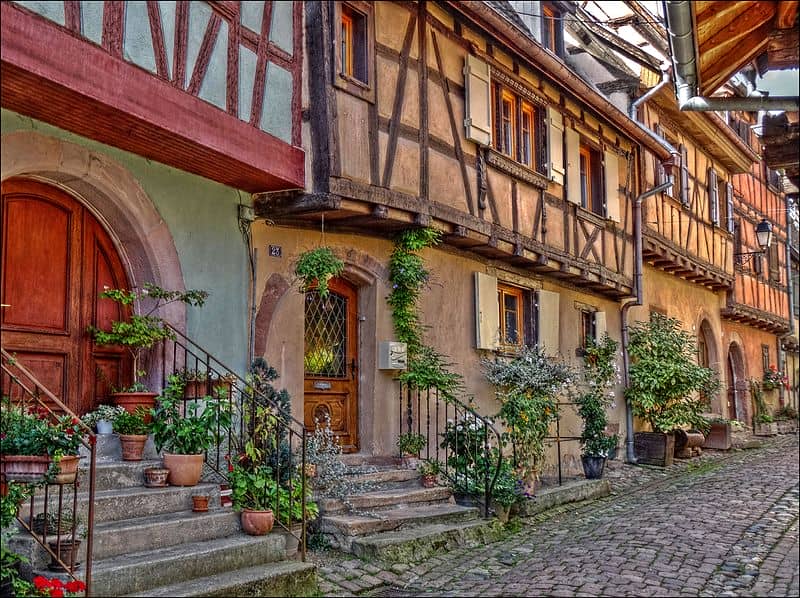 Wandering around Eguisheim's medieval center is the best way to start your visit. This area is called the Rue du Rampart Sud, which follows the line where an old moat around the village.
Here, you'll walk through a narrow alley lined with colorful half-timbered houses.
This is easily the best thing to do in Eguisheim especially if you're pressed for time and wanted to stop at different places in the wine trail in one day.
2. Stroll along the Grand Rue in Eguisheim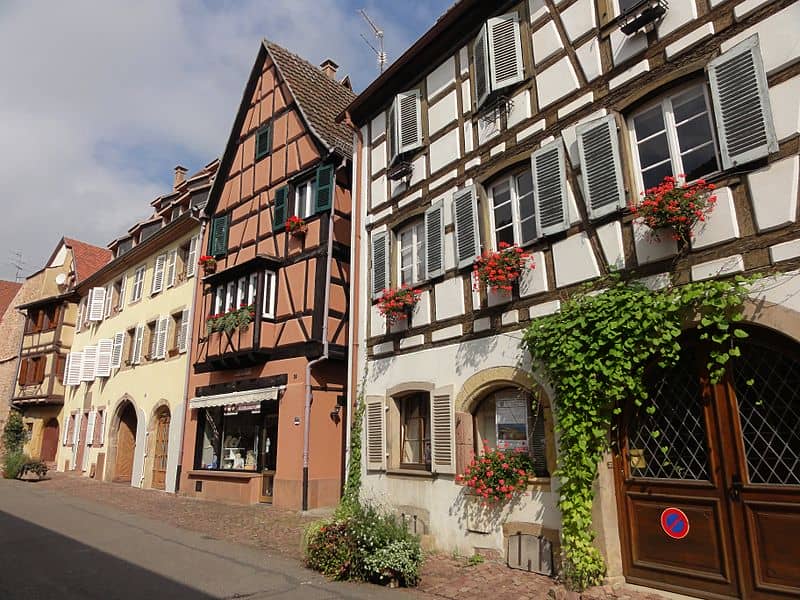 Your fairytale-like journey in Eguisheim continues with the equally scenic Grand Rue. This is where you'll see bigger structures like inns, manor houses, and other buildings painted in bright colors.
A common feature among houses in the Alsace region, feast your eyes in the lovely burst of blues greens, pinks, and yellows.
Keep on walking until you reach Place du Chateau, where you'll the other popular fixtures in the village – the storks!
You'll see them in the Place du Chateau along with the colorful houses, church, and castle, which is one of the best things to see in Eguisheim.
3. Meet the Park Storks
View this post on Instagram
One of the unique attractions in Eguisheim, you'll most likely meet these lovely birds as you explore the village.
Found in an enclosure in the Place du Chateau area, the storks are being cared for by Les Amis de la Cigogne.
Visitors can access the area, to be accompanied by an expert guide that will let you see the nests, as well as the reproduction and migration of the storks.
4. Admire the architecture in Eguisheim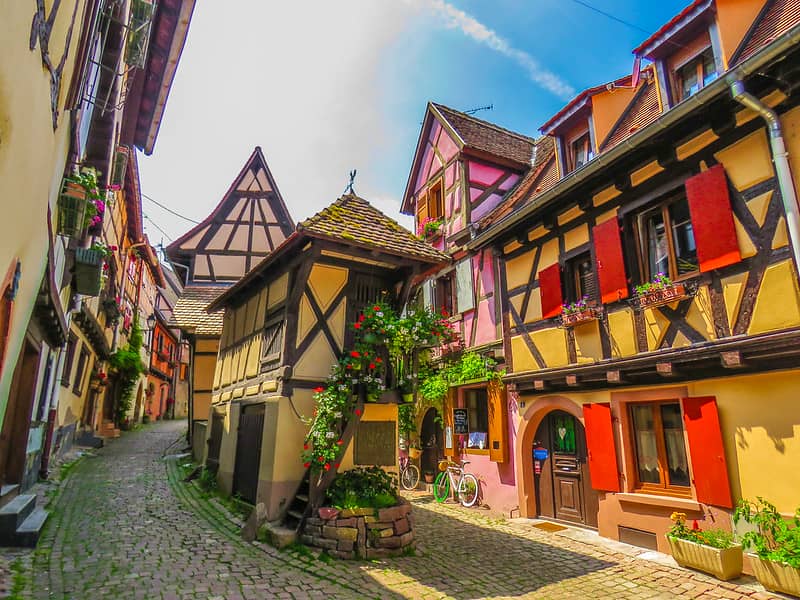 The colorful architecture of Eguisheim that creates a fairytale-like atmosphere is what sets it apart from other French villages.
You simply cannot miss the half-timbered buildings, and admiring them up close is among the things to do in Eguisheim that any visitor must experience.
Walk through the cobbled streets and get to know some noteworthy structures such as the Unterlindenhof which dates back to 1051. There's also the leper house from the 16th century and other houses that were built between 1200 and 1600.
Eguisheim is also home to two Renaissance fountains, as well as the Romanesque-Gothic Church of Saint-Peter and Saint-Paul.
5. Taste the wine in Eguisheim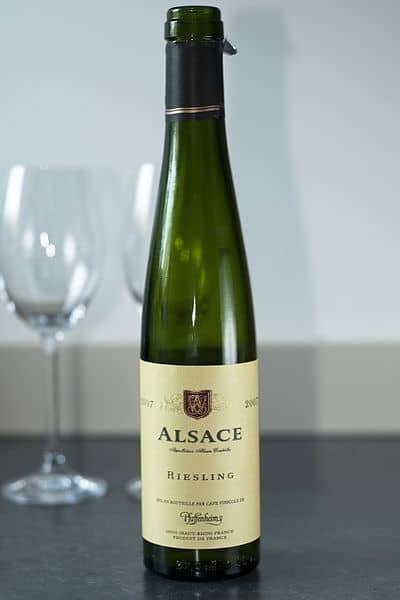 There is something beautiful and interesting to see in probably every corner of Eguisheim.  However, its location in the Alsace wine trail also means that you get to try some good wine here.
If you are visiting this village as a day trip, then head towards the restaurants,  bars, and even wine shops in Eguisheim where you can try some wine.
Some of the wines that you can sample and buy are the well-recommended Riesling Grand Cru Pfersigberg and Riesling Grand Cru Steingrubler as well as the awarded Riesling Cuvèe Elizabeth Stumpf and Pinot Gris.
6. Discover the wine trail of Grands Crus Eguisheim
View this post on Instagram
Easily one of the best things to do in Eguisheim, the Wine Trail is a definite must experience. Visit and get to know vineyards and wineries in and around the village.
Here, you will also get to know seven types of Alsace wine, as well as the while wine-making process. Still in this area are the Grands Crus vineyards of Eichberg and Pfersigberg, set on slopes and creating stunning scenery.
Here, you will also get to see and even visit Eguisheim's Three Castles. If you visit from June to mid-September, the tours are organized for free by the area's winemakers.
7. Visit the castle of the Counts of Eguisheim
Located in the heart of Eguisheim, the castle of the Counts is where the entire village was built around.
The castle was built around by Count Eberhard, and this is where his family resided until the line died out in 1225.
The ground floor rooms here date back to the 10th century. This castle was also a former residence of the Count Hugo IV of Eguisheim and his wife.
These days, the castle serves as a venue for exhibitions, events, and receptions.
8. See the Ruins of Castle of Hohlandsbourg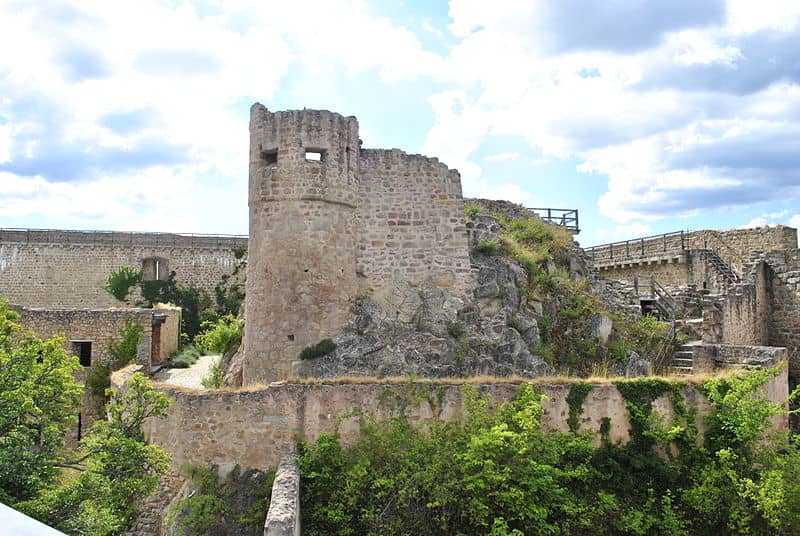 Situated about 620 meters above sea level, the Castle of Hohlandsbourg is in the route of five castles near Eguisheim and Colmar.
Built by the Provost of Colmar in 1279, it was renovated into a much modern structure in the 14th and 15th centuries by the Counts of Lupfen.
It eventually served as a stronghold in 1563 by Lazare de Schwendi and restored centuries later.  Hohlandsbourg Castle is a historical monument and one of the best places to visit near Eguisheim.
9. The Castle of Hagueneck
View this post on Instagram
The modest and charming 13th century Castle of Hagueneck is among the best things to see near Eguisheim.
Located in Wettolsheim, it is just less than 2km away from Eguisheim. This castle is situated at the bottom of a valley.
It served as a residence rather than a fortress, and now part of the Alsace Castle Route. Spanning three levels, the 420-meter high Hagueneck Castle has been a Historical Monument since 1923.
10. Enjoy a Bike Tour from Eguisheim to Colmar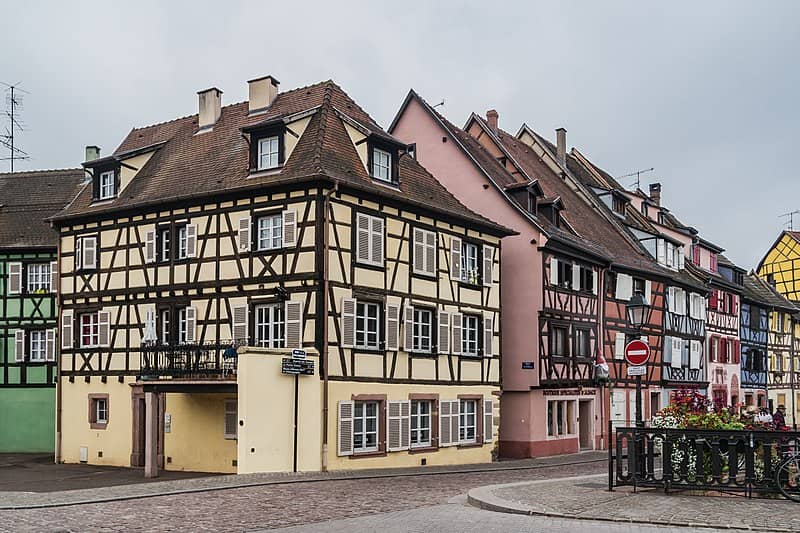 Eguisheim is only seven kilometers from Colmar. If you're up for some leg workout and want to savor the sights between these locales at your own pace, a bike tour is recommended.
Cycle through the Alsace wine trail, stop every now and then to see the vineyards or cruise through tiny villages. You'll also get to bike along a scenic river as well as corn and vegetable fields.
This may be a relatively short bike tour, but the sights and the laid back countryside vibe are definitely worth it.
So, that's our list of the best things to do in Eguisheim, France. I hope this helps if you're planning a trip to Eguisheim. Do you have any other suggestions for things to see in Eguisheim? Let us know in the comments below!
---
New to Airbnb? Get $64 off for your next trip if you use our link here. 
---
 Like It? Pin It!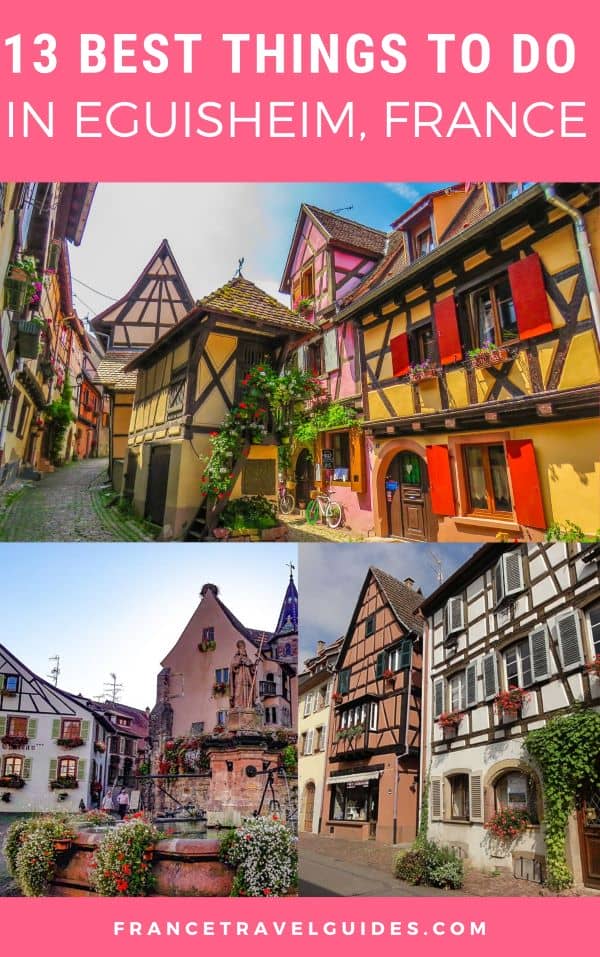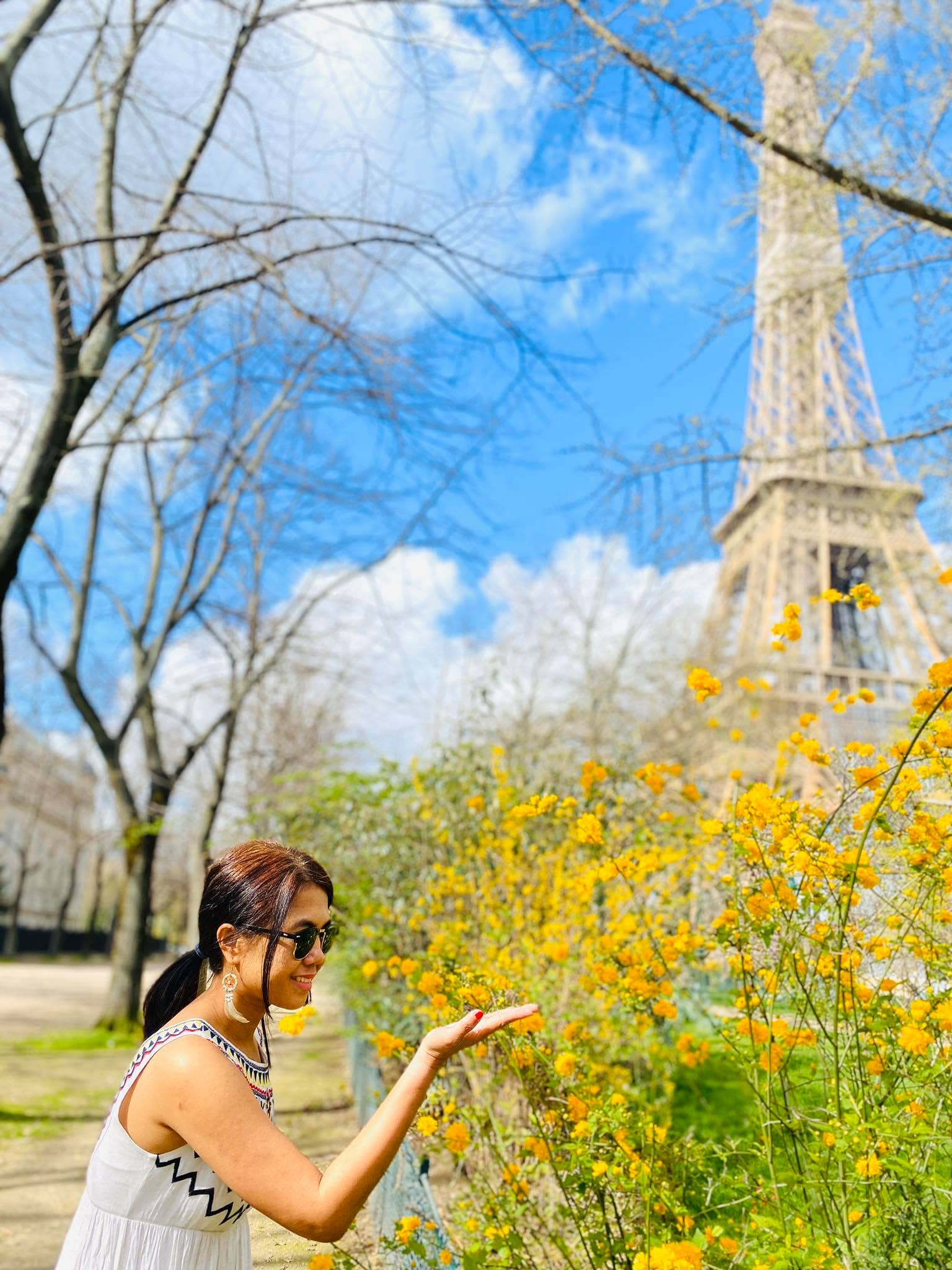 Hi, I'm Christine – a full-time traveler and career woman. Although I'm from the Philippines, my location independent career took me to over 40 countries for the past 8 years. I also lived in 3 continents – from the Caribbean, South East Asia to Africa. France remains special to me, however. From architecture, history, and arts – France is truly an amazing place.