There's just a lot to see and things to do in Montpellier that makes it a must-visit if ever you're heading south.
Located in the South of France, in the region of Occitanie, the city of Montpellier is known both for its old-world charm and youthful vibe. The city has a lot of historic sites, an impressive art museum, and a fascinating district filled with architectural marvels.
Montpellier is also an emerging culinary hub, with diverse nightlife options.  Here's a handy guide to help you make the most of your visit to Montpellier.
12 Best Things To Do in Montpellier, France
1. Walk around the old town of Montpellier
The Old Town area is always a great place to get acquainted with any locale.
As with most French cities, wandering around the cobbled streets and winding laneways is among the things to do in Montpellier that introduces you to some of its attractions.
In this vibrant southern city, the streets are lined with cute cafes, small restaurants, and quaint shops.
Enjoy a meal, savor a drink or shop for souvenirs. This is where you start discovering and exploring Montpellier.
2. Be seen at Place de la Comédie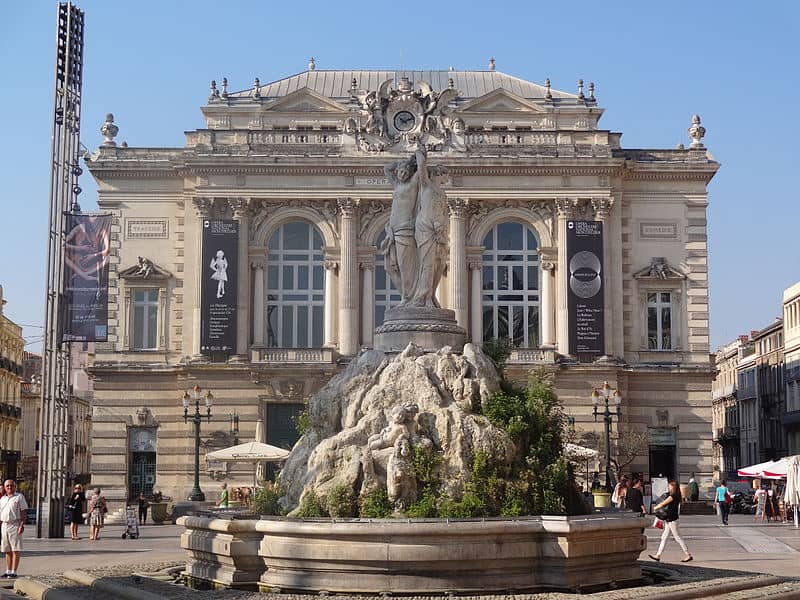 Located at the heart of Montpellier is the Place de la Comédie, which is its cultural center.
Here is where you'll find cinemas along with the city's best restaurants, the art museum and one of the top Montpellier attractions – the Opera House.
Located close to train and tram stations, the Place de la Comédie is also where you'll malls and popular French stores.
The winding streets that lead from this area are also shopping havens where you'll find cool local brands, souvenirs, and goodies.
3. Stroll Through Promenade du Peyrou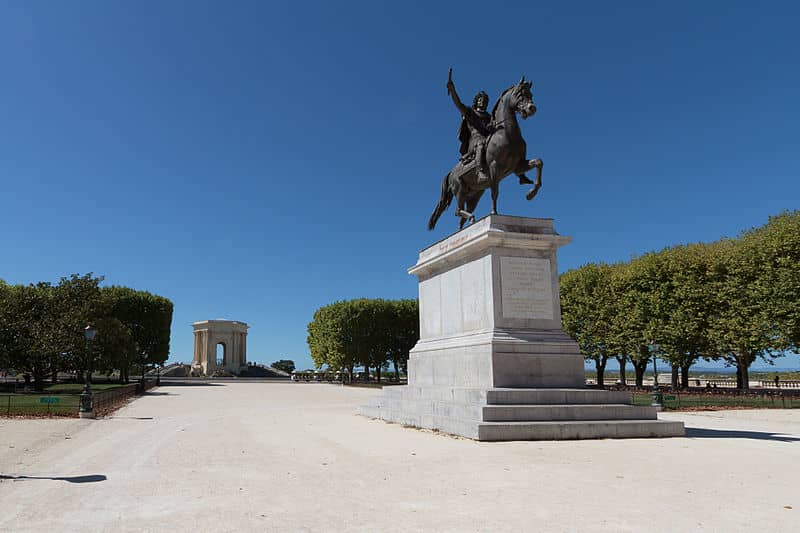 The picturesque Promenade du Peyrou starts from the elegant Arc de Triomphe to the magnificent Château d'Eau.
This part of the city is the work of Etienne Giral and his son Jean-Antoine, and also called the Royal Square of Peyrou.
The chateau-like building meanwhile was designed by Henri Pitot in 1768. Sitting on a pond, the structure is one of the prettiest things you'll ever see in Montpellier.
Behind it, you will find a beautifully preserved Roman aqueduct, a stunning work of art that's not to be missed when in Montpellier.
4. Visit Cathedrale Saint-Pierre, Montpellier
Cathédrale Saint-Pierre was built in 1364 and was originally a monastery.
One of those unmissable Montpelier attractions, this imposing Gothic structure is known for its impressive canopy porch with huge circular columns. It is the seat of the Archdiocese of Montpellier, and is also a national monument.
Located in Montpellier's historical center, it is regarded as the most important Gothic monument in the Languedoc-Roussillon region.
It is also called Montpellier Cathedral and is the biggest church in the city.
5. Wander around Le Château de Flaugergues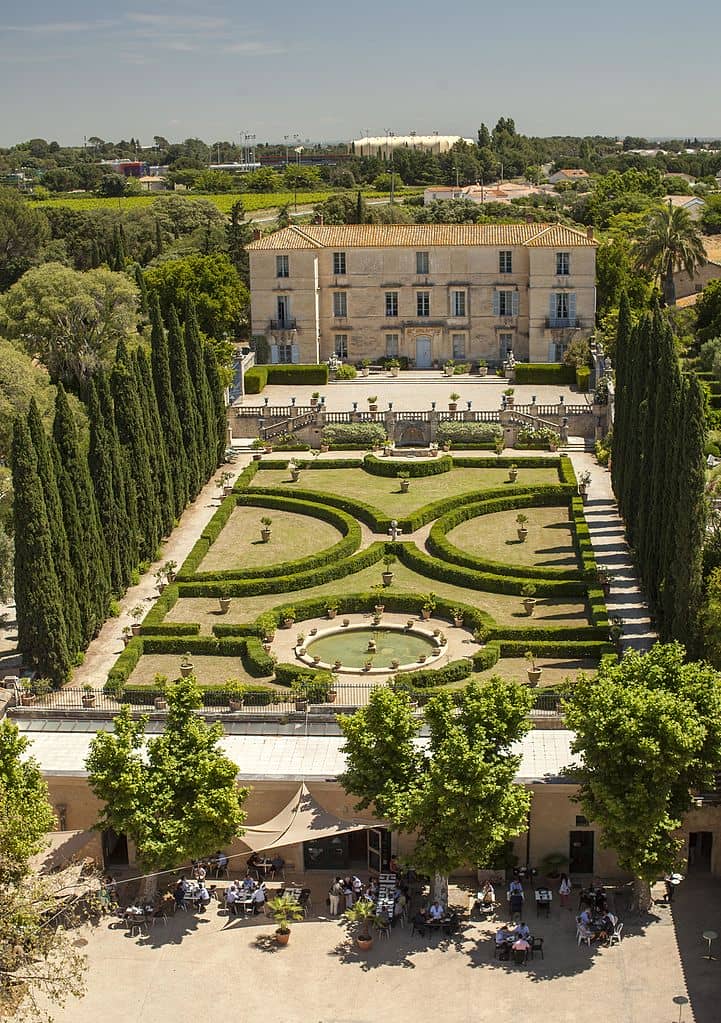 Le Château de Flaugergues is 8th-century "folly" that was owned by the Count and Countess Henri de Colbert. The Château is said to be one of the most original folies (or chateaux) in the city.
It is best known for its elegant and unique staircase that occupies nearly one-third of the interiors.
Considered as one of the best places to visit in Montpellier, the chateau houses some beautiful 18th-century furniture, 17th-century Flemish tapestries, and a collection of porcelain and earthenware.
Le Château de Flaugergues also keeps an impressive archive of documents that where you'll learn more about the history of Montpellier.
6. Explore Musée Fabre
One of the top attractions in Montpellier that's not to be missed is the Musée Fabre. It is home to an outstanding art collection, making it one of the city's most important museums.
It is located at the Grand Place de la Comédie, on the Esplanade. Musée Fabre has a variety of exhibitions, so it is recommended to devote at least two hours when you visit.
With several floors showcasing both excellent art and stunning architecture, this is a definite must when in Montpellier.
7. Check out the Antigone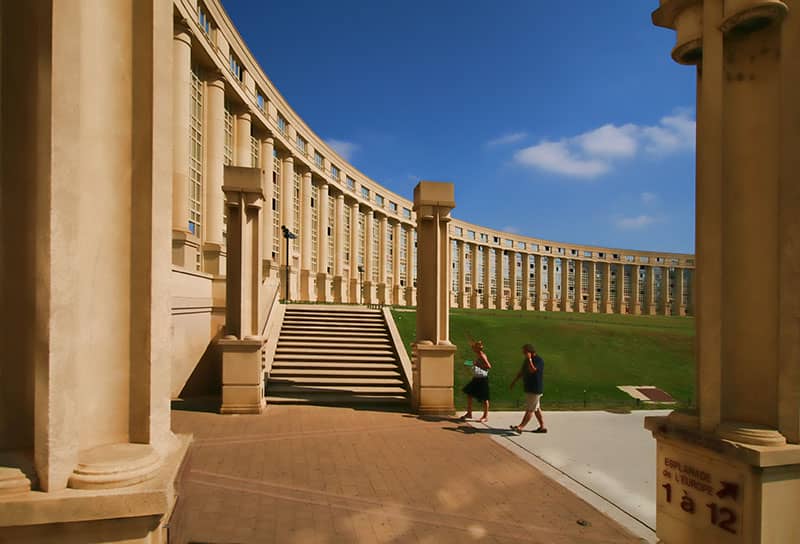 Montpellier is not just about old world charm and fascinating history, it is home to modern marvels as well. Head towards the intriguing Antigone district, a unique neighborhood filled with Neoclassical structures.
Here, everything looks pretty posh and it always surprises visitors when they find out that a number of buildings are actually used for low-cost housing.
There are also offices, restaurants and shops, and the unmissable Hotel de Region, which was made of glass. Antigone is a lovely place for a stroll, and one of the best places to visit in Montpellier.
8. Climb up Montpellier's Porte du Peyrou / Arc de Triomphe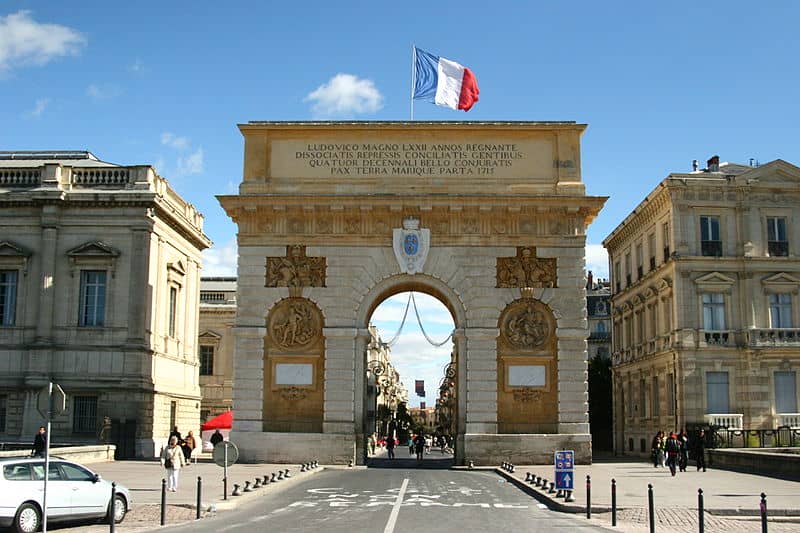 If Paris has the Eiffel Tower, the southern city of Montpellier has Porte du Peyrou (Arc de Triomphe) as its most iconic landmark.
This structure was built for King Louis XIV of France, (also known as the 'Sun King') in 1690. It was from a design by French architect François d'Orbay, who was also known for his work on Le Louvre and Versailles in Paris.
Porte du Peyrou isn't just beautiful to look at, visitors can also climb the 100 steps to the top of the monument.
At the top, you are rewarded with stunning views over the city, making it one of the best things to do in Montpellier.
9. Explore French cuisine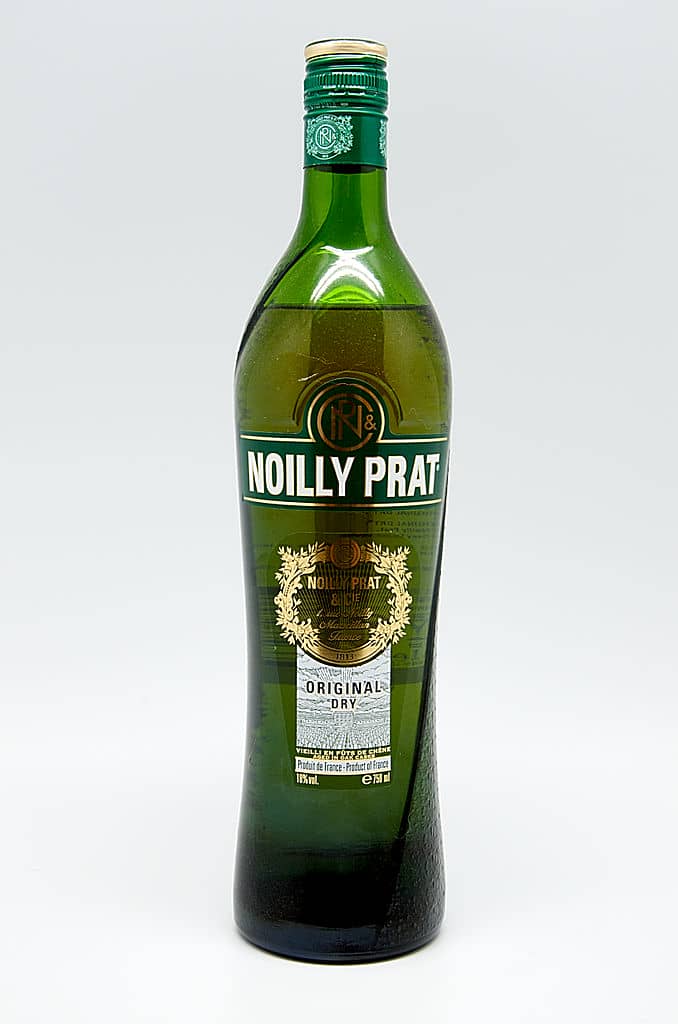 France is known all over the world for its rich culinary history and culture. French cuisine is known to be creative, flavorful, and hearty, and it is one of those things that should be enjoyed when in the country.
Montpellier is slowly emerging as a gastronomic hub, its streets, and neighborhoods dotted with anything from inexpensive eateries to cozy cafes to Michelin-starred restaurants.
Along with exploring its best attractions, discovering more of its culinary delights is a must.
How about a unique take on croissants and macaroons for breakfast? Or a plate of hearty Clapassade? Whatever you eat, remember to try some local wine, like a bottle of Noilly Prat.
10. Enjoy an afternoon along Esplanade Charles de Gaulle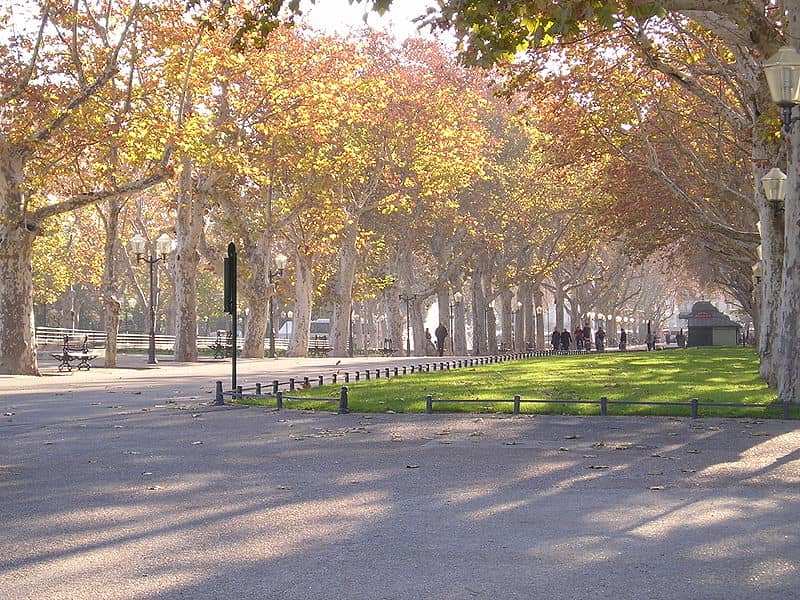 The tree-lined Esplanade Charles de Gaulle is probably one of the most scenic Montpellier attractions. It connects La Place de la Comedie with the Opera Berlioz, and home to a flower market or second-hand book fair during certain days of the week.
Built in 1988, the Esplanade is an homage to the city's original fountains back in the 1700s.
Along the way, you'll also find the kid-friendly Jardine du Champs de Mars and a number of ice cream shops.
11. Watch a Camarguaise Bull Race
When in Montpellier, you simply cannot miss this traditional sporting event. The Camarguaise Bull Race is an event that's popular in most places along the Mediterranean coast.
In this thrilling game, Razeteurs (Camargue bullfighters) go against Camargue bulls in a match that requires skill, agility, and loyalty from both Man and beast.
The games are held from Spring to Autumn, the  Courses Camarguaise in Montpellier as well as in surrounding villages.
12. Enjoy the nightlife in Montpellier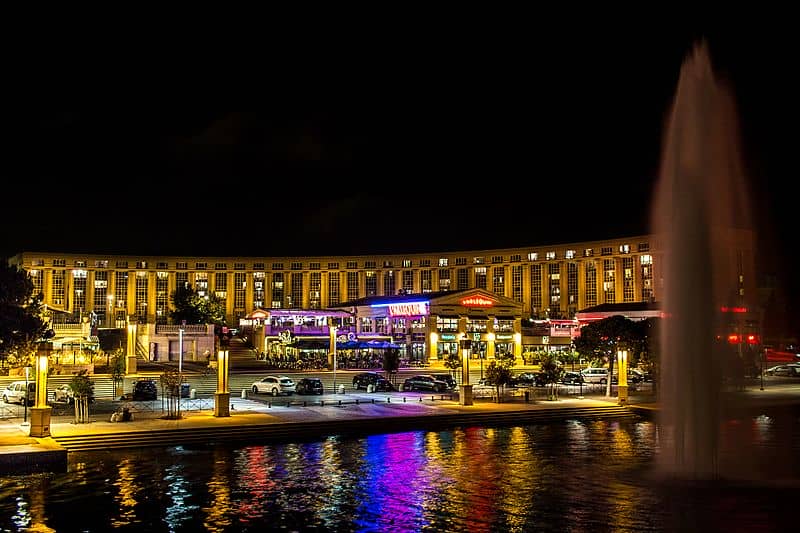 We go back to Montpellier's Old Town, which transforms into a vibrant party hub at night. Check out the streets close to  Saint-Roch Church for some of the city's coolest bars.
There's definitely a place here for you, whether you'd like to sample some local wine, dance the night away or hang-out in a  more laid back pub atmosphere.
From cafe bars to gastropubs, there's something for everyone in the Old Town. It is one of the best things to do in Montpellier at night that's not to be missed.
So, that's our list of the best things to do in Montpellier, France. I hope this helps if you're planning a trip to Montpellier. Do you have any other suggestions for things to see in Montpellier? Let us know in the comments below!
---
New to Airbnb? Get a $43 off for your next trip if you use our link here. 
---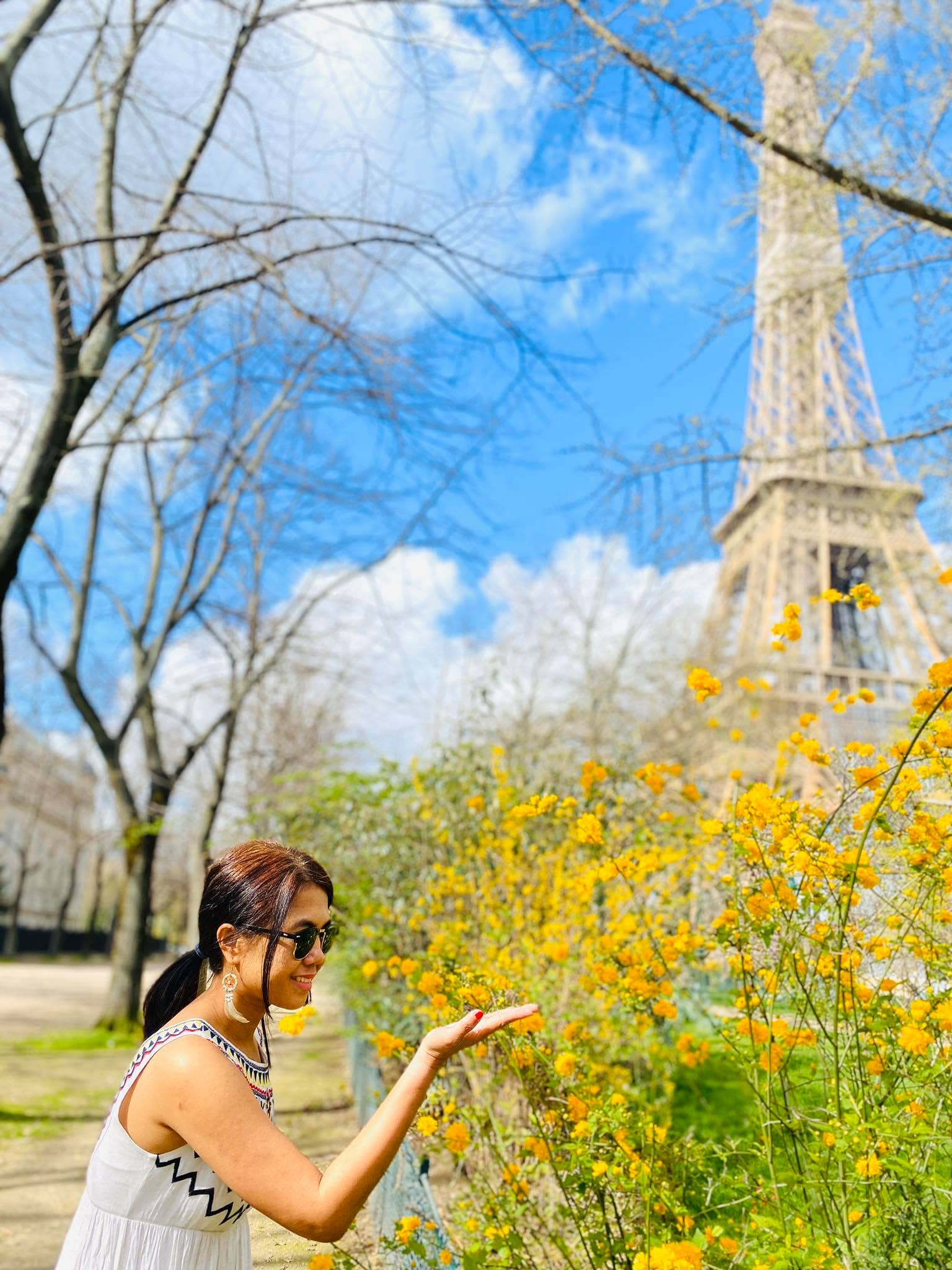 Hi, I'm Christine – a full-time traveler and career woman. Although I'm from the Philippines, my location independent career took me to over 40 countries for the past 8 years. I also lived in 3 continents – from the Caribbean, South East Asia to Africa. France remains special to me, however. From architecture, history, and arts – France is truly an amazing place.