A beautifully preserved town along the Alsace Wine Route, Riquewihr is another prettiest place in France.
It has the usual colorful half-timbered houses that the Alsace is known for, only with a medieval character because of its fortified walls.
Along with the quaint 16th-century houses, Riquewihr is home to a variety of museums and other fascinating structures.
If you are spending at least a day in this town in the wine route, here are some of the best things to do in Riquewihr to fully enjoy your visit.
10 Best Things To Do in Riquewihr, France
---
New to Airbnb? Get $64 off for your next trip if you use our link here. 
---
1. Hang Out at the Vieille Ville (The Old Town) in Riquewihr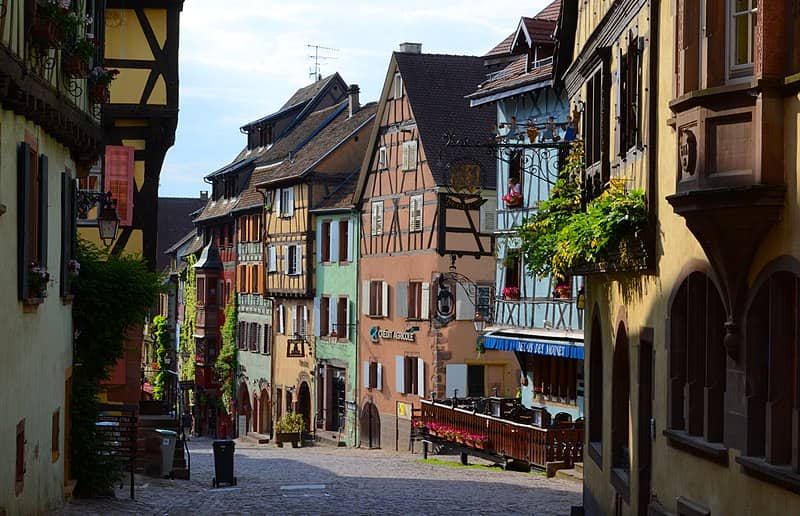 As with most French villages, one if your first things to do in Riquewihr should be to get to know its picturesque Old Town area.
Being here is a literal throwback to the medieval era, with its colorful half-timbered houses and winding streets. This is a lovely place for an easy stroll as you prepare to see more of Riquewihr.
Tucked in the Vosges mountains and surrounded by Alsace vineyards, the Old Town is also an ideal base for exploring forests, the nearby mountains, and the famous vineyards.
Be sure to also enjoy some good local food and wine in the many restaurants around town, and listen when a local shares an eerie ghost story which is quite popular here.
2. Stroll along the Sentier Viticole des Grands Crus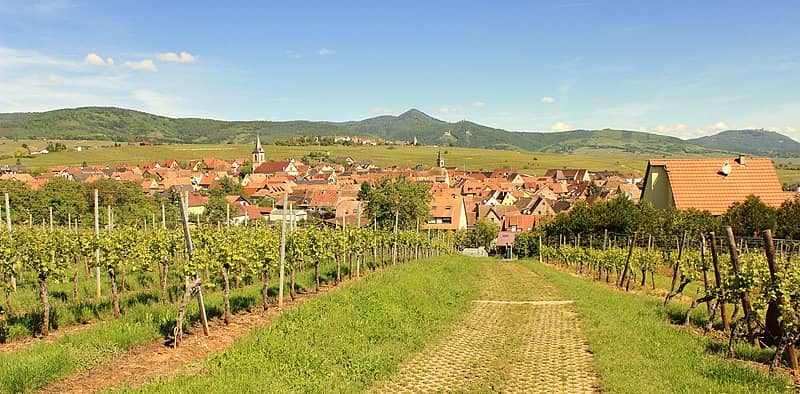 How about a scenic stroll while learning more about the fascinating art and trade of winemaking? That is exactly what awaits you in the Sentier Viticole des Grands Crus.
This is a trail that covers six French communes, all of them scenic and intriguing.
In this route, you get to explore the Alsace countryside, stop in different vineyards, quaint villages and see charming castles.
Like those in Ribeauvillé, The Sentier Viticole des Grands Crus is one of the best things to see in Riquewihr, as you also get to experience stunning views of the Alsace region and the Black Forest.
3. Visit Musée du Dolder in Riquewihr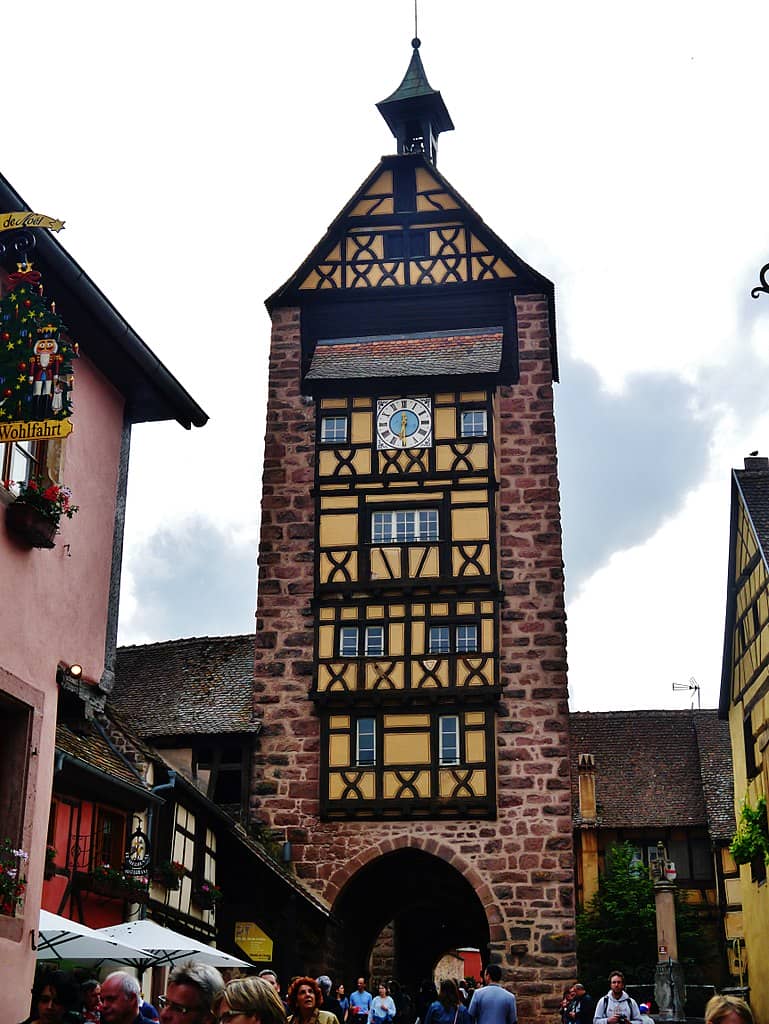 If you are looking for a place to visit in Riquewihr where you'll learn more about its history and culture, Musée du Dolder is the place for you.
It is home to some fascinating historical items and artifacts that showcase the town's rich heritage.
Check out medieval weapons including guns, as well as remnants from old fortifications. Most of these items will take you back to Riquewihr' s transformation that took place from the 12th to the 17th century.
4. Be Amazed at the Kathe Wohlfahrt Christmas shop
View this post on Instagram
A quirky place to visit in from Riquewihr is the bright and beautiful Kathe Wohlfahrt Christmas shop. The shop has a festive and Christmas-y atmosphere all year round.
Apart from decor, gifts, and souvenirs, Kathe Wohlfahrt Christmas shop also has cellars where you get to sample some wine. Riquewihr is in the Alsace wine route so it is a must to try some of their best.
At Kathe Wohlfahrt Christmas shop, two of the most recommended wines are the Riesling and Gewurztraminer, which are also popular in the region.
5. Sample some wine at Dopff & Irion in Riquewihr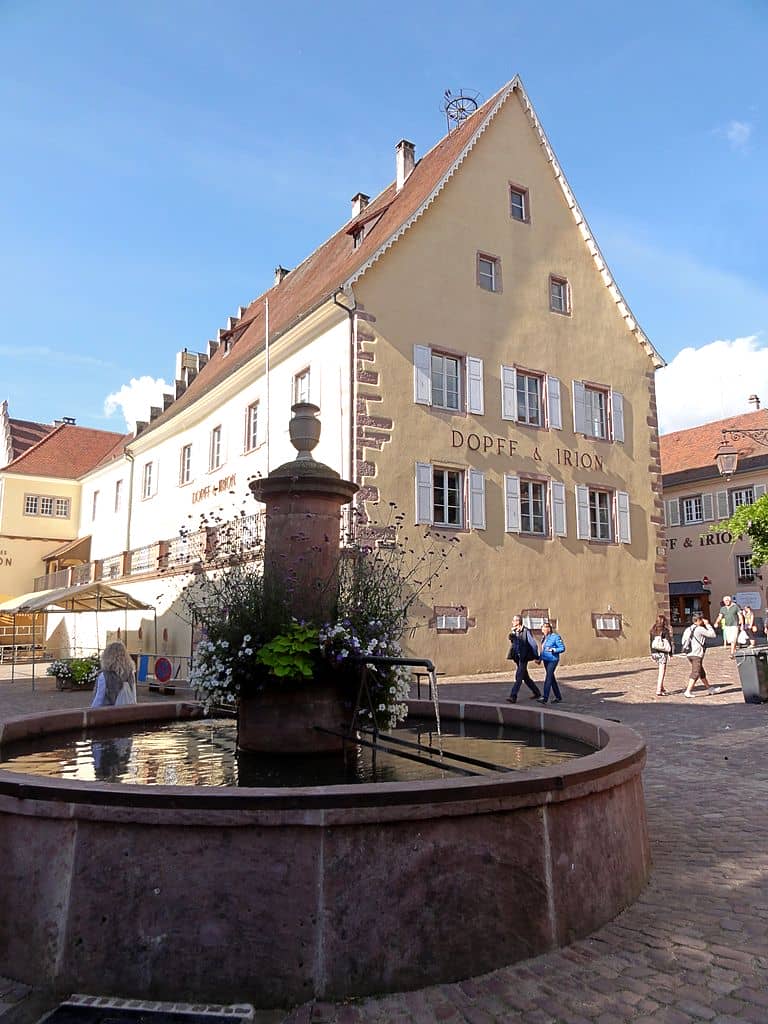 Since we're in the subject of wine, and since Riquewihr is in a famous wine trail, then a visit to Dopff & Irion is a must.
Founded in the 16th century, this wine estate is among the leading wine producers in Riquewihr and has been around since the Muddle Ages.
The Dopff & Irion vineyards are where the popular L'Exception 2008 Cremant Pinot Gris and  2010 Grand Cru Schoenenbourg Riesling came from. They are delicious and you'll want to bring home a bottle or two.
While you're here, check out the central cellar of the building, where they offer tastings some amazing wine-related tips from the friendly and knowledgeable staff.
6. Explore The Thieves' Tower and the Winemaker's House
Once a prison, this 14th-century defensive tower is one of Riquewihr's attractions.
It now houses the Museum of the Thieves, and still has its old underground cell or oubliette as well as a strappado (an instrument of torture) that was last used in the 18th century.
The upper floor of the building, meanwhile, contains the 1563 wine grower's house, with its furnished bedroom and kitchen.
You will also find here a storeroom that keeps tools as well as a cellar.
7. Alsace Wine Route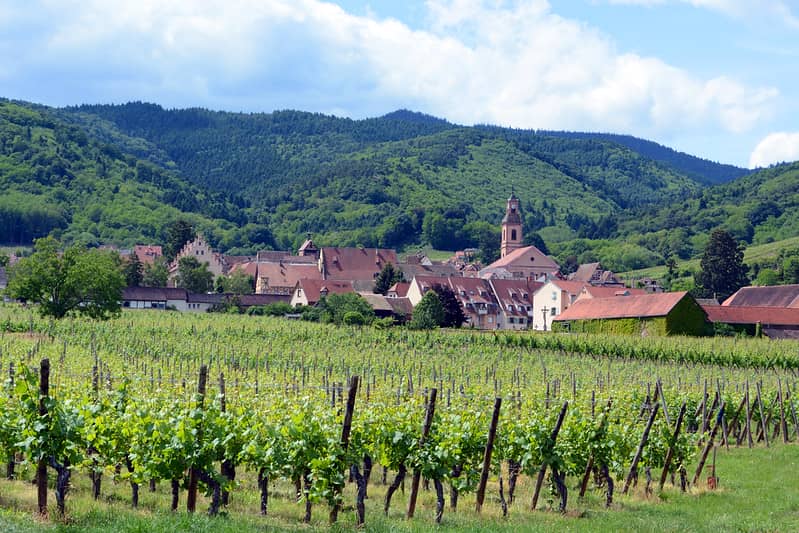 The Alsace Wine Route is where Riquewihr is located, and a definite must-visit. This wine trail starts in Strasbourg in the north all the way to Mulhouse in the south.
Apart from the vineyards, the area also has lush, diverse landscapes as well as picturesque villages.
A good way to see more of the Alsace Wine Route aside from joining an organized tour is by car or bike. This way, you get to stop whenever and wherever you like to enjoy the sights at your own pace.
8. Haut Koenigsbourg Castle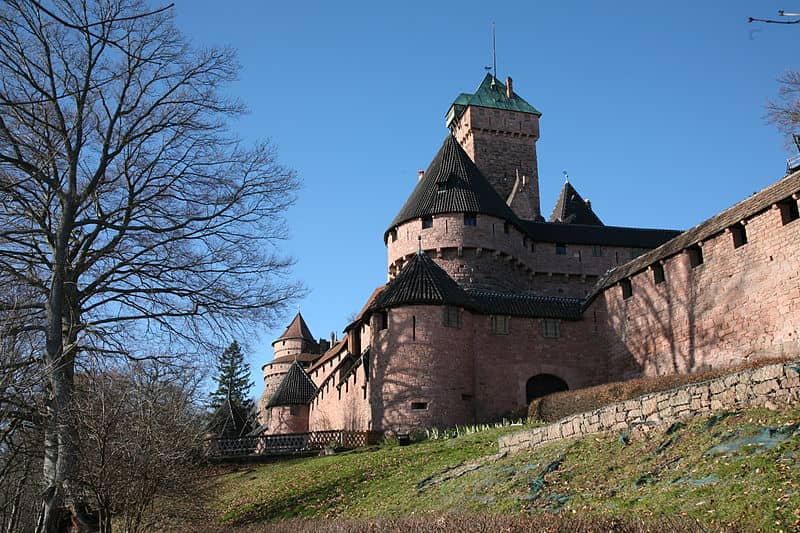 Located in the commune of Orschwille, Haut Koenigsbourg Castle is only around 20 minutes from Riquewihr center.
The drive from Riquewihr to Haut Koenigsbourg Castle is one of the most scenic routes in this part of the Alsace. The countryside views are definitely stunning.
The uphill journey is worth it, as you are rewarded with an up-close look at the well-preserved castle. And the views from the castle are just as incredible as it overlooks the Upper Rhine Plain.
Haut Koenigsbourg Castle has also been classified by the French Ministry of Culture as a Monument Historique and it's one of the best castles in France. 
9. Visit Hunawihr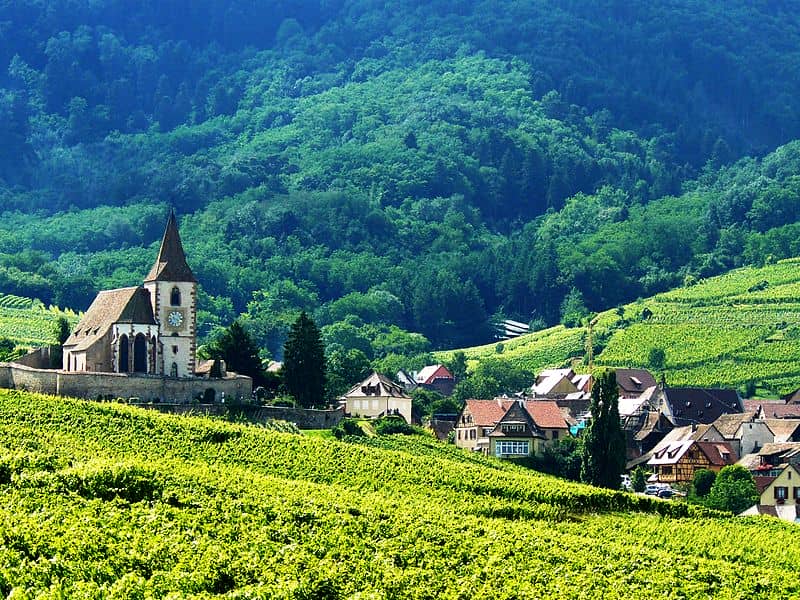 Another great place to visit while you're in Riquewihr is the nearby Hunawihr, another pretty village in the Alsace. This place is known as a haven for storks, as it has a sanctuary that helped save the majestic birds from extinction.
Around Hunawihr, you can see these storks' large nests on top of many local structures, including church spires.
From the village's churchyard, you can also enjoy sprawling views of lush green vines planted on the hillsides.
10. Go on a day trip to Kaysersberg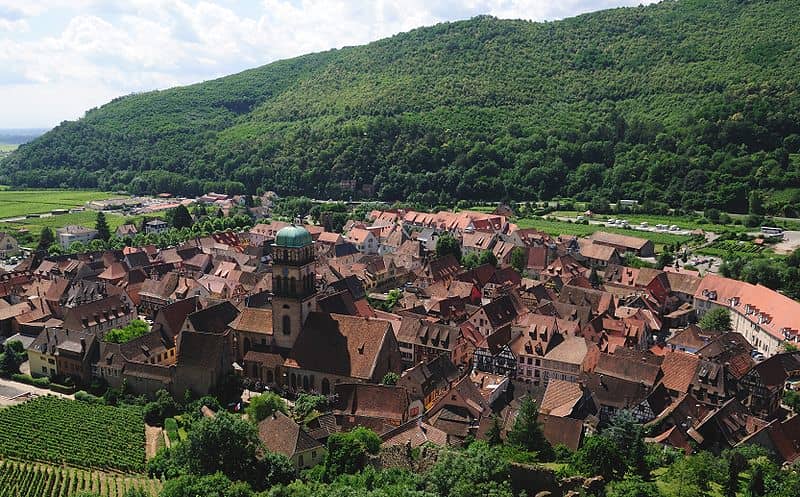 Under twenty minutes by bike or car, you can easily reach Kaysersberg from Riquewihr. It is also a popular day trip from Strasbourg if you are in the city.
Often an underrated Alsace destination, Kaysersberg is a must-visit if you think you have seen enough of Riquewihr's attractions. It can be easily explored on foot, and the best place to start is by the Fontaine Constantin.
This pretty fountain is situated amongst colorful half-timbered houses, and the perfect base to start exploring the village.
Stroll along the Weiss riverfront, enjoy the views from Ancien Lavoir or Pont Fortifie, or visit the Château du Hohlandsbourg.
This beautifully restored castle dates back to the 13th century. It also has a museum that you can visit to learn about its history.
So, that's our list of the best things to do in Riquewihr, France. I hope this helps if you're planning a trip to Riquewihr. Do you have any other suggestions for things to see in Riquewihr? Let us know in the comments below!
---
New to Airbnb? Get $64 off for your next trip if you use our link here. 
---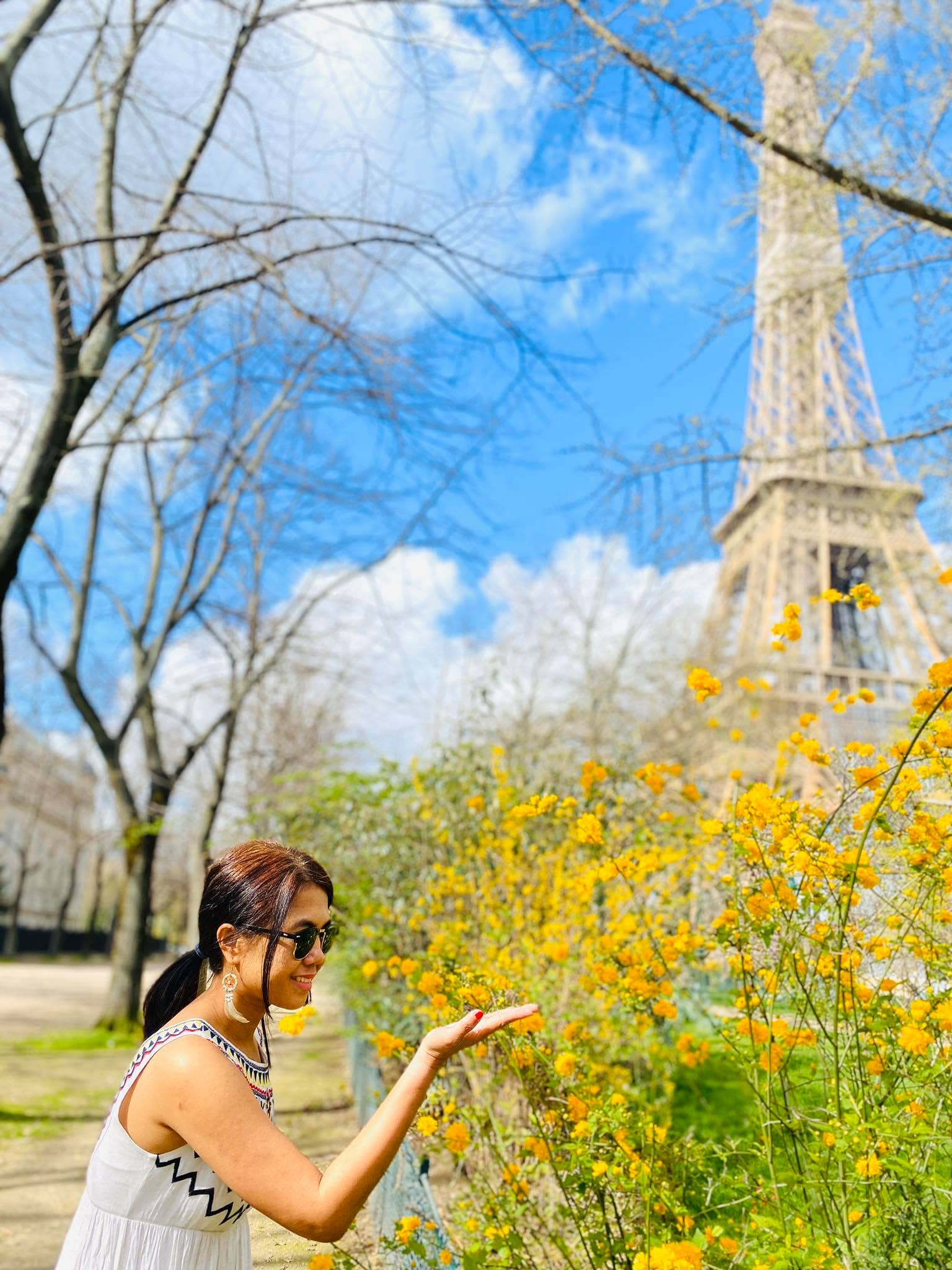 Hi, I'm Christine – a full-time traveler and career woman. Although I'm from the Philippines, my location independent career took me to over 40 countries for the past 8 years. I also lived in 3 continents – from the Caribbean, South East Asia to Africa. France remains special to me, however. From architecture, history, and arts – France is truly an amazing place.