Distinctly old world with its majestic cathedral, quaint burghers' houses, and Louis XV buildings, Strasbourg is a city of rich culture and history.
Stroll along the cobblestone streets, spend a quiet afternoon by the scenic canals of its ancient quarters, admire the well-preserved structures and get to know its 2,000-year history. It is also one of the most beautiful towns in France.
---
New to Airbnb? Get $64 off for your next trip if you use our link here. 
---
Go museum hopping and get acquainted with its art scene as well as the Alsatian culture — Strasbourg is a city full of wonderful discoveries. It is also a good base so if you want to check out other destinations, you can easily do a day trip from Strasbourg.
Here's a guide that highlights the best things to do in Strasbourg, France.
11 Best Things To Do in Strasbourg, France
1. Grande Île
‪As it's crossed by the Ill river, several islands comprise Strasbourg and the most popular is Grande Île. Its name translates to 'large island' and is known as the historical center of the city.
This is where you'll find most of Strasbourg's attractions such as‬ 4 medieval churches, several hotels, and palaces from the 18th century and the world-famous Strasbourg Cathedral‬ (Cathédrale Notre-Dame de Strasbourg).
This area is also a ‪UNESCO World Heritage Site and the ideal starting point for your Strasbourg visit especially if you're pressed for time.
If you're planning to stay in Strasbourg longer, stay for an hour or two here, walk around or stop at every attraction, and take in the city's historical atmosphere. ‬
2. Strasbourg cathedral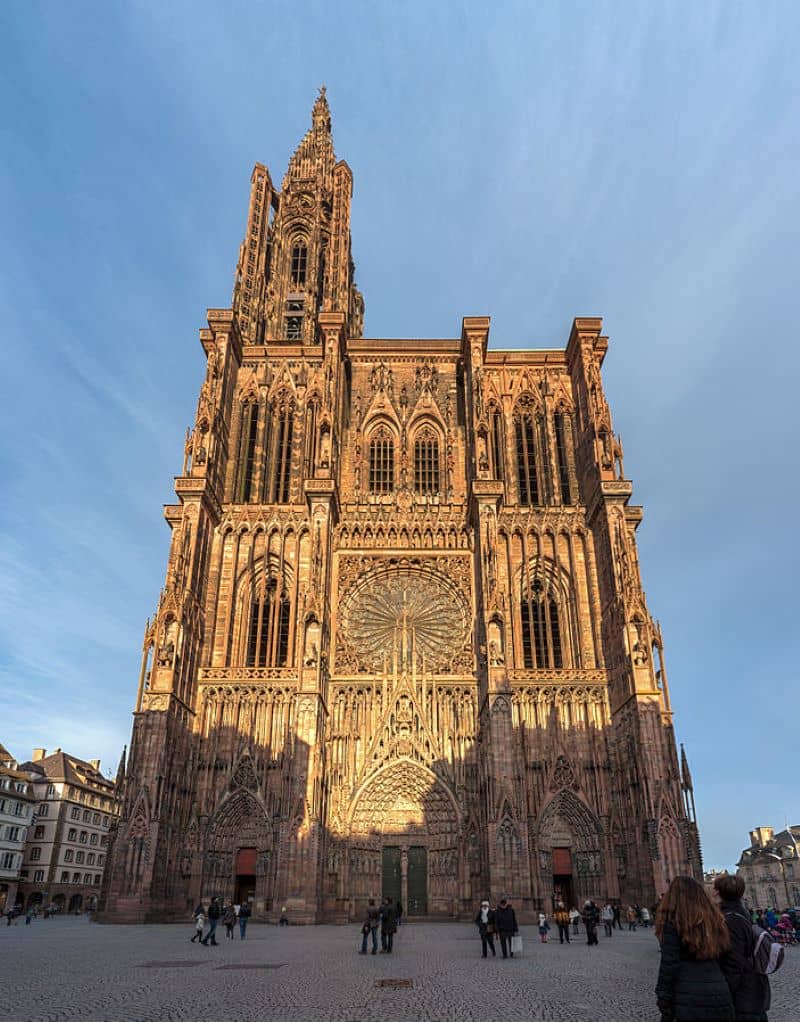 Without a doubt the most famous Strasbourg attraction, the ‪Notre-Dame de Strasbourg cathedral is also the oldest ‪Gothic cathedral in the world‬.
It is an iconic Strasbourg symbol, which you can visit for free to check out its architectural marvels namely, the‪ highest spire which dates back to 1439, the large rose window on the main facade and the astronomical clock, with its animated automatons.
Another must-see the feature is the platform, which is 332 steps u and basically the cathedral's rooftop. It provides stunning panoramic views over the city and you can even see all the way to Germany. ‬
Opening Hours
Monday to Sunday – 7:00 AM to 11:20 AM – 11:40 PM to 7:00 PM
Admission Fee
€2 – for the astronomical clock
€4.60 – for the viewing platform.
Contact Information
Address: Place de la cathédrale 67000 Strasbourg
3. Place Kleber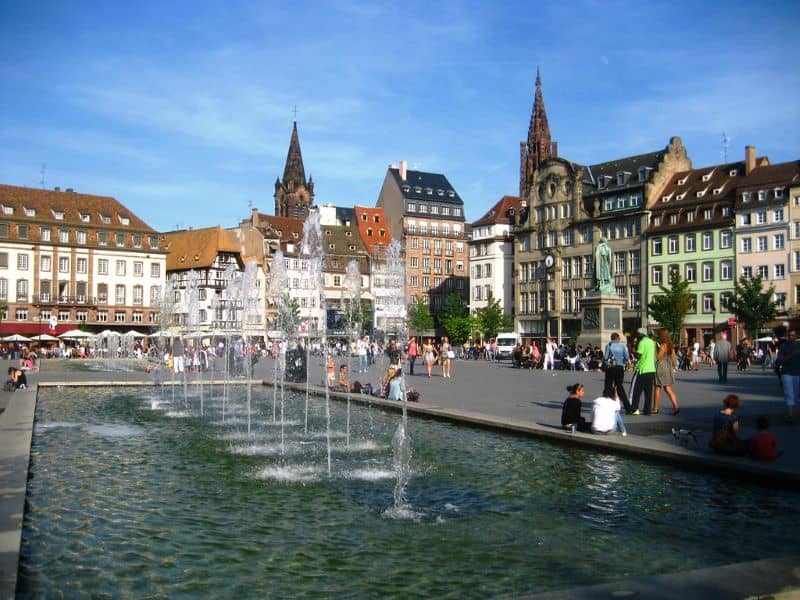 Another place where you can hang out and just take in the local vibe is the Place Kleber or Kleber Square.
It is an attractive pedestrian area with flower beds and fountains, a favorite meeting place among the locals, and where you can admire a huge brightly lit tree during the holidays.
Another feature of the Kleber Square that you must check out is the Aubette, pink sandstone building that dates back to the late 1700s.
4. Place Gutenberg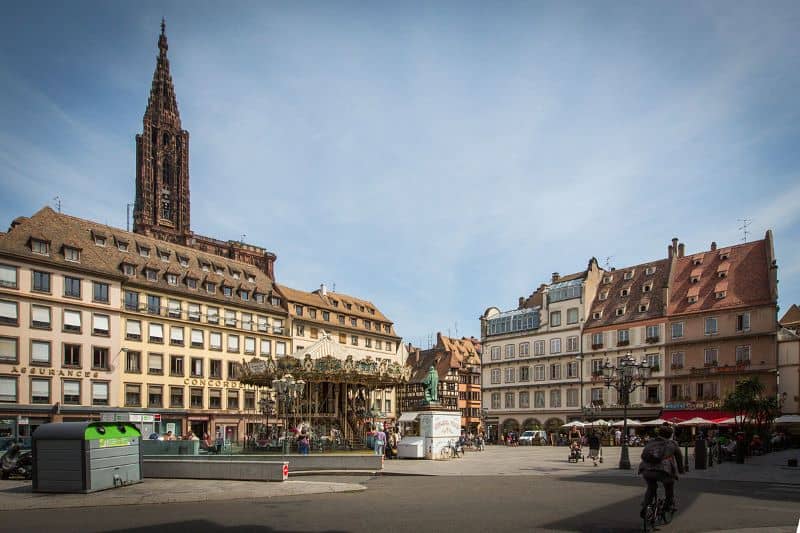 Named after the inventor of the printing press who made Strasbourg his residence for 20 years, this square's main feature is the‪ Renaissance building of the Chamber of Commerce.
Place Gutenberglooks especially stunning in the evening, as buildings that house cafés, bars, and restaurants light up the area.
A former administrative area from the middle ages to the 18th century, dinner or drinks here is now among the best things to do in Strasbourg during the night.
Be sure to get seats on the terraces for lovely views of the square and surrounding areas.
5. Palais Rohan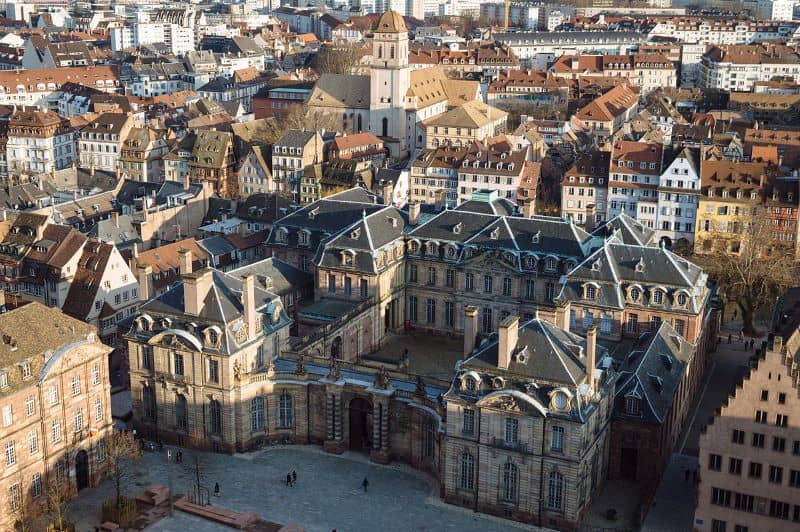 Another major point of interest in Strasbourg is the Rohan Palace‬ (Palais Rohan). Located in Grande Ile, it used to be home to 4 princes of the Rohan family.
It now houses 3 museums‪: the archaeological museum, the museum of fine arts which features works by Botticelli to Goyat and Rubens and the Museum of Decorative Arts.
If you don't have time to visit the museums, be sure to check out the majestic architecture and facade of the Palais, which is quite majestic. ‬
Opening Hours
Monday – 10:00 AM to 6:00 PM
Wednesday to Sunday – 10:00 AM to 6:00 PM
Contact Information
Phone: +33-368985160
Address: 2 Place du Chateau, 67000 Strasbourg, France
6. Strasbourg Museum of Modern and Contemporary Art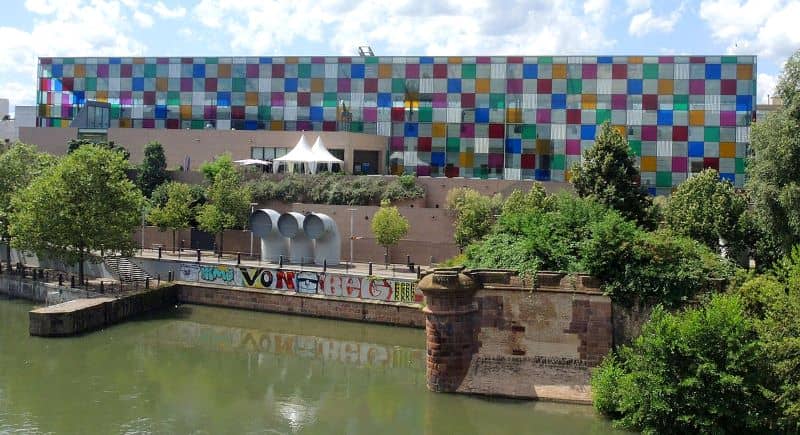 Situated in the Petite France district and close to the Vauban Dam‬. Is the Musée D'Art Moderne et Contemporain de Strasbourg or the‪ Strasbourg Museum of Modern and Contemporary Art.
A definite must-see, this is one of the best places to visit in Strasbourg where you'll get to see some important works by ‪Brauner, Monet, and Picasso‬. The museum's auditorium, graphic art room, and library are worth a visit.
The ‪Strasbourg Museum of Modern and Contemporary Art also has a terrace where you can enjoy a drink ad you take in the sweeping views over the district.
Opening Hours
Tuesday to Sunday – 10:00 AM to 6:00 PM
Admission Fee
Full price – 10 €
Reduced rate –  6.50 € on presentation of a supporting document:
group bookings, student, seniors, visitors with a guide, holders of an international student card, and
cezam key cardholders up to the age of 25.
These prices are given for information only and are subject to change during temporary exhibitions.
Contact Information
Phone: +33-368985000
Address: 1 place Jean Hans Arp 67000 Strasbourg
7. La Petite France Strasbourg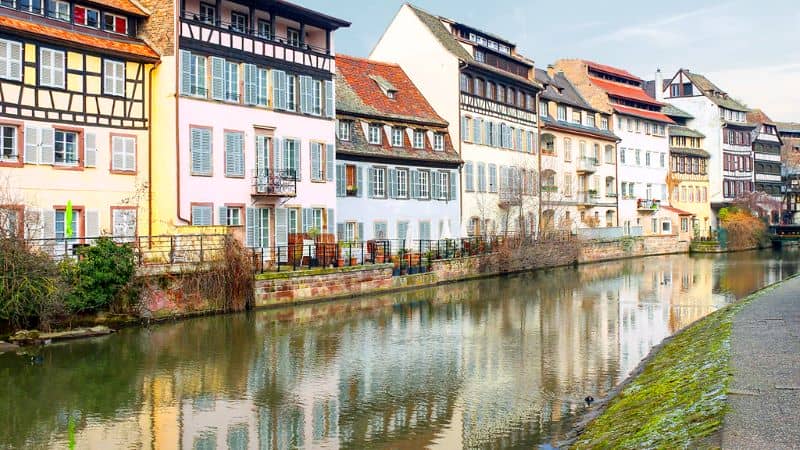 Known as the most attractive place in Strasbourg, the La Petite France area is situated in the western part of the Old Town on the Grande Ile.
This part used to be the poorest and smelliest centuries ago but has eventually transformed itself to the picturesque district that it is now, and among the best places to visit in Strasbourg.
When in La Petite France, you shouldn't miss the half-timbered house‪ Maison des Tanneurs, the storybook-like bridge Ponts Couverts, a dam called Barrage Vauban which has an observation deck that provides scenic views of most of Petite France and the Strasbourg Cathedral.‬
8. Broglie Square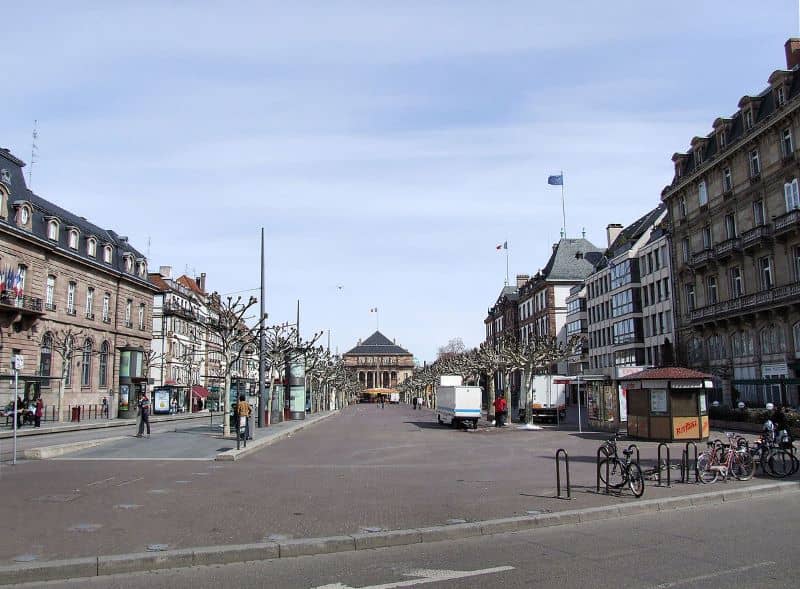 ‪More like a tree-lined walkway than a square, Place Broglie is one of the best places to see in Strasbourg. A stroll around this area is an ideal thing to do on an early morning or late afternoon, with a huge cup of coffee or tea to go.
A walk through Broglie Square is a walk through some of the most stunning mansions from the‬ 18th century such as ‪.
This lace is also part of those areas where the world-famous ‬Christkindelsmärik is held yearly, so it is really a must-visit and should be part of your Strasbourg itinerary.
9. Strasbourg Christmas Market or Christkindelsmärik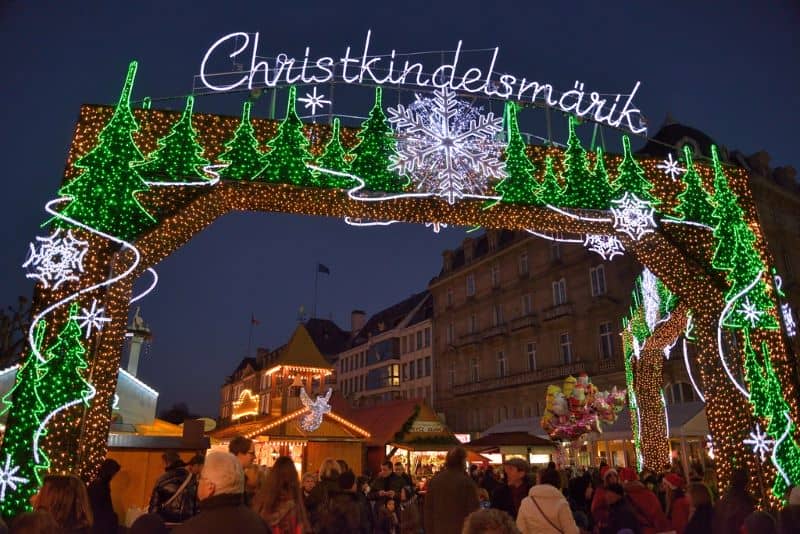 Without a doubt, one of the best seasonal things to do in Strasbourg is to visit their Christmas Market.
Known to be the oldest Christmas market in France, with more than 300 chalets spread in a dozen or more sites that include the ‪Broglie Square‬ and the Cathedral Square.
This is such a festive event that's a must-see not only for what's on sale but also for the bright, colorful decor that transforms historic Strasbourg into a Christmas wonderland.
The Christmas market gets pretty crowded, attracting 2 million visitors in a single month during the holidays.
Be sure to plan your trip and go there early to buy a variety of decor, local and regional crafts as well as food products.
Opening Hours
On November 24, from 2:00 pm to 9:00 pm
From 22 November to 23 December, From 11:00 am to 8:00 pm every day
Nocturne until 9:00 pm on Fridays and Saturdays
December 24th, from 11:00, am to 6:00 pm
Contact Information
Address: 17 places de la Cathédrale67082 STRASBOURG CEDEX
Phone: +33-388522828
Email: info@otstrasbourg.fr
10. Wine and Cheese tastings
When in Strasbourg, you simply can't miss out on their wine and cheese. There are many places within Strasbourg where you can sample a wide variety of cheeses.
A great number of these cheeses are unique to France such as Brie de Meaux, Camembert de Normandie, Époisses, Livarot, Maroilles, Pont Évêque, Bleu cheeses and certain types of goat's milk cheeses.
If you're in Strasbourg and want to try something tasty, then cheese sampling is a must. Another must-do and a perfect partner for all the cheese you had is to try the wines of the Alsace region (where Strasbourg is part of).
These are usually white wines and has a unique floral peach aroma and a rich, slightly sweet taste. Be sure to add these to your itinerary as they're among the best activities to do in Strasbourg.
11. Check Out the Villages Around Strasbourg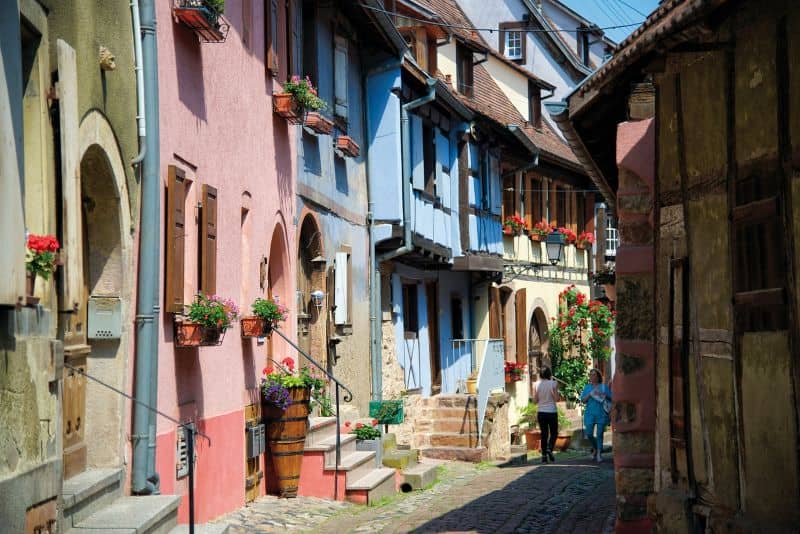 If you've explored enough of Strasbourg bit want to see more that's close by, there are charming villages that you can visit that are just as fascinating. These are typical Alsatian Villages with half-timbered houses, all quaint and beautiful.‪
There's Colmar that's like a "little Venice" district with its picturesque old town, or ‬ Eguishem where you'll find more half-timbered houses, balconies with flowers, fountains as well as ramparts.
You may also want to see what's said to be the prettiest village in France — Riquewihr which is located in the midst of the vineyards.
The stunning medieval houses in ‬Obernai's historical center might interest you, or how about the 18th-century Château des Rohan?
You may visit one or two of these villages, or all of them to really make the most of your time in Strasbourg.
---
Planning to visit Strasbourg and don't know where to stay? Here's our list of top hotels in the city.
---
New to Airbnb? Get $64 off for your next trip if you use our link here. 
---
 Like it? Pin It!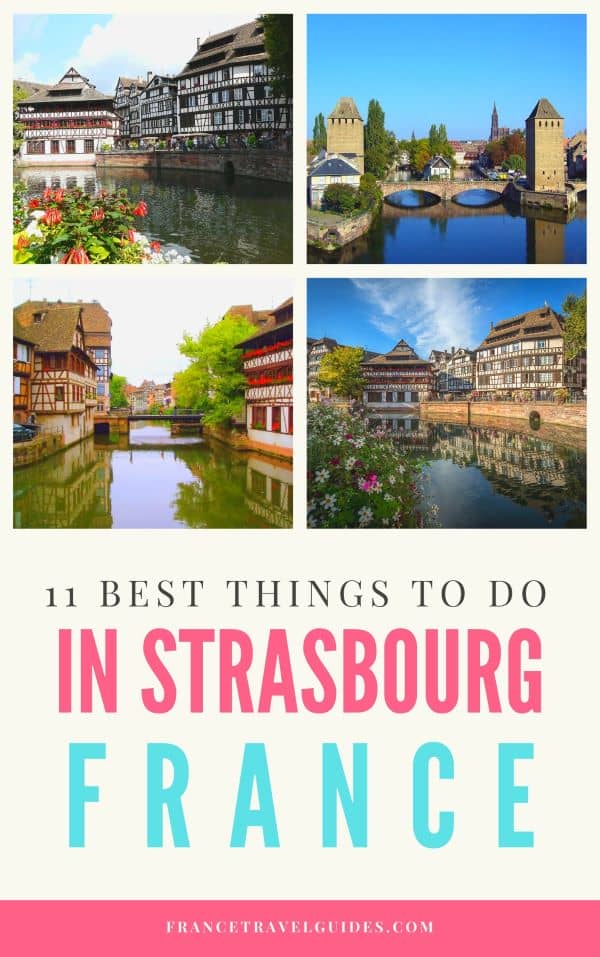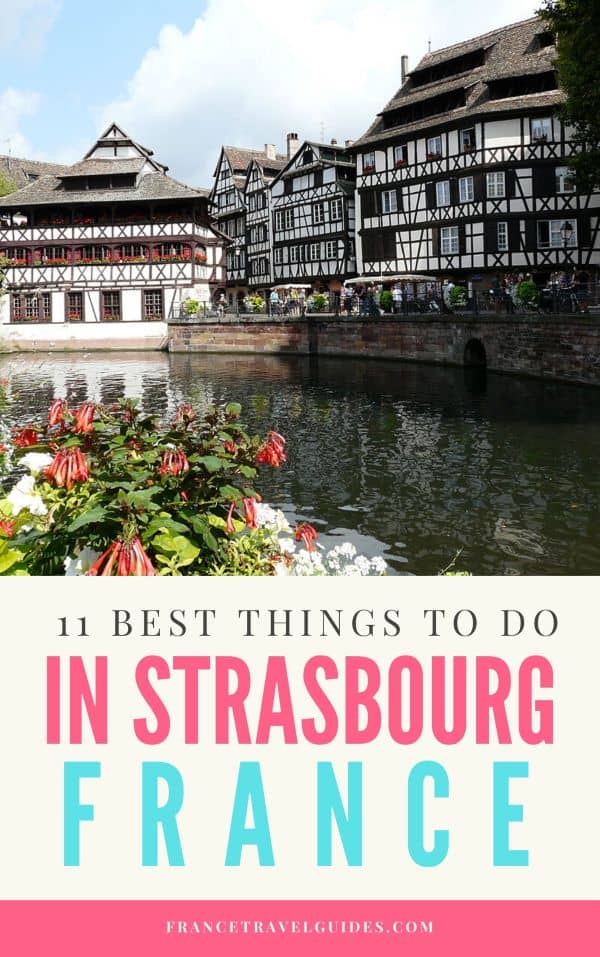 ‬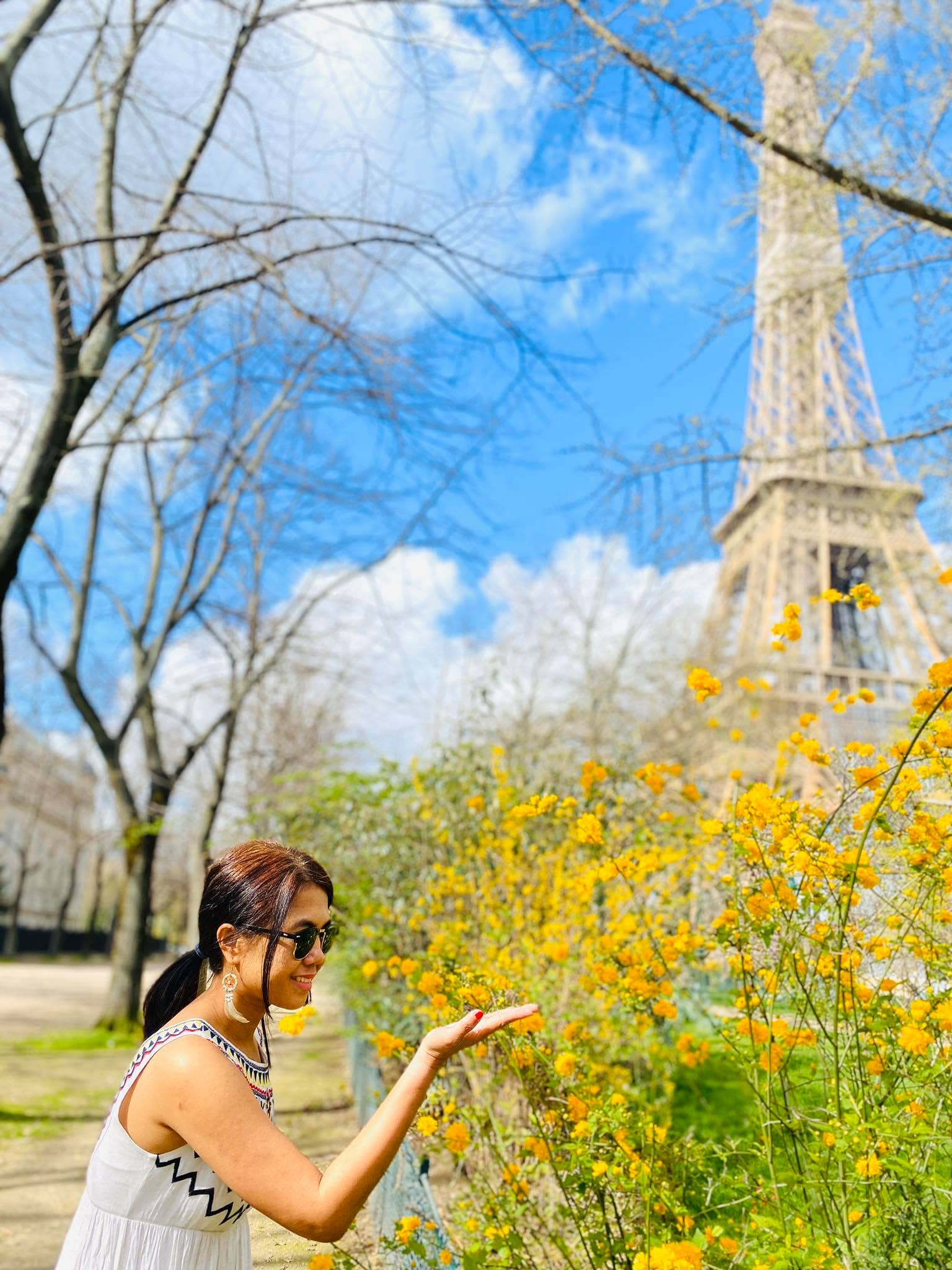 Hi, I'm Christine – a full-time traveler and career woman. Although I'm from the Philippines, my location independent career took me to over 40 countries for the past 8 years. I also lived in 3 continents – from the Caribbean, South East Asia to Africa. France remains special to me, however. From architecture, history, and arts – France is truly an amazing place.