A Mediterranean port in Southern France, Cassis is known for its picturesque harbor and scenic Calanques. There are also many things to see and things to do in Cassis.
It is also one of the best day trips from Marseille and Aix-en-Provence.
A town that continues to inspire artists and writers alike, Cassis makes for a wonderful alternative to bigger and more crowded cities.
---
New to Airbnb? Get a $43 off for your next trip if you use our link here. 
---
A good mix of history, culture, and adventure, this French commune has something in store whatever you're interested in.
From visiting medieval structures to limestone inlets to vineyards on hills – here are some of the best things to do in Cassis, France.
11 Best Things To Do In Cassis, France
1. Stop at Port de Cassis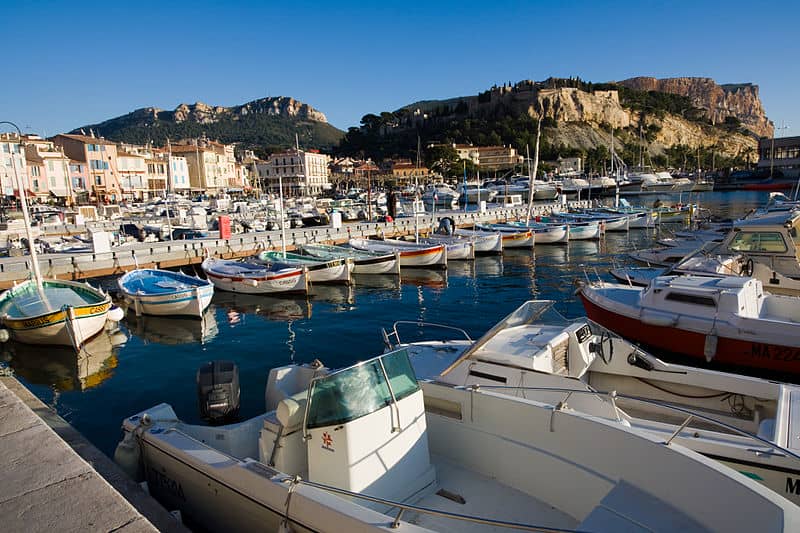 The picturesque harbor is a must-see when in Cassis. This scenic port is straight out of an Impressionist painting.
Here you'll see the many boats docked in the water, the colorful cafes and restaurants, and the Chateau de Cassis perched high on a cliff.
Set against the sunny skies of Southern France, Port de Cassis is the ideal first stop as you start exploring this pretty town by the Mediterranean.
2. Walk along Place Baragnon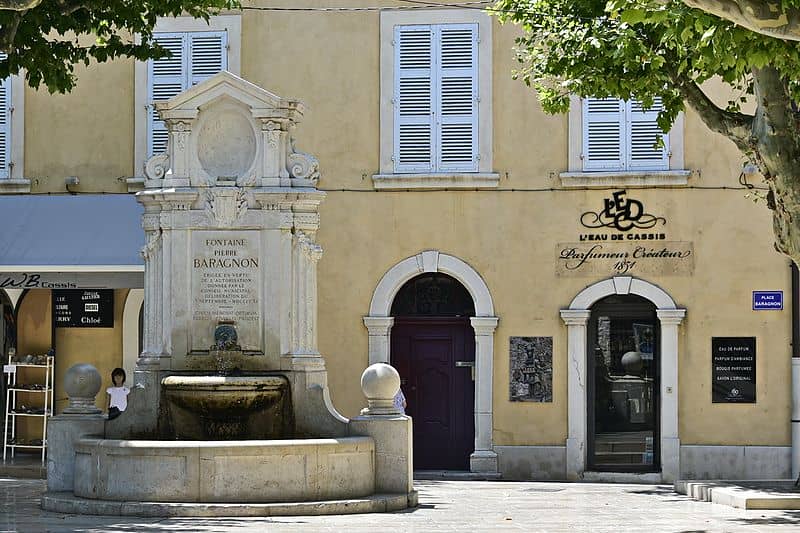 Situated next to the historic town hall, Place Baragnon is the place to be in Cassis for relaxing walks and as the site for events and open-air markets.
This is where you can buy souvenirs and local goodies to bring home such as cheeses and local wines.
These markets are set up every weekend, so time your visit to make sure you'll score the best finds.
Artists' markets are also held here occasionally, which also features art exhibits, usually held in the courtyard of the  Town Hall.
3. Explore the Place de la République
Located close to Place Baragnon and Hôtel de Ville, Place de la République is another interesting place to see in Cassis.
It was originally called Place Royale, and known for its Fountain of the Four Nations, which was built in the 17th century to honor the 'sun king' Louis XIV.
Today, a more modest structure decorated with fresh flowers stood in its place. This tiny square is also known as the place where artist Paul Signac wrote to Vincent van Gogh the following words back in 1889:
"My dear friend, After wandering along the coast, I've settled in Cassis. I'm sending you my address so that you can give me good news about yourself…" 
4. Admire the Chateau de Cassis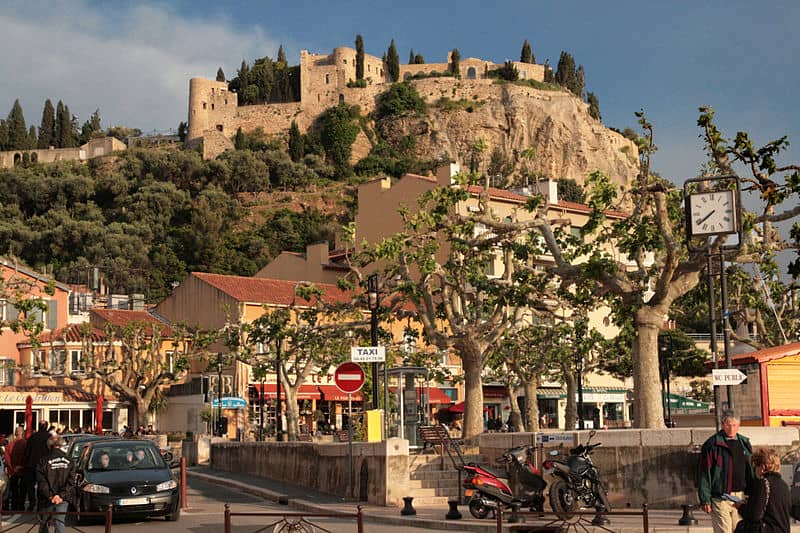 Chateau de Cassis may not be your usual French medieval castle that's open for tours, but it is a luxury chateau hotel now so you can stay here instead.
If you'd like to splurge and spend time in a chateau, then this is the place for you. This 11th-century chateau offers scenic views of the Mediterranean and the town of Cassis.
For those who'd rather see the hotel from afar, the Cassis Harbour offers great views of the chateau. Its dramatic location, standing majestically on cliffs make it one of the best things to see in Cassis.
5. Hang out at the local beaches
View this post on Instagram
Apart from its picturesque port and historic square, Cassis takes pride in its scenic beaches. The ones here are your typical European coast – either pebbly or rocky.
The crystalline waters are warm, and the shores are ideal for relaxing walks in the early morning or late afternoon to catch the sunset.
Escape to these Cassis beaches in between exploring the town, visiting vineyards, or hiking the Calanques.
A few recommended beaches here are Plage de l'Arene, Le Bestouan, and Plage du Corton. These are also among the best beaches in France.
6. L'Hôtel de Ville (Town Hall)
A beautiful mansion that offers a peek at shat it's like to live in the 17th century, Hôtel de Ville is a must-visit Cassis attraction.
Located in Place Baragnon, the mansion was originally built for  Désiré de Moustiers, the former consul of Marseille.
Today, it is known for its well-preserved period interiors that include a stairway with marble banisters, Salon De'Honneur with its coffered ceilings, Renaissance ornate beams, and glass floor where you can see medieval ruins.
Listed as a historic building, L'Hôtel de Ville has been the Cassis Town Hall since 1945.
7. Boat Trip to the Calanques de Cassis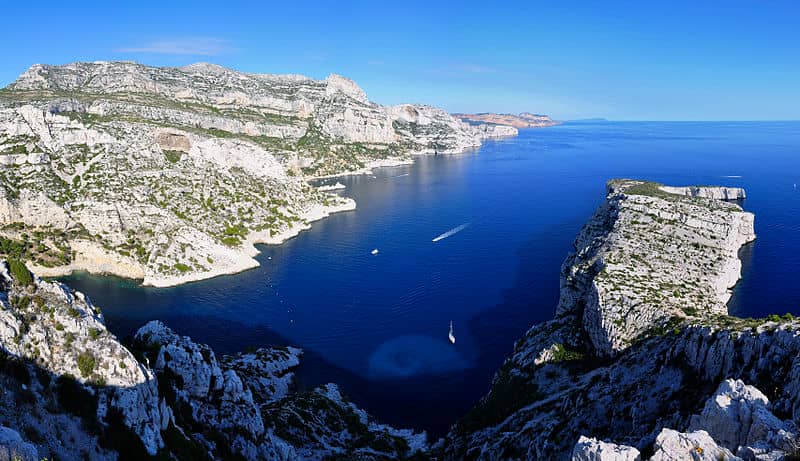 Highly recommended as one of the best things to do in Cassis is taking a boat trip to the Calanques of Cassis.
These must-see natural wonders are inlets formed in the limestone cliffs, that resulted in a series of beautiful cliffs and little bays.
A boat trip allows you to cruise through the inlets, surrounded by cliffs. The waters reflecting the colors of the cliffs are quite breathtaking. This is a memorable Cassis adventure that you simply must experience.
8. Hike to the Calanques de Cassis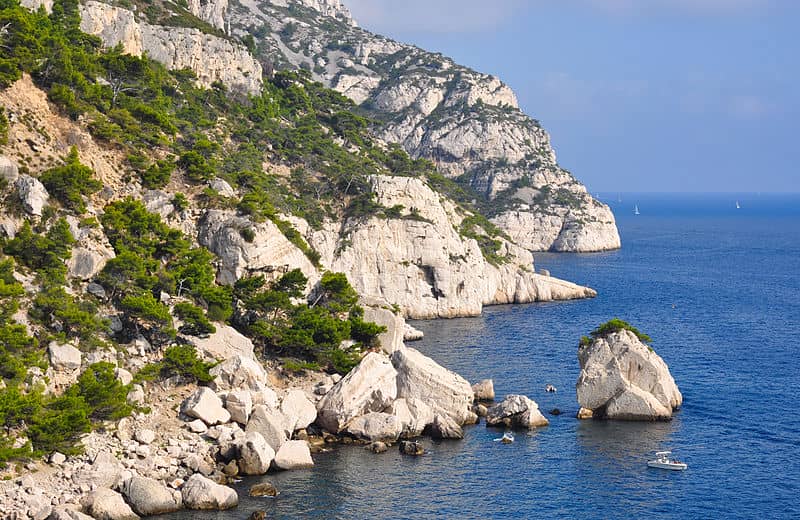 The Calanques can also be accessed by hiking of you're not up for a boat trip. These scenic inlets stretch for twenty miles and designated as a national park.
The hike takes about two hours, so wear sturdy yet comfortable shoes, light clothes and bring a bottle of water to stay hydrated.
You can start your journey either from the Cassis Harbour or Port Miou. Warm-up and take a leisurely pace, as you take in the stunning palette of blues, greens, and whites under the sunny skies of Southern France.
9. Conquer Cap Canaille

A large rock that is visible from the Cassis Harbour, Cap Canaille is a must for nature lovers. It is the highest sea cliff on the entire European continent, at 394 meters above sea level.
The hike is quite challenging and the trails are steep, so it is recommended to take the Route des Cretes trail.
Getting to the trailhead is said to be the toughest part of the journey, but it gets easier once you reach it. You will then be rewarded with spectacular views of the town, the harbor, the Mediterranean,  and the Calanques.
10. Sample some local food and drink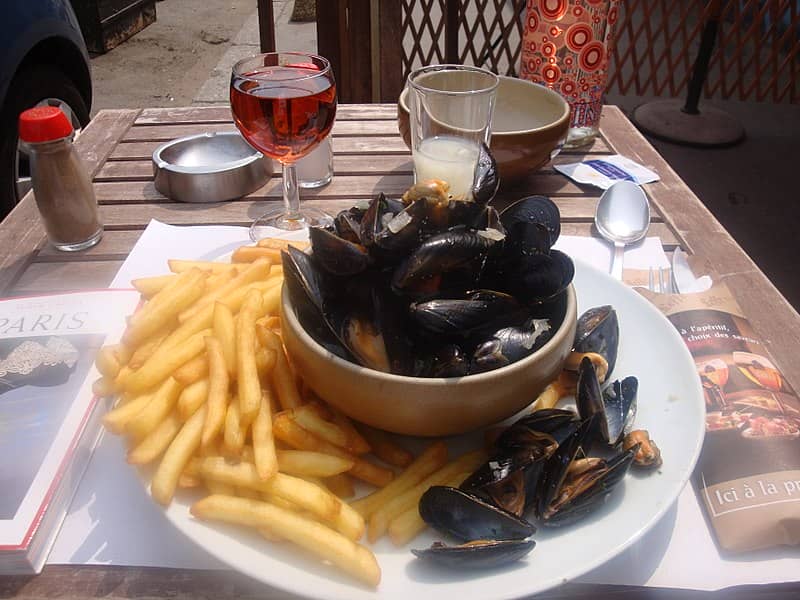 You cannot be anywhere in the South of France without sampling their food, and this is definitely a thing to do in Cassis.
When in this town, one must try the seafood. The location of the town ensures that you only get the freshest catch of the day whether you enjoy your meal in a modest eatery or a fine dining restaurant.
Some of the must-try dishes are Moules et Frites (mussels and fries) and sole meunière.
For drinks, Cassis is known for the sweet blackcurrant liqueur Creme de Cassis, which is best mixed with wine. Being in the South of France, wine tasting is a must.
Some of the recommended are Château de Fontcreuse rosé and sauvignon blanc.
11. Visit vineyards and wineries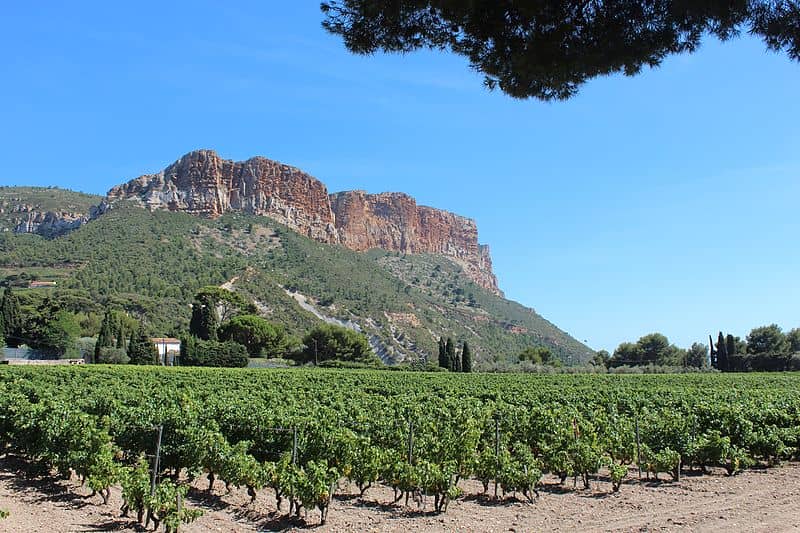 Speaking of wine, the Southern location of Cassis means there are vineyards and wineries that you can visit in and around town.
There are twelve vineyards situated in the terraced hillside of Cassis, which produces popular wine varieties, from white and red to rosé.
As a homage to its wine tradition that dates back to 600 B.C., Cassis holds its annual wine festival Les Vendanges Etoilées every September.
So, that's our list of the best things to do in Cassis, France. I hope this helps if you're planning a trip to Cassis. Do you have any other suggestions for Cassis? Let us know in the comments below!
---
New to Airbnb? Get a $43 off for your next trip if you use our link here. 
---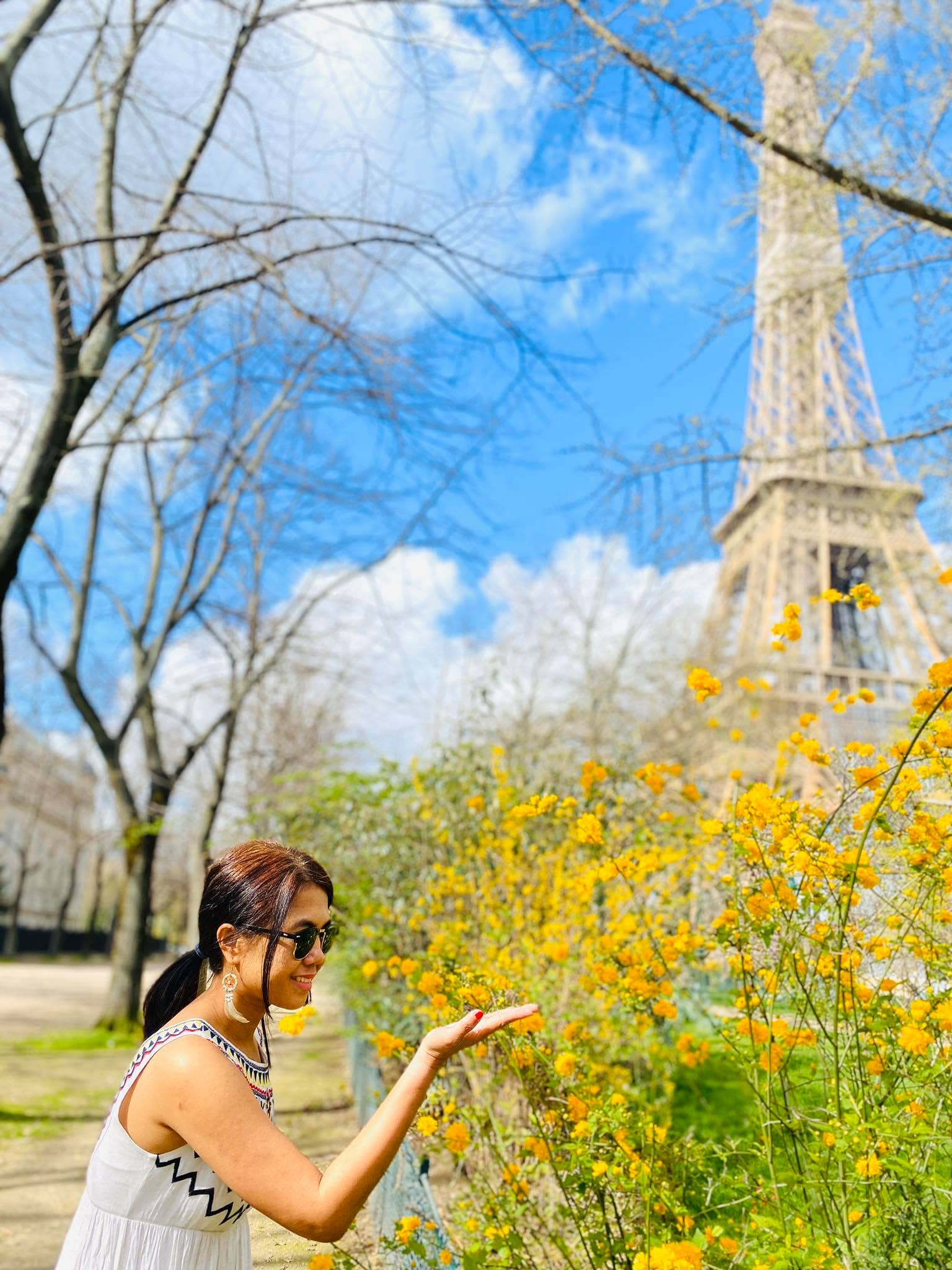 Hi, I'm Christine – a full-time traveler and career woman. Although I'm from the Philippines, my location independent career took me to over 40 countries for the past 8 years. I also lived in 3 continents – from the Caribbean, South East Asia to Africa. France remains special to me, however. From architecture, history, and arts – France is truly an amazing place.