Aix-en-Provence has a number of names, referencing its long history or its stunning cityscape. It is the "City of Counts" because the Counts of Provence once lived here. This is also why Aix, as it is fondly called – has a number of magnificent palaces.
Around the city center, you'll also find many fountains, hence it is also called the "City of a Thousand Fountains."
More than its names and what it is known for, Aix-en-Provence is a laid back city with a distinct old-world charm. It is ideal for vacations, with a bit of adventure. It's about 3 hours from Lyon and an hour away from Marseille.
There are a variety of museums, 17th-century mansions, markets and a natural feature that inspired artists. Headed this way on your next holiday in France? Make the most of your trip with these thirteen best things to do in Aix-en-Provence.
13 Best Things To Do In Aix-en-Provence, France
1. Musée Granet
Spend the entire morning or afternoon at Musée Granet and surround yourself with its stunning art collection. The eclectic selection is about 12,000 in total and includes an American exhibition with pop artworks and a neoclassical sculpture collection.
There are also original pieces from Paul Cézanne and Picasso.  It is a relatively small space but never gets too crowded despite being busy all year round. The Musée Granet is one of the best attractions in Aix that should be part of your itinerary.
Opening Hours:
Open Tuesday to Sunday
– outside the summer exhibition period (until May 31, 2020): from 12 p.m. to 6 p.m. (ticket office closes at 5.30 p.m.),
– during the summer exhibition period (June 2 – September 20, 2020): from 10 a.m. to 7 p.m. (ticket office closes at 6.30 p.m.).
Weekly closing on Monday.
Annual closings on January 1, May 1 and December 25
Contact Information:
Address: Place Saint Jean de Malte 13100 Aix-en-Provence
Phone:+ 33 (0) 4 42 52 88 32
Email:granet-reservation @ mairie-aixenprovence . fr
2. Visit the Atelier Cézanne‬
Paul Cézanne is a post-impressionist painter who is considered as one of the art luminaries in France. Have a glimpse of his great life as an artist with a visit to his studio.
The Atelier Cézanne‬ is a well-preserved space that was the artist's sanctuary and place of work. This is also where he did a number of his greatest works. Be sure to visit this fascinating Aix-en-Provence attraction and bask in the art and the experience.
Admission Fee:
Price: €5 per person
1 free for 15 paying tickets
Supplements :
guided tour in French or English: €35
Contact Information:
Address: 9 Avenue Paul Cézanne, 13100 Aix-en-Provence, France
Phone:+33 (0)4 42 16 80 26
3. Vasarely Foundation
Vasarely Foundation is a little out of the way from Aix-en-Provence's city center, but a worthy visit whether you like art or not. This eclectic museum is quite fascinating, with its impressive collection of modern and optical art by Victor Vasarely.
The eye-catching pieces are displayed in a rather unusual gallery and presented in a variety of media.
Check out Vasarely's works in anything from tapestries to 3D images The museum doesn't get too crowded, so you get to really enjoy the art or even have a personal tour of the premises from a foundation member.
The Vasarely Foundation is one of the more exciting places to see in Aix so be sure to include this in your itinerary.
Opening Hours:
Daily from 10 a.m. to 6 p.m.
Admission Fee:
Full price: 12 €
Reduced rates: € 9
(16 to 26 years old, students, job seekers and people with disabilities)
Children: 5 € (5 to 15 years old)
Free: less than 5 years
Family rate (2 adults and 3 children): 35 euros
Beyond 3 children: 3 euros / additional child
and – 5% on the whole shop (excluding screen printing)
Adult groups: € 9 per person (minimum 15 people)
Contact Information:
Address: Fondation Vasarely Jas de Bouffan 13096 Aix-en-Provence
Phone: +33 (0) 442 200 109
4. Le Cours Mirabeau
‪Enjoy a relaxing afternoon walk in this picturesque boulevard that's also perfect for a scenic evening out.
Walkthrough streets that are lined with tall trees, easily an ideal spot for photos. Stop and visit any of the cafes, restaurants or shops for a drink, a meal or some great finds.
On weekends, a market is set up here as well. Le Cours Mirabeau takes on an entirely different character in the evening as it lights up.
Have dinner in one of the restaurants and enjoy a magical stroll.
5. Place de l'Hôtel de Ville
Step right in the middle of Aix-en-Provence's history and favorite meeting place. There's a lot to see in Place de l'Hôtel de Ville, and foremost is the town hall.
This majestic building was built in the 15th century and seats prominent government officials. Adjacent to the town hall building is the 14th-century clock tower. There's also a fountain in the center of the square, along with a Roman column.
Place de l'Hôtel de Ville is also where you'll find theCorn Exchange, which was originally used by farmers and merchants for trading back in the day. The building is now the post office but still an interesting place to look at.
Aside from being one of the best attractions in Aix, Place de l'Hôtel de Ville is also an ideal base for exploring other parts of the city.
6. Check out an authentic 18th-century Aix residence
Step right into another era, one that belonged to the Aux of centuries ago. Surrounded by French Gardens is one of the prettiest follies or pleasure houses in Aix-en-Provence.
Known as Vendôme Pavilion, this is one of the few remaining from the 17th century. One of the best things to see in Aix, the Pavilion reflects the grandeur of the bygone eras.
Inside, you'll find period pieces ranging from furniture to art. There are also portraits of its former residents. Vendôme Pavilion also holds temporary exhibitions on a variety of subjects so there's always something new to see when you visit.
7. Visit the Cathedrale Saint Sauveur‬
‪The Roman Catholic Cathedrale Saint Sauveur is the seat of the Archbishop of Aix. This is one of the best things to see in Aix, with its architecture that's a mix of different styles.
The Cathedrale Saint Sauveur is categorized as among the national treasures in France. Be sure to go inside to marvel at the recently restored painting 'The Burning Bush' by Nicolas Fromen.
It is a stunning masterpiece that you should definitely get a closer look at while in Aix-en-Provence.
8. Montagne Sainte-Victoire
If you're up for a hike and want to enjoy sprawling views of Aix-en-Provence, head up to the breathtaking Montagne Sainte-Victoire. Scale the 1,011 meters (3,340 feet) limestone mountain and be rewarded with unparalleled views over Aix-en-Provence.
On a sunny day, you may even see the Alps. The surrounding area and the Montagne Sainte-Victoire itself were an inspiration for art luminaries like Paul Cézanne, Wassily Kandinsky, and Pablo Picasso.
Whether you're into the arts or not, the stunning scenery is reason enough to visit.
You may also bike your way to the top, or try paragliding. Montagne Sainte-Victoire is not a place for quick visits.
A trio here is surely one of the best things to do in Aix on weekends.
9. Visit 'Les Deux Garçons' café‬
The iconic 'Les Deux Garçons' cafe is without a doubt, one of the best places to visit in Aix-en-Provence.
Located along Cours Mirabeau, this cafe was built in 1792. A visit here is like stepping into the Aix of centuries ago.
Be sure to check out the original gilt-and-mural interior. 'Les Deux Garçons' café‬ was also where Cézanne enjoyed his coffee and newspaper.
10. Browse Aix's famous markets‬
Aix-en-Provence has a variety of markets and each is a must-visit. A market visit is one of the best activities to fo in Aix to get a feel of the local culture.
Make sure to spend time at the main market by the Palais de Justice for fresh produce, food, and bric-à-brac. Lose yourself among the fresh abd fragrant blooms in the flower market on the Place de Verdun and Place des Prêcheurs.
Update your wardrobe with great finds from the clothing market on the Cours Mirabeau. For a taste of the region's culinary delights, the food market on the Place Richelme is not to be missed.
11. Take a day trip to nearby Cassis‬
Explore the scenery surrounding Aix and spend a day at the nearby Cassis. This is an ancient fishing port that's reachable within thirty minutes.
Stroll through its old villages and marvel at historic old buildings. Some of these structures even date back to the 16th century. You may also walk around the scenic harbor, or check out the artist's market.
If you fancy a trip to the beach, just head a bit out of town. Cassis is a lovely change of scenery and an interesting place to visit while in Aix-en-Provence.
‪12. Go to the Sextius Baths‬
The Sextius Baths in Aix go as far back as the Roman times. Today, these baths are no longer in their original location but there's a place nearby where you can see them. Head towards the northwest, along the Boulevard Jean Jaurès, and you'll find the "Thermes Sextius".
These are 18th-century hot-water baths located in a tree-shaded park, that now features a modern spa.
Spend an afternoon or better yet, an entire day here. If you've been busy exploring, a visit to the baths is the ideal thing to do in Aix to relax.
13. Check out Aix's beautiful fountains by night‬
As you stroll around Aix and admire its mostly 16th and 17th-century architecture, you'd most likely notice the fountains. These unmissable structures, such as the ones along Le Cours Mirabeau are especially stunning in the evening.
As the city lights up after dark, so does the fountains. They look impressive at any time of the day, but a walk among these fountains is one of the best things to do in Aix at night.
Make this your post-dinner stroll, surely a great way to end any day in this lovely city.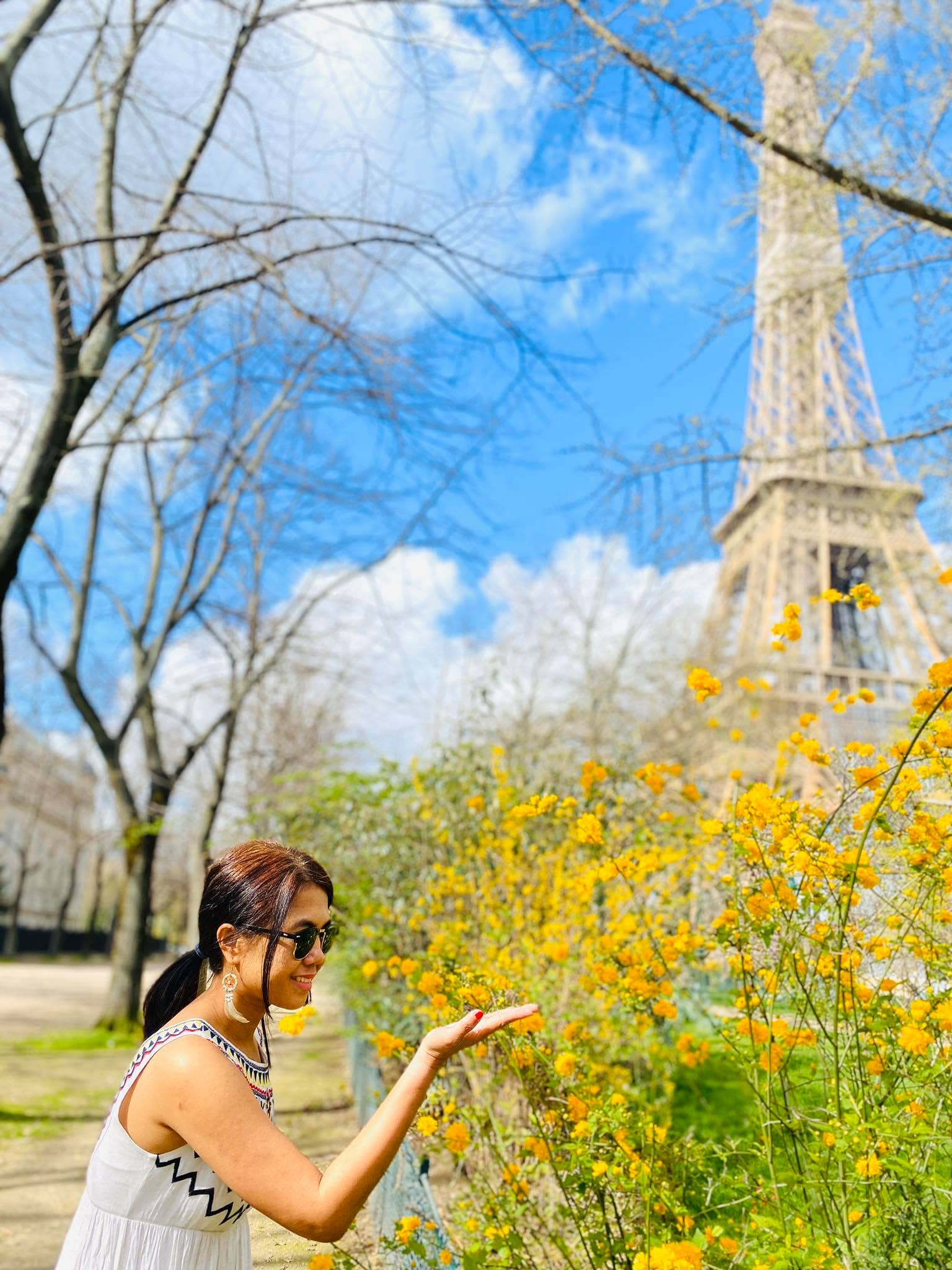 Hi, I'm Christine – a full-time traveler and career woman. Although I'm from the Philippines, my location independent career took me to over 40 countries for the past 8 years. I also lived in 3 continents – from the Caribbean, South East Asia to Africa. France remains special to me, however. From architecture, history, and arts – France is truly an amazing place.