October is autumn in France, and despite being the low season, it's still a great time to visit.
France is beautiful at any time of the year, but there's something about the fall colors that make it more enchanting.
---
New to Airbnb? Get $64 off for your next trip if you use our link here. 
---
This is also harvest season so expect to eat a lot as markets, eateries and restaurants create something different using fall ingredients.
Fall is the best time to see more of France other than Paris, and enjoy the colors!
If you're headed to France in October, here's a handy guide that will help you to see and experience more of France.
France in October: Weather, Things to See and Travel Tips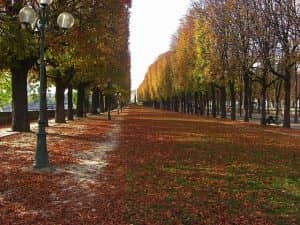 What is the weather like in France in October?
Temperature in France in October
France has an average temperature of 10°C to 16°C during October.
Rain in France in October
France in October gets an average rainfall of 60 mm over a period of 13 days.
Wind in France in October
In October, France usually has a wind speed of 9.2 mph to 10.2 mph.
Sun in France in October
Days are shorter in October and France usually gets around 10 hours of sun.
What to pack in France in October
Autumn in France is quite spectacular, as the cities and countryside take on the fiery colors. The weather is cooler and most attractions are less crowded.
Autumn in France is also the wet season, although it's not too cold yet for leisurely walks and night outs. Autumn temperature in France ranges from 55°F to 65°F (13°C to 18°C).
Be sure to bring clothes that you can easily layer, such as this long-sleeved shirt and pullover that you can also mix and match with other clothing items in your bag.
A scarf  is a must, as well as comfortable yet stylish shoes for walking around and enjoying France's autumn splendor.
These are the things that are non-negotiables when packing for a trip to any destination.
Keep things organized by putting each type in color-coded luggage organizers. Putting them in these separate, lightweight packing cubes or pouches make it easier for you to find or keep them in place.

Toiletry Kit – Bring only those that you won't most likely find in drugstores or malls in France. If your skin is adaptable and not too sensitive, bring products that have multipurpose such as moisturizing facial wash, or shampoo and conditioner bars.
Otherwise, travel toiletry kit essentials include deodorant, makeup, toothpaste, toothbrush, travel size shampoo, conditioner, body soap, razor/grooming kit, and towel.
Gadgets – Apart from the usual cellphone, camera, tablet, and laptop, bring items that will ensure these will work properly in France. A must is a small power bank to make sure you can recharge your devices even on the road. You can get it here.
USB cables and a universal adapter are also a must as you don't know if your devices will have the correct type of plugs. You can get it here.
Other Important items – A first aid/emergency kit is a must and should contain the following: pain and fever medication, antidiarrheal medication, softening and soothing lozenges, anti-mosquito cream/gel, and medicines for carsickness or seasickness.
Water in France is generally potable so instead of buying bottled water, you can bring your own bottle instead and just refill it. This reusable water bottle is also collapsible one so you can put it in your bag easily.
There's always a chance of rain in France so a foldable umbrella or lightweight raincoat is a must.
Bags and Luggage – A travel backpack should accommodate all your essentials plus the clothes that are good for about ten to fifteen days of travel. While in France, you also need a day bag that you can use when visiting attractions or going on day trips.

Check out this packing list for all seasons.
Things To Do In France In October
1. Drink hot chocolate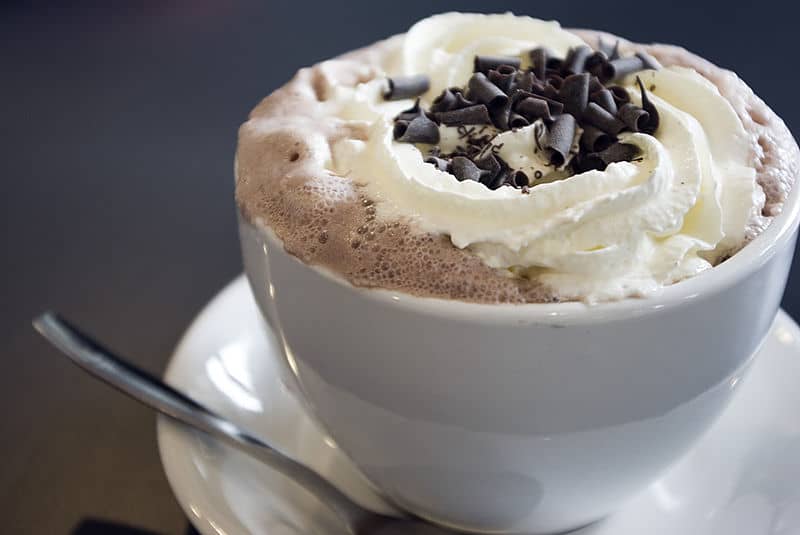 When in Paris and it gets colder during the day, indulges in a mug (or two) of decadent hot chocolate!
Autumn in France might as well be hot chocolate season and Paris serves some of the best.
Get it from Angelina's tea room, known for its Belle Epoque interiors and signature African chocolate blend. Try it with a bit of chili for that extra kick!
There's also the Café de Flore in Saint-Germain-des-Prés, one of the oldest cafés in Paris.
This cafe is known for its notoriously grumpy waiters who will serve you a jug of melted chocolate and another of hot milk.
You can mix it yourself and make it as rich and chocolatey as you want.
2. Fête des Vendanges de Montmartre
One of the best known Paris events is the Fête des Vendanges de Montmartre, which happens from October 9th to 13th.
Most events are free and there's a lot to choose from. Enjoy dance performances, live music, special children's activities, as well as lots of food and wine.
This is one of the best things to do in France if you want to experience a festival during your visit.
3. ‪Take a Ghost Tour‬
‪October is Halloween month, and one of the best activities to do in France is to join a ghost tour.
With the country's long history, you're about to take a fascinating walk through the streets of its capital.
Join a walking tour and explore neighborhoods, historic streets, and old buildings.
Hear about interesting historical facts, plus myths and legends surrounding each place that's part of the tour. This is also a great way to learn more about certain parts of Paris.
4. Visit a cemetery
Whether or not you're into Halloween, a visit to a cemetery in Paris is quite a fun thing to do in France.
Everything about the capital city is pretty, and the Père-Lachaise cemetery is no exception.
This looks more like a park than the final resting place of the likes of Oscar Wilde and Jim Morrison. See sculptures, stained glass windows, and tombs adorned in fall colors.
Walkthrough tree-lined lanes or sink your shoes in the foliage. A cemetery is probably a strange place to visit but it's a great place to witness this season in Paris.
Other beautiful cemeteries you can visit are the ones in Montparnasse and Montmartre.
5. See the catacombs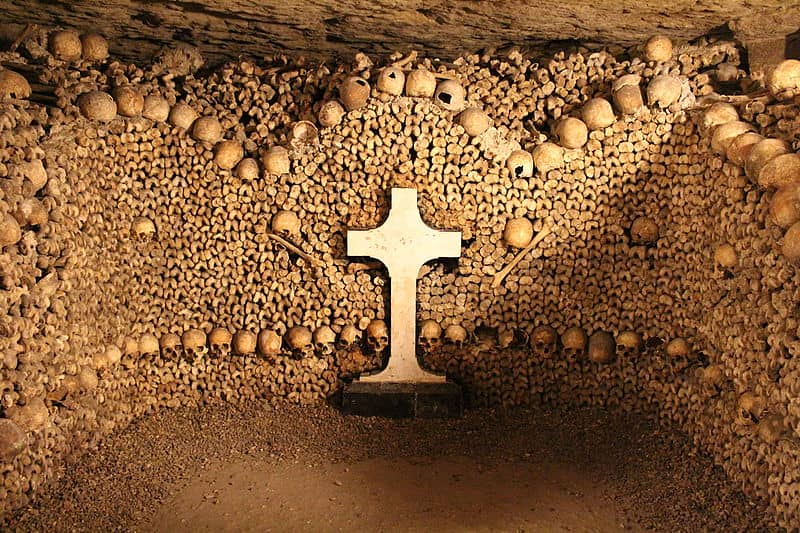 The Catacombs of Paris are one of the strangest attractions in France, and it continues to draw tourists most times of the year.
October is a great month to visit, as it's less crowded and that adds to the spooky atmosphere.
Take a tour of the tunnels, which starts with the spiral staircase that takes you down into the depths.
See bones piled up in stacks along the dark, damp passageways. You won't see individual gravestones here, only the markers of the cemetery the bones came from.
6. See the vineyards in full color
October is the best time to see the vineyards, as it's autumn and also harvest season.
Vineyards are practically all over France so you're never far away from these must-see color displays.
You can't miss the stunning reds, oranges, and yellows covering the hillsides. Next to chateaus and cottages, they are quite a spectacular sight.
The vineyards, from around Paris to the Loire and Bordeaux are one of the best places to visit in France at any time of the year.
But in October, they're quite unforgettable.
7. Explore Toulouse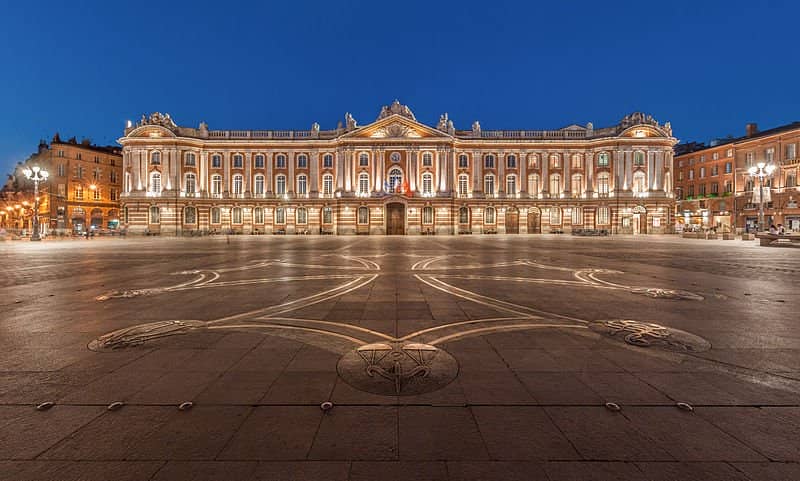 Toulouse, the 'pink city' is a great place to visit in France in October.
Located in the South of France, this city gets pretty hot during summer. October is an ideal time to visit because the weather is milder and the city isn't as crowded.
You get to enjoy its attractions such as museums without having to push or squeeze yourself through a huge crowd.
Be sure to stroll along the city center and admire the brightly colored brick buildings against the distinct autumn hues.
---
Check out these things to do in Toulouse, France
---
8. Enjoy a Roman holiday in Nimes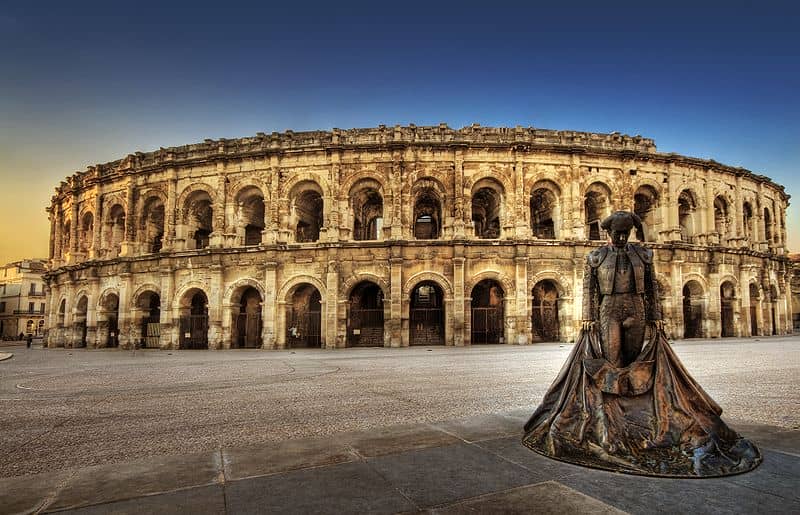 Located in southern France, a visit to Nimes in the Occitanie region is more like having your very own ancient Roman holiday.
The structures that date back to over a thousand years ago showcase the town's long history and rich heritage.
Apart from the well-preserved Roman structures, Nimes is home to impressive art museums, majestic churches, and lovely town squares.
There's plenty of things to do in Nimes that a few days won't be enough.
---
Check out these best things to do in Nimes, France.
---
9. Watch an opera in Palais Garnier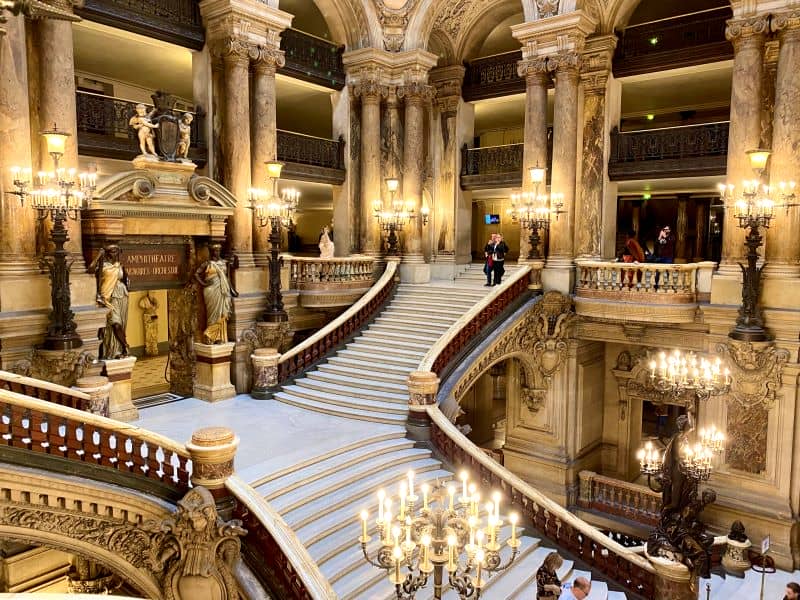 Said to be an ode to Parisian architecture, the enchanting Palais Garnier is an important part of Paris' ballet and classical music scene. Also called the Opera Garnier Paris or simply the Paris Opera, this cultural jewel has a history that's as fascinating as the productions within its walls.
Home to the Paris Ballet, the Palais Garnier is regarded as one of the grandest and most prestigious opera houses in the world. And you must include it on your France bucket list. 
---
Check out our guide for Palais Garnier for first-time visitors. 
---
10. Stay in a Paris hotel with the perfect view of the Eiffel Tower
Planning to stay in Paris and want to have the perfect view? Paris, France is regarded as one of the most beautiful and romantic cities in the world.
It is said that there's beauty wherever you look in Paris – from gardens to stylish streets; historic buildings and iconic French landmarks.
The French capital is often synonymous with the majestic Eiffel Tower, which is a definite must for any Paris itinerary.
This iconic landmark is seen in most parts of the city, but how about a view of the Eiffel Tower from your hotel window or balcony?
Watch as the tower is lit up in the evening, or have coffee as you gaze at it in the morning. While in Paris, stay in one of these hotels that offer the best view of the Eiffel Tower.
Travel Tips for France in October
1. As temperatures drop, it's best to pack clothes that can be layered if you're visiting France in October.
Examples are pants, leggings, long-sleeved shirts, or dresses in breathable materials.
2. Along with clothes you can layer, be sure to bring a good hat, a scarf, and thicker docks.
A waterproof light jacket and sturdy waterproof shoes also come in handy when going to France in October. These help you easily prepare for sudden weather changes.
3. October is low season so expect accommodation rates to be more affordable if not downright cheap. This applies to luxury hotels who'd rather keep their occupancy rate high in the offseason.
Ever wanted to stay in a fancy room during your France holiday? October is a good month to score great deals!
4. October is off-season and it means fewer crowds in the most popular tourist spots.
Pick an attraction that you've always wanted to see and plan that visit in October.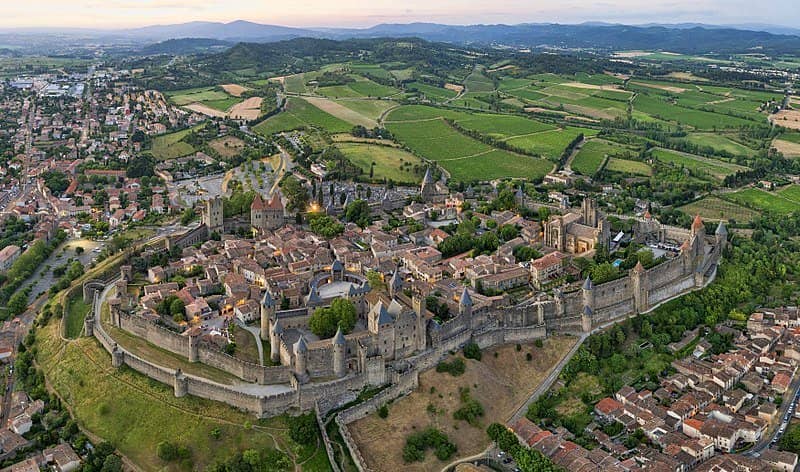 Great examples are Versailles, Carcassonne Castle, and Mont Saint-Michel which are usually brimming with tourists during summer but get few visits during autumn and winter months. ‬
5. Autumn is the best time to eat in France, as it's also harvest season.
Autumn ingredients like apples, pears, and different kinds of squash, for example, are made into interesting appetizers and desserts.
Whether you dine in an outdoor market, an eatery, or a restaurant, you'll find that the season seems to inspire chefs to come up with creative, fall-themed dishes. A definite must-try!
---
New to Airbnb? Get $64 off for your next trip if you use our link here. 
---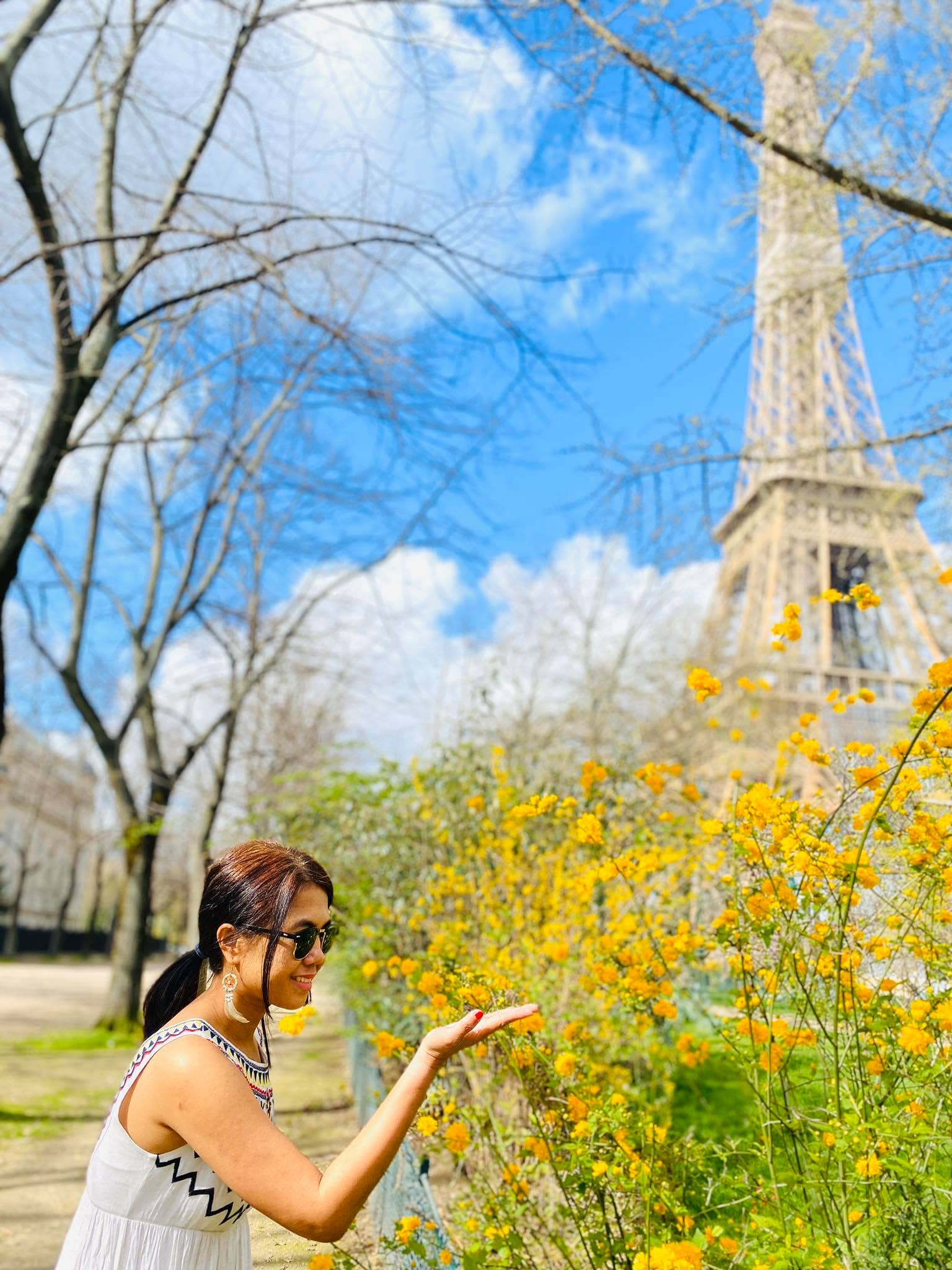 Hi, I'm Christine – a full-time traveler and career woman. Although I'm from the Philippines, my location independent career took me to over 40 countries for the past 8 years. I also lived in 3 continents – from the Caribbean, South East Asia to Africa. France remains special to me, however. From architecture, history, and arts – France is truly an amazing place.