As diverse as its regions, France has varied climates that anyone planning a holiday must prepare for.
Apart from the essentials, the clothing items that go into your suitcase or backpack should be versatile and suitable for any season in France.
From a cool hat to clothes you can easily layer down to your shoes – what you bring shouldn't cause any problem during your trip.
You may be contemplating bringing your entire wardrobe or at a complete loss regarding what to bring.
After all, aside from its varied geography and climate, there's that little pressure to be stylish when in France, especially in the cities. To ease your worries and help you make the most of your vacation, here's our packing list for France for all seasons.
Packing List For France For All Seasons
Travel Essentials For France
These are the things that are non-negotiables when packing for a trip to any destination.
Keep things organized by putting each type in color-coded luggage organizers. Putting them in these separate, lightweight packing cubes or pouches make it easier for you to find or keep them in place.

Toiletry Kit – Bring only those that you won't most likely find in drugstores or malls in France. If your skin is adaptable and not too sensitive, bring products that have multipurpose such as moisturizing facial wash, or shampoo and conditioner bars. Otherwise, travel toiletry kit essentials include deodorant, makeup, toothpaste, toothbrush, travel size shampoo, conditioner, body soap, razor/grooming kit, and towel.
Gadgets – Apart from the usual cellphone, camera, tablet, and laptop, bring items that will ensure these will work properly in France. A must is a small power bank to make sure you can recharge your devices even on the road. You can get it here.
USB cables and a universal adapter are also a must as you don't know if your devices will have the correct type of plugs. You can get it here.
Other Important items – A first aid/emergency kit is a must and should contain the following: pain and fever medication, antidiarrheal medication, softening and soothing lozenges, anti-mosquito cream/gel and medicines for carsickness or seasickness.
Water in France is generally potable so instead of buying bottled water, you can bring your own bottle instead and just refill it. This reusable water bottle is also collapsible one so you can put it in your bag easily.
There's always a chance of rain in France so a foldable umbrella or lightweight raincoat is a must.
Bags and Luggage – A travel backpack should accommodate all your essentials plus the clothes that are good for about ten to fifteen days of travel. While in France, you also need a day bag that you can use when visiting attractions or going on day trips.

Must-Have Clothing Items For France
Yes, it is a must to literally travel in style while in France. You do not have to look as if you're about to step into the runway, but you can't look too drab either.  To be sure, just be sure to pack tailored or at least well-fitting clothes.
Bring a lot of blacks and neutrals as they're always fashionable in France.
When traveling to the countryside, just opt for more relaxed and practical clothing items such as jeans, shirts, and a light jacket.
Women should bring not just items that are suitable for daily outings but for fancier occasions as well. Their packing list should consist of a bra, underpants, skirt/dress, shorts, jeans or casual pants, jacket or cardigan, and shirts (long-sleeved, short-sleeved, casual, and dressy). Women should also bring a hat (that can be easily packed like a bucket hat) scarves, socks, sneakers, and dressy flats.
Men should also consider France's varied climate as well as dressing up for fancier occasions. Clothing items that should go into their France packing list are undershirt/T-shirts, briefs or boxer shorts, shirts (long-sleeved, short-sleeved, casual, and dressy), dress slacks, jeans or casual pants and jacket, blazer, or cardigan. Sweater and shorts are also necessities as well as a hat, walking shoes, dress shoes, and sneakers or sandals.
Packing List for France for Every Month / Season
Packing List for France in Spring – March, April, and May
Spring is one of the two rainiest seasons in France. During this season, the country gets an average of 9 days of rainy weather for the month. Most days are generally warm and the average temperature is about 60°F to 70°F (16°C to 21°C).
A foldable umbrella or lightweight raincoat is a must for wet days. Spring is a lovely time to explore castles, national parks, and visit the countryside. Be sure to pack clothes that are stylish as well as able to protect you from the elements, like this cool jacket and a cute cardigan. They are versatile enough to go with jeans and shirt combo or over a pretty dress. Wear a hat to accessorize and cover your hair. Complete your everyday springtime outfit with sturdy yet comfortable walking shoes that can be worn with anything.

Packing List for France in Summer – June, July, and August
Even in Summer, France still gets some rainy days so be sure to pack some rain gear.
For the rest of the summer, it's best to bring comfortable clothes in light colors. Summer may not be scorching hot, as temperature averages from 70°F to 80°F (21°C to 27°C) but it's advisable to be prepared by packing the right gear and clothing items.
Don't forget to bring sunscreen that should be non-sticky and lightweight, as well as definitely waterproof in case you plan to swim. Summer is the perfect time for beach walks or nature trips, as well as exploring city centers.
Pack comfortable shoes that can be easily paired with most types and colors of clothes, like these sandals and sneakers.
Summer nights can get cold so bring large shawls to warm up.
Autumn in France is quite spectacular, as the cities and countryside take on the fiery colors. The weather is cooler and most attractions are less crowded.
Autumn in France is also the wet season, although it's not too cold yet for leisurely walks and night outs. Autumn temperature in France ranges from 55°F to 65°F (13°C to 18°C).
Be sure to bring clothes that you can easily layer, such as this long-sleeved shirt and pullover that you can also mix and match with other clothing items in your bag.
A scarf  is a must, as well as comfortable yet stylish shoes for walking around and enjoying France's autumn splendor.
Winter is another of the rainiest seasons in France.
If you're traveling during this time, bring a foldable umbrella or lightweight raincoat.
Days and nights are definitely cold, so bring clothes that will help warm you up such as a lightweight thermal jacket, scarf, gloves and wool socks.
For ladies, stay fashionable in this versatile sweater dress.
The cold weather shouldn't stop you from enjoying, so be sure to wear stylish yet comfortable and sturdy shoes that are also slip-proof.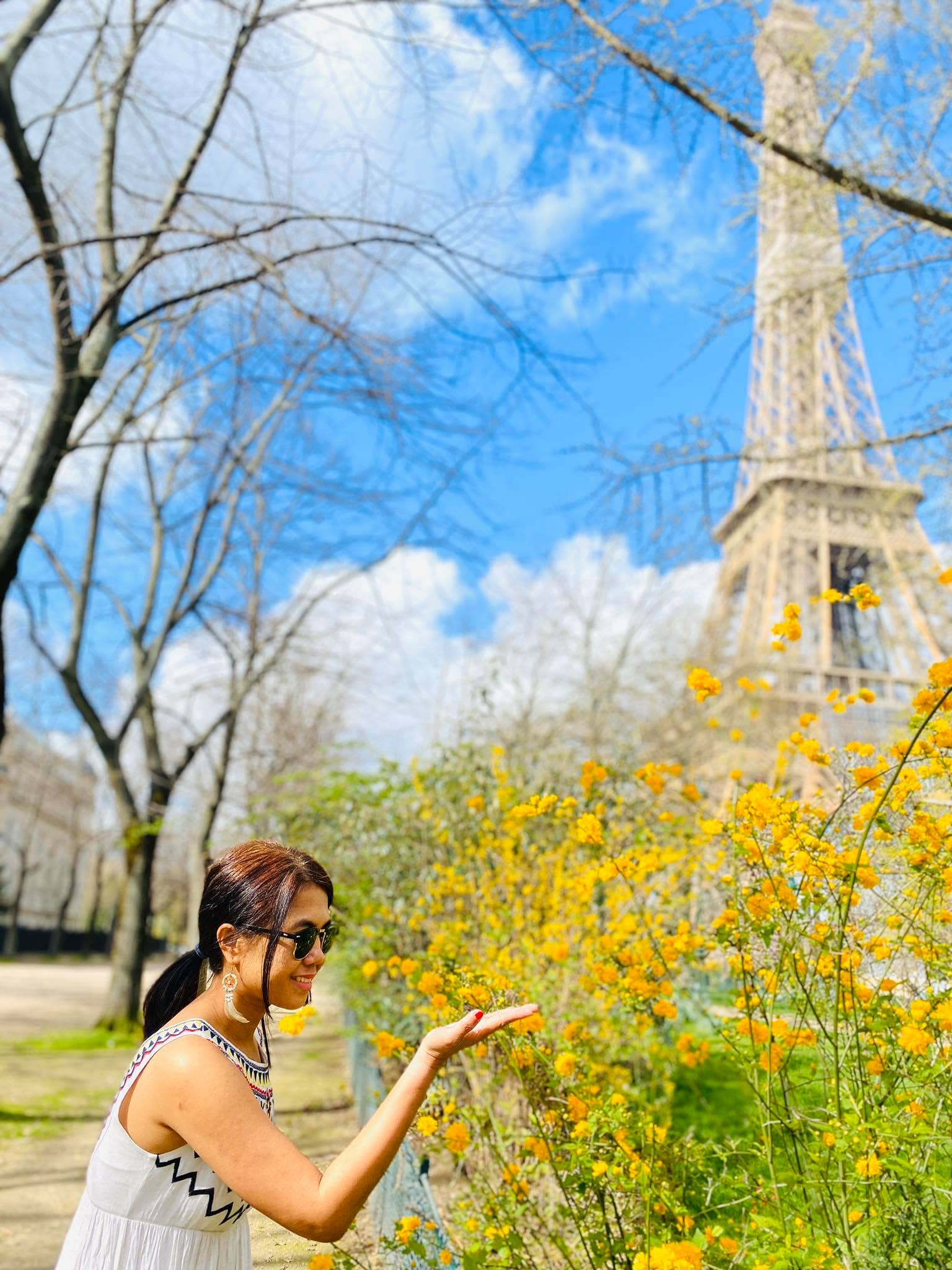 Hi, I'm Christine – a full-time traveler and career woman. Although I'm from the Philippines, my location independent career took me to over 40 countries for the past 8 years. I also lived in 3 continents – from the Caribbean, South East Asia to Africa. France remains special to me, however. From architecture, history, and arts – France is truly an amazing place.