Nice is located in the bright and beautiful French Riviera and has always been a favorite vacation spot in France. It used to be the regional capital but is now known as a top destination in the South of France.
This port town is also a favorite among artists. Its turquoise waters have inspired the likes of Matisse to Chagall, who both have museums in the city.
---
New to Airbnb? Get a $43 off for your next trip if you use our link here. 
---
More than its location and surrounding beauty, there's a lot going on in Nice that makes for a perfect South of France holiday.
Headed to Nice soon? Here are thirteen of the best things to do in Nice, France.
13 Best Things To Do In Nice, France
1. Explore Vieux Nice – the Old Town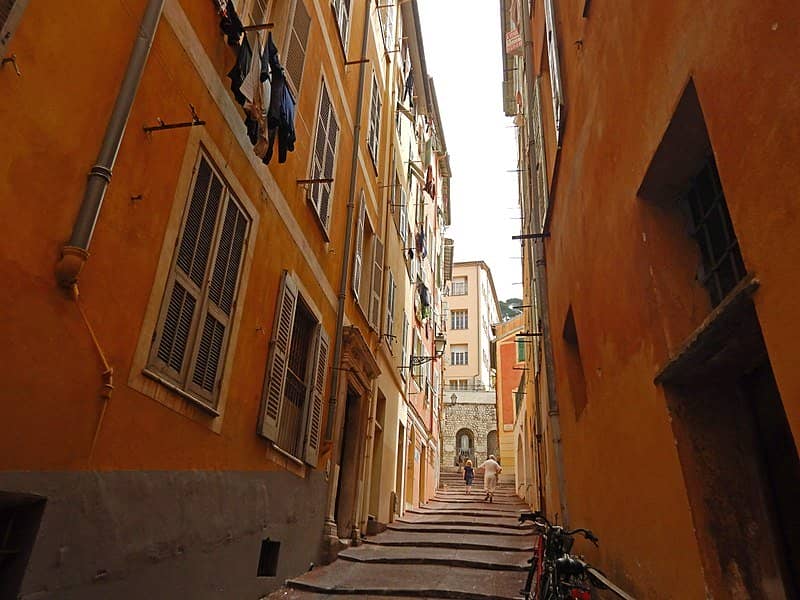 Start your Nice holiday and get a feel of the city by exploring Vieux Nice – its old town area. Located between the Quai des Etats Unis and Place Massena, a stroll here is the best thing to do in Nice to soak in the atmosphere.
Wander through the narrow lanes and check out the architecture, the colorful neighborhoods, and the shops. This area is a fun place to shop for Provencal products such as lavender soap, olive oil, and touristy trinkets.
When you feel like relaxing a bit, stop for some ice cream at the Place Rossetti. This is the central part of Vieux Nice where you can sit by the fountain while enjoying the views of the nearby Cathedral Sainte Reparate.
2. Check out the Baroque Architecture of Nice
While you're in the Old Town area, be sure to take in the sights and especially the architecture. The style is predominantly Baroque, which is excessive yet wonderfully ornate.
This architectural style dates from the end of the 16th century to the end of the 18th century. Marveling at the city's impressive architecture is one of the more satisfying activities to do in Nice.
Some of the buildings you should see are the Chapelle de la Miséricorde, which is considered as one of the top Baroque churches in the world and the pretty pastel-colored  Eglise de Gésu at 12 Rue Droite.
3. Palais Lascaris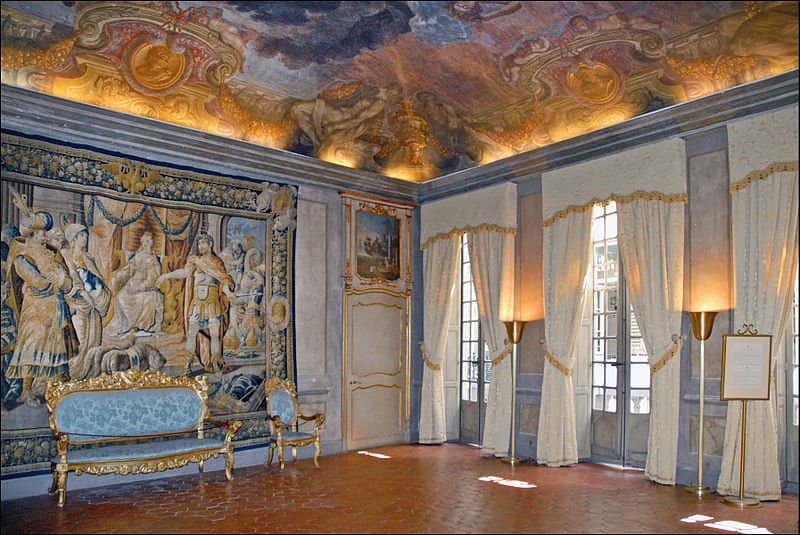 Constructed in 1648 for the aristocratic Lascaris-Ventimiglia family, the Palais Lascaris is both a museum and historic monument.
The interiors are quite luxurious — with an elaborate staircase, frescos, and luxe salons. There's also a variety of musical instruments on display that's a definite must-see. Walk through the hallways and admire its stylish decor.
A visit here is one of the best things to do in Nice to get a glimpse of the opulent life a few centuries ago.
Opening Hours:
Every day except Tuesday from 10 a.m. to 6 p.m.
Admission Fee:
Individual ticket: 10€
Guided Tour:
Individuals – 6€
Groups – 82€ (15-20 participants)
Contact Information:
Address:15, rue Droite 06300 Nice, France
Phone: 04 93 62 72 40
Email:palais.lascaris@ville-nice.fr
4. Castle Hill (Colline du Chateau)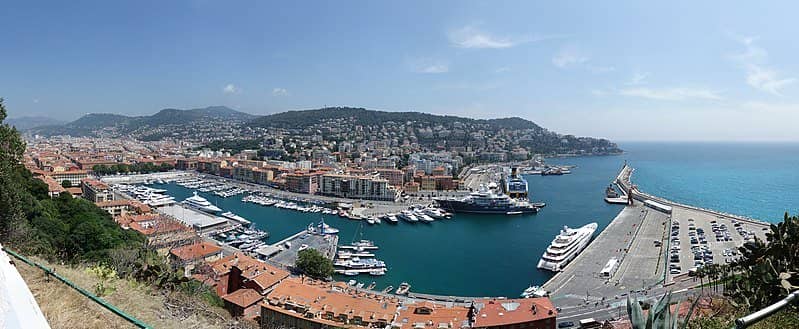 Castle Hill is about 92 meters above sea level and is the highest point in the city. This is where you can see the ruins of Chateau de Nice. The chateau used to he a military citadel, that was eventually destroyed in the early 1799s by Louis XIV.
Apart from the ruins, Castle Hill also offers breathtaking views over the bay. This is easily one of the most popular places to visit in Nice abs it's easy to see why.
The gardens here are also worth spending more time on especially during summer.
5. Place Massena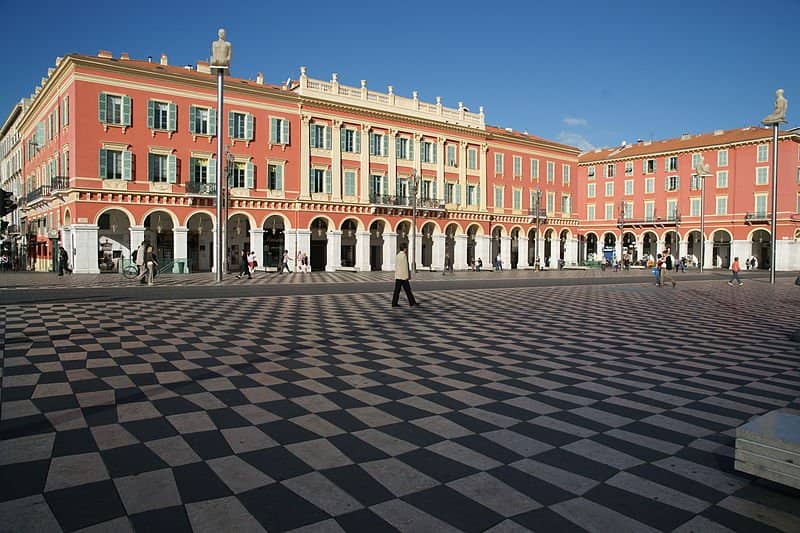 Another unmissable place to see in Nice is the Place Massena, located in the city center.
This is an ideal place for a relaxing stroll, where you can wander through the lush Massena gardens and marvel at beautiful fountains.
Stay here until the evening and watch as these fountains light up after dark. Place Massena is also another great place to shop in Nice, as there's a good mix of designer stores and traditional French boutiques.
6. Promenade des Anglais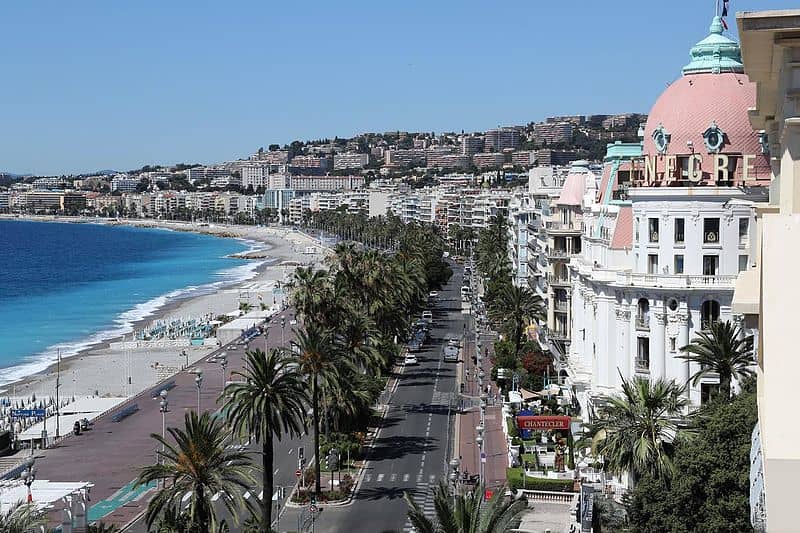 Being a coastal city, one of the best things to do in Nice is a walk along the waterfront.
The 7-kilometer Promenade des Anglais is lined with palm trees and is located by the ocean side. Enjoy views of the sparkling Mediterranean, observe the activities in one of the beaches, or enjoy a meal in one of the restaurants.
The Promenade introduces you to another aspect of life in this beautiful French city. It's a lovely place to visit any time of the day but it's best to go early as it's less crowded or late afternoon to catch the sunset.
7. Musee Marc Chagall
The artist Marc Chagall is of French and Russian heritage and regarded as one of the most popular Jewish artists of the twentieth century! He is best known for his stunning work with stained glass, as well as his huge paintings and modernist style.
Marc Chagall is also famous for his stunning biblical paintings. Be sure to visit this museum when in Nice, as it's quite an experience viewing his work. Look closely and check out the amazing detail in his works. Musee Marc Chagall is among those places to visit in Nice that one shouldn't miss.
Opening Hours:
From November to April
from 10.00 am to 5.00 pm
From May to October
from 10.00 am to 6.00 pm
Admission Fee:
Including access to the permanent collection, temporary exhibition and audioguide (French, English, Italian, German, Russian, Japanese, Chinese and Spanish)
Full rate: €8
Reduced rate: €6
Groups rate (minimum 10 persons): €6.50
+ €2 increased price during the exhibitions
Free for visitors under 26 (EU citizens or visitors with EU visas and long residence in EU), the disabled (MDPH or Cotorep card) teachers (valid education pass) beneficiaries of a number of welfare benefits and for all on the first Sunday of each month – audioguide: + €2
Contact Information:
Address: Musée national Marc Chagall 36, avenue Docteur Ménard – 06000 Nice
Phone:+ 33 (0) 4 93 53 87 20
8. Musée Matisse
Located in the trendy Cimiez district is the Musée Matisse, one of the coolest places to see in Nice.
Before moving to  Cimiez, Matisse lived in an apartment in the Cours Saleya. His Cimiez residence was in the swanky Regina building, now known for its luxurious vacation rentals.
The Musée Matisse is located inside a 17th-century Genoese villa and houses a collection of Matisse's work ranging from the 1890s (such as  "Nature Morte Aux Livres") to the early 1950s. This is a lovely museum to visit and you don't have to be an art buff to appreciate the collections.
Matisse is known for his use of color so expect a literal feast for the senses.
Opening Hours:
Museum open daily except on Tuesdays
From 10:00 am to 5:00 pm from November 1st to April 30th
From 10:00 am to 6:00 pm from May 2nd to October 31st
Admission Fee:
Individual Ticket – 10€
Access to all municipal museums and galleries for 24 hours
7 days individual Ticket – 20€
Access to all municipal museums and galleries for 7 days
Group Ticket – 8€ per person
(from 10 people)
Access to all municipal museums and galleries for 24 hours
Free tickets: proof required
Children under age 18 and students, unemployed persons, disabled civilians
and war veterans with one accompanying person each, Museum curators,
Journalists, Teachers (Pass Education card), Tour Guides
Contact Information:
Address:164, avenue des Arènes de Cimiez 06000 Nice.
Phone:(+33) (0) 4 93 81 08 08
Email:musee.matisse@ville-nice.fr
9. Orthodox Cathedral of Saint Nicholas
It's probably strange to find a Russian church in the French Riviera but there's one and it's among the best things to see in Nice.
It was constructed during the reign of Czar Nicholas II and has been a top Nice attraction with its brilliant domes and spires since 1912.
This church is quite unmissable,  perhaps a little out of place but it works well with the mostly Baroque structures in Nice. This eye-catching structure is located on Avenue Nicolas-II.
Opening Hours:
Daily from 9:00 am- 6:00pm
Admission Fee:
Free
Contact Information:
Address: Cathédrale St. Nicolas Avenue Nicolas II 06000 Nice – France
Phone:+33 9 81 09 53 45
Email:cathedrale.nice@gmail.com
10. Cimiez
If you're already visiting the Matisse Museum, you might as well look around the neighborhood where it is located.
Cimiez always makes it to those lists of the best places to visit in Nice. This fashionable neighborhood is home to a variety of interesting attractions.
There are the remains of a Roman settlement surrounding the Matisse Museum, or the 16th-century Franciscan Monastery and Museum.
The latter is among the popular places in Cimiez because of its gardens and masterpieces by the famous Niçoise artist Ludovic Bréa.
Across the Matisse Museum, you'll find the imposing Regina building. This was where Matisse used to live and is now a posh apartment building,
11. Visit one of the beaches in Nice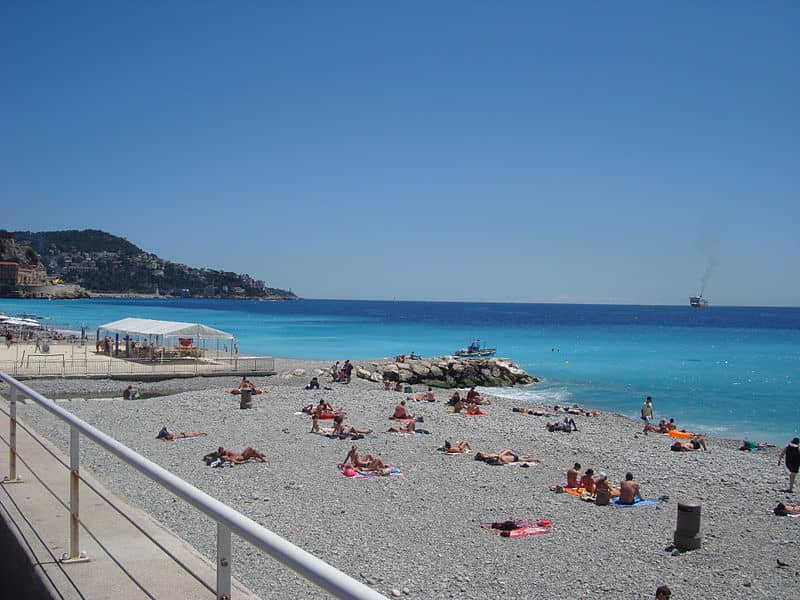 You cannot be in Nice and the French Riviera without spending some time on the beach. The shores here are pebbly and rocky instead of sandy. Enjoy a relaxing walk or a picnic with a view of the sparkling blue waters.
You may choose to hang out at a public beach or splurge a bit on a private resort. The best public and private beaches in Nice are actually located right next to each other.
A most recommended private beach is the Plage Beau Rivage across from the Beau Rivage Hotel. Meanwhile, one of the most popular public beaches in Nice is the free La Plage Publique de Beau Rivage, which is just beside Plage Beau Rivage.
12. Parc du Mont Boron
Take a break from exploring the busy streets of Nice and enjoy a nature hike at Parc du Mont Boron.  Located in the eastern part of the city, Parc du Mont Boron has over seven miles of hiking trails.
There are trails for every fitness level so you get to decide which one to take. The trails range from easy walks that last for an hour to long, strenuous hikes that take an entire day to finish.
This is the ideal thing to do in Nice if you want to enjoy the views and the huge crowds, and here, they're quite spectacular. The scenery along the way and the sights from the summit are truly worth it.
13. Cours Saleya Market
The sprawling Cours Saleya is a daily fruit and vegetable market that runs through the Old Town. This is the most popular market and easily among the best Nice attractions.
If you're into classic films, the market was also featured in Hitchcock's "To Catch a Thief". Spend a few hours here, or even an entire day as the market activity never stops.
Check out fruits and vegetables in the morning, the flowers in the afternoon, and enjoy snacks in between. Be sure to try some Corsican cheeses and charcuterie, or the infamous socca (a chickpea flour crepe).
In the evening, bistros and cafes move their tables to this area so you can also enjoy dinner and drinks.
---
New to Airbnb? Get a $43 off for your next trip if you use our link here. 
---
Like It? Pin It!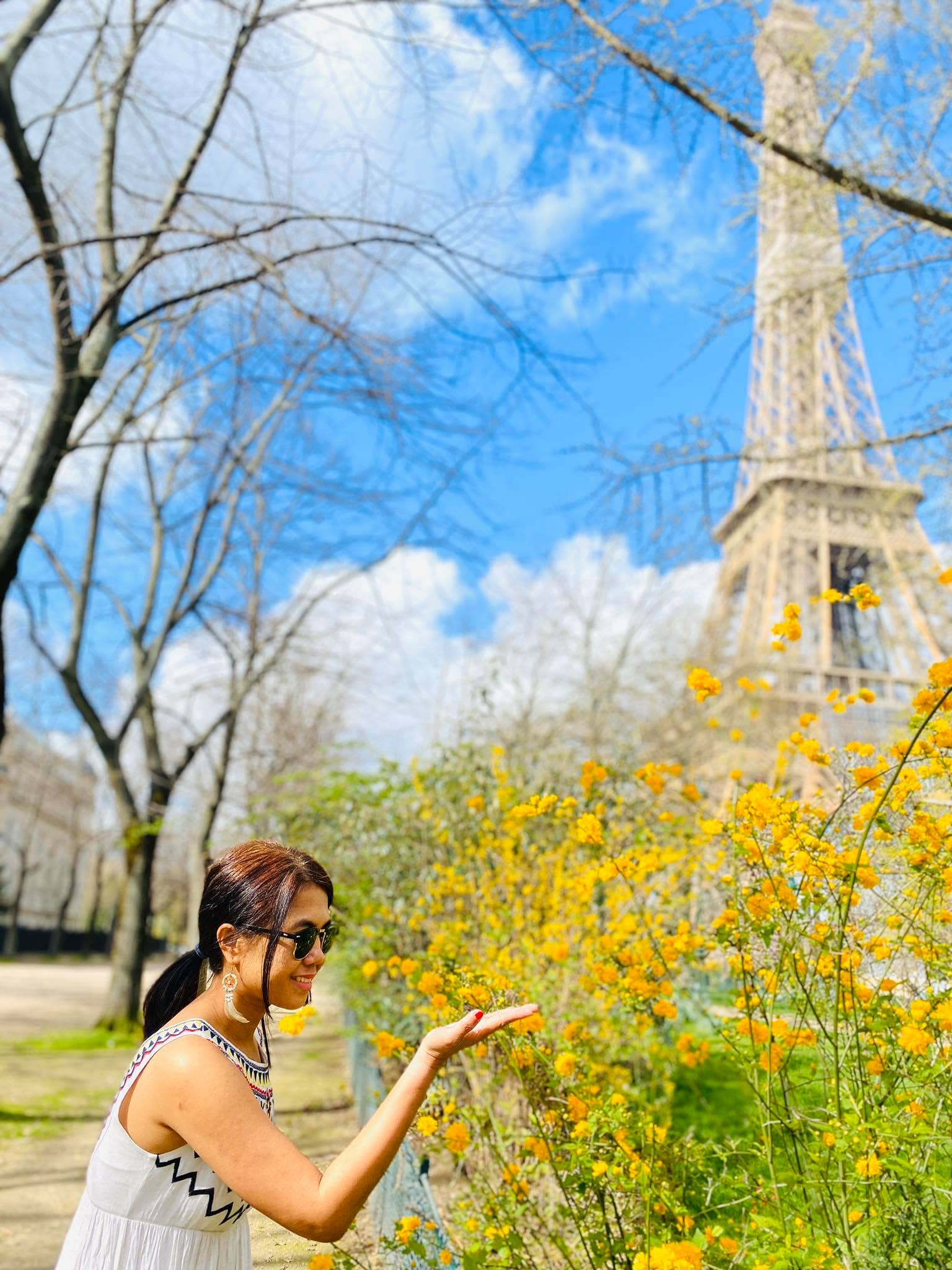 Hi, I'm Christine – a full-time traveler and career woman. Although I'm from the Philippines, my location independent career took me to over 40 countries for the past 8 years. I also lived in 3 continents – from the Caribbean, South East Asia to Africa. France remains special to me, however. From architecture, history, and arts – France is truly an amazing place.