The cool weather, the fewer crowds to contend with, and the pretty winter scenery make February a lovely month to visit France despite being in the middle of the low season.
Even as you explore historic small towns and scenic villages, this is an ideal time to relax.
---
New to Airbnb? Get $64 off for your next trip if you use our link here. 
---
Join the crowd hitting the slopes or simply take in the view, check out the start of the Carnival season, and see as much of the country as you can.
Whether you're into outdoor activities or prefer watching the world go by from a cafe, here's a useful guide to visiting France in February.
France in February: Weather, Things to See and Travel Tips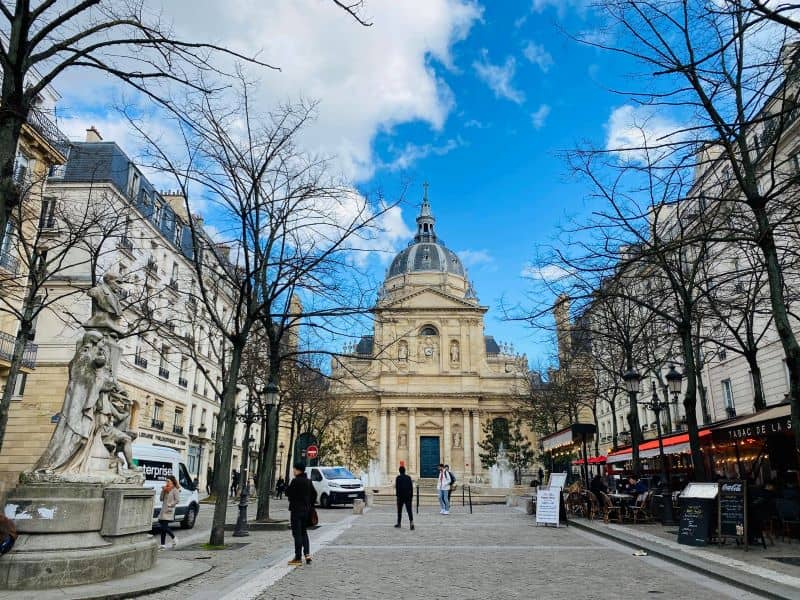 What is the weather like in France in February?
Temperature in France in February
In February, the average temperature in France is around 3 °C to 10 °C.
Rain in France in February
February in France gets 60 mm of rainfall over a period of 14 days.
Wind in France in February
The average wind speed in France is 10  to 11 miles per hour during February.
Sun in France in February
France gets 9 to 11 hours of daylight in February. Sunrise is usually at around 7:30 to past 8 in the morning, while sunset is from 7 to 8 in the evening.
What to pack in France in February
These are the things that are non-negotiables when packing for a trip to any destination.
Keep things organized by putting each type in color-coded luggage organizers. Putting them in these separate, lightweight packing cubes or pouches make it easier for you to find or keep them in place.

Toiletry Kit – Bring only those that you won't most likely find in drugstores or malls in France. If your skin is adaptable and not too sensitive, bring products that have multipurpose such as moisturizing facial wash, or shampoo and conditioner bars. Otherwise, travel toiletry kit essentials include deodorant, makeup, toothpaste, toothbrush, travel size shampoo, conditioner, body soap, razor/grooming kit, and towel.
Gadgets – Apart from the usual cellphone, camera, tablet, and laptop, bring items that will ensure these will work properly in France. A must is a small power bank to make sure you can recharge your devices even on the road. You can get it here.
USB cables and a universal adapter are also a must as you don't know if your devices will have the correct type of plugs. You can get it here.
Other Important items – A first aid/emergency kit is a must and should contain the following: pain and fever medication, antidiarrheal medication, softening and soothing lozenges, anti-mosquito cream/gel, and medicines for carsickness or seasickness.
Water in France is generally potable so instead of buying bottled water, you can bring your own bottle instead and just refill it. This reusable water bottle is also collapsible one so you can put it in your bag easily.
There's always a chance of rain in France so a foldable umbrella or lightweight raincoat is a must.
Bags and Luggage – A travel backpack should accommodate all your essentials plus the clothes that are good for about ten to fifteen days of travel. While in France, you also need a day bag that you can use when visiting attractions or going on day trips.

Yes, it is a must to literally travel in style while in France. You do not have to look as if you're about to step into the runway, but you can't look too drab either.  To be sure, just be sure to pack tailored or at least well-fitting clothes.
Bring a lot of blacks and neutrals as they're always fashionable in France.
When traveling to the countryside, just opt for more relaxed and practical clothing items such as jeans, shirts, and a light jacket.
Women should bring not just items that are suitable for daily outings but for fancier occasions as well. Their packing list should consist of a bra, underpants, skirt/dress, shorts, jeans or casual pants, jacket or cardigan, and shirts (long-sleeved, short-sleeved, casual, and dressy). Women should also bring a hat (that can be easily packed like a bucket hat) scarves, socks, sneakers, and dressy flats.
Men should also consider France's varied climate as well as dressing up for fancier occasions. Clothing items that should go into their France packing list are undershirt/T-shirts, briefs or boxer shorts, shirts (long-sleeved, short-sleeved, casual, and dressy), dress slacks, jeans, or casual pants and jacket, blazer, or cardigan. Sweater and shorts are also necessities as well as a hat, walking shoes, dress shoes, and sneakers or sandals.
Winter is another of the rainiest seasons in France.
If you're traveling during this time, bring a foldable umbrella or lightweight raincoat.
Days and nights are definitely cold, so bring clothes that will help warm you up such as a lightweight thermal jacket, scarf, gloves, and wool socks.
For ladies, stay fashionable in this versatile sweater dress.
The cold weather shouldn't stop you from enjoying, so be sure to wear stylish yet comfortable and sturdy shoes that are also slip-proof.
You can also check this France packing list for all seasons. 
Things To Do In France In February
1. Admire the Gothic Architecture in Bloise

A different winter scenery awaits in Bloise, a picturesque city situated by the River Loire. Its hillside location mixed with its unmissable architecture make it one of the most interesting places to see in France in February.
Walkthrough cobbled streets and stop every few steps or so to admire old buildings like the Maison de la Magie Robert-Houdin and historic churches such as Blois Cathedral bathed in winter glory.
Check for visiting hours and explore the Chateau Royal de Bloise, where you'll find ornate chambers and an impressive art collection.
After all that walking and exploring, head towards the bridge that overlooks the slow-flowing River Loire.
Here, you can also enjoy a different yet equally stunning perspective of the Gothic city of Bloise.
---
Check out these best things to do in Bloise, France. 
---
2. Bird-watching in Camargue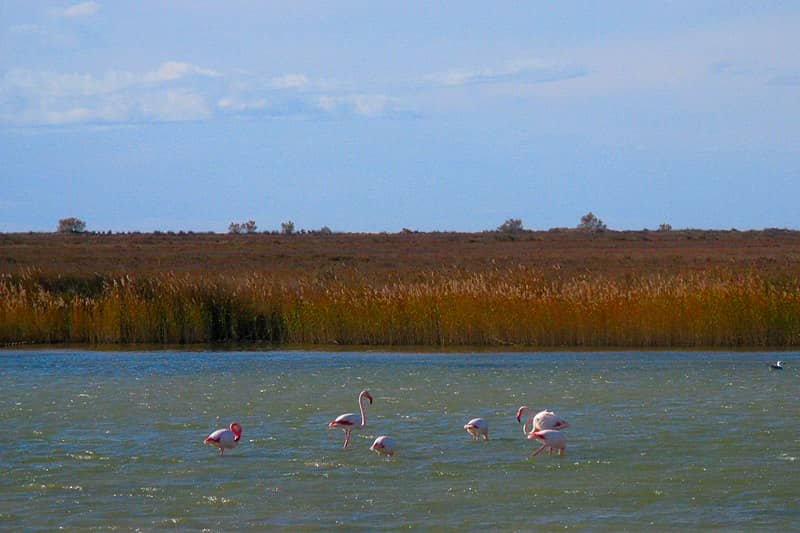 During summer, Camargue is known as a haven for campers and hikers.
In winter months like February however, this lush region located south of Arles, France is the place to go if you fancy nature trips and wildlife spotting.
Migratory birds troop to Camargue during the cold months, as well as elusive wild horses and bulls.
Take in a different perspective of the winter season as you pick a spot in Camargue's lush landscapes and watch out for pink flamingos or white horses.
After you've had your fill of nature, see more of Arles such as the stunning Amphitheatre, the historic Church of St. Trophime, and wander through the Musée de l'Arles et de la Provence antiques.
3. Hang out by the Harbor in Cassis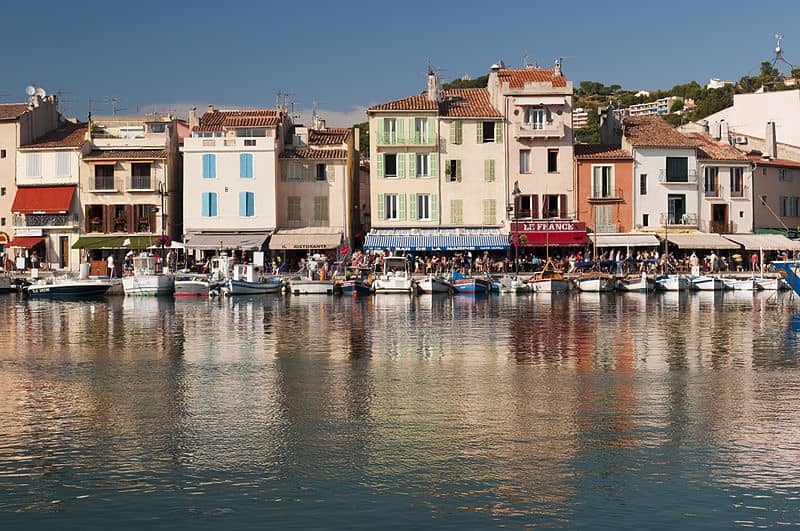 Often regarded as one of the best French towns to visit during summer, Cassis takes on a unique, storybook-like atmosphere during winter.
This port town along the Mediterranean coast is a great alternative to the snowy winters in most parts of France in February.
It is still colder than usual, but the scenery is more vibrant and perfect for a leisurely stroll.
It is also less crowded in Cassis during winter, making it an ideal place to see in France if you want to enjoy the picturesque harbor or the scenic forest walks.
Don't miss the opportunity to savor some delicious Provencal food while you're here, as there are numerous cafes and restaurants around the colorful port.
4. Megeve, French Alps
Many associate Megeve with the classic Hollywood film  Charade starring Audrey Hepburn and Cary Grant.
The area is both scenic and romantic, as well as an ideal destination for those who want to enjoy some winter sports.
With its snowcapped mountains, bars and restaurants, and even horse-drawn carriage rides.
Megeve is a true winter wonderland. Hit the slopes or simply enjoy the views during the day, while you can sip hot chocolate or enjoy some regional wine by a roaring fire at night.
Megeve is an absolutely delightful place to visit in France in February.
5. Taste Lemons in Menton
A unique thing to do in France in February involves seeing and tasting lots of lemons, in the medieval town of Menton in the French Riviera.
The Fête du Citron, or Lemon Festival in Menton is a fun, summery event to experience, as you walk through the town center decorated with citrus. It is also one of the best festivals in France that you must experience.
Check out floats and statues all made from lemons and oranges, and take in the fresh scent.
This festival usually marks the end of winter and welcomes the arrival of spring, probably the perfect way to discover a town that's definitely more than its fruity festival.
Menton is also known for its beaches and gardens, such as the Val Rahmeh-Menton Botanical Garden and Serre de la Madone.
6. St. Valentine at Roquemaure
February isn't just the last winter month of the year, it is also Valentine's month.
A country known as one of the best romantic destinations, France naturally has something special that no other country has, and it is the postcard-pretty town of Roquemaure.
Located in Southern France, it has a lovely castle, lush garden parks, and historic churches like most French locales.
However, a unique attraction here is the town church, which is home to the mortal remains of the patron saint of lovers, St. Valentine.
The relics are taken out of the vault every February 14 and carried around town during a procession.
Roquemaure also celebrates the Festou di Poutoun, or the festival of the kiss, which takes place during the weekend nearest to Valentine's Day.
Whether you're with someone or not, the intriguing Roquemaure is a must-visit in France in February.
7. Watch an opera in Palais Garnier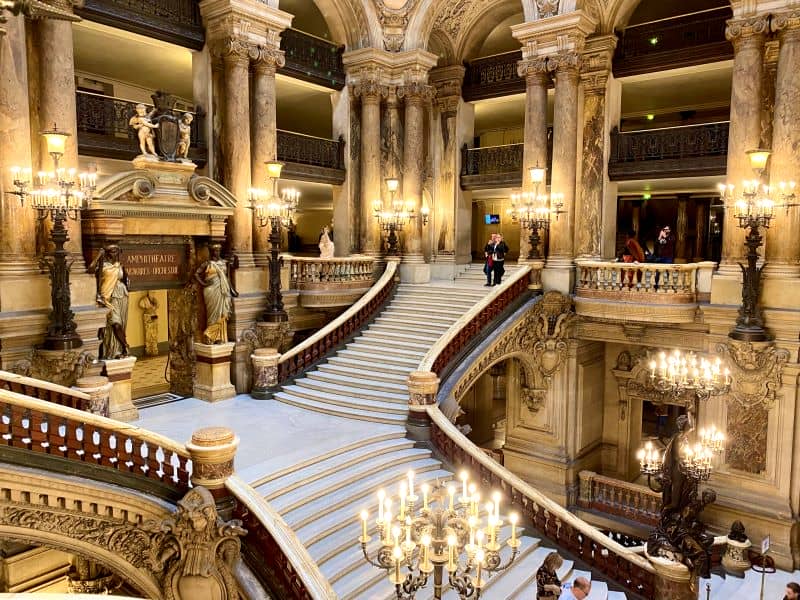 Said to be an ode to Parisian architecture, the enchanting Palais Garnier is an important part of Paris' ballet and classical music scene. Also called the Opera Garnier Paris or simply the Paris Opera, this cultural jewel has a history that's as fascinating as the productions within its walls.
Home to the Paris Ballet, the Palais Garnier is regarded as one of the grandest and most prestigious opera houses in the world. And you must include it on your France bucket list. 
---
Check out our guide for Palais Garnier for first-time visitors. 
---
8. Explore Riquewihr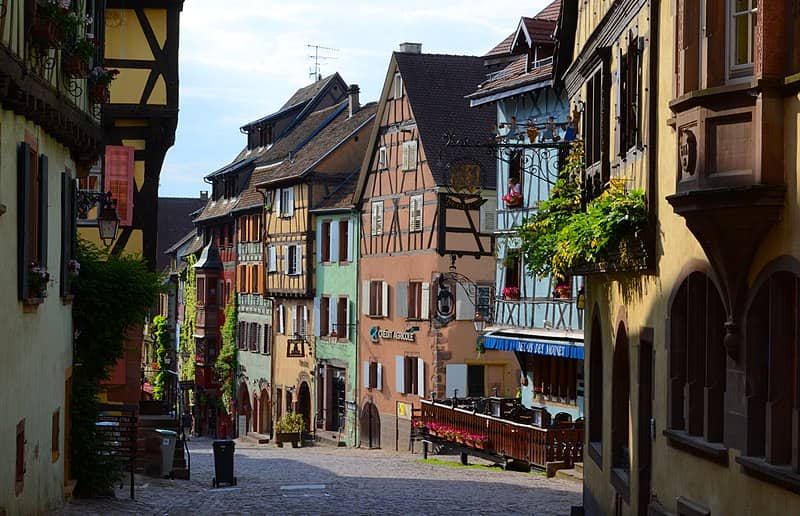 Located in the east of France, the fairytale-like Riquewihr is said to be the place that inspired 'Beauty and the Beast'.
This charming Alsace town has cobbled streets and alleys lined with colorful half-timbered houses.
Most of these are built from the 15th to the 18th centuries and looks straight out of a storybook. There's a local legend that sort of explains the colors in this town.
They say that shops have to be painted differently according to the owner's profession (such as baker, butcher, seamstress, etc).
---
Check out these best things to do in Riquewihr, France. 
---
Travel Tips for France in February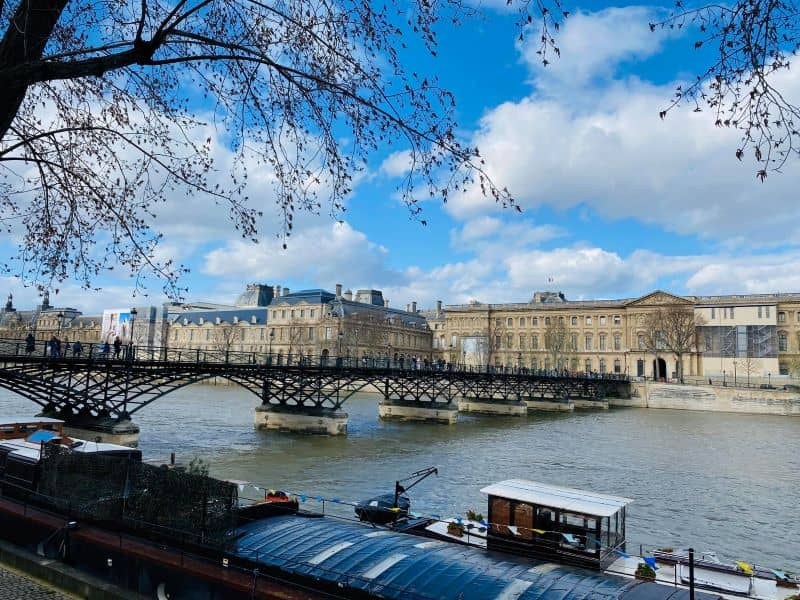 1. French food during winter is heartier and tastier, and it's a great time to enjoy delicacies such as black truffles.
Get them in weekend markets or enjoy them served as various dishes in cafes and restaurants. Stock up on trendy essentials as the sales season continues in February.
It's a must for tourists who want to score branded, good quality items at low prices. Be sure to buy items like coats, jackets, scarves, and shoes you can use while traveling.
3. France is regarded as one of the best countries to visit for a romantic getaway.
Since it is Valentine's month and if you're traveling with your partner, visit some of the country's most beautiful places that are not Paris, Marseilles, or Nice.
How about a walk through quaint villages or medieval small towns in the southwest?
Better yet, visit the village of Roquemaure, where the town church holds the remains of the patron saint of lovers, St. Valentine.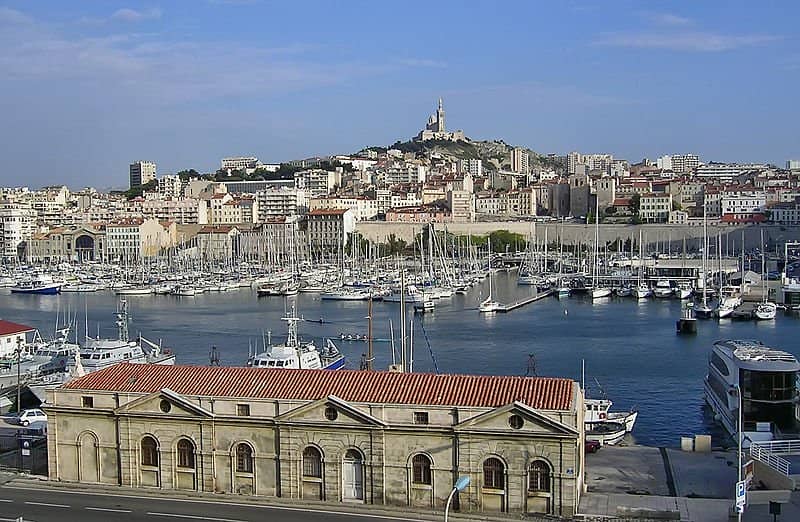 4. February is still off-season for tourism in France and most European countries. This means that a number of attractions may be closed during this time.
To ensure that you'll get to see as much of a certain city or town as you can, check the official websites of these places or inquire with the local tourist information office.
Some may have limited opening hours so take note of these to make the most of your trip.
5. France has a vibrant cafe culture and the winter season is a great time to do the cafe scene like a local.
Every town or city has charming cafes, often with alfresco areas, terraces, or huge picture windows.
These are ideal for hanging out, enjoying a book, or people watching as you savor your favorite coffee blend.
---
New to Airbnb? Get $64 off for your next trip if you use our link here. 
---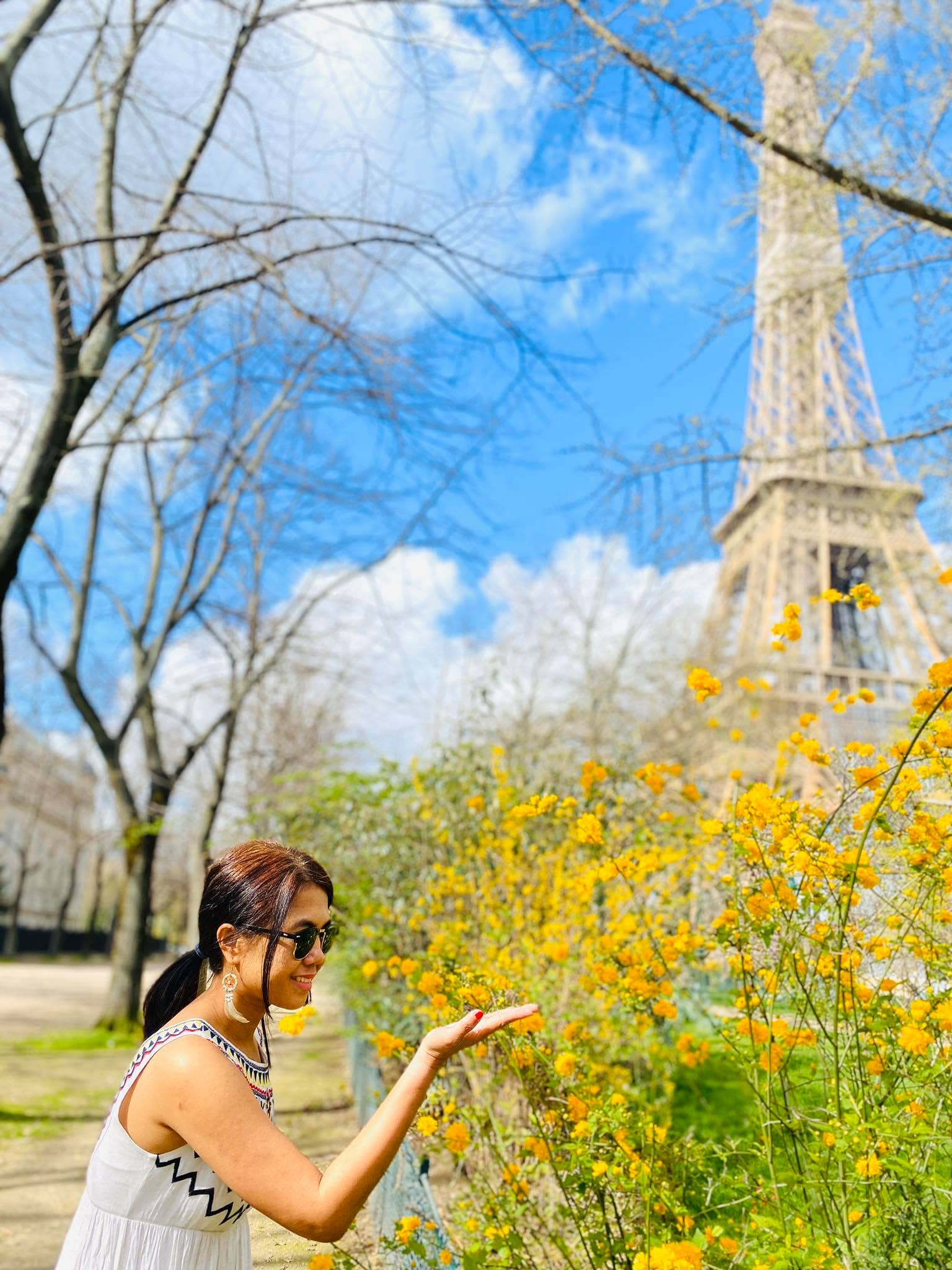 Hi, I'm Christine – a full-time traveler and career woman. Although I'm from the Philippines, my location independent career took me to over 40 countries for the past 8 years. I also lived in 3 continents – from the Caribbean, South East Asia to Africa. France remains special to me, however. From architecture, history, and arts – France is truly an amazing place.