September officially ends summer and welcomes fall in France.  The weather is still warm, but cozy.
Crowds in popular cities and destinations are slowly dissipating. It is the month for long walks and watching as old towns, parks, and gardens take on the fall colors.
France in September has a lot in store and here's a helpful guide to help you out.
---
New to Airbnb? Get $64 off for your next trip if you use our link here. 
---
France in September: Weather, Things to See and Travel Tips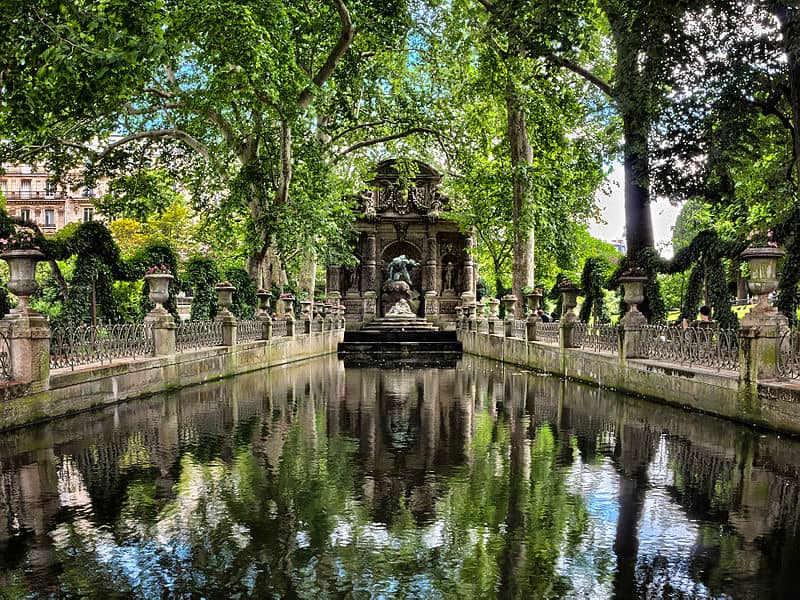 What is the weather like in France in September?
Temperature in France in September
September in France has an average temperature of 18°C to 25°C.
Rain in France in September
Expect rain in France, about 50mm of rain over a period of 8 days in September.
Wind in France in September
For September, wind speed in France is usually between 11.8 miles per hour to 12.8 miles per hour.
What to pack in France in September
Autumn in France is quite spectacular, as the cities and countryside take on the fiery colors. The weather is cooler and most attractions are less crowded.
Autumn in France is also the wet season, although it's not too cold yet for leisurely walks and night outs. Autumn temperature in France ranges from 55°F to 65°F (13°C to 18°C).
Be sure to bring clothes that you can easily layer, such as this long-sleeved shirt and pullover that you can also mix and match with other clothing items in your bag.
A scarf is a must, as well as comfortable yet stylish shoes for walking around and enjoying France's autumn splendor.
These are the things that are non-negotiables when packing for a trip to any destination.
Keep things organized by putting each type in color-coded luggage organizers. Putting them in these separate, lightweight packing cubes or pouches makes it easier for you to find or keep them in place.

Toiletry Kit – Bring only those that you won't most likely find in drugstores or malls in France. If your skin is adaptable and not too sensitive, bring products that have multipurpose such as moisturizing facial wash, or shampoo and conditioner bars. Otherwise, travel toiletry kit essentials include deodorant, makeup, toothpaste, toothbrush, travel size shampoo, conditioner, body soap, razor/grooming kit, and towel.
Gadgets – Apart from the usual cellphone, camera, tablet, and laptop, bring items that will ensure these will work properly in France. A must is a small power bank to make sure you can recharge your devices even on the road. You can get it here.
USB cables and a universal adapter are also a must as you don't know if your devices will have the correct type of plugs. You can get it here.
Other Important items – A first aid/emergency kit is a must and should contain the following: pain and fever medication, antidiarrheal medication, softening and soothing lozenges, anti-mosquito cream/gel, and medicines for carsickness or seasickness.
Water in France is generally potable so instead of buying bottled water, you can bring your own bottle instead and just refill it. This reusable water bottle is also a collapsible one so you can put it in your bag easily.
There's always a chance of rain in France so a foldable umbrella or lightweight raincoat is a must.
Bags and Luggage – A travel backpack should accommodate all your essentials plus the clothes that are good for about ten to fifteen days of travel. While in France, you also need a day bag that you can use when visiting attractions or going on day trips.

Check out this packing list for all seasons.
Things To Do In France In September
1. Classical music concerts in a more relaxed setting‬
View this post on Instagram
Classique au Vert is a yearly classical music fest that's held every summer until mid-September. It is held in Paris and other major cities, and one of the best things to do in France.
The setup is more relaxed, there's a variety of performances and related events. This basically makes classical music more accessible to people than just staging them as formal concerts.
It's a fun and inspiring event, in one of the most beautiful cities in the world. You also get to interact with talented performers as well as other music lovers.
2. ‪Celebrate Fête de la Gastronomie ‬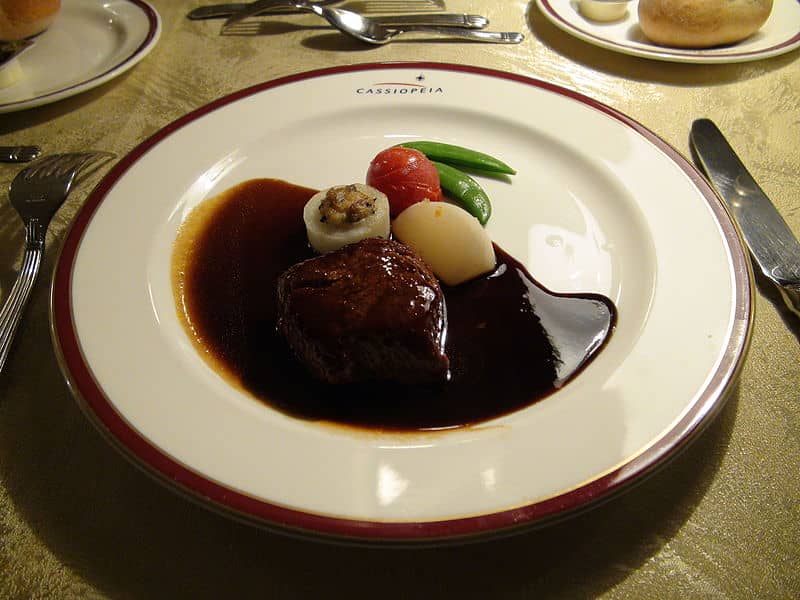 One simply cannot resist this delicious Parisian event, where you get to sample and enjoy excellent  French dishes at a lower price.
Held during the last week of September, Fête de la Gastronomie ‬also features cooking demonstrations and recipe competitions.
There are also events that showcase cuisine from other countries. It's a fun, informative, and definitely tasty way to enjoy French food, right in the country's capital, Paris.
3. Explore Marseille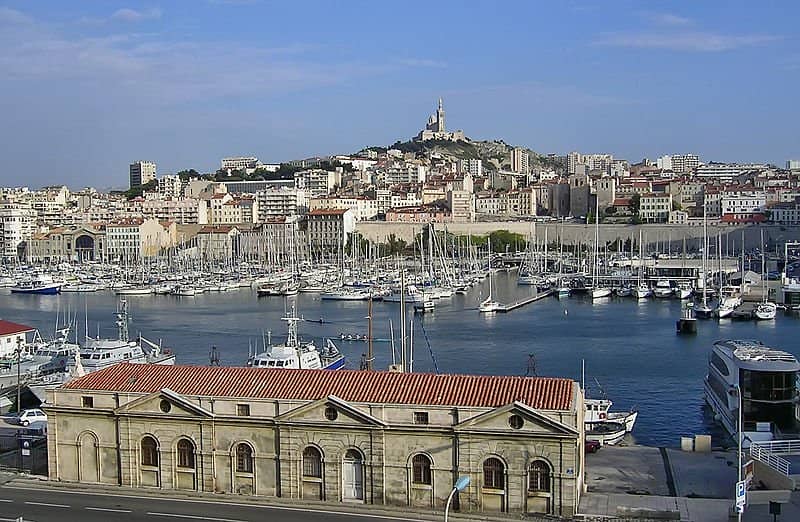 Often regarded as the oldest city in France, Marseille is also the second-largest, next to Paris.
This beautiful city is one of the best places to visit in France, as it has a lot of fascinating attractions. It has a long history that dates back to over two thousand years ago.
Visit its Old Port, which was established by Phoenicians over 2,500 years ago. Sit back and relax, watch the hustle, talk to locals (practice your French!) or sample some local cuisine.
A must-try is the bouillabaisse, a hearty soup made even more flavorful by freshly caught local fish.
---
Check out these things to do in Marseille, France
---
4. Visit Lille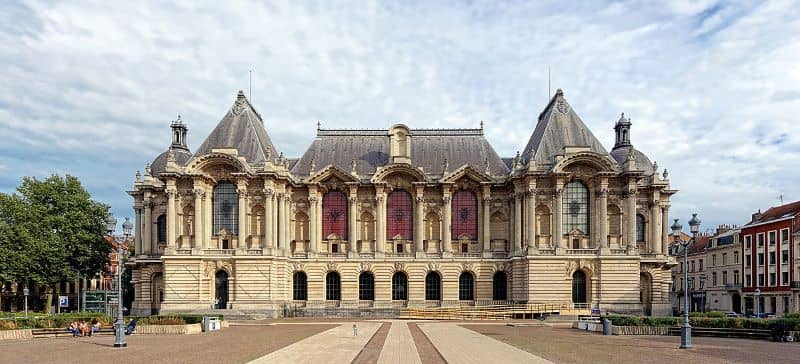 September is a great month to visit Lille, which happens to be one of the most beautiful cities to see in France. This charming city is situated close to the Belgian border and is known for the Grande Braderie de Lille.
This event takes place every September, which is basically 48 hours of market stalls lining the city streets.
Sample local treats in these stalls, such as mussels, french fries, and waffles. Buy and take home some wine, cheese, pastries, and chocolates.
After enjoying the food, be sure to visit one of France's largest fine arts museums – the Palais des Beaux-Arts de Lille.
---
Check out these things to do in Lille, France
---
5. Enjoy the beaches in Nice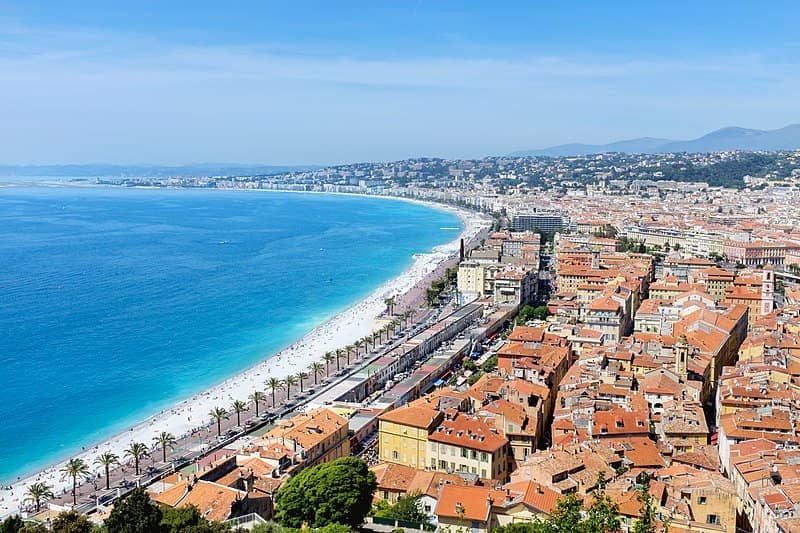 If you ever wanted that summer feel while in France, head towards the French Riviera and visit Nice. This iconic city just has that pleasant, perpetually summer vibe that makes it a top destination in France.
One simply cannot get enough of its rocky beaches and picturesque Old Town with its colorful houses.
Another must-do here is to try some traditional French dishes, made with a bit of a modern twist.
---
Check out these things to do in Nice, France
---
6. The Trams of Montpellier
If you're looking for a fun thing to do in France, then visit the charming Montpellier and ride its stylish trams. These tram lines are decorated by iconic designers such as Garouste,  Bonetti, and Lacroix for lines one, two, and three respectively.
Montpellier is also home to some of France's most beautiful squares, all with a distinct character. Two of the squares that you must visit are the Place de la Comédie and the Place de la Canourgue.
Another must-visit here is Monaco, regarded as the best pâtisserie in Montpellier.
---
Check out these best things to do in Montpellier, France. 
---
7. Have a Crepe in Saint-Malo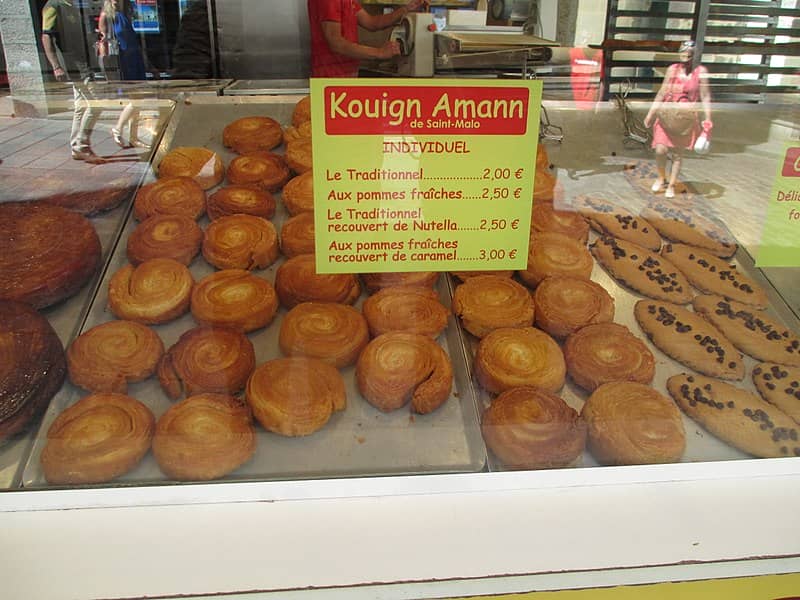 The fortress city of Saint-Malo is a must-visit when in France. It is located in Brittany and was first constructed as a rocky island. This is a lovely city, with an interesting structure.
However, it is also known for its sweet or savory crêpes or kouign-amanns. Brittany has a rich and distinct food culture, and the crepes of Saint-Malo are part of it.
Another must-do in this fortress city is to enjoy its views onboard a ferry to Dinard – another lovely place to visit.
From the boat, you are presented with a view of Saint-Malo that makes you understand its distinct structure better.
8. Check out Aix-en-Provence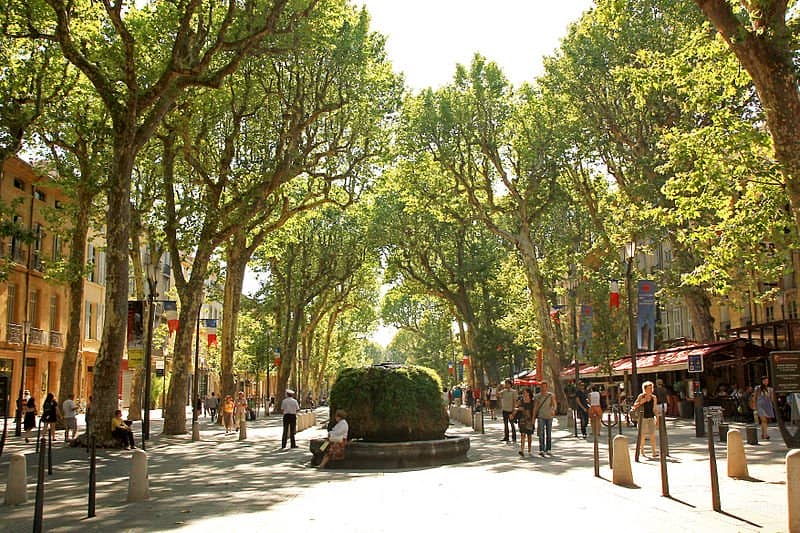 Aix-en-Provence has a number of names, referencing its long history or its stunning cityscape. It is the "City of Counts" because the Counts of Provence once lived here.
This is also why Aix, as it is fondly called – has a number of magnificent palaces.
Around the city center, you'll also find many fountains, hence it is also called the "City of a Thousand Fountains."
More than its names and what it is known for, Aix-en-Provence is a laid-back city with a distinct old-world charm. It is ideal for vacations, with a bit of adventure.
---
Check out these things to do in Aix-en-Provence, France
---
9. Visit Reims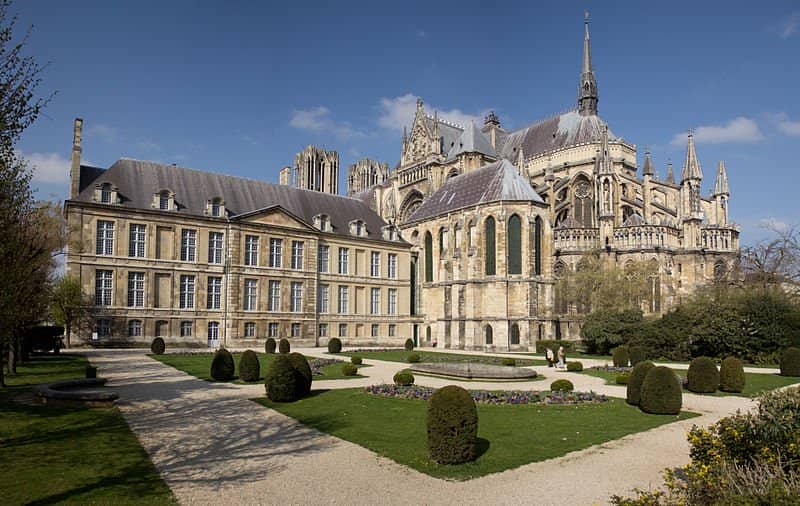 Reims is an easy day trip from Paris (less than an hour by TGV train), and one of the most exciting destinations in the Champagne Region. It is part of France' Villes d'Art et d'Histoire" (Cities of Art and History), because of its rich history and culture as well as its impressive architecture.
In Reims, you'll walk among centuries-old buildings and historic monuments, as well as fabulous cafes and restaurants. Reims is easily reached from Paris and you can explore its best attractions within a day.
However, Reims is also home to fascinating museums, elegant squares, and champagne houses.
This city is definitely a must explore and whether you're on a day trip or staying for the weekend.
---
Check out these things to do in Reims, France.
---
Travel Tips for France in September
1. September is one of those months of the year where the weather in most parts of France is unpredictable. Be sure to bring a hat, a scarf, a weatherproof jacket, and sturdy shoes. These should help you get through the changing weather and still enjoy your vacation.
2. September is when locals head back to school or work. It is then a great time to visit the beach if you want to experience what summer must be like in France. A must-visit is anywhere in the Cote d'Azur area, which gets too crowded in July and August.
3. During September, most museums and attractions keep longer visiting hours. Beat the crowd by going early or late in the afternoon. This ensures that you get to see and enjoy those on exhibit without having to push through a lot of people.
4. Speaking of museums, a lot of museums in France start their extravagant autumn exhibitions. Be sure to check that out and immerse yourself in art in places like the ‪Pompidou Center in Metz‬ and the great Louvre-Lens‬ in northern France.
5. During this time of the year, rates for accommodations and airfare are usually inexpensive. Be sure to keep yourself updated, score great deals, and save some money.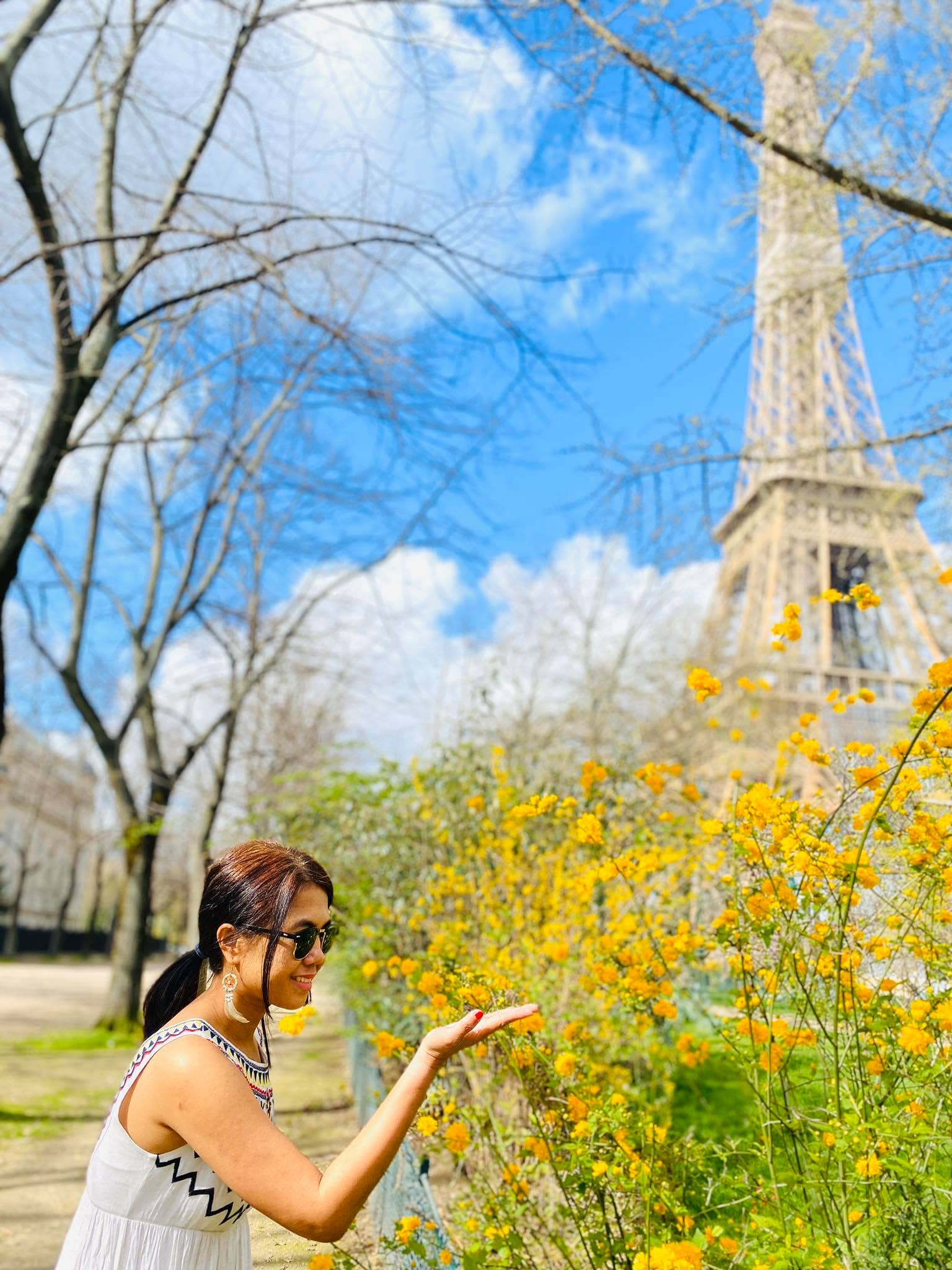 Hi, I'm Christine – a full-time traveler and career woman. Although I'm from the Philippines, my location independent career took me to over 40 countries for the past 8 years. I also lived in 3 continents – from the Caribbean, South East Asia to Africa. France remains special to me, however. From architecture, history, and arts – France is truly an amazing place.