Stunning and fairytale-like, Carcassonne is known for its medieval castles that date back to the Middle Ages.
A visit to this city in the South of France is like a step back in time, with its cobbled streets and centuries-old architecture.
It is also one of the most beautiful towns in France and one of the best towns to visit in the Occitanie region.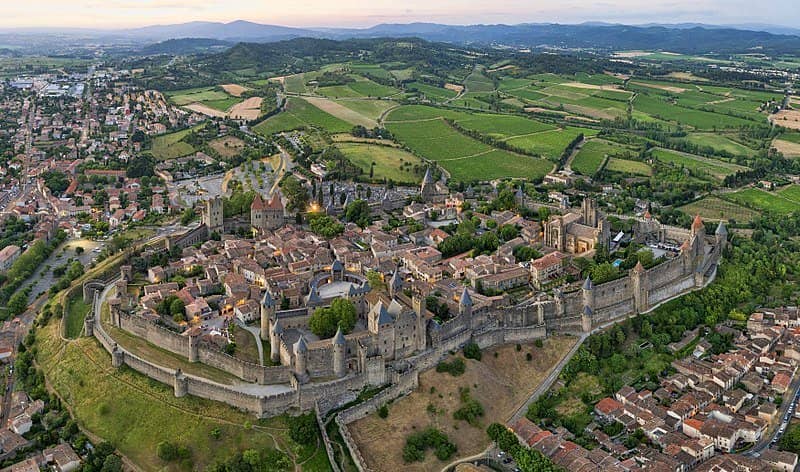 It is a lovely mix of the old and the new, as bars, cafes, eateries, and shops are found between the city's old structures. If you're headed this way soon and want to make the most of your visit, read on to find out the top things to do in  Carcassonne, France.
13 Best Things To Do In Carcassonne, France
---
New to Airbnb? Get a $43 off for your next trip if you use our link here. 
---
1. Carcassonne Medieval City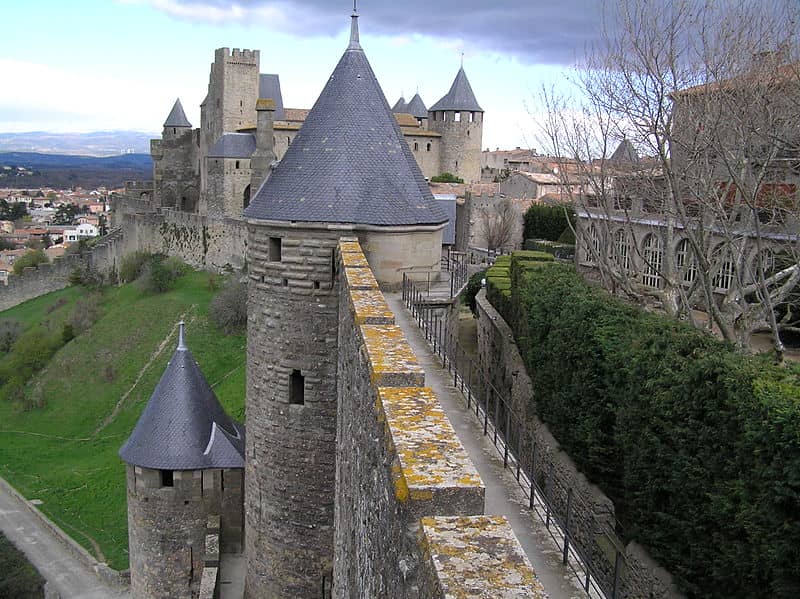 Regarded as one of the most important fortified cities in France, the Carcassonne Medieval City has to be on top of your itinerary. It is located by the River Aude and has been around since pre-Roman times.
It is a  UNESCO World Heritage Site and one of the most popular places to visit in Carcassonne. There's a lot to see and do within this medieval city alone so be sure to plan your visit.
Aside from the fairytale-like atmosphere, this area has some cool shops and cute cafes, as well as various accommodation choices.
2. Chateau et remparts de la cite de Carcassonne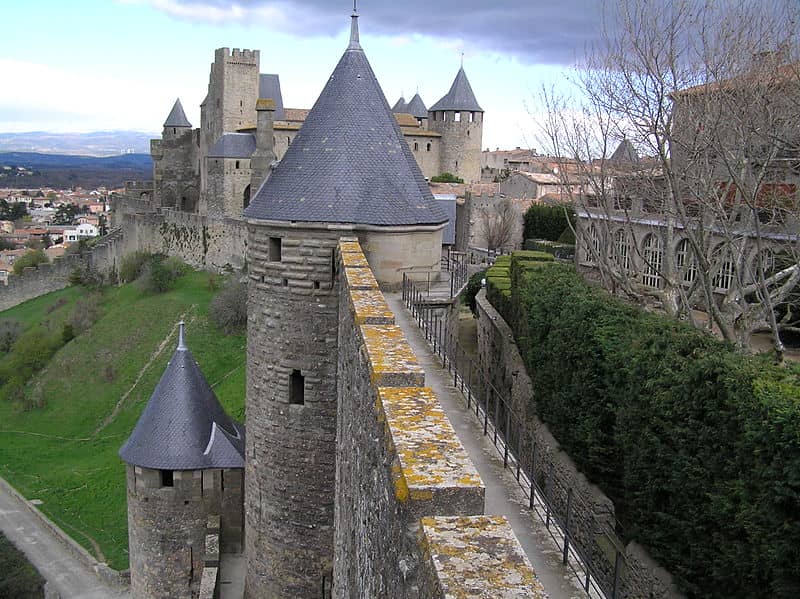 Chateau et remparts de la Cite De Carcassonne is the main castle building of the medieval fortifications. It's a brilliantly restored structure that's now a museum.
The items on display represent the city's history which dates back to Roman times. Plan your trip in advance and join a guided tour that will take you to the hoardings, projection room, ramparts, and the lapidary museum.
This is one of the top Carcassonne attractions so it gets crowded easily.  Book a tour in the early morning to avoid the rush.
Opening Hours:
From January 2 to March 31
Open daily
9.30 am-5.00pm
From April 1 to September  30
Open daily
10.00 am-6:30 pm
October 1 to December 31
Open daily
9.30 am-5.00 pm
Admission Fee:
Individual
9.5 €
Group rates from 20 people
7.5 €
School group rates
30 €
Free
Under 18 (with family and outside school groups)
18-25 years old (nationals of European Union countries and regular non-European residents on French territory) Disabled person and their companion,  Jobseeker (on presentation of a certificate of less than 6 months) Education Pass (valid)
Contact Information:
Address: Castle and ramparts of the city of Carcassonne 1, rue Violet-le-Duc 11000 Carcassonne
Phone:+ 33 (0) 4 68 11 70 70
3. Chateau Comtal
One of the best places to see in Carcassonne the 12th century Chateau Comtal gives visitors a deeper insight into the middle ages.
The tours are pretty interactive as one gets to explore up to the towers and bastions. Wear comfortable shoes and be ready for a castle adventure when you visit.
You get to see secret passages and the places where the soldiers poured hot oil down the walls when enemies were approaching back in the day.
Be sure to check out the towers, as they're all different.  Remember to get an audio guide also to know more about the castle's history.
4. Cathar Castles – Châteaux Cathares
Another of the popular things to do in Carcassonne is a visit to the majestic Cathar Castles.   These are fortresses erected by the Cathars in the 12th century.
The castle has been witness to much of France's history, through war and peace. The Cathar Castles have been destroyed and rebuilt many times, and parts of them are now in ruins. They're still quite a sight to behold though and definitely worth a visit.
5. Carcassonne Cathedral
The 13th century Carcassonne Cathedral is officially called the Cathédrale Saint-Michel de Carcassonne. It was originally constructed as a parish church., and was destroyed then rebuilt again in the 14th century.
The church looks quite plain on the outside, but the interiors are quite stunning. Admire its stained glass windows, the intricate art, and decor.
The cathedral is one of the best attractions in Carcassonne that also holds a lot of history. It is also the final resting place if some historical figures.
6. Stroll through Cobblestone Streets
Spend a few hours in the morning or afternoon exploring the sights of this beautiful city. Walkthrough cobbled streets, discover cute shops along narrow alleyways, or simply admire the old architecture.
This is a great thing to do in Carcassonne for a more authentic local feel. Most buildings are from the medieval era with a touch of the Renaissance.
Look out for the Inquisition House at the corner of Rue du Four-Saint-Nazaire and Rue de la Porte-d'Aude. It is a brilliantly preserved building that dates back to the 13th and 14th centuries.
You will also come across 16th-century houses, as well as buildings from the late 19th and early 20th centuries. You'll also stumble upon shops that sell various items from trinkets to artisan cheeses to candies.
7. Pont Vieux
The charming and picturesque Pont Vieux dates back to the 12th century. This is a pedestrian bridge that connects Carcassonne's fortified Cité and the commercial center and crosses the River Aude.
This historic bridge survived the Catholic crusade against the Cathars in the Middle Ages as well as the Hundred Years War between England and France.
Pont Vieux is a great vantage point for enjoying views of the city, such as that of the Cité's 52 towers. A walk on the bridge is one of the best things to do in Carcassonne at night. Its stone walls are lit up from below and looks quite magical.
8. Lac De La Cavayere – Lake Cavayere
Take a break from visiting castles, churches, and exploring old streets with a relaxing stroll along the lake. Easily accessible from the medieval city, Lac de la Cavayere is ideal for a relaxing walk.
Stunning and picturesque, this is a family-friendly place. It has walking trails, an adventure park nearby, and picnic areas.
This is one of the most beautiful places to see in Carcassonne and the best times to visit are early morning or late afternoon.
9. Try their famous crepe
With Carcassonne being located in the south of France, you simply must have a crepe at least once.
Enjoy it with coffee or tea, while taking a break from exploring this medieval city. This is probably the most delicious thing to do in Carcassonne, and a definite must.
A recommended place is the Creperie le Blé Noir, as they serve all sorts of crepe imaginable.
10. Go Cruising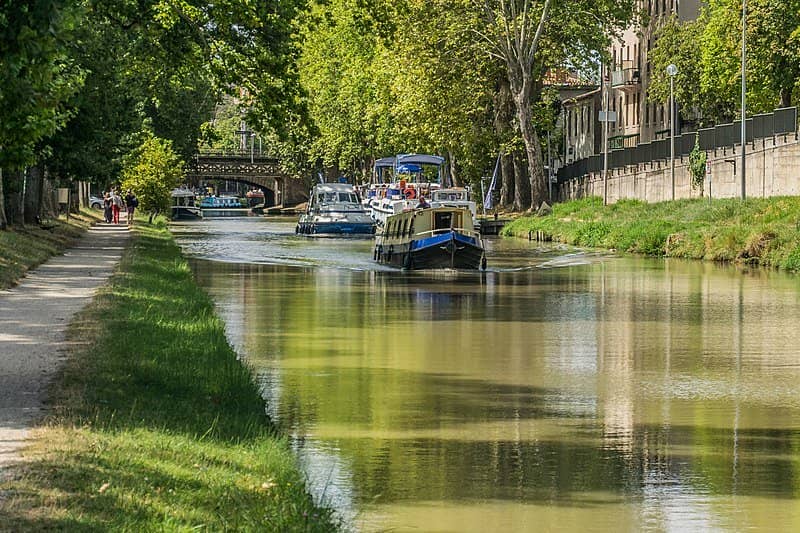 The picturesque Canal du Midi is one of the best places to see in Carcassonne. A cruise here to see the city from the water is definitely a must. It is like watching a moving image of this fairytale-like medieval city and it's quite magical.
The pier where you board the barge is close to the train station. Check schedules and you might chance upon a trip that has food and wine tastings.
11. Do Some Shopping
You can shop anywhere in the world, but the cute shops in Carcassonne are must-visit. These are where you'd most likely score some great stuff yo bring home to family and friends.
Get a cute accessory or trinket, wool coats, or scarves to spice up your wardrobe. You may also stock up on wine cheese and even vegan candies.
Shopping is absolutely one of the best things to do in Carcassonne that you shouldn't miss.
12. Wine Tasting
Carcassonne is located in the heart of the largest wine region in the world. Wine is definitely a top product and a fining staple so wine tasting is a must-do in Carcassonne. One of the popular activities to do in Carcassonne is touring vineyards and wineries.
There are several of these winemaking havens close to town, as well as tour organizers to make your visit more convenient.
Each tour often comes with wine tasting at the end. While you're there, be sure to support and buy a bottle or two as well.
13. Check out the Markets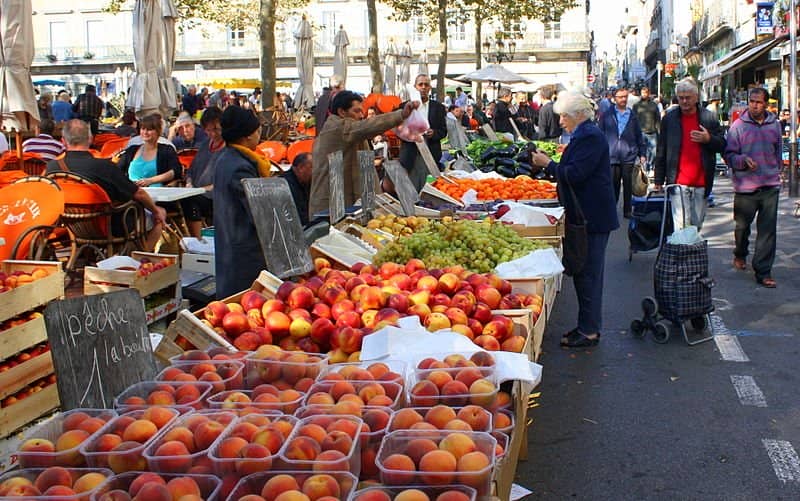 When in any city or town in France, a visit to the markets is a must. In Carcassonne, the food market full of fresh produce is in Place Carnot.
It is open most days of the week, with stall after stall of fresh fruits and vegetables along with local delicacies. There are also mini cafes and snack stations for you to try some local dishes.
On weekends, head towards the clothes market at Square Gambetta for some fabulous finds.
---
New to Airbnb? Get a $43 off for your next trip if you use our link here. 
---
Like It? Pin It!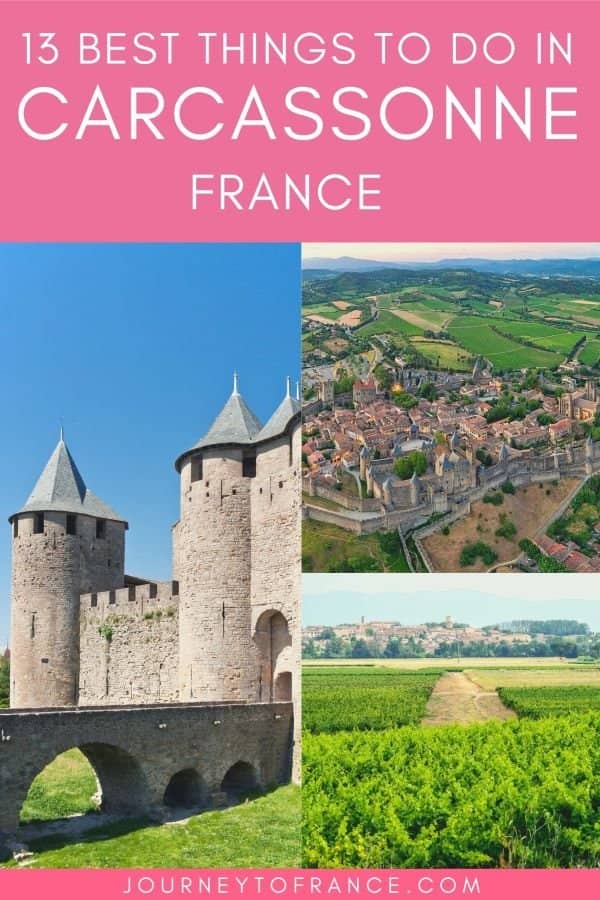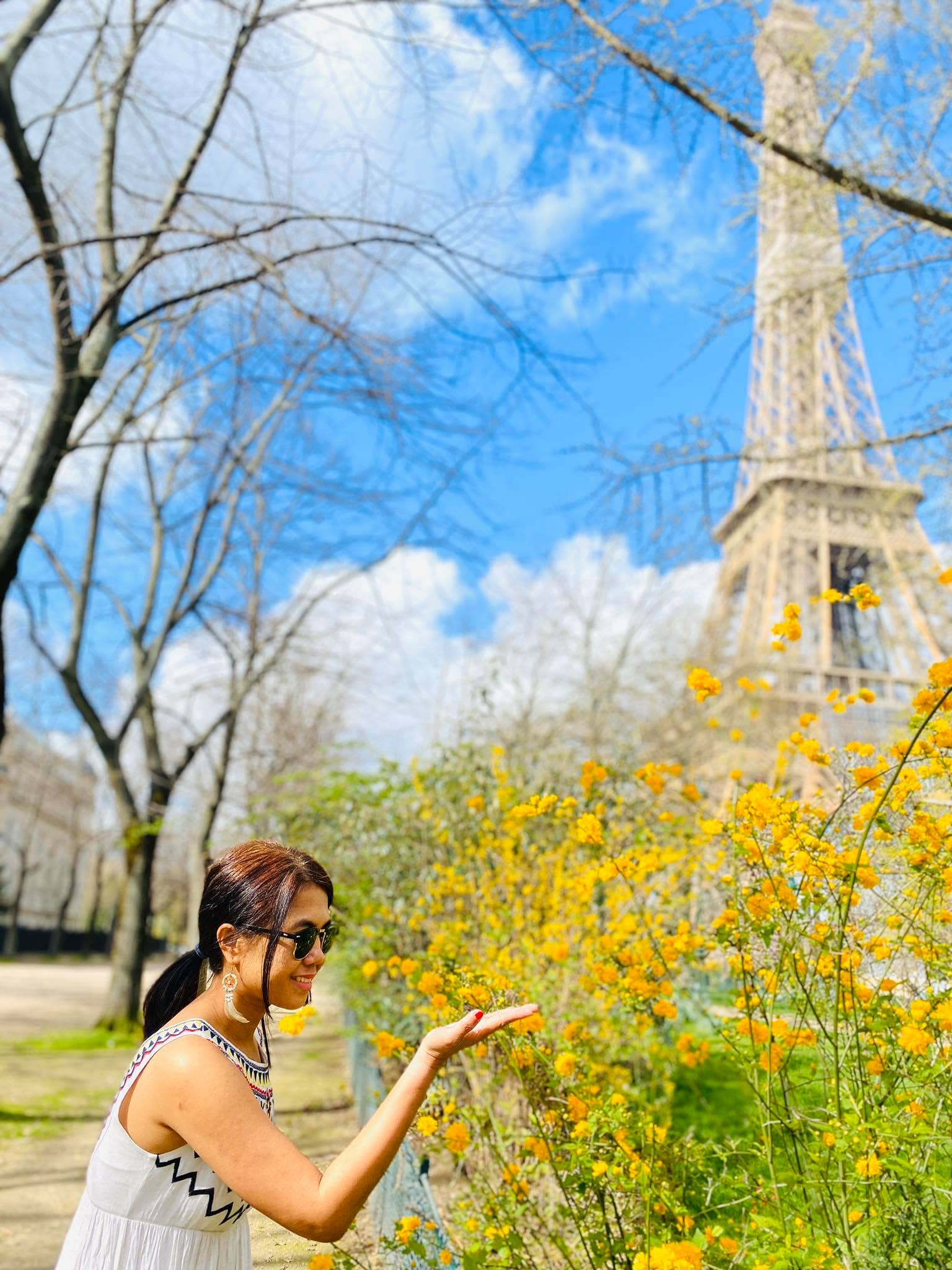 Hi, I'm Christine – a full-time traveler and career woman. Although I'm from the Philippines, my location independent career took me to over 40 countries for the past 8 years. I also lived in 3 continents – from the Caribbean, South East Asia to Africa. France remains special to me, however. From architecture, history, and arts – France is truly an amazing place.