With the warmer weather and as most attractions start reopening after winter, April is often listed as among the best months to visit France.
It is also Spring season, and the already vibrant cities and charming towns become even more alive with color.
---
New to Airbnb? Get $64 off for your next trip if you use our link here. 
---
Stroll through the gardens and surround yourself with radiant blooms, or enjoy festivals that showcase the best of France.
Here's a handy guide to help you plan a memorable holiday as you visit France in April.
France in April: Weather, Things to See and Travel Tips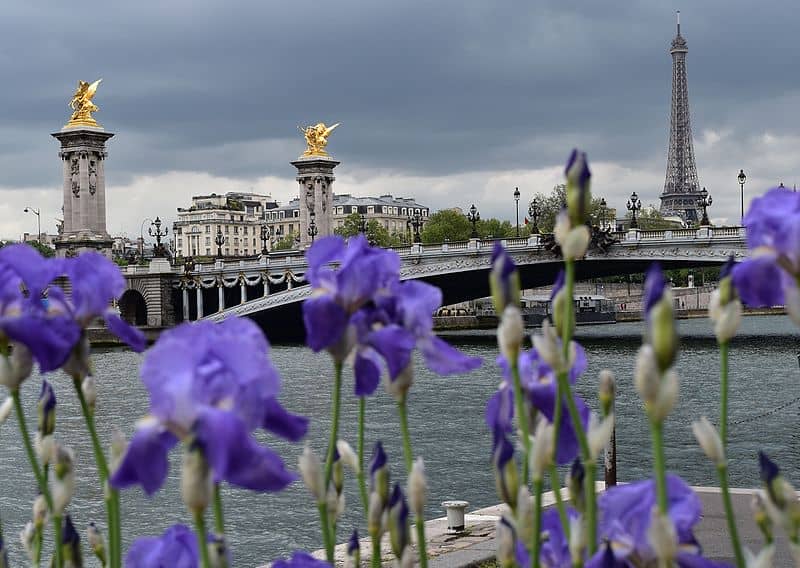 What is the weather like in France in April?
Temperature in France in April
The temperature in France ranges from 12°C to 17°C during April.
Rain in France in April
April in France gets an average of 50mm rainfall over a period of 9 days.
Wind in France in April
During April, France has an average wind speed of 9.4 to 10.6 miles per hour.
Sun in France in April
Daylight in France during April is about 11 to 13 hours. Sunrise is usually between 6:30 and 7 a.m. while sunset is around 8 to 9 p.m.
What to pack in France in April
Spring is one of the two rainiest seasons in France. During this season, the country gets an average of 9 days of rainy weather for the month. Most days are generally warm and the average temperature is about 60°F to 70°F (16°C to 21°C).
A foldable umbrella or lightweight raincoat is a must for wet days. Spring is a lovely time to explore castles, national parks, and visit the countryside. Be sure to pack clothes that are stylish as well as able to protect you from the elements, like this cool jacket and a cute cardigan. They are versatile enough to go with jeans and shirt combo or over a pretty dress. Wear a hat to accessorize and cover your hair. Complete your everyday springtime outfit with sturdy yet comfortable walking shoes that can be worn with anything.

These are the things that are non-negotiables when packing for a trip to any destination.
Keep things organized by putting each type in color-coded luggage organizers. Putting them in these separate, lightweight packing cubes or pouches make it easier for you to find or keep them in place.

Toiletry Kit – Bring only those that you won't most likely find in drugstores or malls in France. If your skin is adaptable and not too sensitive, bring products that have multipurpose such as moisturizing facial wash, or shampoo and conditioner bars. Otherwise, travel toiletry kit essentials include deodorant, makeup, toothpaste, toothbrush, travel size shampoo, conditioner, body soap, razor/grooming kit, and towel.
Gadgets – Apart from the usual cellphone, camera, tablet, and laptop, bring items that will ensure these will work properly in France. A must is a small power bank to make sure you can recharge your devices even on the road. You can get it here.
USB cables and a universal adapter are also a must as you don't know if your devices will have the correct type of plugs. You can get it here.
Other Important items – A first aid/emergency kit is a must and should contain the following: pain and fever medication, antidiarrheal medication, softening and soothing lozenges, anti-mosquito cream/gel, and medicines for carsickness or seasickness.
Water in France is generally potable so instead of buying bottled water, you can bring your own bottle instead and just refill it. This reusable water bottle is also collapsible one so you can put it in your bag easily.
There's always a chance of rain in France so a foldable umbrella or lightweight raincoat is a must.
Bags and Luggage – A travel backpack should accommodate all your essentials plus the clothes that are good for about ten to fifteen days of travel. While in France, you also need a day bag that you can use when visiting attractions or going on day trips.

Check out this packing list for all seasons.
Things To Do In France In April
1. Enjoy Spring in Paris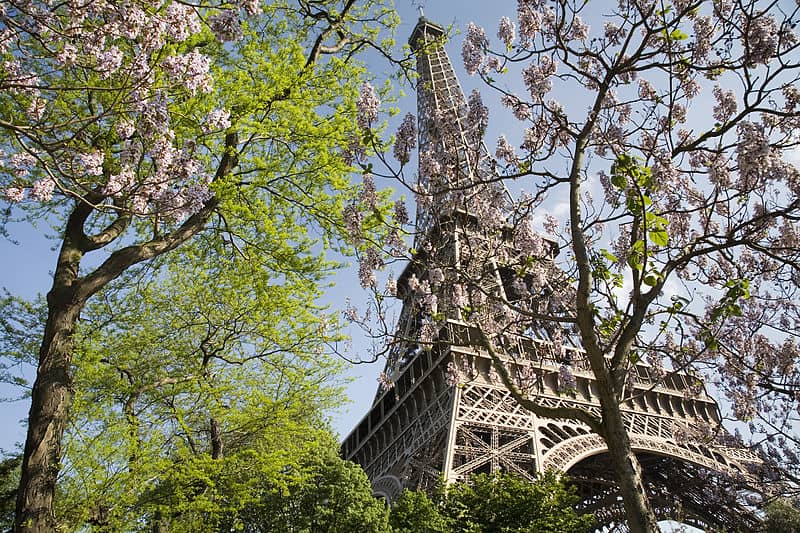 April is one of the best months of the year to be in Paris. The weather is just perfect, there are no huge crowds in major attractions and there's a variety of events you can take part in.
Some of the best things to do in Paris in April include visiting the markets particularly those close to the Luxembourg Gardens and enjoying the vibrant colors of the city's green spaces.
Visit chateaus and museums and enjoy wandering through halls and galleries while these places are not too crowded yet.
April is also when the famous terrace cafés reopen in France, and in Paris, sipping coffee as you take in the scenery is a must!
2. Walk Under Cherry Blossoms in Château de Sceaux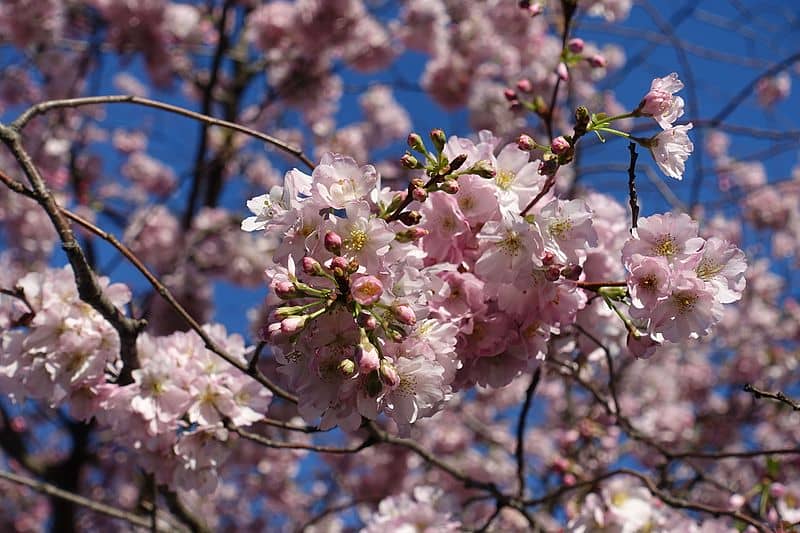 If you are already in Paris and want to go on a quick day trip, head on to Sceaux. It is a commune in Hauts-de-Seine, which is only 36 minutes by train from the center of Paris.
A must visit here is the Château de Sceaux, set in a park designed by André Le Nôtre. Easily one of the best places to see in France in April, this chateau has its own cherry orchard.
There's also a Petit Château within the property that's home to the Musée de l'Île-de-France, which features exhibits about Sceaux's local history.
3. Nantes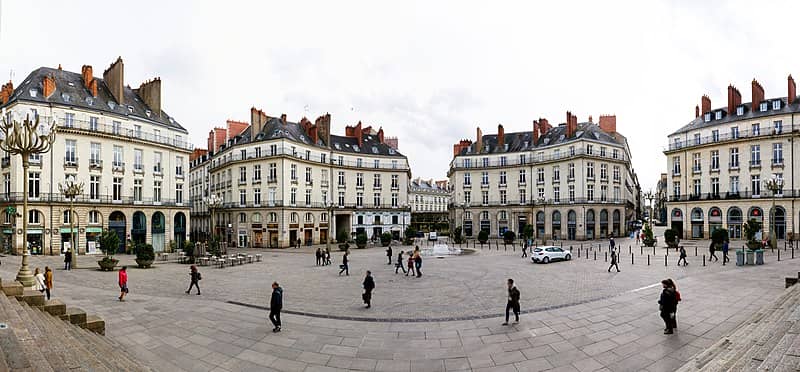 Located in western France near the Atlantic ocean is the charming city of Nantes.
A little off the beaten tourist track, this is an interesting destination if you're looking for a different place to visit in France in April.
Regarded as a gateway to the Loire, Nantes offers attractions and activities that showcase its unique character. For a bit of history, walk along the ramparts of the Ducs de Bretagne.
If you're into practical mechanics, check out the quirky contraptions featured in the Machines of the Isle of Nantes.
This city is also a great place for foodies, with a variety of seafood offerings that you simply must try and savor while you're here.
---
Check out these best things to do in Nantes, France. 
---
4. Rhône Valley Road Trip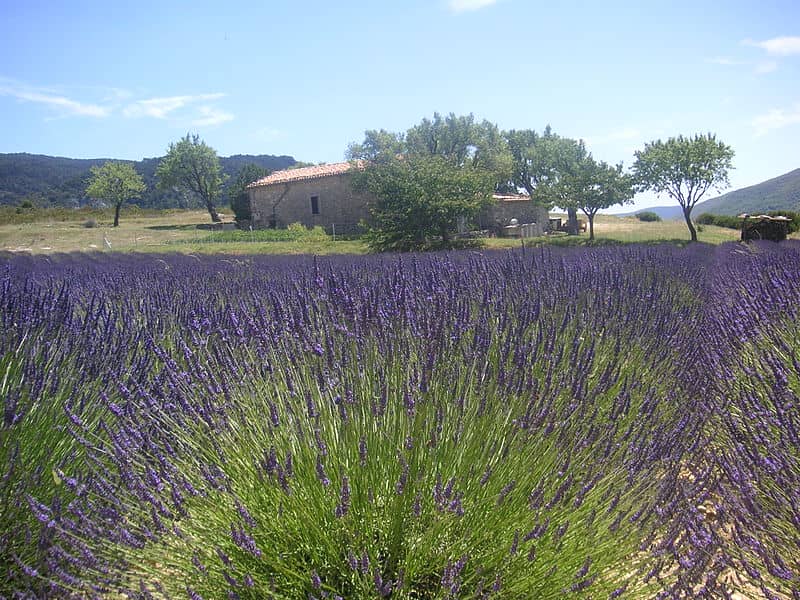 Going on a road trip is the ideal thing to do in France in April if you want to literally see a lot instead of just a couple of towns and cities.
A recommended route is one that follows the Rhône Valley stretch in Southern France. Rent a car and go on this scenic adventure.
Enjoy the best of France from the gastronomic delights in Lyon to the sultry Provence countryside down to the Mediterranean coast.
Along the way, stop at ancient Roman towns, taste local wines, and take in the stunning scenery. A road trip through some of the most breathtaking parts of France is a must-experience.
5. International Garden Festival‬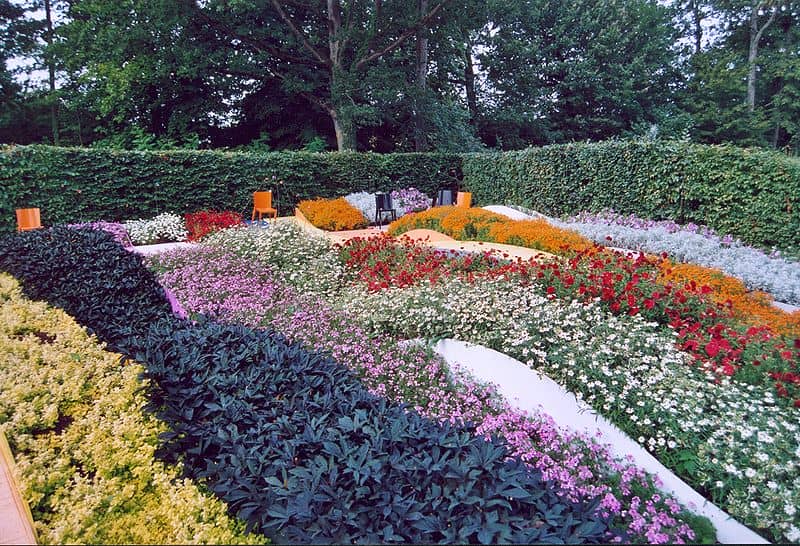 ‪The picturesque Loire Valley hosts the International Garden Festival, a yearly event in France. This Festival is an exquisite showcase of thirty themed gardens from around the world.
Held from April to October, this event takes place in the gardens of Château Chaumont-sur-Loire.
Here, you get to admire the themed masterwork of participating artists, designers, and landscape architects.
6. Wander Around Monet's Garden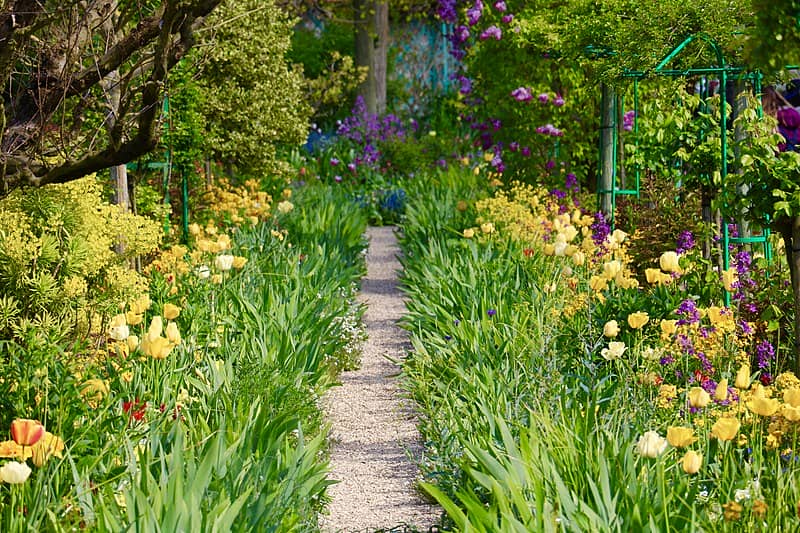 A one of a kind April adventure should take you to Monet's Garden in Giverny.
Located in the Normandy region, the garden is located in a property owned by the pioneering Impressionist painter, Claude Monet.
Check out the radiant blooms, marvel at the dreamy Japanese garden, and take in the scenery that inspired a number of his best works.
Within the gardens, you'll also find Monet's house which is converted into a museum that honors his life and works. It is also one of the best gardens in France. 
Travel Tips For France In April
1. ‪If you're traveling in April, it is best to plan your trip months ahead to make sure you secure good deals. Even if it's part of the shoulder season along with May, prices go up if you book closer to your travel date.
Whether it's airfare, car rentals, accommodations, or tours — sorting it out way before your trip ensures a hassle-free holiday. ‬
2. ‪April is the peak of Spring and if you're going to Paris, you just have to make sure it's going to be unforgettable.
Instead of going to popular garden parks like ‬the Tuileries or the Jardin du Luxembourg, visit the lesser-known green spaces as well.
An example is the romantic Buttes-Chaumont in the northeast. It is quite secluded, filled with radiant blooms, and offers sweeping views over Paris.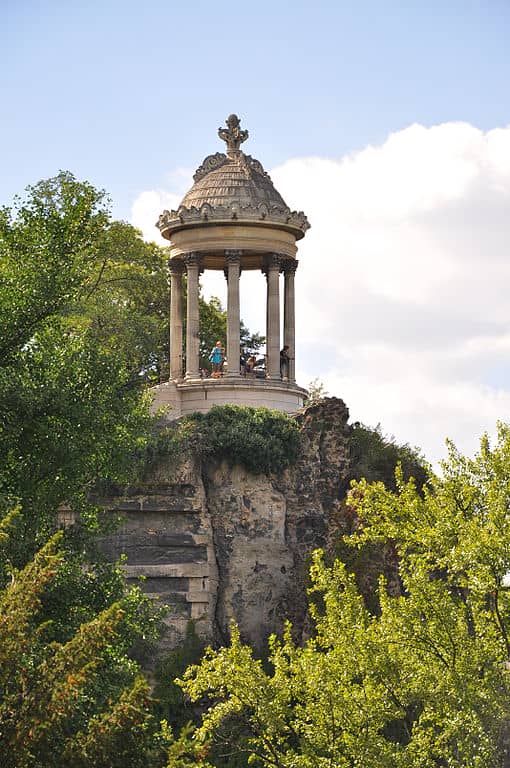 3. ‪If you really must go to a popular garden, check out the sprawling ‬Luxembourg Gardens or the one in Versailles.
The best time to visit is early morning or late afternoon where you get to explore these places in relative peace.
4. As the weather gets warmer, more establishments resume doing their business.
April is when terrace cafes reopen in France, and a great place to take in the vibrant scenery or people watch. This is also a cool way to interact with locals and feel like one.
5. Spring is a lovely time to be in France, but it is also the season of high airborne pollen and pollution levels particularly in huge cities.
Prevent or get rid of allergies quickly by bringing proper medications if you are sensitive to pollen and other pollutants.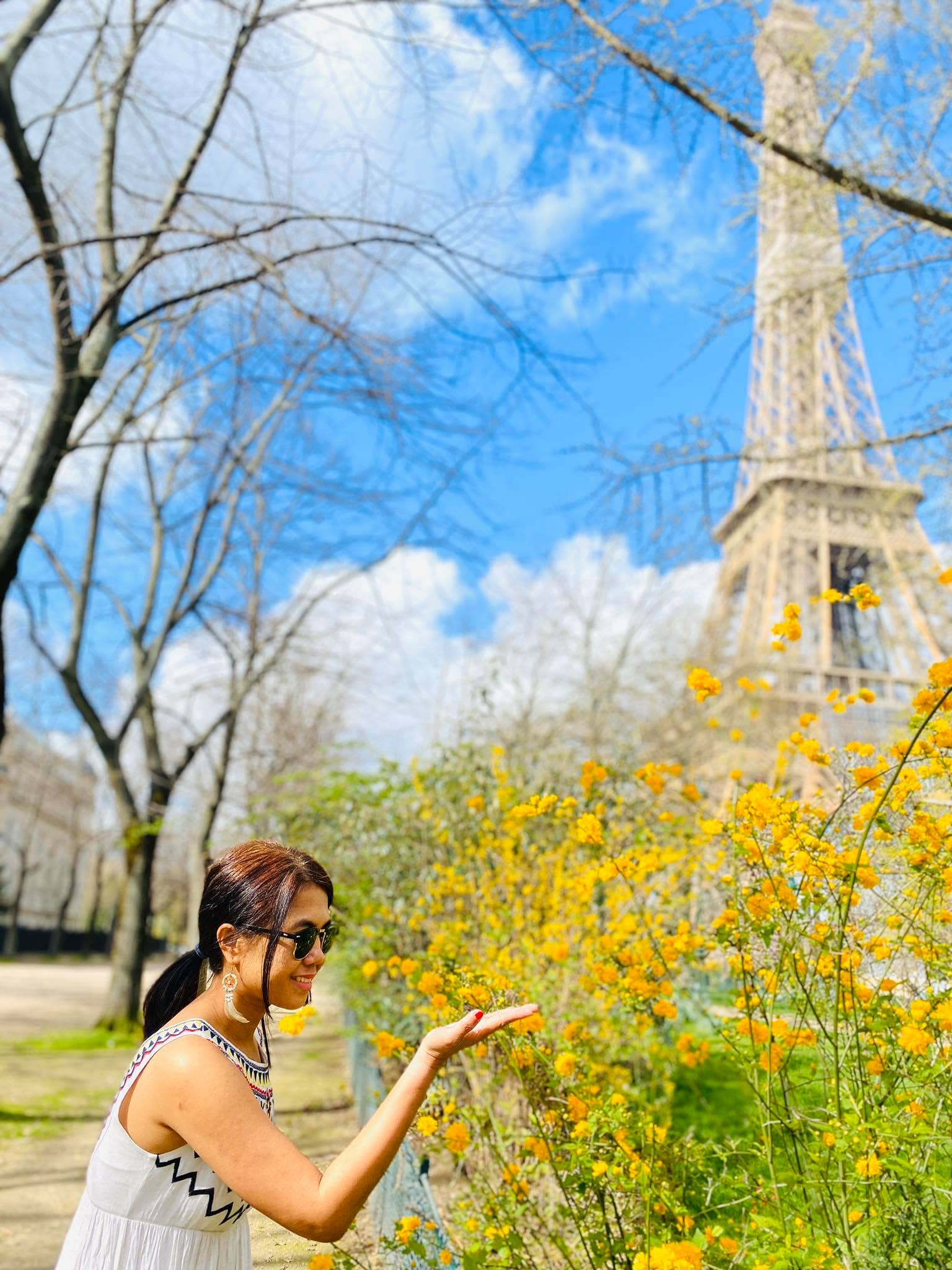 Hi, I'm Christine – a full-time traveler and career woman. Although I'm from the Philippines, my location independent career took me to over 40 countries for the past 8 years. I also lived in 3 continents – from the Caribbean, South East Asia to Africa. France remains special to me, however. From architecture, history, and arts – France is truly an amazing place.