May is that month before a huge volume of tourists troop to France in time for the summer months.
Often associated with warm weather, pleasant days, and Springtime colors, May is one of the best months to visit France.
---
New to Airbnb? Get $64 off for your next trip if you use our link here. 
---
It is one of those times when you can enjoy castles, museums, and parks without having to brave the crowds. May is also one of the best months to tour colorful vineyards and enjoy wine tastings.
If you're planning a French holiday in May, plan ahead and know what to expect. Check out this useful guide to help make the most of your visit to France in May.
France in May: Weather, Things to See and Travel Tips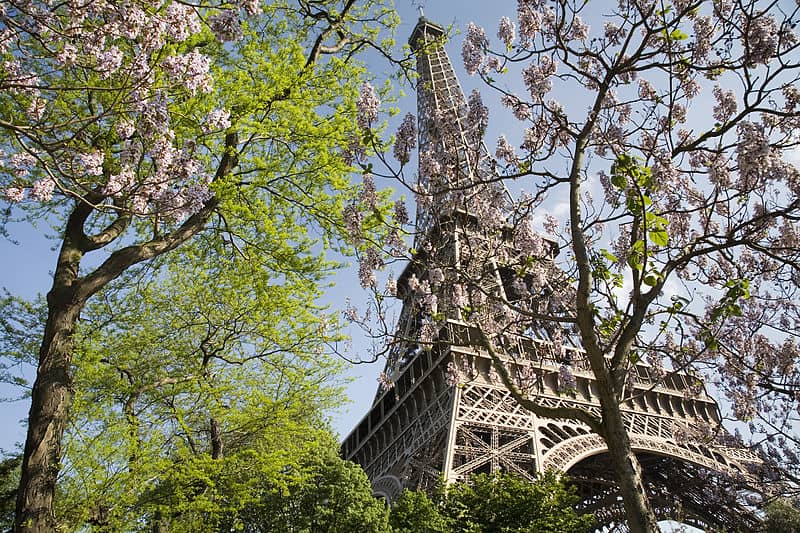 What is the weather like in France in May?
Temperature in France in May
In May, the average temperature in France is around 16°C to 22°C.
Rain in France in May
France usually gets around 60mm of rain over 9 days in May.
Wind in France in May
The wind speed in May ranges from 8.8 to 9.3 miles per hour.
Sun in France in May
France in May often gets 14 daylight hours. Sunrise is usually before 6 a.m. while sunset is around 9 p.m.
What to pack in France in May
These are the things that are non-negotiables when packing for a trip to any destination.
Keep things organized by putting each type in color-coded luggage organizers. Putting them in these separate, lightweight packing cubes or pouches make it easier for you to find or keep them in place.

Toiletry Kit – Bring only those that you won't most likely find in drugstores or malls in France. If your skin is adaptable and not too sensitive, bring products that have multipurpose such as moisturizing facial wash, or shampoo and conditioner bars. Otherwise, travel toiletry kit essentials include deodorant, makeup, toothpaste, toothbrush, travel size shampoo, conditioner, body soap, razor/grooming kit, and towel.
Gadgets – Apart from the usual cellphone, camera, tablet, and laptop, bring items that will ensure these will work properly in France. A must is a small power bank to make sure you can recharge your devices even on the road. You can get it here.
USB cables and a universal adapter are also a must as you don't know if your devices will have the correct type of plugs. You can get it here.
Other Important items – A first aid/emergency kit is a must and should contain the following: pain and fever medication, antidiarrheal medication, softening and soothing lozenges, anti-mosquito cream/gel and medicines for carsickness or seasickness.
Water in France is generally potable so instead of buying bottled water, you can bring your own bottle instead and just refill it. This reusable water bottle is also collapsible one so you can put it in your bag easily.
There's always a chance of rain in France so a foldable umbrella or lightweight raincoat is a must.
Bags and Luggage – A travel backpack should accommodate all your essentials plus the clothes that are good for about ten to fifteen days of travel. While in France, you also need a day bag that you can use when visiting attractions or going on day trips.

Yes, it is a must to literally travel in style while in France. You do not have to look as if you're about to step into the runway, but you can't look too drab either.  To be sure, just be sure to pack tailored or at least well-fitting clothes.
Bring a lot of blacks and neutrals as they're always fashionable in France.
When traveling to the countryside, just opt for more relaxed and practical clothing items such as jeans, shirts, and a light jacket.
Women should bring not just items that are suitable for daily outings but for fancier occasions as well. Their packing list should consist of a bra, underpants, skirt/dress, shorts, jeans or casual pants, jacket or cardigan, and shirts (long-sleeved, short-sleeved, casual, and dressy). Women should also bring a hat (that can be easily packed like a bucket hat) scarves, socks, sneakers, and dressy flats.
Men should also consider France's varied climate as well as dressing up for fancier occasions. Clothing items that should go into their France packing list are undershirt/T-shirts, briefs or boxer shorts, shirts (long-sleeved, short-sleeved, casual, and dressy), dress slacks, jeans, or casual pants and jacket, blazer, or cardigan. Sweater and shorts are also necessities as well as a hat, walking shoes, dress shoes, and sneakers or sandals.
Spring is one of the two rainiest seasons in France. During this season, the country gets an average of 9 days of rainy weather for the month. Most days are generally warm and the average temperature is about 60°F to 70°F (16°C to 21°C).
A foldable umbrella or lightweight raincoat is a must for wet days. Spring is a lovely time to explore castles, national parks, and visit the countryside. Be sure to pack clothes that are stylish as well as able to protect you from the elements, like this cool jacket and a cute cardigan. They are versatile enough to go with a jeans and shirt combo or over a pretty dress. Wear a hat to accessorize and cover your hair. Complete your everyday springtime outfit with sturdy yet comfortable walking shoes that can be worn with anything.

Check out this packing list for all seasons.
Things To Do In France in May
‪1. Les Grands Jeux Romains (The Great Roman Games)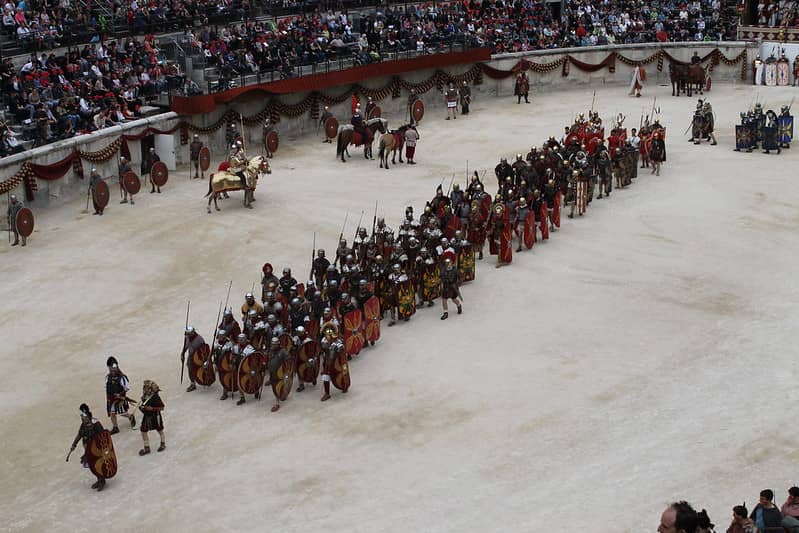 ‪Regarded as one of the best annual themed events in Europe, the Great Roman Games takes place at the ‬Arènes de Nîmes.
Held from May 1 to 3, the event gathers ‪500 people wearing ancient Roman costumes.
Held in the well-preserved Nimes Amphitheater, this is a large-scale reenactment of ludi or public games.
Some of the games featured in this grand spectacle include ‬equestrian exhibitions, chariot racing, and gladiator combat.
2. Festival du Mot in Burgundy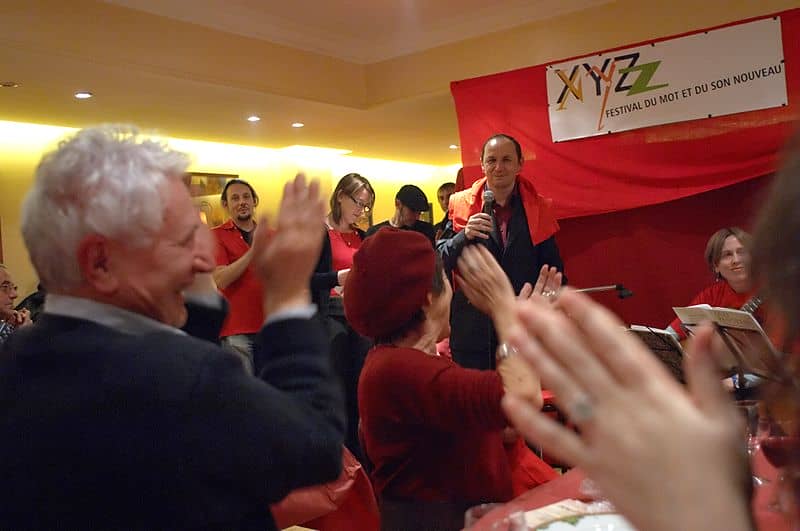 A unique thing to do in France in May is held in Burgundy.
The region is known for its wine, from Merlot to Sauvignon.
However, another reason why visitors go here in May is because of the Festival du Mot, or Festival of the Word. This is a linguistic and literary event that honors the French language.
Writers from all over the world go to Burgundy to take part in this festival. There are cool activities that showcase the beauty of the French language, from film screenings to writing workshops.
This is a must experience even if you're not very fluent in French as there are performances like dances and art exhibits to appreciate.
3. Cote d'Azur (French Riviera)
Known for its pretty coastal towns and crystal blue waters, the French Riviera is one of the best places to visit in France in May.
This popular Southern France destination isn't very crowded yet in May, and you get to enjoy your time at the pristine beaches and explore nearby towns.
The French Riviera or Cote d'Azur stretches from Cassis and Toulon to the Mediterranean coast and Saint Tropez.
This coast also encompasses the micro-state of Monaco and the region of Provence, which are fantastic places to explore before the weather gets too hot.
4. ‪Taste of Paris‬
‪If you're in Paris in May, head to the Grand Palais for the Taste of Paris food festival.
This delightful gastronomic event features numerous food vendors in one huge venue. Check out and sample a variety of French dishes, delicacies, and treats that will truly give you a taste of the French capital.
This has to be one of the things to do in France in May that you shouldn't miss.
Eateries and restaurants all over the city also take part in this event so you get to enjoy diverse options that'll keep your stomach full by the end of the day.
5. Visit Metz
Metz is located close to the borders of Germany and Luxembourg, a true haven for lovers of history and culture.
Home to many historic churches and intriguing museums, Metz is a lovely town to visit in France in May.
This capital of the Lorraine region has a long history, and a walk around town is like wandering through an open-air museum because of the many historic structures and an old-world vibe.
Metz is even more stunning when awash in Spring colors, a true gem that should be part of your visit to France in May.
---
Check out these best things to do in Metz, France. 
---
6. French Motorcycle Grand Prix / Monaco Grand Prix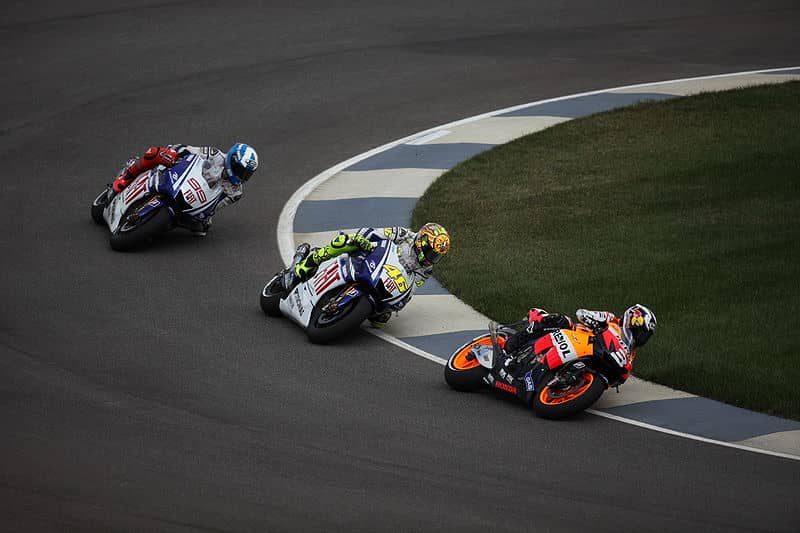 With its warm weather that's just right for enjoying the outdoors and watching intense sports events, May is a great time for racing enthusiasts.
Two celebrated events are held this month — the French Motorcycle Grand Prix and the Monaco Grand Prix.
The Motorcycle Grand Prix is held in the charming city of Le Mans in Northern France, which in itself is a lovely place to visit. Watching the heart-stopping motorcycle Prix however, is a definite must experience.
The Grand Prix meanwhile, is held in Monaco in the South Of France.
The racing circuit in Monaco is known to be one of the most difficult and regarded as legendary among racing enthusiasts. This is hands down, a must-see if you're in France in May.
Apart from this exhilarating event, Monaco is also an interesting place to explore.
Some of the best places to visit in Monaco are the Palais du Prince, the Jardin Exotique, and the Musée Oceanographique.
7. Visit a beach in Martinique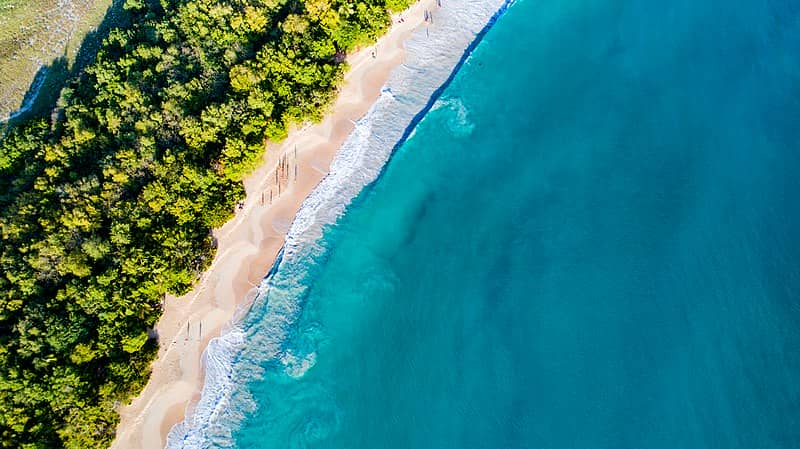 Outside of France mainland, and at the coast of the Caribbean, is a French territory called Martinique. This island territory is famous for its amazing beaches. 
A lovely place to visit any time of the year, this French territory boasts of a coastline of fine white sand, crystalline waters, and diverse marine life.
The beaches are definitely the island's top attractions, and those in Martinique are the kind that you'd enjoy exploring.
---
Check out these best beaches in Martinique. 
---
Travel Tips in France in May
1. Many hotels and hostels in France offer great discounts during the shoulder season, which includes the month of May.
Enjoy huge savings by planning your trip ahead and taking advantage of these deals. It's best to book months earlier to ensure that you get the best price offer.
2. Another thing that needs to be sorted ahead of your trip to France in May are the places you plan to visit. May is filled with public and bank holidays which means most attractions are closed. Check the dates for these Holidays.
Try to plan your visit around those days to make sure you'll still enjoy the best of France during your trip. Consider a few adjustments like booking tickets to museums or guided tours before or after a holiday.
3. Also worth looking into are transportation schedules in France during the May holidays like Labor Day (May 1) and Victory Day (May 8).
Transportation service operates on a reduced schedule during these days. This means that you must plan your trips ahead or book tickets for your desired schedule to avoid delays and hassles.
4. Even with the lovely Spring weather, the month of May in France isn't spared from occasional rain showers. Paris gets the most number of possible rainy days while sunny Nice gets the least number of wet days.
Wherever you plan to go, be ready with necessary rain gear like a foldable umbrella, light raincoat, and weatherproof shoes.
5. May is the month of ‪Nuit des Musées‬ (Night of Museums) where you get to visit any museum across the country for free. This happens on the Saturday closest to May 18, so consider planning your visit around that time.
Some of the best museums to visit in France are the‪ Musée de la Tapisserie de Bayeux‬ in Normandy, ‪Musée Fabre‬ in Montpellier and‪ Musée d'Orsay‬ in Paris‪. ‬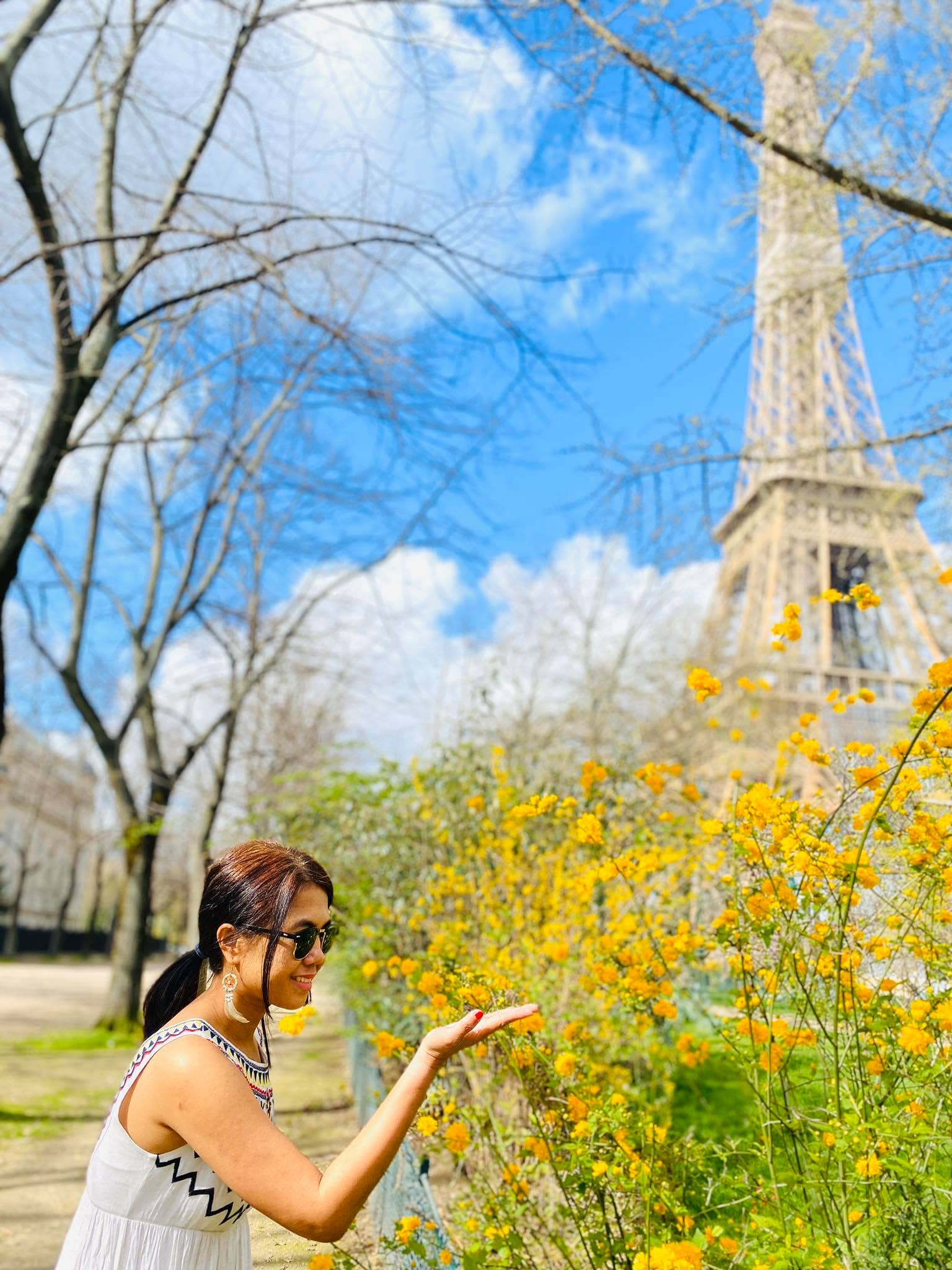 Hi, I'm Christine – a full-time traveler and career woman. Although I'm from the Philippines, my location independent career took me to over 40 countries for the past 8 years. I also lived in 3 continents – from the Caribbean, South East Asia to Africa. France remains special to me, however. From architecture, history, and arts – France is truly an amazing place.